Abstract
Clostridioides difficile infections are associated with gut microbiome dysbiosis and are the leading cause of hospital-acquired diarrhoea. The infectious process is strongly influenced by the microbiota and successful infection relies on the absence of specific microbiota-produced metabolites. Deoxycholate and short-chain fatty acids are microbiota-produced metabolites that limit the growth of C. difficile and protect the host against this infection. In a previous study, we showed that deoxycholate causes C. difficile to form strongly adherent biofilms after 48 h. Here, our objectives were to identify and characterize key molecules and events required for biofilm formation in the presence of deoxycholate. We applied time-course transcriptomics and genetics to identify sigma factors, metabolic processes and type IV pili that drive biofilm formation. These analyses revealed that extracellular pyruvate induces biofilm formation in the presence of deoxycholate. In the absence of deoxycholate, pyruvate supplementation was sufficient to induce biofilm formation in a process that was dependent on pyruvate uptake by the membrane protein CstA. In the context of the human gut, microbiota-generated pyruvate is a metabolite that limits pathogen colonization. Taken together our results suggest that pyruvate-induced biofilm formation might act as a key process driving C. difficile persistence in the gut.
Access options
Subscribe to Journal
Get full journal access for 1 year
$119.00
only $9.92 per issue
All prices are NET prices.
VAT will be added later in the checkout.
Tax calculation will be finalised during checkout.
Rent or Buy article
Get time limited or full article access on ReadCube.
from$8.99
All prices are NET prices.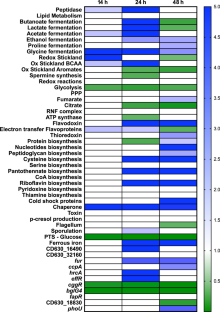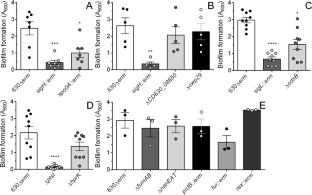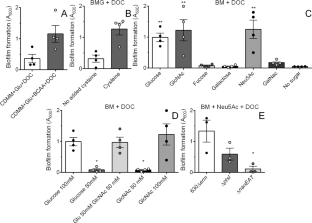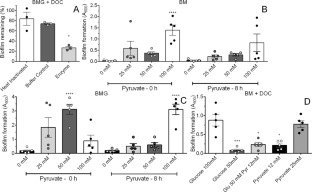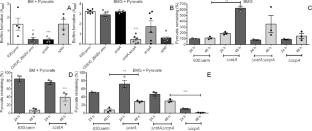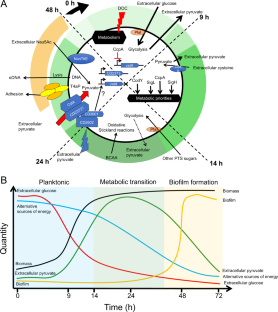 Data availability
RNA-Seq data generated in this study are available in the NCBI-GEO with accession no GSE165116.
References
1.

Crobach MJT, Vernon JJ, Loo VG, Kong LY, Péchiné S, Wilcox MH, et al. Understanding Clostridium difficile colonization. Clin Microbiol Rev. 2018;31:e00021–17.

2.

Lim SC, Knight DR, Riley TV. Clostridium difficile and one health. Clin Microbiol Infect. 2020;26:857–63.

3.

Abbas A, Zackular JP. Microbe-microbe interactions during Clostridioides difficile infection. Curr Opin Microbiol. 2020;53:19–25.

4.

Ghimire S, Roy C, Wongkuna S, Antony L, Maji A, Keena MC, et al. Identification of Clostridioides difficile inhibiting gut commensals using culturomics, phenotyping, and combinatorial community assembly. mSystems. 2020;5:e00620–19.

5.

Girinathan BP, DiBenedetto N, Worley JW, Peltier J, Arrieta-Ortiz ML, Immanuel R, et al. In vivo commensal control of Clostridioides difficile virulence. bioRxiv 2020.01.04.894915 [Preprint] 2021. Available from: https://www.biorxiv.org/content/10.1101/2020.01.04.894915v2.

6.

Pereira FC, Wasmund K, Cobankovic I, Jehmlich N, Herbold CW, Lee KS, et al. Rational design of a microbial consortium of mucosal sugar utilizers reduces Clostridiodes difficile colonization. Nat Commun. 2020;11:5104.

7.

Buffie CG, Bucci V, Stein RR, McKenney PT, Ling L, Gobourne A, et al. Precision microbiome reconstitution restores bile acid mediated resistance to Clostridium difficile. Nature. 2015;517:205.

8.

Studer N, Desharnais L, Beutler M, Brugiroux S, Terrazos MA, Menin L, et al. Functional intestinal bile acid 7α-dehydroxylation by Clostridium scindens associated with protection from Clostridium difficile infection in a gnotobiotic mouse model. Front Cell Infect Microbiol. 2016;6:191.

9.

McDonald JAK, Mullish BH, Pechlivanis A, Liu Z, Brignardello J, Kao D, et al. Inhibiting growth of Clostridioides difficile by restoring valerate, produced by the intestinal microbiota. Gastroenterology. 2018;155:1495.

10.

Solbach P, Chhatwal P, Woltemate S, Tacconelli E, Buhl M, Gerhard M, et al. baiCD gene cluster abundance is negatively correlated with Clostridium difficile infection. PLoS ONE. 2020;13:e0196977.

11.

Seekatz AM, Theriot CM, Rao K, Chang Y-M, Freeman AE, Kao JY, et al. Restoration of short chain fatty acid and bile acid metabolism following fecal microbiota transplantation in patients with recurrent Clostridium difficile infection. Anaerobe. 2020;53:64.

12.

Deakin LJ, Clare S, Fagan RP, Dawson LF, Pickard DJ, West MR, et al. The Clostridium difficile spo0A gene is a persistence and transmission factor. Infect Immun. 2012;80:2704.

13.

Castro-Córdova P, Mora-Uribe P, Reyes-Ramírez R, Cofré-Araneda G, Orozco-Aguilar J, Brito-Silva C, et al. Entry of spores into intestinal epithelial cells contributes to recurrence of Clostridioides difficile infection. Nat Commun. 2021;12:1140.

14.

Pettit LJ, Browne HP, Yu L, Smits WK, Fagan RP, Barquist L, et al. Functional genomics reveals that Clostridium difficile Spo0A coordinates sporulation, virulence and metabolism. BMC Genomics. 2014;15:160.

15.

Dawson LF, Valiente E, Faulds-Pain A, Donahue EH, Wren BW. Characterisation of Clostridium difficile biofilm formation, a role for Spo0A. PLoS ONE. 2012;7:e50527.

16.

Donelli G, Vuotto C, Cardines R, Mastrantonio P. Biofilm-growing intestinal anaerobic bacteria. FEMS Immunol Med Microbiol. 2012;65:318–25.

17.

Crowther GS, Chilton CH, Todhunter SL, Nicholson S, Freeman J, Baines SD, et al. Comparison of planktonic and biofilm-associated communities of Clostridium difficile and indigenous gut microbiota in a triple-stage chemostat gut model. J Antimicrob Chemother. 2014;69:2137–47.

18.

Semenyuk EG, Poroyko VA, Johnston PF, Jones SE, Knight KL, Gerding DN, et al. Analysis of bacterial communities during Clostridium difficile infection in the mouse. Infect Immun. 2015;83:4383–91.

19.

Normington C, Moura IB, Bryant JA, Ewin DJ, Clark EV, Kettle MJ, et al. Biofilms harbour Clostridioides difficile, serving as a reservoir for recurrent infection. npj Biofilms Microbiomes. 2021;7:1–10.

20.

Dubois T, Tremblay YDN, Hamiot A, Martin-Verstraete I, Deschamps J, Monot M, et al. A microbiota-generated bile salt induces biofilm formation in Clostridium difficile. npj Biofilms Microbiomes. 2019;5:14.

21.

Hall-Stoodley L, Costerton JW, Stoodley P. Bacterial biofilms: from the natural environment to infectious diseases. Nat Rev Microbiol. 2004;2:95–108.

22.

Ðapa T, Leuzzi R, Ng YK, Baban ST, Adamo R, Kuehne SA, et al. Multiple factors modulate biofilm formation by the anaerobic pathogen Clostridium difficile. J Bacteriol. 2013;195:545–55.

23.

Soutourina OA, Monot M, Boudry P, Saujet L, Pichon C, Sismeiro O, et al. Genome-wide identification of regulatory RNAs in the human pathogen Clostridium difficile. PLoS Genet. 2013;9:e1003493.

24.

Boudry P, Gracia C, Monot M, Caillet J, Saujet L, Hajnsdorf E, et al. Pleiotropic role of the RNA chaperone protein Hfq in the human pathogen Clostridium difficile. J Bacteriol. 2014;196:3234–48.

25.

Pantaléon V, Soavelomandroso AP, Bouttier S, Briandet R, Roxas B, Chu M, et al. The Clostridium difficile protease Cwp84 modulates both biofilm formation and cell-surface properties. PLoS ONE. 2015;10:e0124971.

26.

Walter BM, Cartman ST, Minton NP, Butala M, Rupnik M. The SOS response master regulator LexA is associated with sporulation, motility and biofilm formation in Clostridium difficile. PLoS ONE. 2015;10:e0144763.

27.

Maldarelli GA, Piepenbrink KH, Scott AJ, Freiberg JA, Song Y, Achermann Y, et al. Type IV pili promote early biofilm formation by Clostridium difficile. Pathog Dis. 2016;74:ftw061.

28.

Vuotto C, Moura I, Barbanti F, Donelli G, Spigaglia P. Subinhibitory concentrations of metronidazole increase biofilm formation in Clostridium difficile strains. Pathog Dis. 2016;74:ftv114.

29.

Saujet L, Pereira FC, Serrano M, Soutourina O, Monot M, Shelyakin PV, et al. Genome-wide analysis of cell type-specific gene transcription during spore formation in Clostridium difficile. PLoS Genet. 2013;9:e1003756.

30.

Monot M, Boursaux-Eude C, Thibonnier M, Vallenet D, Moszer I, Medigue C, et al. Reannotation of the genome sequence of Clostridium difficile strain 630. J Med Microbiol. 2011;60:1193–9.

31.

Peltier J, Hamiot A, Garneau JR, Boudry P, Maikova A, Hajnsdorf E, et al. Type I toxin-antitoxin systems contribute to the maintenance of mobile genetic elements in Clostridioides difficile. Commun Biol. 2020;3:718.

32.

García-Nafría J, Watson JF, Greger IH. IVA cloning: A single-tube universal cloning system exploiting bacterial In Vivo Assembly. Sci Rep. 2016;6:27459.

33.

Goodwine J, Gil J, Doiron A, Valdes J, Solis M, Higa A, et al. Pyruvate-depleting conditions induce biofilm dispersion and enhance the efficacy of antibiotics in killing biofilms in vitro and in vivo. Sci Rep. 2019;9:3763.

34.

Poquet I, Saujet L, Canette A, Monot M, Mihajlovic J, Ghigo J-M, et al. Clostridium difficile biofilm: remodeling metabolism and cell surface to build a sparse and heterogeneously aggregated architecture. Front Microbiol. 2018;9:2084.

35.

Nawrocki KL, Wetzel D, Jones JB, Woods EC, McBride SM. Ethanolamine is avaluable nutrient source that impacts Clostridium difficile pathogenesis. Environ Microbiol. 2018;20:1419–35.

36.

Hofmann JD, Otto A, Berges M, Biedendieck R, Michel A-M, Becher D, et al. Metabolic Reprogramming of Clostridioides difficile during the stationary phase with the induction of toxin production. Front Microbiol. 2018;9:1970.

37.

Sievers S, Metzendorf NG, Dittmann S, Troitzsch D, Gast V, Tröger SM, et al. Differential view on the bile acid stress response of Clostridioides difficile. Front. Microbiol. 2019;10:258.

38.

Saujet L, Monot M, Dupuy B, Soutourina O, Martin-Verstraete I. The key sigma factor of transition phase, SigH, controls sporulation, metabolism, and virulence factor expression in Clostridium difficile. J Bacteriol. 2011;193:3186–96.

39.

Girinathan BP, Ou J, Dupuy B, Govind R. Pleiotropic roles of Clostridium difficile sin locus. PLoS Pathog. 2018;14:e1006940.

40.

Dubois T, Dancer-Thibonnier M, Monot M, Hamiot A, Bouillaut L, Soutourina O, et al. Control of Clostridium difficile physiopathology in response to cysteine availability. Infect Immun. 2016;84:2389–3405.

41.

Gu H, Yang Y, Wang M, Chen S, Wang H, Li S, et al. Novel cysteine desulfidase CdsB involved in releasing cysteine repression of toxin synthesis in Clostridium difficile. Front Cell Infect Microbiol. 2018;7:531.

42.

Cartman ST, Minton NP. A mariner-based transposon system for in vivo random mutagenesis of Clostridium difficile. Appl Environ Microbiol. 2010;76:1103–9.

43.

Ng KM, Ferreyra JA, Higginbottom SK, Lynch JB, Kashyap PC, Gopinath S, et al. Microbiota-liberated host sugars facilitate post-antibiotic expansion of enteric pathogens. Nature. 2013;502:96–99.

44.

Hwang S, Choe D, Yoo M, Cho S, Kim SC, Cho S, et al. Peptide transporter CstA imports pyruvate in Escherichia coli K-12. J Bacteriol. 2018;200:e00771–17.

45.

Charbonnier T, Le Coq D, McGovern S, Calabre M, Delumeau O, Aymerich S, et al. Molecular and physiological logics of the pyruvate-induced response of a novel transporter in Bacillus subtilis. mBio. 2017;8:e00976–17.

46.

van den Esker MH, Kovács ÁT, Kuipers OP. YsbA and LytST are essential for pyruvate utilization in Bacillus subtilis. Environ Microbiol. 2017;19:83–94.

47.

Antunes A, Camiade E, Monot M, Courtois E, Barbut F, Sernova NV, et al. Global transcriptional control by glucose and carbon regulator CcpA in Clostridium difficile. Nucleic Acids Res. 2012;40:10701–18.

48.

Ogasawara H, Ishizuka T, Yamaji K, Kato Y, Shimada T, Ishihama A. Regulatory role of pyruvate-sensing BtsSR in biofilm formation by Escherichia coli K-12. FEMS Microbiol Lett. 2019;366:fnz251.

49.

Tomlinson GA, Hochstein LI. Studies on acid production during carbohydrate metabolism by extremely halophilic bacteria. Can J Microbiol. 1972;18:1973–6.

50.

Ruby EG, Nealson KH. Pyruvate production and excretion by the luminous marine bacteria. Appl Envir Microbiol. 1977;34:164–9.

51.

Sonenshein AL. Control of key metabolic intersections in Bacillus subtilis. Nat Rev Microbiol. 2007;5:917–27.

52.

Gasperotti A, Göing S, Fajardo-Ruiz E, Forné I, Jung K. Function and regulation of the pyruvate transporter CstA in Escherichia coli. Int J Mol Sci. 2020;21:9068.

53.

Dineen SS, McBride SM, Sonenshein AL. Integration of metabolism and virulence by Clostridium difficile CodY. J Bacteriol. 2010;192:5350–62.

54.

Soutourina O, Dubois T, Monot M, Shelyakin PV, Saujet L, Boudry P, et al. Genome-wide transcription start site mapping and promoter assignments to a sigma factor in the human enteropathogen Clostridioides difficile. Front Microbiol. 2020;11:1939.

55.

Ahn S-J, Deep K, Turner ME, Ishkov I, Waters A, Hagen SJ, et al. Characterization of LrgAB as a stationary phase-specific pyruvate uptake system in Streptococcus mutans. BMC Microbiol. 2019;19:223.

56.

Ishkov IP, Ahn S-J, Rice KC, Hagen SJ. Environmental triggers of lrgA expression in Streptococcus mutans. Front Microbiol. 2020;11:18.

57.

Redanz S, Treerat P, Mu R, Redanz U, Zou Z, Koley D, et al. Pyruvate secretion by oral streptococci modulates hydrogen peroxide dependent antagonism. ISME J. 2020;14:1074–88.

58.

Eschbach M, Schreiber K, Trunk K, Buer J, Jahn D, Schobert M. Long-term anaerobic survival of the opportunistic pathogen Pseudomonas aeruginosa via pyruvate fermentation. J Bacteriol. 2004;186:4596–5604.

59.

Petrova OE, Schurr JR, Schurr MJ, Sauer K. Microcolony formation by the opportunistic pathogen Pseudomonas aeruginosa requires pyruvate and pyruvate fermentation. Mol Microbiol. 2012;86:819–35.

60.

Stewart PS, White B, Boegli L, Hamerly T, Williamson KS, Franklin MJ, et al. Conceptual model of biofilm antibiotic tolerance that integrates phenomena of diffusion, metabolism, gene expression, and physiology. J Bacteriol. 2019;201:e00307–19.

61.

Chai Y, Kolter R, Losick R. A widely conserved gene cluster required for lactate utilization in Bacillus subtilis and its involvement in biofilm formation. J Bacteriol. 2009;191:2423–30.

62.

Harrison A, Hardison RL, Wallace RM, Fitch J, Heimlich DR, Bryan MO, et al. Reprioritization of biofilm metabolism is associated with nutrient adaptation and long-term survival of Haemophilus influenzae. npj Biofilms Microbiomes. 2019;5:33.

63.

Yu W, Hallinen KM, Wood KB. Interplay between antibiotic efficacy and drug-induced lysis underlies enhanced biofilm formation at subinhibitory drug concentrations. Antimicrob Agents Chemother. 2018;62:e01603–17.

64.

Morita N, Umemoto E, Fujita S, Hayashi A, Kikuta J, Kimura I, et al. GPR31-dependent dendrite protrusion of intestinal CX3CR1(+) cells by bacterial metabolites. Nature. 2019;566:110–4.

65.

Jacobs DM, Deltimple N, Velzen E, van, Dorsten FA, van, Bingham M, Vaughan EE, et al. 1H NMR metabolite profiling of feces as a tool to assess the impact of nutrition on the human microbiome. NMR Biomedicine. 2008;21:615–26.

66.

Theriot CM, Koenigsknecht MJ, Carlson PE, Hatton GE, Nelson AM, Li B, et al. Antibiotic-induced shifts in the mouse gut microbiome and metabolome increase susceptibility to Clostridium difficile infection. Nat Commun. 2014;5:3114.

67.

Shankar V, Homer D, Rigsbee L, Khamis HJ, Michail S, Raymer M, et al. The networks of human gut microbe–metabolite associations are different between health and irritable bowel syndrome. ISME J. 2015;9:1899–903.

68.

VanInsberghe D, Elsherbini JA, Varian B, Poutahidis T, Erdman S, Polz MF. Diarrhoeal events can trigger long-term Clostridium difficile colonization with recurrent blooms. Nat Microbiol. 2020;5:642–50.

69.

Jenior ML, Leslie JL, Powers DA, Garrett EM, Walker KA, Dickenson ME, et al. Conserved virulence-linked metabolic reprogramming in Clostridioides difficile identified through genome-scale metabolic network analysis. bioRxiv:2020.11.09.373480. [Preprint]. 2020. Available from: https://www.biorxiv.org/content/10.1101/2020.11.09.373480v2.full.
Acknowledgements
We would like to thank Johann Peltier, Imane El Meouche and Laurent Bouillaut for generously providing the CDIP634, fliC::erm, rex::erm and prdB::erm strains. This work was funded by the Institut Pasteur and the "Integrative Biology of Emerging Infectious Diseases" (LabEX IBEID) funded in the framework of the French Government's "Programme Investissements d'Avenir". YDNT postdoctoral fellowship was funded by the LabEX IBEID.
Ethics declarations
Competing interests
The authors declare no competing interests.
Additional information
Publisher's note Springer Nature remains neutral with regard to jurisdictional claims in published maps and institutional affiliations.
Supplementary information
About this article
Cite this article
Tremblay, Y.D.N., Durand, B.A.R., Hamiot, A. et al. Metabolic adaption to extracellular pyruvate triggers biofilm formation in Clostridioides difficile. ISME J (2021). https://doi.org/10.1038/s41396-021-01042-5
Received:

Revised:

Accepted:

Published: