Abstract
As the most abundant biological entities on the planet, viruses significantly influence the overall functioning of marine ecosystems. The abundance, distribution, and biodiversity of viral communities in the upper ocean have been relatively well studied, but our understanding of viruses in the hadal biosphere remains poor. Here, we established the oceanic trench viral genome dataset (OTVGD) by analysing 19 microbial metagenomes derived from seawater and sediment samples of the Mariana, Yap, and Kermadec Trenches. The trench viral communities harbored remarkably high novelty, and they were predicted to infect ecologically important microbial clades, including Thaumarchaeota and Oleibacter. Significant inter-trench and intra-trench exchange of viral communities was proposed. Moreover, viral communities in different habitats (seawater/sediment and depth-stratified ocean zones) exhibited distinct niche-dependent distribution patterns and genomic properties. Notably, microbes and viruses in the hadopelagic seawater seemed to preferably adopt lysogenic lifestyles compared to those in the upper ocean. Furthermore, niche-specific auxiliary metabolic genes were identified in the hadal viral genomes, and a novel viral D-amino acid oxidase was functionally and phylogenetically characterized, suggesting the contribution of these genes in the utilization of refractory organic matter. Together, these findings highlight the genomic novelty, dynamic movement, and environment-driven diversification of viral communities in oceanic trenches, and suggest that viruses may influence the hadal ecosystem by reprogramming the metabolism of their hosts and modulating the community of keystone microbes.
Access options
Subscribe to Journal
Get full journal access for 1 year
$399.00
only $33.25 per issue
All prices are NET prices.
VAT will be added later in the checkout.
Tax calculation will be finalised during checkout.
Rent or Buy article
Get time limited or full article access on ReadCube.
from$8.99
All prices are NET prices.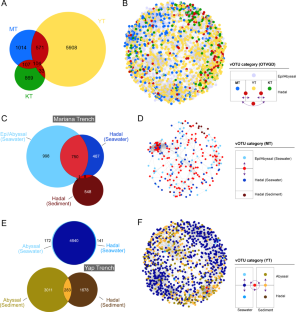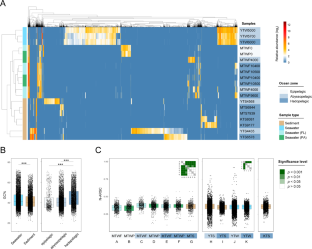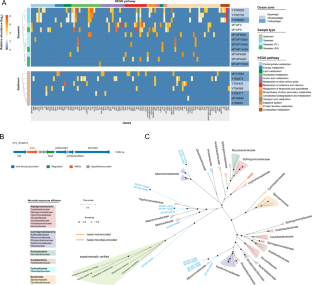 References
1.

Suttle CA. Marine viruses—major players in the global ecosystem. Nat Rev Microbiol. 2007;5:801–12.

2.

Breitbart M, Bonnain C, Malki K, Sawaya NA. Phage puppet masters of the marine microbial realm. Nat Microbiol. 2018;3:754–66.

3.

Zimmerman AE, Howard-Varona C, Needham DM, John SG, Worden AZ, Sullivan MB, et al. Metabolic and biogeochemical consequences of viral infection in aquatic ecosystems. Nat Rev Microbiol. 2020;18:21–34.

4.

Roux S, Brum JR, Dutilh BE, Sunagawa S, Duhaime MB, Loy A, et al. Ecogenomics and potential biogeochemical impacts of globally abundant ocean viruses. Nature 2016;537:689–93.

5.

Gregory AC, Zayed AA, Conceição-Neto N, Temperton B, Bolduc B, Alberti A, et al. Marine DNA viral macro- and microdiversity from pole to pole. Cell 2019;177:1109–23.

6.

Coutinho FH, Silveira CB, Gregoracci GB, Thompson CC, Edwards RA, Brussaard CPD, et al. Marine viruses discovered via metagenomics shed light on viral strategies throughout the oceans. Nat Commun. 2017;8:15955.

7.

Brum JR, Ignacio-Espinoza JC, Roux S, Doulcier G, Acinas SG, Alberti A, et al. Patterns and ecological drivers of ocean viral communities. Science 2015;348:1261498.

8.

Danovaro R, Dell'Anno A, Corinaldesi C, Magagnini M, Noble R, Tamburini C, et al. Major viral impact on the functioning of benthic deep-sea ecosystems. Nature 2008;454:1084–7.

9.

Danovaro R, Dell'Anno A, Corinaldesi C, EugenioRastelli, Cavicchioli R, Krupovic M, et al. Virus-mediated archaeal hecatomb in the deep seafloor. Sci Adv 2016;2:e1600492.

10.

Anantharaman K, Duhaime MB, Breier JA, Wendt KA, Toner BM, Dick GJ. Sulfur oxidation genes in diverse deep-sea viruses. Science 2014;344:757–60.

11.

He T, Li H, Zhang X. Deep-sea hydrothermal vent viruses compensate for microbial metabolism in virus–host interactions. mBio 2017;8:e00893–17.

12.

Hurwitz BL, Hallam SJ, Sullivan MB. Metabolic reprogramming by viruses in the sunlit and dark ocean. Genome Biol. 2013;14:R123.

13.

Hurwitz BL, Brum JR, Sullivan MB. Depth-stratified functional and taxonomic niche specialization in the 'core' and 'flexible' pacific ocean virome. ISME J. 2015;9:472–84.

14.

Dell'Anno A, Corinaldesi C, Danovaro R. Virus decomposition provides an important contribution to benthic deep-sea ecosystem functioning. Proc Natl Acad Sci USA. 2015;112:E2014–E9.

15.

Lara E, Vaqué D, Sà EL, Boras JA, Gomes A, Borrull E, et al. Unveiling the role and life strategies of viruses from the surface to the dark ocean. Sci Adv. 2017;3:e1602565.

16.

Mizuno CM, Ghai R, Saghaï A, López-García P, Rodriguez-Valera F. Genomes of abundant and widespread viruses from the deep ocean. mBio. 2016;7:e00805–16.

17.

Tangherlini M, Dell'Anno A, Allen LZ, Riccioni G, Corinaldesi C. Assessing viral taxonomic composition in benthic marine ecosystems: reliability and efficiency of different bioinformatic tools for viral metagenomic analyses. Sci Rep. 2016;6:28428.

18.

Yang Y, Yokokawa T, Motegi C, Nagata T. Large-scale distribution of viruses in deep waters of the Pacific and Southern Oceans. Aquat Micro Ecol. 2014;71:193–202.

19.

Tang K, Lin D, Zheng Q, Liu K, Yang Y, Han Y, et al. Genomic, proteomic and bioinformatic analysis of two temperate phages in Roseobacter clade bacteria isolated from the deep-sea water. BMC Genomics. 2017;18:485.

20.

Corte DD, Sintes E, Yokokawa T, Reinthaler T, Herndl GJ. Links between viruses and prokaryotes throughout the water column along a North Atlantic latitudinal transect. ISME J. 2012;6:1566–77.

21.

Corte DD, Sintes E, Winter C, Yokokawa T, Reinthaler T, Herndl GJ. Links between viral and prokaryotic communities throughout the water column in the (sub)tropical Atlantic Ocean. ISME J. 2010;4:1431–42.

22.

Blankenship-Williams LE, Levin LA. Living deep: a synopsis of hadal trench ecology. Mar Technol Soc J. 2009;43:137–43.

23.

Jamieson AJ, Fujii T, Mayor DJ, Solan M, Priede IG. Hadal trenches: the ecology of the deepest places on Earth. Trends Ecol Evol. 2010;25:190–7.

24.

Jamieson AJ. Ecology of deep oceans: hadal trenches. eLS. Chichester: Wiley; 2001.

25.

Glud RN, Wenzhöfer F, Middelboe M, Oguri K, Turnewitsch R, Canfield DE, et al. High rates of microbial carbon turnover in sediments in the deepest oceanic trench on Earth. Nat Geosci. 2013;6:284–8.

26.

Nunoura T, Takaki Y, Hirai M, Shimamura S, Makabe A, Koide O, et al. Hadal biosphere: insight into the microbial ecosystem in the deepest ocean on Earth. Proc Natl Acad Sci USA. 2015;112:E1230–E6.

27.

Zhong H, Lehtovirta-Morley L, Liu J, Zheng Y, Lin H, Song D, et al. Novel insights into the Thaumarchaeota in the deepest oceans: their metabolism and potential adaptation mechanisms. Microbiome 2020;8:78.

28.

Liu J, Zheng Y, Lin H, Wang X, Li M, Liu Y, et al. Proliferation of hydrocarbon-degrading microbes at the bottom of the Mariana Trench. Microbiome 2019;7:47.

29.

Tamegai H, Li L, Nasui N, Kato C. A denitrifying bacterium from the deep sea at 11000-m depth. Extremophiles 1997;1:207–11.

30.

Kato C, Li L, Nogi Y, Nakamura Y, Tamaoka J, Horikoshi K. Extremely barophilic bacteria isolated from the Mariana Trench, challenger deep, at a depth of 11,000 meters. Appl Environ Microbiol. 1998;64:1510–3.

31.

Nogi Y, Kato C. Taxonomic studies of extremely barophilic bacteria isolated from the Mariana Trench and description of Moritella yayanosii sp. nov., a new barophilic bacterial isolate. Extremophiles 1999;3:71–7.

32.

Nogi Y, Hosoya S, Kato C, Horikoshi K. Colwellia piezophila sp. nov., a novel piezophilic species from deep-sea sediments of the Japan Trench. Int J Syst Evol Microbiol. 2004;54:1627–31.

33.

Nogi Y, Hosoya S, Kato C, Horikoshi K. Psychromonas hadalis sp. nov., a novel piezophilic bacterium isolated from the bottom of the Japan Trench. Int J Syst Evol Microbiol. 2007;57:1360–4.

34.

Kusube M, Kyaw TS, Tanikawa K, Chastain RA, Hardy KM, Cameron J, et al. Colwellia marinimaniae sp. nov., a hyperpiezophilic species isolated from an amphipod within the Challenger Deep, Mariana Trench. Int J Syst Evol Microbiol. 2017;67:824–31.

35.

Wei Y, Fang J, Xu Y, Zhao W, Cao J. Corynebacterium hadale sp. nov. isolated from hadopelagic water of the New Britain Trench. Int J Syst Evol Microbiol. 2018;68:1474–8.

36.

Ahmad W, Zheng Y, Li Y, Sun W, Hu Y, He X, et al. Marinobacter salinexigens sp. nov., a marine bacterium isolated from hadal seawater of the Mariana Trench. Int J Syst Evol Microbiol. 2020;70:3794–800.

37.

Zhao X, Liu J, Zhou S, Zheng Y, Wu Y, Kogure K, et al. Diversity of culturable heterotrophic bacteria from the Mariana Trench and their ability to degrade macromolecules. Mar Life Sci Technol. 2020;2:181–93.

38.

Yoshida M, Yoshida-Takashima Y, Nunoura T, Takai K. Identification and genomic analysis of temperate Pseudomonas bacteriophage PstS-1 from the Japan trench at a depth of 7000 m. Res Microbiol. 2015;166:668–76.

39.

Yoshida M, Takaki Y, Eitoku M, Nunoura T, Takai K. Metagenomic analysis of viral communities in (Hado)pelagic sediments. PLoS ONE. 2013;8:e57271.

40.

Manea E, Dell'Anno A, Rastelli E, Tangherlini M, Nunoura T, Nomaki H, et al. Viral infections boost prokaryotic biomass production and organic C cycling in Hadal Trench sediments. Front Microbiol. 2019;10:1952.

41.

Zhang X, Xu W, Liu Y, Cai M, Luo Z, Li M. Metagenomics reveals microbial diversity and metabolic potentials of seawater and surface sediment from a Hadal biosphere at the Yap Trench. Front Microbiol. 2018;9:2402.

42.

Peoples LM, Grammatopoulou E, Pombrol M, Xu X, Osuntokun O, Blanton J, et al. Microbial community diversity within sediments from two geographically separated Hadal Trenches. Front Microbiol. 2019;10:347.

43.

Peoples LM, Donaldson S, Osuntokun O, Xia Q, Nelson A, Blanton J, et al. Vertically distinct microbial communities in the Mariana and Kermadec trenches. PLoS ONE. 2018;13:e0195102.

44.

NA J, JN F. Sickle: a sliding-window, adaptive, quality-based trimming tool for FastQ files (Version 1.33). https://github.com/najoshi/sickle2011.

45.

Peng Y, Leung HCM, Yiu SM, Chin FYL. IDBA-UD: a de novo assembler for single-cell and metagenomic sequencing data with highly uneven depth. Bioinformatics 2012;28:1420–8.

46.

Roux S, Enault F, Hurwitz BL, Sullivan MB. VirSorter: mining viral signal from microbial genomic data. PeerJ 2015;3:e985.

47.

Ren J, Ahlgren NA, Lu YY, Fuhrman JA, Sun F. VirFinder: a novel k-mer based tool for identifying viral sequences from assembled metagenomic data. Microbiome 2017;5:69.

48.

Ahlgren NA, Ren J, Lu YY, Fuhrman JA, Sun F. Alignment-free d2* oligonucleotide frequency dissimilarity measure improves prediction of hosts from metagenomically-derived viral sequences. Nucleic Acids Res. 2017;45:39–53.

49.

Fu L, Niu B, Zhu Z, Wu S, Li W. CD-HIT: accelerated for clustering the next-generation sequencing data. Bioinformatics 2012;28:3150–2.

50.

Hyatt D, Chen G-L, LoCascio PF, Land ML, Larimer FW, Hauser LJ. Prodigal: prokaryotic gene recognition and translation initiation site identification. BMC Bioinform. 2010;11:119.

51.

Paez-Espino D, Pavlopoulos GA, Ivanova NN, Kyrpides NC. Nontargeted virus sequence discovery pipeline and virus clustering for metagenomic data. Nat Protoc. 2017;12:1673–82.

52.

Paez-Espino D, Eloe-Fadrosh EA, Pavlopoulos GA, Thomas AD, Huntemann M, Mikhailova N, et al. Uncovering Earth's virome. Nature 2016;536:425–30.

53.

Song W, Sun H-X, Zhang C, Cheng L, Peng Y, Deng Z, et al. Prophage Hunter: an integrative hunting tool for active prophages. Nucleic Acids Res. 2019;47:W74–W80.

54.

O'Leary NA, Wright MW, Brister JR, Ciufo S, Haddad D, McVeigh R, et al. Reference sequence (RefSeq) database at NCBI: current status, taxonomic expansion, and functional annotation. Nucleic Acids Res. 2016;44:D733–D45.

55.

Buchfink B, Xie C, Huson DH. Fast and sensitive protein alignment using DIAMOND. Nat Methods. 2015;12:59–60.

56.

Huerta-Cepas J, Szklarczyk D, Heller D, Hernández-Plaza A, Forslund SK, Cook H, et al. eggNOG 5.0: a hierarchical, functionally and phylogenetically annotated orthology resource based on 5090 organisms and 2502 viruses. Nucleic Acids Res. 2019;47:D309–D14.

57.

Huerta-Cepas J, Forslund K, Coelho LP, Szklarczyk D, Jensen LJ, Mering CV, et al. Fast genome-wide functional annotation through orthology assignment by eggNOG-mapper. Mol Biol Evol. 2017;34:2115–22.

58.

Grazziotin AL, Koonin EV, Kristensen DM. Prokaryotic Virus Orthologous Groups (pVOGs): a resource for comparative genomics and protein family annotation. Nucleic Acids Res. 2017;45:D491–D8.

59.

Potter SC, Luciani A, Eddy SR, Park Y, Lopez R, Finn RD. HMMER web server: 2018 update. Nucleic Acids Res. 2018;46:W200–W4.

60.

Kanehisa M, Goto S, Sato Y, Kawashima M, Furumichi M, Tanabe M. Data, information, knowledge and principle: back to metabolism in KEGG. Nucleic Acids Res. 2014;42:D199–D205.

61.

Kanehisa M, Sato Y, Morishima K. BlastKOALA and GhostKOALA: KEGG tools for functional characterization of genome and metagenome sequences. J Mol Biol. 2016;428:726–31.

62.

El-Gebali S, Mistry J, Bateman A, Eddy SR, Ae L, Potter SC, et al. The Pfam protein families database in 2019. Nucleic Acids Res. 2019;47:D427–D32.

63.

Roux S, Adriaenssens EM, Dutilh BE, Koonin EV, Kropinski AM, Krupovic M, et al. Minimum information about an uncultivated virus genome (MIUViG). Nat Biotechnol. 2019;37:29–37.

64.

Paez-Espino D, Roux S, Chen I-MA, Palaniappan K, Ratner A, Chu K, et al. IMG/VR v.2.0: an integrated data management and analysis system for cultivated and environmental viral genomes. Nucleic Acids Res. 2019;47:D678–D86.

65.

Pritchard L, Glover RH, Humphris S, Elphinstone JG, Tothc IK. Genomics and taxonomy in diagnostics for food security: soft-rotting enterobacterial plant pathogens. Anal Methods. 2016;8:12–24.

66.

Crits-Christoph A, Gelsinger DR, Ma B, Wierzchos J, Ravel J, Davila A, et al. Functional interactions of archaea, bacteria and viruses in a hypersaline endolithic community. Environ Microbiol. 2016;18:2064–77.

67.

Aylward FO, Moniruzzaman M. ViralRecall-a flexible command-line tool for the detection of giant virus signatures in Omic Data. Viruses 2021;13:150.

68.

Jang HB, Bolduc B, Zablocki O, Kuhn JH, Roux S, Adriaenssens EM, et al. Taxonomic assignment of uncultivated prokaryotic virus genomes is enabled by gene-sharing networks. Nat Biotechnol. 2019;37:632–9.

69.

Shannon P, Markiel A, Ozier O, Baliga NS, Wang JT, Ramage D, et al. Cytoscape A software environment for integrated models of biomolecular interaction networks. Genome Res. 2003;13:2498–504.

70.

Hurwitz BL, Sullivan MB. The Pacific Ocean virome (POV): a marine viral metagenomic dataset and associated protein clusters for quantitative viral ecology. PLoS ONE. 2013;8:e57355.

71.

Corte DD, Martínez JM, Cretoiu MS, Takaki Y, Nunoura T, Sintes E, et al. Viral communities in the global deep ocean conveyor belt assessed by targeted viromics. Front Microbiol. 2019;10:1801.

72.

Ghai R, Mehrshad M, Mizuno CM, Rodriguez-Valera F. Metagenomic recovery of phage genomes of uncultured freshwater actinobacteria. ISME J. 2017;11:304–8.

73.

Langmead B, Salzberg SL. Fast gapped-read alignment with Bowtie 2. Nat Methods. 2012;9:357–9.

74.

Quinlan AR, Hall IM. BEDTools: a flexible suite of utilities for comparing genomic features. Bioinformatics 2010;26:841–2.

75.

Emerson JB, Roux S, Brum JR, Bolduc B, Woodcroft BJ, Jang HB, et al. Host-linked soil viral ecology along a permafrost thaw gradient. Nat Microbiol. 2018;3:870–80.

76.

Dixon P. VEGAN, a package of R functions for community ecology. J Veg Sci. 2003;14:927–30.

77.

Getz EW, Tithi SS, Zhang L, Aylward FO. Parallel evolution of genome streamlining and cellular bioenergetics across the marine radiation of a bacterial phylum. mBio 2018;9:e01089–18.

78.

Karst SM, Kirkegaard RH, Albertsen M. mmgenome: a toolbox for reproducible genome extraction from metagenomes. Preprint at bioRxiv. 2016.

79.

Parks DH, Imelfort M, Skennerton CT, Hugenholtz P, Tyson GW. CheckM: assessing the quality of microbial genomes recovered from isolates, single cells, and metagenomes. Genome Res. 2015;25:1043–55.

80.

Lowe TM, Eddy SR. tRNAscan-SE: a program for improved detection of transfer RNA genes in genomic sequence. Nucleic Acids Res. 1997;25:955–64.

81.

Lin BY, Chan PP, Lowe TM. tRNAviz: explore and visualize tRNA sequence features. Nucleic Acids Res. 2019;47:W542–W7.

82.

Bland C, Ramsey TL, Sabree F, Lowe M, Brown K, Kyrpides NC, et al. CRISPR recognition tool (CRT): a tool for automatic detection of clustered regularly interspaced palindromic repeats. BMC Bioinform. 2007;8:209.

83.

Edwards RA, McNair K, Faust K, Raes J, Dutilh BE. Computational approaches to predict bacteriophage-host relationships. FEMS Microbiol Rev. 2016;40:258–72.

84.

Chaumeil P-A, Mussig AJ, Hugenholtz P, Parks DH. GTDB-Tk: a toolkit to classify genomes with the Genome Taxonomy Database. Bioinformatics. 2020;36:1925–7.

85.

Price MN, Dehal PS, Arkin AP. FastTree 2—approximately maximum-likelihood treesfor large alignments. PLoS ONE. 2010;5:e9490.

86.

Kumar S, Stecher G, Li M, Knyaz C, Tamura K. MEGA X: molecular evolutionary genetics analysis across computing platforms. Mol Biol Evol. 2018;35:1547–9.

87.

Malki K, Kula A, Bruder K, Sible E, Hatzopoulos T, Steidel S, et al. Bacteriophages isolated from Lake Michigan demonstrate broad host-range across several bacterial phyla. Virol J. 2015;12:164.

88.

Touchon M, Bernheim A, Rocha EP. Genetic and life-history traits associated with the distribution of prophages in bacteria. ISME J. 2016;10:2744–54.

89.

Howard-Varona C, Hargreaves KR, Abedon ST, Sullivan MB. Lysogeny in nature: mechanisms, impact and ecology of temperate phages. ISME J 2017;11:1511–20.

90.

Hulo C, Castro ED, Masson P, Bougueleret L, Bairoch A, Xenarios I, et al. ViralZone: a knowledge resource to understand virus diversity. Nucleic Acids Res. 2011;39:D576–82.

91.

Hurwitz BL, U'Ren JM. Viral metabolic reprogramming in marine ecosystems. Curr Opin Microbiol. 2016;31:161–8.

92.

Sievers F, Higgins DG. Clustal Omega for making accurate alignments of many protein sequences. Protein Sci. 2018;27:135–45.

93.

Takahashi S, Furukawara M, Omae K, Tadokoro N, Saito Y, Abe K, et al. A highly stable D-amino acid oxidase of the thermophilic bacterium Rubrobacter xylanophilus. Appl Environ Microbiol. 2014;80:7219–29.

94.

Brister JR, Ako-adjei D, Bao Y, Blinkova O. NCBI viral genomes resource. Nucleic Acids Res. 2015;43:D571–D7.

95.

Al-Shayeb B, Sachdeva R, Chen L-X, Ward F, Munk P, Devoto A, et al. Clades of huge phages from across Earth's ecosystems. Nature 2020;578:425–31.

96.

Ahlgren NA, Fuchsman CA, Rocap G, Fuhrman JA. Discovery of several novel, widespread, and ecologically distinct marine Thaumarchaeota viruses that encode amoC nitrification genes. ISME J 2019;13:618–31.

97.

Kim J-G, Kim S-J, Cvirkaite-Krupovic V, Yu W-J, Gwak J-H, López-Pérez M, et al. Spindle-shaped viruses infect marine ammonia-oxidizing thaumarchaea. Proc Natl Acad Sci USA. 2019;116:15645–50.

98.

Hiraoka S, Hirai M, Matsui Y, Makabe A, Minegishi H, Tsuda M, et al. Microbial community and geochemical analyses of trans-trench sediments for understanding the roles of hadal environments. ISME J. 2020;14:740–56.

99.

Kioka A, Schwestermann T, Moernaut J, Ikehara K, Kanamatsu T, McHugh CM, et al. Megathrust earthquake drives drastic organic carbon supply to the hadal trench. Sci Rep. 2019;9:1553.

100.

Mestrea M, Ruiz-González C, Logares R, Duarte CM, Gasol JM, Sala MM. Sinking particles promote vertical connectivity in the ocean microbiome. Proc Natl Acad Sci USA. 2018;115:E6799–E807.

101.

Boeuf D, Edwards BR, Eppley JM, Hu SK, Poff KE, Romano AE, et al. Biological composition and microbial dynamics of sinking particulate organic matter at abyssal ocean. Proc Natl Acad Sci USA. 2019;116:11824–32.

102.

Tamsitt V, Drake HF, Morrison AK, Talley LD, Dufour CO, Gray AR, et al. Spiraling pathways of global deep waters to the surface of the Southern Ocean. Nat Commun. 2017;8:172.

103.

Fukamachi Y, Rintoul SR, Church JA, Aoki S, Sokolov S, Rosenberg MA, et al. Strong export of Antarctic bottom water east of the Kerguelen plateau. Nat Geosci. 2010;3:327–31.

104.

Garabato ACN, Frajka-Williams EE, Spingys CP, Legg S, Polzin KL, Forryan A, et al. Rapid mixing and exchange of deep-ocean waters in an abyssal boundary current. Proc Natl Acad Sci USA. 2019;116:13233–8.

105.

Stewart HA, Jamieson AJ. Habitat heterogeneity of hadal trenches: considerations and implications for future studies. Prog Oceanogr. 2018;161:47–65.

106.

Mende DR, Bryant JA, Aylward FO, Eppley JM, Nielsen T, Karl DM, et al. Environmental drivers of a microbial genomic transition zone in the ocean's interior. Nat Microbiol. 2017;2:1367–73.

107.

Giovannoni SJ, Thrash JC, Temperton B. Implications of streamlining theory for microbial ecology. ISME J. 2014;8:1553–65.

108.

Xu Y, Ge H, Fang J. Biogeochemistry of hadal trenches: recent developments and future perspectives. Deep Sea Res Part II. 2018;155:19–26.

109.

Sharon I, Alperovitch A, Rohwer F, Haynes M, Glaser F, Atamna-Ismaeel N, et al. Photosystem I gene cassettes are present in marine virus genomes. Nature 2009;461:258–62.

110.

Mann NH, Cook A, Millard A, Bailey S, Clokie M. Bacterial photosynthesis genes in a virus. Nature 2003;424:741.

111.

Takahashi S, Abe K, Kera Y. Bacterial d-amino acid oxidases: recent findings and future perspectives. Bioengineered 2015;6:237–41.

112.

Kaiser K, Benner R. Major bacterial contribution to the ocean reservoir of detrital organic carbon and nitrogen. Limnol Oceanogr. 2008;53:99–112.

113.

Zhang Z, Zheng Q, Jiao N. Microbial D-amino acids and marine carbon storage. Sci China Earth Sci. 2016;59:17–24.
Acknowledgements
This work was financially supported by the National Key R&D Program of China (2018YFC0309800), and the National Natural Science Foundation of China (grants 91851113, 41921006, 41776173, and 41676118).
Ethics declarations
Conflict of interest
The authors declare no competing interests.
Additional information
Publisher's note Springer Nature remains neutral with regard to jurisdictional claims in published maps and institutional affiliations.
Supplementary information
About this article
Cite this article
Jian, H., Yi, Y., Wang, J. et al. Diversity and distribution of viruses inhabiting the deepest ocean on Earth. ISME J (2021). https://doi.org/10.1038/s41396-021-00994-y
Received:

Revised:

Accepted:

Published: