Abstract
Carbon fixation by chemoautotrophic microbes such as homoacetogens had a major impact on the transition from the inorganic to the organic world. Recent reports have shown the presence of genes for key enzymes associated with the Wood–Ljungdahl pathway (WLP) in the phylum Actinobacteria, which adds to the diversity of potential autotrophs. Here, we compiled 42 actinobacterial metagenome-assembled genomes (MAGs) from new and existing metagenomic datasets and propose three novel classes, Ca. Aquicultoria, Ca. Geothermincolia and Ca. Humimicrobiia. Most members of these classes contain genes coding for acetogenesis through the WLP, as well as a variety of hydrogenases (NiFe groups 1a and 3b–3d; FeFe group C; NiFe group 4-related hydrogenases). We show that the three classes acquired the hydrogenases independently, yet the carbon monoxide dehydrogenase/acetyl-CoA synthase complex (CODH/ACS) was apparently present in their last common ancestor and was inherited vertically. Furthermore, the Actinobacteria likely donated genes for CODH/ACS to multiple lineages within Nitrospirae, Deltaproteobacteria (Desulfobacterota), and Thermodesulfobacteria through multiple horizontal gene transfer events. Finally, we show the apparent growth of Ca. Geothermincolia and H2-dependent acetate production in hot spring enrichment cultures with or without the methanogenesis inhibitor 2-bromoethanesulfonate, which is consistent with the proposed homoacetogenic metabolism.
Access options
Subscribe to Journal
Get full journal access for 1 year
$119.00
only $9.92 per issue
All prices are NET prices.
VAT will be added later in the checkout.
Tax calculation will be finalised during checkout.
Rent or Buy article
Get time limited or full article access on ReadCube.
from$8.99
All prices are NET prices.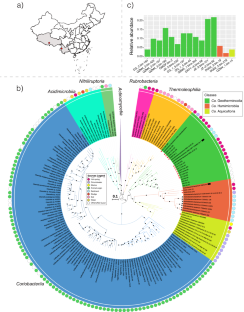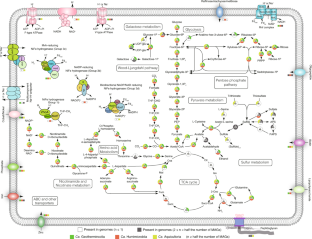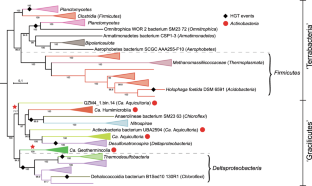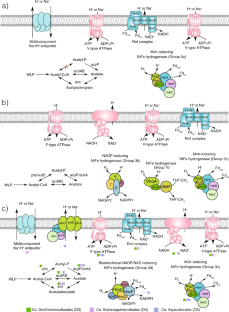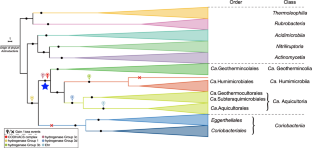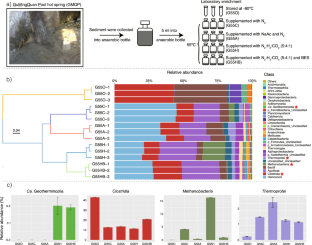 Data availability
The MAGs described in this paper have been deposited under NCBI PRJNA649850 and the eLibrary of Microbial Systematics and Genomics, https://www.biosino.org/elmsg/index, under accession numbers LMSG_G000001169.1–LMSG_G000001505.1. Additional raw data that support the findings of this study are available from The National Omics Data Encyclopedia (https://www.biosino.org/node) under project OEP001752 and OEP001755.
References
1.

Adam PS, Borrel G, Gribaldo S. Evolutionary history of carbon monoxide dehydrogenase/acetyl-CoA synthase, one of the oldest enzymatic complexes. Proc Natl Acad Sci USA. 2018;115:E1166–73.

2.

Borrel G, Adam PS, McKay LJ, Chen LX, Sierra-García IN, Sieber CM, et al. Wide diversity of methane and short-chain alkane metabolisms in uncultured archaea. Nat Microbiol. 2019;4:603–13.

3.

Ragsdale SW, Pierce E. Acetogenesis and the Wood–Ljungdahl pathway of CO2 fixation. BBA-Proteins Proteom. 2008;1784:1873–98.

4.

Müller B, Sun L, Schnürer A. First insights into the syntrophic acetate‐oxidizing bacteria–a genetic study. MicrobiologyOpen. 2013;2:35–53.

5.

Schuchmann K, Müller V. Energetics and application of heterotrophy in acetogenic bacteria. Appl Environ Microbiol. 2016;82:4056–69.

6.

Schuchmann K, Müller V. Autotrophy at the thermodynamic limit of life: a model for energy conservation in acetogenic bacteria. Nat Rev Microbiol. 2014;12:809–21.

7.

Evans PN, Boyd JA, Leu AO, Woodcroft BJ, Parks DH, Hugenholtz P, et al. An evolving view of methane metabolism in the Archaea. Nat Rev Microbiol. 2019;17:219–32.

8.

Vavourakis CD, Andrei AS, Mehrshad M, Ghai R, Sorokin DY, Muyzer G. A metagenomics roadmap to the uncultured genome diversity in hypersaline soda lake sediments. Microbiome. 2018;6:1–18.

9.

Liu YF, Chen J, Liu ZL, Shou LB, Lin DD, Zhou L, et al. Anaerobic degradation of paraffins by thermophilic Actinobacteria under methanogenic conditions. Environ Sci Technol. 2020;54:10610–20.

10.

Zhang Y, Wu G, Jiang H, Yang J, She W, Khan I, et al. Abundant and rare microbial biospheres respond differently to environmental and spatial factors in tibetan hot springs. Front Microbiol. 2018;9:2096.

11.

Hua ZS, Han YJ, Chen LX, Liu J, Hu M, Li SJ, et al. Ecological roles of dominant and rare prokaryotes in acid mine drainage revealed by metagenomics and metatranscriptomics. ISME J. 2015;9:1280–94.

12.

Bankevich A, Nurk S, Antipov D, Gurevich AA, Dvorkin M, Kulikov AS, et al. SPAdes: a new genome assembly algorithm and its applications to single-cell sequencing. J Comput Biol. 2012;19:455–77.

13.

Kang DD, Froula J, Egan R, Wang Z. MetaBAT, an efficient tool for accurately reconstructing single genomes from complex microbial communities. PeerJ. 2015;3:e1165

14.

Parks DH, Imelfort M, Skennerton CT, Hugenholtz P, Tyson GW. CheckM: assessing the quality of microbial genomes recovered from isolates, single cells, and metagenomes. Genome Res. 2015;25:1043–55.

15.

Chaumeil PA, Mussig AJ, Hugenholtz P, Parks DH. GTDB-Tk: a toolkit to classify genomes with the Genome Taxonomy Database. Bioinformatics. 2020;36:1925–7.

16.

Hyatt D, Chen GL, LoCascio PF, Land ML, Larimer FW, Hauser LJ. Prodigal: prokaryotic gene recognition and translation initiation site identification. BMC Bioinform. 2010;11:119.

17.

Buchfink B, Xie C, Huson DH. Fast and sensitive protein alignment using DIAMOND. Nat Methods. 2015;12:59.

18.

Moriya Y, Itoh M, Okuda S, Yoshizawa AC, Kanehisa M. KAAS: an automatic genome annotation and pathway reconstruction server. Nucleic Acids Res. 2007;35:W182–5.

19.

Lowe TM, Eddy SR. tRNAscan-SE: a program for improved detection of transfer RNA genes in genomic sequence. Nucleic Acids Res. 1997;25:955–64.

20.

Lagesen K, Hallin P, Rødland EA, Stærfeldt HH, Rognes T, Ussery DW. RNAmmer: consistent and rapid annotation of ribosomal RNA genes. Nucleic Acids Res. 2007;35:3100–8.

21.

Nguyen LT, Schmidt HA, von Haeseler A, Minh BQ. IQ-TREE: a fast and effective stochastic algorithm for estimating maximum-likelihood phylogenies. Mol Biol Evol. 2015;32:268–74.

22.

Kalyaanamoorthy S, Minh BQ, Wong TK, von Haeseler A, Jermiin LS. ModelFinder: fast model selection for accurate phylogenetic estimates. Nat Methods. 2017;14:587.

23.

Greening C, Biswas A, Carere CR, Jackson CJ, Taylor MC, Stott MB, et al. Genomic and metagenomic surveys of hydrogenase distribution indicate H2 is a widely utilised energy source for microbial growth and survival. ISME J. 2016;10:761–77.

24.

Carnevali PBM, Schulz F, Castelle CJ, Kantor RS, Shih PM, Sharon I, et al. Hydrogen-based metabolism as an ancestral trait in lineages sibling to the Cyanobacteria. Nat Commun. 2019;10:1–15.

25.

Jaffe AL, Castelle CJ, Dupont CL, Banfield JF. Lateral gene transfer shapes the distribution of RuBisCO among candidate phyla radiation bacteria and DPANN archaea. Mol Biol Evol. 2019;36:435–46.

26.

Edgar RC. MUSCLE: multiple sequence alignment with high accuracy and high throughput. Nucleic Acids Res. 2004;32:1792–7.

27.

Capella-Gutiérrez S, Silla-Martínez JM, Gabaldón T. trimAl: a tool for automated alignment trimming in large-scale phylogenetic analyses. Bioinformatics. 2009;25:1972–3.

28.

Søndergaard D, Pedersen CNS, Greening C. HydDB: a web tool for hydrogenase classification and analysis. Sci Rep. 2016;6:1–8.

29.

El-Gebali S, Mistry J, Bateman A, Eddy SR, Luciani A, Potter SC, et al. The Pfam protein families database in 2019. Nucleic Acids Res. 2019;47:D427–32.

30.

Letunic I, Bork P. Interactive tree of life (iTOL) v3: an online tool for the display and annotation of phylogenetic and other trees. Nucleic Acids Res. 2016;44:W242–5.

31.

Emms DM, Kelly S. OrthoFinder: solving fundamental biases in whole genome comparisons dramatically improves orthogroup inference accuracy. Genome Biol. 2015;16:157.

32.

Ronquist F, Teslenko M, Van Der Mark P, Ayres DL, Darling A, Höhna S, et al. MrBayes 3.2: efficient Bayesian phylogenetic inference and model choice across a large model space. Syst Biol. 2012;61:539–42.

33.

Csűös M. Count: evolutionary analysis of phylogenetic profiles with parsimony and likelihood. Bioinformatics. 2010;26:1910–2.

34.

Hua ZS, Wang YL, Evans PN, Qu YN, Goh KM, Rao YZ, et al. Insights into the ecological roles and evolution of methyl-coenzyme M reductase-containing hot spring Archaea. Nat Commun. 2019;10:1–11.

35.

Jiao JY, Liu L, Hua ZS, Fang BZ, Zhou EM, Salam N, et al. Microbial dark matter coming to light: challenges and opportunities. Natl Sci Rev. 2021;8:nwaa280.

36.

Ludwig W, Strunk O, Westram R, Richter L, Meier H, Yadhukumar. ARB: a software environment for sequence data. Nucleic Acids Res. 2004;32:1363–71.

37.

Cole JR, Wang Q, Fish JA, Chai B, McGarrell DM, Sun Y, et al. Ribosomal Database Project: data and tools for high throughput rRNA analysis. Nucleic Acids Res. 2014;42:D633–42.

38.

Caporaso JG, Kuczynski J, Stombaugh J, Bittinger K, Bushman FD, Costello EK, et al. QIIME allows analysis of high-throughput community sequencing data. Nat Methods. 2010;7:335–6.

39.

Rognes T, Flouri T, Nichols B, Quince C, Mahé F. VSEARCH: a versatile open source tool for metagenomics. PeerJ. 2016;4:e2584.

40.

Menzel P, Ng KL, Krogh A. Fast and sensitive taxonomic classification for metagenomics with Kaiju. Nat Commun. 2016;7:1–9.

41.

Brown CT, Olm MR, Thomas BC, Banfield JF. Measurement of bacterial replication rates in microbial communities. Nat Biotechnol. 2016;34:1256–63.

42.

Jain C, Rodriguez-R LM, Phillippy AM, Konstantinidis KT, Aluru S. High throughput ANI analysis of 90K prokaryotic genomes reveals clear species boundaries. Nat Commun. 2018;9:1–8.

43.

Langmead B, Wilks C, Antonescu V, Charles R. Scaling read aligners to hundreds of threads on general-purpose processors. Bioinformatics. 2019;35:421–32.

44.

Salam N, Jiao JY, Zhang XT, Li WJ. Update on the classification of higher ranks in the phylum Actinobacteria. Int J Syst Evol Microbiol. 2020;70:1331–55.

45.

Richter M, Rosselló-Móra R. Shifting the genomic gold standard for the prokaryotic species definition. Proc Natl Acad Sci USA. 2009;106:19126–31.

46.

Chun J, Oren A, Ventosa A, Christensen H, Arahal DR, da Costa MS, et al. Proposed minimal standards for the use of genome data for the taxonomy of prokaryotes. Int J Syst Evol Micr. 2018;68:461–6.

47.

Merino N, Kawai M, Boyd ES, Colman DR, McGlynn SE, Nealson KH, et al. Single-cell genomics of novel actinobacteria with the Wood–Ljungdahl pathway discovered in a serpentinizing system. Front Microbiol. 2020;11:1031.

48.

Coleman GA, Davín AA, Mahendrarajah T, Spang AA, Hugenholtz P, Szöllősi GJ, et al. A rooted phylogeny resolves early bacterial evolution. 2020. https://doi.org/10.1101/2020.07.15.205187.

49.

Spear JR, Walker JJ, McCollom TM, Pace NR. Hydrogen and bioenergetics in the Yellowstone geothermal ecosystem. Proc Natl Acad Sci USA. 2005;102:2555–60.

50.

Vignais PM, Billoud B. Occurrence, classification, and biological function of hydrogenases: an overview. Chem Rev. 2007;107:4206–72.

51.

Marreiros BC, Batista AP, Duarte AM, Pereira MM. A missing link between complex I and group 4 membrane-bound [NiFe] hydrogenases. BBA-Bioenerg. 2013;1827:198–209.

52.

Martin WF. Older than genes: the acetyl CoA pathway and origins. Front Microbiol. 2020;11:817.

53.

Daniel SL, Hsu T, Dean SI, Drake HL. Characterization of the H2-and CO-dependent chemolithotrophic potentials of the acetogens Clostridium thermoaceticum and Acetogenium kivui. J Bacteriol. 1990;172:4464–71.

54.

Fontaine FE, Peterson WH, McCoy E, Johnson MJ, Ritter GJ. A new type of glucose fermentation by Clostridium thermoaceticum. J Bacteriol. 1942;43:701.

55.

Drake HL, Daniel SL. Physiology of the thermophilic acetogen Moorella thermoacetica. Microbiol Res. 2004;155:869–83.

56.

Hügler M, Hube H, Molyneaux SJ, Vetriani C, Sievert SM. Autotrophic CO2 fixation via the reductive tricarboxylic acid cycle in different lineages within the phylum Aquificae: evidence for two ways of citrate cleavage. Environ Microbiol. 2007;9:81–92.

57.

Hou J, Sievert SM, Wang Y, Seewald JS, Natarajan VP, Xiao X, et al. Microbial succession during the transition from active to inactive stages of deep-sea hydrothermal vent sulfide chimneys. Microbiome. 2020;8:102.

58.

Müller AL, Kjeldsen KU, Rattei T, Pester M, Loy A. Phylogenetic and environmental diversity of DsrAB-type dissimilatory (bi) sulfite reductases. ISME J. 2015;9:1152–65.

59.

Spang A, Stairs CW, Dombrowski N, Eme L, Lombard J, Caceres EF, et al. Proposal of the reverse flow model for the origin of the eukaryotic cell based on comparative analyses of Asgard archaeal metabolism. Nat Microbiol. 2019;4:1138–48.

60.

Seitz KW, Lazar CS, Hinrichs KU, Teske AP, Baker BJ. Genomic reconstruction of a novel, deeply branched sediment archaeal phylum with pathways for acetogenesis and sulfur reduction. ISME J. 2016;10:1696–705.

61.

Orsi WD, Vuillemin A, Rodriguez P, Coskun ÖK, Gomez-Saez GV, Lavik G, et al. Metabolic activity analyses demonstrate that Lokiarchaeon exhibits homoacetogenesis in sulfidic marine sediments. Nat Microbiol. 2020;5:248–55.

62.

Raymann K, Brochier-Armanet C, Gribaldo S. The two-domain tree of life is linked to a new root for the Archaea. Proc Natl Acad Sci USA. 2015;112:6670–5.
Acknowledgements
This study was supported by funding from the National Natural Science Foundation of China (Grant Nos 91951205, 91751206, 92051108, 32061143043, 31850410475, 31670009, and 31970122), the Natural Science Foundation of Guangdong Province, China (Grant No. 2016A030312003), Guangzhou Municipal People's Livelihood Science and Technology Plan (Grant No. 201803030030), the U.S. National Science Foundation (DEB 1557042 and DEB 1841658), and Agricultural Science and Technology Innovation Project of the Chinese Academy of Agriculture Science (No. CAAS-ASTIP-2016-BIOMA). We thank Charlotte D. Vavourakis and Gerard Muyzer for providing the actinobacterial MAGs from metagenomes of soda lake sediments, and thank Xiao-Tong Zhang and Wen-Hui Lian for data collection. The authors would like to thank Wan Liu for the MAGs submission to the eLibrary of Microbial Systematics and Genomic (https://www.biosino.org/elmsg/index). The authors would also like to thank the Guangdong Magigene Biotechnology Co. Ltd., China, for NGS sequencing.
Ethics declarations
Conflict of interest
The author declares no competing interests.
Additional information
Publisher's note Springer Nature remains neutral with regard to jurisdictional claims in published maps and institutional affiliations.
Supplementary information
About this article
Cite this article
Jiao, JY., Fu, L., Hua, ZS. et al. Insight into the function and evolution of the Wood–Ljungdahl pathway in Actinobacteria. ISME J 15, 3005–3018 (2021). https://doi.org/10.1038/s41396-021-00935-9
Received:

Revised:

Accepted:

Published:

Issue Date: