Abstract
Intracellular symbionts in insects often have reduced genomes. Host acquisition of genes from bacteria is an important adaptation that supports symbionts. However, the function of horizontally transferred genes in insect symbiosis remains largely unclear. The primary symbiont Portiera housed in bacteriocytes lacks pantothenate synthesis genes: panB and panC, which is presumably complemented by a fused gene panB-panC (hereafter panBC) horizontally transferred from bacteria in Bemisia tabaci MEAM1. We found panBC in many laboratory cultures, and species of B. tabaci shares a common evolutionary origin. We demonstrated that complementation with whitefly panBC rescued E. coli pantothenate gene knockout mutants. Portiera elimination decreased the pantothenate level and PanBC abundance in bacteriocytes, and reduced whitefly survival and fecundity. Silencing PanBC decreased the Portiera titer, reduced the pantothenate level, and decreased whitefly survival and fecundity. Supplementation with pantothenate restored the symbiont titer, PanBC level, and fitness of RNAi whiteflies. These data suggest that pantothenate synthesis requires cooperation and coordination of whitefly PanBC expression and Portiera. This host–symbiont co-regulation was mediated by the pantothenate level. Our findings demonstrated that pantothenate production, by the cooperation of a horizontally acquired, fused bacteria gene and Portiera, facilitates the coordination of whitefly and symbiont fitness. Thus, this study extends our understanding on the basis of complex host–symbiont interactions.
Access options
Subscribe to Journal
Get full journal access for 1 year
$399.00
only $33.25 per issue
All prices are NET prices.
VAT will be added later in the checkout.
Tax calculation will be finalised during checkout.
Rent or Buy article
Get time limited or full article access on ReadCube.
from$8.99
All prices are NET prices.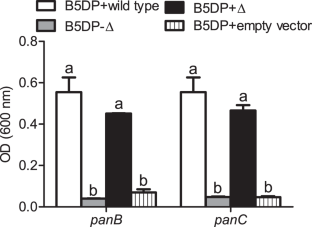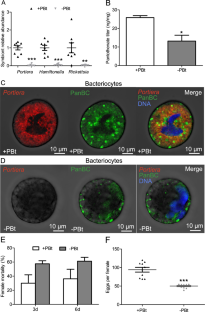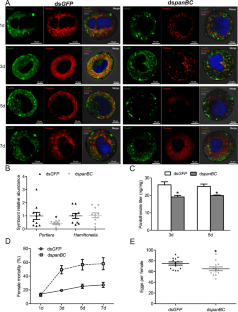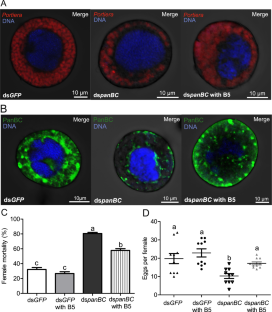 Data availability
All relevant data supporting the findings of this study are included within the article and its Supplementary Information files.
References
1.

Moran NA, Bennett GM. The tiniest tiny genomes. Annu Rev Microbiol. 2014;68:195–215.

2.

Douglas AE. Multiorganismal insects: diversity and function of resident microorganisms. Annu Rev Entomol. 2015;60:17–34.

3.

Husnik F, Nikoh N, Koga R, Ross L, Duncan RP, Fujie M, et al. Horizontal gene transfer from diverse bacteria to an insect genome enables a tripartite nested mealybug symbiosis. Cell. 2013;153:1567–78.

4.

Nikoh N, Hosokawa T, Moriyama M, Oshima K, Hattori M, Fukatsu T. Evolutionary origin of insect-Wolbachia nutritional mutualism. Proc Natl Acad Sci USA. 2014;111:10257–62.

5.

Salem BauerE, Kirsch R, Berasategui A, Cripps M, Weiss B, et al. Drastic genome reduction in an herbivore's pectinolytic symbiont. Cell. 2017;171:1520–31.

6.

Moran NA, McCutcheon JP, Nakabachi A. Genomics and evolution of heritable bacterial symbionts. Annu Rev Genet. 2008;42:165–90.

7.

Moya A, Peretó J, Gil R, Latorre A. Learning how to live together: genomic insights into prokaryote-animal symbioses. Nat Rev Genet. 2008;9:218–29.

8.

Wybouw N, Pauchet Y, Heckel DG, Van, Leeuwen T. Horizontal gene transfer contributes to the evolution of arthropod herbivory. Genome Biol Evol. 2016;8:1785–801.

9.

Sloan DB, Nakabachi A, Richards S, Qu J, Murali SC, Gibbs RA, et al. Parallel histories of horizontal gene transfer facilitated extreme reduction of endosymbiont genomes in sap-feeding insects. Mol Biol Evol. 2014;31:857–71.

10.

Luan JB, Chen WB, Hasegawa DK, Simmons AM, Wintermantel WM, Ling KS, et al. Metabolic coevolution in the bacterial symbiosis of whiteflies and related plant sap-feeding insects. Genome Biol Evol. 2015;7:2635–47.

11.

Bublitz DC, Chadwick GL, Magyar JS, Sandoz KM, Brooks DM, Mesnage S, et al. Peptidoglycan production by an insect-bacterial mosaic. Cell. 2019;179:703–12.

12.

Nakabachi A, Ishida K, Hongoh Y, Ohkuma M, Miyagishima SY. Aphid gene of bacterial origin encodes a protein transported to an obligate endosymbiont. Curr Biol. 2014;24:640–1.

13.

Chung SH, Jing X, Luo Y, Douglas AE. Targeting symbiosis-related insect genes by RNAi in the pea aphid-Buchnera symbiosis. Insect Biochem Mol Biol. 2018;95:55–63.

14.

Douglas AE. The B vitamin nutrition of insects: the contributions of diet, microbiome and horizontally acquired genes. Curr Opin Insect Sci. 2017;23:65–9.

15.

Ren FR, Sun X, Wang TY, Yao YL, Huang YZ, Zhang X, et al. Biotin provisioning by horizontally transferred genes from bacteria confers animal fitness benefits. ISME J. 2020;14:2542–53.

16.

Price DR, Wilson AC. A substrate ambiguous enzyme facilitates genome reduction in an intracellular symbiont. BMC Biol. 2014;12:110–9.

17.

Wilson ACC, Duncan RP. Signatures of host/symbiont genome coevolution in insect nutritional endosymbioses. Proc Natl Acad Sci USA. 2015;112:10255–61.

18.

Chen W, Hasegawa DK, Kaur N, Kliot A, Pinheiro PV, Luan JB, et al. The draft genome of whitefly Bemisia tabaci MEAM1, a global crop pest, provides novel insights into virus transmission, host adaptation, and insecticide resistance. BMC Biol. 2016;14:110.

19.

Sloan DB, Moran NA. Genome reduction and co-evolution between the primary and secondary bacterial symbionts of psyllids. Mol Biol Evol. 2012;29:3781–92.

20.

Nikoh N, McCutcheon JP, Kudo T, Miyagishima S, Moran NA, Nakabachi A. Bacterial genes in the aphid genome: absence of functional gene transfer from Buchnera to its host. PloS Genet. 2010;6:e1000827.

21.

De Barro PJ, Liu SS, Boykin LM, Dinsdale AB. Bemisia tabaci: a statement of species status. Annu Rev Entomol. 2011;56:1–19.

22.

Liu SS, Colvin JJ, De, Barro PJ. Species concepts as applied to the whitefly Bemisia tabaci systematics: how many species are there? J Integr Agr. 2012;11:176–86.

23.

Firdaus S, Vosman B, Hidayati N, Supena EDJ, Visser RGF, van Heusden AW. The Bemisia tabaci species complex: additions from different parts of the world. Insect Sci. 2013;20:723–33.

24.

Gottlieb Y, Ghanim M, Gueguen G, Kontsedalov S, Vavre F, Fleury F, et al. Inherited intracellular ecosystem: symbiotic bacteria share bacteriocytes in whiteflies. FASEB J. 2008;22:2591–9.

25.

Škaljac M, Zanic K, Ban SG, Kontsedalov S, Ghanim M. Co-infection and localization of secondary symbionts in two whitefly species. BMC Microbiol. 2010;10:142–57.

26.

Liu SS, De Barro PJ, Xu J, Luan JB, Zang LS, Ruan YM, et al. Asymmetric mating interactions drive widespread invasion and displacement in a whitefly. Science. 2007;318:1769–72.

27.

Luan JB, Shan HW, Isermann P, Huang JH, Lammerding J, Liu SS, et al. Cellular and molecular remodelling of a host cell for vertical transmission of bacterial symbionts. Proc R Soc B. 2016;283:20160580.

28.

Shan HW, Luan JB, Liu YQ, Douglas AE, Liu SS. The inherited bacterial symbiont Hamiltonella influences the sex ratio of an insect host. Proc R Soc B. 2019;286:20191677.

29.

Sloan DB, Moran NA. Endosymbiotic bacteria as a source of carotenoids in whiteflies. Biol Lett. 2012;8:986–9.

30.

Wang YB, Ren FR, Yao YL, Sun X, Walling LL, Li NN, et al. Intracellular symbionts drive sex ratio in the whitefly by facilitating fertilization and provisioning of B vitamins. ISME J. 2020;14:2923–35.

31.

Qin L, Pan LL, Liu SS. Further insight into reproductive incompatibility between putative cryptic species of the Bemisia tabaci whitefly complex. Insect Sci. 2016;23:215–24.

32.

Luan JB, Sun XP, Fei ZJ, Douglas AE. Maternal inheritance of a single somatic animal cell displayed by the bacteriocyte in the whitefly Bemisia tabaci. Curr Biol. 2018;28:459–65.

33.

Schmittgen TD, Livak KJ. Analyzing real-time PCR data by the comparative CT method. Nat Protoc. 2008;3:1101–8.

34.

Xie W, Chen C, Yang Z, Guo L, Yang X, Wang D, et al. Genome sequencing of the sweetpotato whitefly Bemisia tabaci MED/Q. Gigascience. 2017;6:1–7.

35.

Wang XW, Luan JB, Li JM, Bao YY, Zhang CX, Liu SS. De novo characterization of a whitefly transcriptome and analysis of its gene expression during development. BMC Genom. 2010;11:400–11.

36.

Wang XW, Zhao QY, Luan JB, Wang YJ, Yan GH, Liu SS, et al. Analysis of a native whitefly transcriptome and its sequence divergence with two invasive whitefly species. BMC Genom. 2012;13:529–42.

37.

Gottlieb Y, Ghanim M, Chiel E, Gerling D, Portnoy V, Steinberg S, et al. Identification and localization of a Rickettsia sp. in Bemisia tabaci (Homoptera: Aleyrodidae). Appl Environ Microbiol. 2006;72:3646–52.

38.

Russell CW, Bouvaine S, Newell PD, Douglas AE. Shared metabolic pathways in a coevolved insect-bacterial symbiosis. Appl Environ Microbiol. 2013;79:6117–23.

39.

Ren FR, Bai B, Hong JS, Huang YZ, Luan JB. A microbiological assay for biotin determination in insects. Insect Sci. 2020. https://doi.org/10.1111/1744-7917.12827.

40.

Datsenko KA, Wanner BL. One-step inactivation of chromosomal genes in Escherichia coli K-12 using PCR products. Proc Natl Acad Sci USA. 2000;97:6640–5.

41.

Baba T, Ara T, Hasegawa M, Takai Y, Okumura Y, Baba M, et al. Construction of Escherichia coli K-12 in-frame, single-gene knockout mutants: the Keio collection. Mol Syst Biol. 2006;2:2006–8.

42.

Mori H, Baba T, Yokoyama K, TakeuchiR, Nomura W, Makishi K, et al. Identification of essential genes and synthetic lethal gene combinations in Escherichia coli K-12. Methods Mol Biol. 2015;1279:45–65.

43.

Zhang CR, Shan HW, Xiao N, Zhang FD, Wang XW, Liu YQ, et al. Differential temporal changes of primary and secondary bacterial symbionts and whitefly host fitness following antibiotic treatments. Sci Rep. 2015;5:15898.

44.

Shan HW, Zhang CR, Yan TT, Tang HQ, Wang XW, Liu SS, et al. Temporal changes of symbiont density and host fitness after rifampicin treatment in a whitefly of the Bemisia tabaci species complex. Insect Sci. 2016;23:200–14.

45.

Ghanim M, Kontsedalov S, Czosnek H. Tissue-specific gene silencing by RNA interference in the whitefly Bemisia tabaci (Gennadius). Insect Biochem Mol Bio. 2007;37:732–8.

46.

Nakabachi A, Shigenobu S, Sakazume N, Shiraki T, Yoshihide Hayashizak Y, Carninci P, et al. Transcriptome analysis of the aphid bacteriocyte, the symbiotic host cell that harbors an endocellular mutualistic bacterium, Buchnera. Proc Natl Acad Sci USA. 2005;102:5477–82.

47.

Hansen AK, Moran NA. Aphid genome expression reveals host-symbiont cooperation in the production of amino acids. Proc Natl Acad Sci USA. 2011;108:2849–54.

48.

Smith TE, Moran NA. Coordination of host and symbiont gene expression reveals a metabolic tug-of-war between aphids and Buchnera. Proc Natl Acad Sci USA. 2020;117:2113–21.

49.

Thomas GH, Zucker J, Macdonald SD, Sorokin A, Goryanin I. A fragile metabolic network adapted for cooperation in the symbiotic bacterium Buchnera aphidicola. BMC Syst Biol. 2009;3:24.

50.

Ankrah N, Luan JB, Douglas AE. Cooperative metabolism in a three-partner insect-bacterial symbiosis revealed by metabolic modeling. J Bacteriol. 2017;199:e00872–16.

51.

Douglas AE. Lessons from studying insect symbioses. Cell Host Microbe. 2011;10:359–67.

52.

Price DR, Fen H, Baker JD, Bavan S, Luetje CW, Luetje CW, et al. Aphid amino acid transporter regulates glutamine supply to intracellular bacterial symbionts. Proc Natl Acad Sci USA. 2014;111:320–5.

53.

Hansen AK, Degnan PH. Widespread expression of conserved small RNAs in small symbiont genomes. ISME J. 2014;8:2490–502.

54.

Thairu MW, Cheng S, Hansen AK. A sRNA in a reduced mutualistic symbiont genome regulates its own gene expression. Mol Ecol. 2018;27:1766–76.

55.

Husnik F, Mccutcheon JP. Functional horizontal gene transfer from bacteria to eukaryotes. Nat Rev Microbiol. 2018;16:67–79.
Acknowledgements
The authors thank Professor Angela E. Douglas from Cornell University for constructive comments. We thank Professor Liu Shu-Sheng from Zhejiang University for providing the B. tabaci MEAM1 culture, and Dr Zhang De-Xian, Liu Bing-Qi, Li Ce, and Wang Yan-Bin for their assistance with the experiments. We thank Dr Zhang Xue from China Agricultural University for help and advice on E. coli functional complementation experiments. This work was supported by the National Natural Science Foundation of China (No. 31871967), High-Level Talent Support Foundation from Liaoning and Shenyang Agricultural University (Project XLYC1902104 and 880418001).
Ethics declarations
Conflict of interest
The authors declare that they have no conflict of interest.
Additional information
Publisher's note Springer Nature remains neutral with regard to jurisdictional claims in published maps and institutional affiliations.
Supplementary information
About this article
Cite this article
Ren, FR., Sun, X., Wang, TY. et al. Pantothenate mediates the coordination of whitefly and symbiont fitness. ISME J (2021). https://doi.org/10.1038/s41396-020-00877-8
Received:

Revised:

Accepted:

Published: