Abstract
Exploitation of plant growth promoting (PGP) rhizobacteria (PGPR) as crop inoculants could propel sustainable intensification of agriculture to feed our rapidly growing population. However, field performance of PGPR is typically inconsistent due to suboptimal rhizosphere colonisation and persistence in foreign soils, promiscuous host-specificity, and in some cases, the existence of undesirable genetic regulation that has evolved to repress PGP traits. While the genetics underlying these problems remain largely unresolved, molecular mechanisms of PGP have been elucidated in rigorous detail. Engineering and subsequent transfer of PGP traits into selected efficacious rhizobacterial isolates or entire bacterial rhizosphere communities now offers a powerful strategy to generate improved PGPR that are tailored for agricultural use. Through harnessing of synthetic plant-to-bacteria signalling, attempts are currently underway to establish exclusive coupling of plant-bacteria interactions in the field, which will be crucial to optimise efficacy and establish biocontainment of engineered PGPR. This review explores the many ecological and biotechnical facets of this research.
Access options
Subscribe to Journal
Get full journal access for 1 year
$499.00
only $41.58 per issue
All prices are NET prices.
VAT will be added later in the checkout.
Rent or Buy article
Get time limited or full article access on ReadCube.
from$8.99
All prices are NET prices.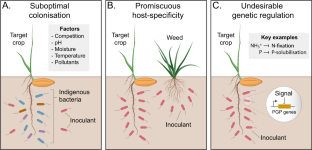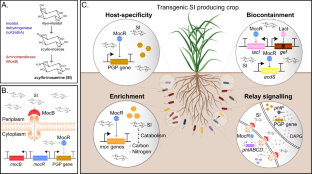 References
1.

Hunter MC, Smith RG, Schipanski ME, Atwood LW, Mortensen DA. Agriculture in 2050: recalibrating targets for sustainable intensification. Bioscience. 2017;67:386–91.

2.

Tilman D, Balzer C, Hill J, Befort BL. Global food demand and the sustainable intensification of agriculture. Proc Natl Acad Sci USA. 2011;108:20260.

3.

Alexandratos N, Bruinsma J. World agriculture towards 2030/2050: the 2012 revision. ESA Working Papers 12-03. Rome: FAO; 2012.

4.

Cordell D, White S. Tracking phosphorus security: indicators of phosphorus vulnerability in the global food system. Food Secur. 2015;7:337–50.

5.

Santos MS, Nogueira MA, Hungria M. Microbial inoculants: reviewing the past, discussing the present and previewing an outstanding future for the use of beneficial bacteria in agriculture. AMB Express. 2019;9:205.

6.

Reeves T, Thomas G, Ramsay G (eds). Save and grow in practice: maize, rice, wheat: a guide to sustainable cereal production. Rome: FAO; 2016.

7.

Díaz-Zorita M, Fernández-Canigia MV. Field performance of a liquid formulation of Azospirillum brasilense on dryland wheat productivity. Eur J Soil Biol. 2009;45:3–11.

8.

Dobbelaere S, Croonenborghs A, Thys A, Ptacek D, Vanderleyden J, Dutto P, et al. Responses of agronomically important crops to inoculation with Azospirillum. Funct Plant Biol. 2001;28:871–9.

9.

O'Hanlon K. Plant growth-promoting bacteria field trials in europe. In: Murphy BR, Doohan FM, Saunders MJ, Hodkinson TR, editors. Endophytes for a Growing World. Cambridge: Cambridge University Press; 2019, p. 371–89.

10.

Chang P, Gerhardt KE, Huang XD, Yu XM, Glick BR, Gerwing PD, et al. Plant growth-promoting bacteria facilitate the growth of barley and oats in salt-impacted soil: implications for phytoremediation of saline soils. Int J Phytoremediation. 2014;16:1133–47.

11.

Timmusk S, Behers L, Muthoni J, Muraya A, Aronsson A-C. Perspectives and challenges of microbial application for crop improvement. Front Plant Sci. 2017;8:49.

12.

Tabassum B, Khan A, Tariq M, Ramzan M, Iqbal Khan MS, Shahid N, et al. Bottlenecks in commercialisation and future prospects of PGPR. Appl Soil Ecol. 2017;121:102–17.

13.

Ofek M, Voronov-Goldman M, Hadar Y, Minz D. Host signature effect on plant root-associated microbiomes revealed through analyses of resident vs. active communities. Environ Microbiol. 2014;16:2157–67.

14.

Bueno Batista M, Dixon R. Manipulating nitrogen regulation in diazotrophic bacteria for agronomic benefit. Biochem Soc Trans. 2019;47:603–14.

15.

Santos-Beneit F. The Pho regulon: a huge regulatory network in bacteria. Front Microbiol. 2015;6:402.

16.

Pinski A, Betekhtin A, Hupert-Kocurek K, Mur LAJ, Hasterok R. Defining the genetic basis of plant endophytic bacteria interactions. Int J Mol Sci. 2019;20:1947.

17.

Geddes BA, Paramasivan P, Joffrin A, Thompson AL, Christensen K, Jorrin B, et al. Engineering transkingdom signalling in plants to control gene expression in rhizosphere bacteria. Nat Commun. 2019;10:3430.

18.

Reinhold-Hurek B, Bünger W, Burbano CS, Sabale M, Hurek T. Roots shaping their microbiome: global hotspots for microbial activity. Annu Rev Phytopathol. 2015;53:403–24.

19.

Liu H, Carvalhais LC, Crawford M, Singh E, Dennis PG, Pieterse CMJ, et al. Inner plant values: diversity, colonization and benefits from endophytic bacteria. Front Microbiol. 2017;8:2552.

20.

Tkacz A, Bestion E, Bo Z, Hortala M, Poole PS. Influence of plant fraction, soil, and plant species on microbiota: a multikingdom comparison. mBio. 2020;11:e02785–02719.

21.

Levy A, Salas Gonzalez I, Mittelviefhaus M, Clingenpeel S, Herrera Paredes S, Miao J, et al. Genomic features of bacterial adaptation to plants. Nat Genet. 2017;50:138–50.

22.

Griffiths RI, Thomson BC, James P, Bell T, Bailey M, Whiteley AS. The bacterial biogeography of British soils. Environ Microbiol. 2011;13:1642–54.

23.

Granato ET, Meiller-Legrand TA, Foster KR. The evolution and ecology of bacterial warfare. Curr Biol. 2019;29:R521–r537.

24.

Niu X, Song L, Xiao Y, Ge W. Drought-tolerant plant growth-promoting rhizobacteria associated with foxtail millet in a semi-arid agroecosystem and their potential in alleviating drought stress. Front Microbiol. 2018;8:2580.

25.

Egamberdieva D, Wirth S, Bellingrath-Kimura SD, Mishra J, Arora NK. Salt-tolerant plant growth promoting rhizobacteria for enhancing crop productivity of saline soils. Front Microbiol. 2019;10:2791.

26.

Wang D, Yang S, Tang F, Zhu H. Symbiosis specificity in the legume – rhizobial mutualism. Cell Microbiol. 2012;14:334–42.

27.

Kaur S, Kaur R, Chauhan BS. Understanding crop-weed-fertilizer-water interactions and their implications for weed management in agricultural systems. Crop Prot. 2018;103:65–72.

28.

Sasse J, Martinoia E, Northen T. Feed your friends: do plant exudates shape the root microbiome? Trends Plant Sci. 2018;23:25–41.

29.

Badri DV, Chaparro JM, Zhang R, Shen Q, Vivanco JM. Application of natural blends of phytochemicals derived from the root exudates of Arabidopsis to the soil reveal that phenolic-related compounds predominantly modulate the soil microbiome. J Biol Chem. 2013;288:4502–12.

30.

Badri DV, Quintana N, El Kassis EG, Kim HK, Choi YH, Sugiyama A, et al. An ABC transporter mutation alters root exudation of phytochemicals that provoke an overhaul of natural soil microbiota. Plant Physiol. 2009;151:2006–17.

31.

Pascale A, Proietti S, Pantelides IS, Stringlis IA. Modulation of the root microbiome by plant molecules: the basis for targeted disease suppression and plant growth promotion. Front Plant Sci. 2020;10:1741.

32.

Hu L, Robert CAM, Cadot S, Zhang X, Ye M, Li B, et al. Root exudate metabolites drive plant-soil feedbacks on growth and defense by shaping the rhizosphere microbiota. Nat Commun. 2018;9:2738.

33.

Tsujimoto R, Kotani H, Yokomizo K, Yamakawa H, Nonaka A, Fujita Y. Functional expression of an oxygen-labile nitrogenase in an oxygenic photosynthetic organism. Sci Rep. 2018;8:7380.

34.

Stam H, van Verseveld HW, de Vries W, Stouthamer AH. Hydrogen oxidation and efficiency of nitrogen fixation in succinate-limited chemostat cultures of Rhizobium ORS 571. Arch Microbiol. 1984;139:53–60.

35.

Poole RK, Hill S. Respiratory protection of nitrogenase activity in Azotobacter vinelandii—roles of the terminal oxidases. Biosci Rep. 1997;17:303–17.

36.

Inomura K, Bragg J, Follows MJ. A quantitative analysis of the direct and indirect costs of nitrogen fixation: a model based on Azotobacter vinelandii. ISME J. 2017;11:166–75.

37.

Boukhris I, Dulermo T, Chouayekh H, Virolle M-J. Evidence for the negative regulation of phytase gene expression in Streptomyces lividans and Streptomyces coelicolor. J Basic Microbiol. 2016;56:59–66.

38.

Shen L, Wu XQ, Zeng QW, Liu HB. Regulation of soluble phosphate on the ability of phytate mineralization and β-propeller phytase gene expression of Pseudomonas fluorescens JZ-DZ1, a phytate-mineralizing rhizobacterium. Curr Microbiol. 2016;73:915–23.

39.

Makarewicz O, Dubrac S, Msadek T, Borriss R. Dual role of the PhoP approximately P response regulator: Bacillus amyloliquefaciens FZB45 phytase gene transcription is directed by positive and negative interactions with the phyC promoter. J Bacteriol. 2006;188:6953–65.

40.

Geddes BA, Ryu MH, Mus F, Garcia Costas A, Peters JW, Voigt CA, et al. Use of plant colonizing bacteria as chassis for transfer of N(2)-fixation to cereals. Curr Opin Biotechnol. 2015;32:216–22.

41.

Setten L, Soto G, Mozzicafreddo M, Fox AR, Lisi C, Cuccioloni M, et al. Engineering Pseudomonas protegens pf-5 for nitrogen fixation and its application to improve plant growth under nitrogen-deficient conditions. PLoS ONE. 2013;8:e63666.

42.

Udvardi M, Brodie EL, Riley W, Kaeppler S, Lynch J. Impacts of agricultural nitrogen on the environment and strategies to reduce these impacts. Procedia Environ Sci. 2015;29:303.

43.

Jackson RB, Canadell JG, Le Quéré C, Andrew RM, Korsbakken JI, Peters GP, et al. Reaching peak emissions. Nat Clim Change. 2016;6:7–10.

44.

Dixon RA, Postgate JR. Genetic transfer of nitrogen fixation from Klebsiella pneumoniae to Escherichia coli. Nature. 1972;237:102–3.

45.

Ryu MH, Zhang J, Toth T, Khokhani D, Geddes BA, Mus F, et al. Control of nitrogen fixation in bacteria that associate with cereals. Nat Microbiol. 2020;5:314–30.

46.

Wang L, Zhang L, Liu Z, Zhao D, Liu X, Zhang B, et al. A minimal nitrogen fixation gene cluster from Paenibacillus sp. WLY78 enables expression of active nitrogenase in Escherichia coli. PLoS Genet. 2013;9:e1003865.

47.

Li X-X, Liu Q, Liu X-M, Shi H-W, Chen S-F. Using synthetic biology to increase nitrogenase activity. Micro Cell Fact. 2016;15:43.

48.

Liu D, Liberton M, Yu J, Pakrasi HB, Bhattacharyya-Pakrasi M. Engineering nitrogen fixation activity in an oxygenic phototroph. mBio. 2018;9:e01029–01018.

49.

Fox AR, Soto G, Valverde C, Russo D, Lagares A Jr, Zorreguieta Á, et al. Major cereal crops benefit from biological nitrogen fixation when inoculated with the nitrogen-fixing bacterium Pseudomonas protegens Pf-5 X940. Environ Microbiol. 2016;18:3522–34.

50.

Han Y, Lu N, Chen Q, Zhan Y, Liu W, Lu W, et al. Interspecies transfer and regulation of Pseudomonas stutzeri a1501 nitrogen fixation island in Escherichia coli. J Microbiol Biotechnol. 2015;25:1339–48.

51.

Temme K, Zhao D, Voigt CA. Refactoring the nitrogen fixation gene cluster from Klebsiella oxytoca. Proc Natl Acad Sci USA. 2012;109:7085.

52.

Smanski MJ, Bhatia S, Zhao D, Park Y, B A Woodruff L, Giannoukos G, et al. Functional optimization of gene clusters by combinatorial design and assembly. Nat Biotechnol. 2014;32:1241–9.

53.

Yang J, Xie X, Xiang N, Tian Z-X, Dixon R, Wang Y-P. Polyprotein strategy for stoichiometric assembly of nitrogen fixation components for synthetic biology. Proc Natl Acad Sci USA. 2018;115:E8509.

54.

Colnaghi R, Green A, He L, Rudnick P, Kennedy C. Strategies for increased ammonium production in free-living or plant associated nitrogen fixing bacteria. Plant Soil. 1997;194:145–54.

55.

Zou X, Binkley D, Doxtader KG. A new method for estimating gross phosphorus mineralization and immobilization rates in soils. Plant Soil. 1992;147:243–50.

56.

Bindraban PS, Dimkpa CO, Pandey R. Exploring phosphorus fertilizers and fertilization strategies for improved human and environmental health. Biol Fertil Soils. 2020;56:299–317.

57.

Sharma SB, Sayyed RZ, Trivedi MH, Gobi TA. Phosphate solubilizing microbes: sustainable approach for managing phosphorus deficiency in agricultural soils. SpringerPlus. 2013;2:587.

58.

Alori ET, Glick BR, Babalola OO. Microbial phosphorus solubilization and its potential for use in sustainable agriculture. Front Microbiol. 2017;8:971.

59.

Buch A, Archana G, Naresh Kumar G. Heterologous expression of phosphoenolpyruvate carboxylase enhances the phosphate solubilizing ability of fluorescent pseudomonads by altering the glucose catabolism to improve biomass yield. Bioresour Technol. 2010;101:679–87.

60.

Adhikary H, Sanghavi PB, Macwan SR, Archana G, Naresh, Kumar G. Artificial citrate operon confers mineral phosphate solubilization ability to diverse fluorescent pseudomonads. PLoS ONE. 2014;9:e107554–e107554.

61.

Richardson AE. Soil microorganisms and phosphorus availability. In: Pankhurst CE, Doube BM, Gupta VVSR, Grace PR, editors. Soil biota: management in sustainable farming systems. Australia, Melbourne: CSIRO; 1994. p. 50–62.

62.

Harrison AF. Mineralisation of organic phosphorus in relation to soil factors, determined using isotopic 32P labelling. In: Rowland AP, editors. Chemical analysis in environmental research. NERC/. ITE: Abbotts Ripton; 1987. p. 84–87.

63.

Shulse CN, Chovatia M, Agosto C, Wang G, Hamilton M, Deutsch S, et al. Engineered root bacteria release plant-available phosphate from phytate. Appl Environ Microbiol. 2019;85:e01210–01219.

64.

Spaepen S, Vanderleyden J, Remans R. Indole-3-acetic acid in microbial and microorganism-plant signaling. FEMS Microbiol Rev 2007;31:425–48.

65.

Gough C, Galera C, Vasse J, Webster G, Cocking EC, Denarie J. Specific flavonoids promote intercellular root colonization of Arabidopsis thaliana by Azorhizobium caulinodans ORS571. Mol Plant Microbe Interact 1997;10:560–70.

66.

Webster G, Jain V, Davey MR, Gough C, Vasse J, Dénarié J, et al. The flavonoid naringenin stimulates the intercellular colonization of wheat roots by Azorhizobium caulinodans. Plant Cell Environ. 1998;21:373–83.

67.

Gopalaswamy G, Kannaiyan S, O'Callaghan KJ, Davey MR, Cocking EC. The xylem of rice (Oryza sativa) is colonized by Azorhizobium caulinodans. Proc R Soc B. 2000;267:103–7.

68.

Zúñiga A, Fuente Fdl, Federici F, Lionne C, Bônnet J, de Lorenzo V, et al. An engineered device for indoleacetic acid production under quorum sensing signals enables Cupriavidus pinatubonensis JMP134 to stimulate plant growth. ACS Synth Biol. 2018;7:1519–27.

69.

Guo D, Kong S, Chu X, Li X, Pan H. De novo biosynthesis of indole-3-acetic acid in engineered Escherichia coli. J Agric Food Chem. 2019;67:8186–90.

70.

Romasi EF, Lee J. Development of indole-3-acetic acid-producing Escherichia coli by functional expression of IpdC, AspC, and Iad1. J Microbiol Biotechnol. 2013;23:1726–36.

71.

Wu J, Zhou T, Du G, Zhou J, Chen J. Modular optimization of heterologous pathways for de novo synthesis of (2S)-naringenin in Escherichia coli. PLoS ONE. 2014;9:e101492.

72.

Chu LL, Dhakal D, Shin HJ, Jung HJ, Yamaguchi T, Sohng JK. Metabolic engineering of Escherichia coli for enhanced production of naringenin 7-sulfate and its biological activities. Front Microbiol. 2018;9:1671.

73.

Ganesan V, Li Z, Wang X, Zhang H. Heterologous biosynthesis of natural product naringenin by co-culture engineering. Synth Syst Biotechnol. 2017;2:236–42.

74.

Zhang W, Liu H, Li X, Liu D, Dong X-T, Li F-F, et al. Production of naringenin from D-xylose with co-culture of E. coli and S. cerevisiae. Eng Life Sci. 2017;17:1021–9.

75.

Aktar MW, Sengupta D, Chowdhury A. Impact of pesticides use in agriculture: their benefits and hazards. Interdiscip Toxicol. 2009;2:1–12.

76.

Harsimran Kaur Gill, Garg H. Pesticides: environmental impacts and management strategies. In: Soloneski S, editor. Pesticides - toxic aspects. IntechOpen; 2014.

77.

Carriger JF, Rand GM, Gardinali PR, Perry WB, Tompkins MS, Fernandez AM. Pesticides of potential ecological concern in sediment from South Florida canals: an ecological risk prioritization for aquatic arthropods. Soil Sediment Contam. 2006;15:21–45.

78.

Panpatte DG, Jhala YK, Shelat HN, Vyas RV. Pseudomonas fluorescens: a promising biocontrol agent and pgpr for sustainable agriculture. In: Singh DP, Singh HB, Prabha R, editors. Microbial inoculants in sustainable agricultural productivity: Vol. 1: research perspectives. New Delhi: Springer India; 2016. p. 257–70.

79.

Hammer PE, Hill DS, Lam ST, Van Pee KH, Ligon JM. Four genes from Pseudomonas fluorescens that encode the biosynthesis of pyrrolnitrin. Appl Environ Microbiol. 1997;63:2147–54.

80.

Hill DS, Stein JI, Torkewitz NR, Morse AM, Howell CR, Pachlatko JP, et al. Cloning of genes involved in the synthesis of pyrrolnitrin from Pseudomonas fluorescens and role of pyrrolnitrin synthesis in biological control of plant disease. Appl Environ Microbiol. 1994;60:78–85.

81.

Patel JK, Archana G. Engineered production of 2,4-diacetylphloroglucinol in the diazotrophic endophytic bacterium Pseudomonas sp. WS5 and its beneficial effect in multiple plant-pathogen systems. Appl Soil Ecol. 2018;124:34–44.

82.

Timms-Wilson TM, Ellis RJ, Renwick A, Rhodes DJ, Mavrodi DV, Weller DM, et al. Chromosomal insertion of phenazine-1-carboxylic acid biosynthetic pathway enhances efficacy of damping-off disease control by Pseudomonas fluorescens. Mol Plant Microbe Interact. 2000;13:1293–300.

83.

Timms-Wilson TM, Kilshaw K, Bailey MJ. Risk assessment for engineered bacteria used in biocontrol of fungal disease in agricultural crops. Plant Soil. 2005;266:57–67.

84.

Subramanian S, Smith DL. Bacteriocins from the rhizosphere microbiome - from an agriculture perspective. Front Plant Sci. 2015;6:909.

85.

Hwang IY, Koh E, Wong A, March JC, Bentley WE, Lee YS, et al. Engineered probiotic Escherichia coli can eliminate and prevent Pseudomonas aeruginosa gut infection in animal models. Nat Commun. 2017;8:15028.

86.

Citorik RJ, Mimee M, Lu TK. Sequence-specific antimicrobials using efficiently delivered RNA-guided nucleases. Nat Biotechnol. 2014;32:1141–5.

87.

Ram G, Ross HF, Novick RP, Rodriguez-Pagan I, Jiang D. Conversion of staphylococcal pathogenicity islands to CRISPR-carrying antibacterial agents that cure infections in mice. Nat Biotechnol. 2018;36:971–6.

88.

Lopez-Igual R, Bernal-Bayard J, Rodriguez-Paton A, Ghigo JM, Mazel D. Engineered toxin-intein antimicrobials can selectively target and kill antibiotic-resistant bacteria in mixed populations. Nat Biotechnol. 2019;37:755–60.

89.

Aminov RI. Horizontal gene exchange in environmental microbiota. Front Microbiol. 2011;2:158.

90.

Singh JS, Abhilash PC, Singh HB, Singh RP, Singh DP. Genetically engineered bacteria: an emerging tool for environmental remediation and future research perspectives. Gene. 2011;480:1–9.

91.

Janssen DB, Stucki G. Perspectives of genetically engineered microbes for groundwater bioremediation. Environ Sci Process Impacts. 2020;22:487–99.

92.

Liu Y, Zhu A, Tan H, Cao L, Zhang R. Engineering banana endosphere microbiome to improve Fusarium wilt resistance in banana. Microbiome. 2019;7:74.

93.

Glick BR, Todorovic B, Czarny J, Cheng Z, Duan J, McConkey B. Promotion of plant growth by bacterial ACC deaminase. Crit Rev Plant Sci. 2007;26:227–42.

94.

Holguin G, Glick BR. Transformation of Azospirillum brasilense Cd with an ACC deaminase gene from Enterobacter cloacae UW4 fused to the TetR gene promoter improves its fitness and plant growth promoting ability. Micro Ecol. 2003;46:122–33.

95.

Liu Y, Cao L, Tan H, Zhang R. Surface display of ACC deaminase on endophytic Enterobacteriaceae strains to increase saline resistance of host rice sprouts by regulating plant ethylene synthesis. Micro Cell Fact. 2017;16:214.

96.

Barac T, Taghavi S, Borremans B, Provoost A, Oeyen L, Colpaert JV, et al. Engineered endophytic bacteria improve phytoremediation of water-soluble, volatile, organic pollutants. Nat Biotechnol. 2004;22:583–8.

97.

Valls M, Atrian S, de Lorenzo V, Fernández LA. Engineering a mouse metallothionein on the cell surface of Ralstonia eutropha CH34 for immobilization of heavy metals in soil. Nat Biotechnol. 2000;18:661–5.

98.

Huang J, Liu Z, Li S, Xu B, Gong Y, Yang Y, et al. Isolation and engineering of plant growth promoting rhizobacteria Pseudomonas aeruginosa for enhanced cadmium bioremediation. J Gen Appl Microbiol. 2016;62:258–65.

99.

Wu CH, Wood TK, Mulchandani A, Chen W. Engineering plant-microbe symbiosis for rhizoremediation of heavy metals. Appl Environ Microbiol. 2006;72:1129.

100.

Brautaset T, Lale R, Valla S. Positively regulated bacterial expression systems. Microb Biotechnol. 2009;2:15–30.

101.

Kent R, Dixon N. Contemporary tools for regulating gene expression in bacteria. Trends Biotechnol. 2020;38:316–33.

102.

Pini F, East AK, Appia-Ayme C, Tomek J, Karunakaran R, Mendoza-Suárez M, et al. Bacterial biosensors for in vivo spatiotemporal mapping of root secretion. Plant Physiol. 2017;174:1289.

103.

Villacieros M, Whelan C, Mackova M, Molgaard J, Sanchez-Contreras M, Lloret J, et al. Polychlorinated biphenyl rhizoremediation by Pseudomonas fluorescens F113 derivatives, using a Sinorhizobium meliloti nod system to drive bph gene expression. Appl Environ Microbiol. 2005;71:2687–94.

104.

Herz K, Dietz S, Gorzolka K, Haider S, Jandt U, Scheel D, et al. Linking root exudates to functional plant traits. PLoS ONE. 2018;13:e0204128.

105.

Bowsher AW, Ali R, Harding SA, Tsai C-J, Donovan LA. Evolutionary divergences in root exudate composition among ecologically-contrasting Helianthus species. PLoS ONE. 2016;11:e0148280.

106.

Spöring M, Finke M, Hartig JS. Aptamers in RNA-based switches of gene expression. Curr Opin Biotechnol. 2020;63:34–40.

107.

Murphy PJ, Wexler W, Grzemski W, Rao JP, Gordon D. Rhizopines—Their role in symbiosis and competition. Soil Biol Biochem. 1995;27:525–9.

108.

Wexler M, Gordon D, Murphy PJ. The distribution of inositol rhizopine genes in Rhizobium populations. Soil Biol Biochem. 1995;27:531–7.

109.

Subramoni S, Nathoo N, Klimov E, Yuan Z-C. Agrobacterium tumefaciens responses to plant-derived signaling molecules. Front Plant Sci. 2014;5:322.

110.

Nautiyal CS, Dion P. Characterization of the opine-utilizing microflora associated with samples of soil and plants. Appl Environ Microbiol. 1990;56:2576–9.

111.

Rossignol G, Dion P. Octopine, nopaline, and octopinic acid utilization in Pseudomonas. Can J Microbiol. 1985;31:68–74.

112.

Savka MA, Farrand SK. Modification of rhizobacterial populations by engineering bacterium utilization of a novel plant-produced resource. Nat Biotechnol. 1997;15:363–8.

113.

Oger P, Petit A, Dessaux Y. Genetically engineered plants producing opines alter their biological environment. Nat Biotechnol. 1997;15:369–72.

114.

Mansouri H, Petit A, Oger P, Dessaux Y. Engineered rhizosphere: the trophic bias generated by opine-producing plants is independent of the opine type, the soil origin, and the plant species. Appl Environ Microbiol. 2002;68:2562–6.

115.

Murphy PJ, Heycke N, Banfalvi Z, Tate ME, de Bruijn F, Kondorosi A et al. Genes for the catabolism and synthesis of an opine-like compound in Rhizobium meliloti are closely linked and on the Sym plasmid. Proc Natl Acad Sci USA 1987;84: 493–7.

116.

Rossbach S, Kulpa DA, Rossbach U, de Bruijn FJ. Molecular and genetic characterization of the rhizopine catabolism (mocABRC) genes of Rhizobium meliloti L5-30. Mol Gen Genet. 1994;245:11–24.

117.

Gordon DM, Ryder MH, Heinrich K, Murphy PJ. An experimental test of the rhizopine concept in Rhizobium meliloti. Appl Environ Microbiol. 1996;62:3991–6.

118.

Wellington S, Greenberg EP. Quorum sensing signal selectivity and the potential for interspecies cross talk. mBio. 2019;10:e00146–00119.

119.

Dessaux Y, Chapelle E, Faure D. Quorum sensing and quorum quenching in soil ecosystems. In: Witzany G, editor. Biocommunication in soil microorganisms. Berlin, Heidelberg: Springer Berlin Heidelberg; 2011. p. 339–67.

120.

Wang J, Shen X, Jain R, Wang J, Yuan Q, Yan Y. Establishing a novel biosynthetic pathway for the production of 3,4-dihydroxybutyric acid from xylose in Escherichia coli. Metab Eng. 2017;41:39–45.

121.

Lee JW, Chan CTY, Slomovic S, Collins JJ. Next-generation biocontainment systems for engineered organisms. Nat Chem Biol. 2018;14:530–7.

122.

Moe-Behrens GHG, Davis R, Haynes KA. Preparing synthetic biology for the world. Front Microbiol. 2013;4:5.

123.

Torres L, Krüger A, Csibra E, Gianni E, Pinheiro VB. Synthetic biology approaches to biological containment: pre-emptively tackling potential risks. Essays Biochem. 2016;60:393–410.

124.

Huang S, Lee AJ, Tsoi R, Wu F, Zhang Y, Leong KW, et al. Coupling spatial segregation with synthetic circuits to control bacterial survival. Mol Syst Biol. 2016;12:859.

125.

Gallagher RR, Patel JR, Interiano AL, Rovner AJ, Isaacs FJ. Multilayered genetic safeguards limit growth of microorganisms to defined environments. Nucleic Acids Res. 2015;43:1945–54.

126.

Chan CTY, Lee JW, Cameron DE, Bashor CJ, Collins JJ. 'Deadman' and 'Passcode' microbial kill switches for bacterial containment. Nat Chem Biol. 2016;12:82–86.

127.

Ronchel MC, Ramos JL. Dual system to reinforce biological containment of recombinant bacteria designed for rhizoremediation. Appl Environ Microbiol. 2001;67:2649.

128.

Wilson M, Lindow SE. Release of recombinant microorganisms. Annu Rev Microbiol. 1993;47:913–44.

129.

Wilson DJ. NIH guidelines for research involving recombinant DNA molecules. Acc Chem Res. 1993;3:177–85.

130.

Lee R. The regulation of genetically modified organisms: comparative approaches. J Environ Law. 2010;22:511–4.

131.

ISAAA. Global Status of Commercialized Biotech/GM Crops: 2018. ISAAA Brief No. 54. Berlin, Heidelberg: ISAAA; 2018.

132.

National Academies of Sciences Engineering and Medicine. Genetically engineered crops: experiences and prospects. Washington, DC: The National Academies Press; 2016.

133.

Bakker PAHM, Lamers JG, Bakker AW, Marugg JD, Weisbeek PJ, Schippers B. The role of siderophores in potato tuber yield increase by Pseudomonas putida in a short rotation of potato. Neth J Plant Pathol. 1986;92:249–56.

134.

Amarger N. Genetically modified bacteria in agriculture. Biochimie. 2002;84:1061–72.

135.

Ke J, Wang B, Yoshikuni Y. Microbiome engineering: synthetic biology of plant-associated microbiomes in sustainable agriculture. Trends Biotechnol 2020, in press. https://doi.org/10.1016/j.tibtech.2020.07.008.

136.

Conko G, Kershen DL, Miller H, Parrott WA. A risk-based approach to the regulation of genetically engineered organisms. Nat Biotechnol. 2016;34:493–503.

137.

Ramachandran G, Bikard D. Editing the microbiome the CRISPR way. Philos Trans R Soc B Biol Sci. 2019;374:20180103.

138.

Blazejewski T, Ho H-I, Wang HH. Synthetic sequence entanglement augments stability and containment of genetic information in cells. Science. 2019;365:595.

139.

Clark M, Maselko M. Transgene biocontainment strategies for molecular farming. Front Plant Sci. 2020;11:210.

140.

Graf FE, Palm M, Warringer J, Farewell A. Inhibiting conjugation as a tool in the fight against antibiotic resistance. Drug Dev Res. 2019;80:19–23.

141.

Schmitz RA, Klopprogge K, Grabbe R. Regulation of nitrogen fixation in Klebsiella pneumoniae and Azotobacter vinelandii: NifL, transducing two environmental signals to the nif transcriptional activator NifA. J Mol Microbiol Biotechnol. 2002;4:235–42.

142.

Zhang Y, Burris RH, Ludden PW, Roberts GP. Regulation of nitrogen fixation in Azospirillum brasilense. FEMS Microbiol Lett. 1997;152:195–204.

143.

Kandel SL, Joubert PM, Doty SL. Bacterial endophyte colonization and distribution within plants. Microorganisms. 2017;5:77.

144.

Sivakumar R, Ranjani J, Vishnu US, Jayashree S, Lozano GL, Miles J, et al. Evaluation of inseq to identify genes essential for Pseudomonas aeruginosa PGPR2 corn root colonization. G3. 2019;9:651–61.

145.

Afzal I, Shinwari ZK, Sikandar S, Shahzad S. Plant beneficial endophytic bacteria: Mechanisms, diversity, host range and genetic determinants. Microbiol Res. 2019;221:36–49.

146.

Choi KH, Schweizer HP. mini-Tn7 insertion in bacteria with single attTn7 sites: example Pseudomonas aeruginosa. Nat Protoc. 2006;1:153–61.

147.

Wang G, Zhao Z, Ke J, Engel Y, Shi Y-M, Robinson D, et al. CRAGE enables rapid activation of biosynthetic gene clusters in undomesticated bacteria. Nat Microbiol. 2019;4:2498–510.

148.

Brophy JAN, Triassi AJ, Adams BL, Renberg RL, Stratis-Cullum DN, Grossman AD, et al. Engineered integrative and conjugative elements for efficient and inducible DNA transfer to undomesticated bacteria. Nat Microbiol. 2018;3:1043–53.

149.

Ronda C, Chen SP, Cabral V, Yaung SJ, Wang HH. Metagenomic engineering of the mammalian gut microbiome in situ. Nat Methods. 2019;16:167–70.

150.

Cannon FC, Postgate JR. Expression of Klebsiella nitrogen fixation genes (nif) in Azotobacter. Nature. 1976;260:271–2.

151.

Holguin G, Glick BR. Expression of the ACC deaminase gene from Enterobacter cloacae UW4 in Azospirillum brasilense. Microb Ecol. 2001;41:281–8.
Acknowledgements
TLH is the recipient of an 1851 Royal Commission for the Exhibition of 1851 Research Fellowship (RF-2019-100238) and Wolfson College, University of Oxford Junior Research Fellowship. This work was supported by the Biotechnology and Biological Sciences Research Council [grant numbers BB/L011484/1, BB/R017859/1 and BB/T006722/1].
Ethics declarations
Conflict of interest
The authors declare that they have no conflict of interest.
Additional information
Publisher's note Springer Nature remains neutral with regard to jurisdictional claims in published maps and institutional affiliations.
About this article
Cite this article
Haskett, T.L., Tkacz, A. & Poole, P.S. Engineering rhizobacteria for sustainable agriculture. ISME J (2020). https://doi.org/10.1038/s41396-020-00835-4
Received:

Revised:

Accepted:

Published: