Abstract
Microbial communities are comprised of many species that coexist on small spatial scales. This is difficult to explain because many interspecies interactions are competitive, and ecological theory predicts that one species will drive the extinction of another species that competes for the same resource. Conversely, evolutionary theory proposes that natural selection can lead to coexistence by driving competing species to use non-overlapping resources. However, evolutionary escape from extinction may be slow compared to the rate of competitive exclusion. Here, we use experimental co-cultures of Escherichia coli and Saccharomyces cerevisiae to study the evolution of coexistence in species that compete for resources. We find that while E. coli usually outcompetes S. cerevisiae in co-culture, a few populations evolved stable coexistence after ~1000 generations of coevolution. We sequenced S. cerevisiae and E. coli populations, identified multi-hit genes, and engineered alleles from these genes into several genetic backgrounds, finding that some mutations modified interactions between E. coli and S. cerevisiae. Together, our data demonstrate that coexistence can evolve, de novo, from intense competition between two species with no history of coevolution.
Access options
Subscribe to Journal
Get full journal access for 1 year
$499.00
only $41.58 per issue
All prices are NET prices.
VAT will be added later in the checkout.
Rent or Buy article
Get time limited or full article access on ReadCube.
from$8.99
All prices are NET prices.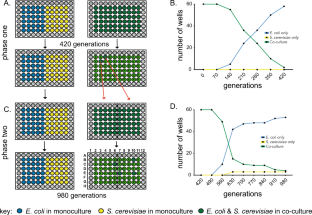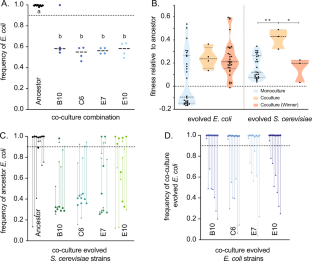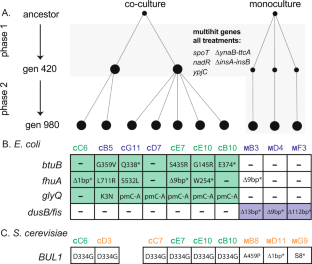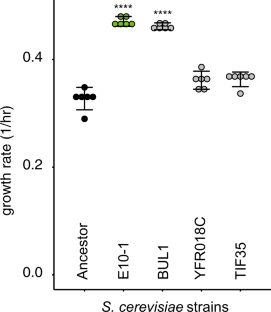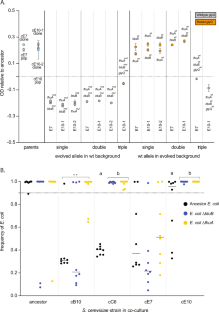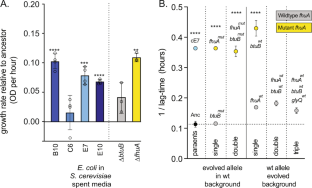 Data availability statement
Raw sequencing reads have been deposited in the NCBI Biosample database with Bioproject ID: PRJNA668197
References
1.

Foster KR, Bell T. Competition, not cooperation, dominates interactions among culturable microbial species. Curr Biol. 2012;22:1845–50.

2.

Gause GF. Experimental analysis of Vito Volterra's mathematical theory of the struggle for existence. Science. 1934;79:16–7.

3.

Chesson P. Mechanisms of maintenance of species diversity. Annu Rev Ecol Syst. 2000;31:343–66.

4.

Lankau RA. Rapid evolutionary change and the coexistence of species. Annu Rev Ecol Evol Syst. 2011;42:335–54.

5.

Kawecki TJ, Ebert D. Conceptual issues in local adaptation. Ecol Lett. 2004;7:1225–41.

6.

Hubbell SP. Neutral theory and the evolution of ecological equivalence. Ecology. 2006;87:1387–98.

7.

MacArthur R, Levins R. The limiting similarity, convergence, and divergence of coexisting species. Am Nat. 1967;101:377–85.

8.

Bailey JK, Hendry AP, Kinnison MT, Post DM, Palkovacs EP, Pelletier F, et al. From genes to ecosystems: an emerging synthesis of eco-evolutionary dynamics. N Phytol. 2009;184:746–9.

9.

Baquero F, Blázquez J. Evolution of antibiotic resistance. Trends Ecol Evol. 1997;12:482–7.

10.

Grant PR, Grant BR. Evolution of character displacement in Darwin's finches. Science. 2006;313:224–6.

11.

Koeppel AF, Wertheim JO, Barone L, Gentile N, Krizanc D, Cohan FM. Speedy speciation in a bacterial microcosm: new species can arise as frequently as adaptations within a species. ISME J. 2013;7:1080–91.

12.

Stuart YE, Campbell T, Hohenlohe P, Reynolds RG, Revell L, Losos J. Rapid evolution of a native species following invasion by a congener. Science. 2014;346:463–6.

13.

Schulte RD, Makus C, Hasert B, Michiels NK, Schulenburg H. Multiple reciprocal adaptations and rapid genetic change upon experimental coevolution of an animal host and its microbial parasite. Proc Natl Acad Sci USA. 2010;107:7359–64.

14.

Pimentel D, Feinberg EH, Wood PW, Hayes JT. Selection, spatial distribution, and the coexistence of competing fly species. Am Nat. 1965;99:97–109.

15.

Hart SP, Turcotte MM, Levine JM. Effects of rapid evolution on species coexistence. Proc Natl Acad Sci USA. 2019;116:2112–7.

16.

Traverse CC, Mayo-Smith LM, Poltak SR, Cooper VS. Tangled bank of experimentally evolved Burkholderia biofilms reflects selection during chronic infections. Proc Natl Acad Sci USA. 2012;110:250–9.

17.

Turner CB, Marshall CW, Cooper VS. Parallel genetic adaptation across environments differing in mode of growth or resource availability. Evolution Lett. 2018;2:355–67.

18.

Elena SF, Lenski RE. Microbial genetics: evolution experiments with microorganisms: the dynamics and genetic bases of adaptation. Nat Rev Genet. 2003;4:457.

19.

Rainey PB, Travisano M. Adaptive radiation in a heterogeneous environment. Nature. 1998;394:69.

20.

Ferguson GC, Bertels F, Rainey PB. Adaptive divergence in experimental populations of Pseudomonas fluorescens. V. Insight into the niche specialist fuzzy spreader compels revision of the model Pseudomonas radiation. Genetics. 2013;195:1319–35.

21.

Frenkel EM, McDonald MJ, Van Dyken JD, Kosheleva K, Lang GI, Desai MM. Crowded growth leads to the spontaneous evolution of semistable coexistence in laboratory yeast populations. Proc Natl Acad Sci USA. 2015;112:11306–11.

22.

Zuppinger-Dingley D, Schmid B, Petermann JS, Yadav V, De Deyn GB, Flynn DF. Selection for niche differentiation in plant communities increases biodiversity effects. Nature. 2014;515:108.

23.

Le Gac M, Plucain J, Hindré T, Lenski RE, Schneider D. Ecological and evolutionary dynamics of coexisting lineages during a long-term experiment with Escherichia coli. Proc Natl Acad Sci USA. 2012;109:9487–92.

24.

Rosenzweig RF, Sharp R, Treves DS, Adams J. Microbial evolution in a simple unstructured environment: genetic differentiation in Escherichia coli. Genetics. 1994;137:903–17.

25.

Helling RB, Vargas CN, Adams J. Evolution of Escherichia coli during growth in a constant environment. Genetics. 1987;116:349–58.

26.

D'Souza G, Kost C. Experimental evolution of metabolic dependency in bacteria. PLoS Genet. 2016;12:e1006364.

27.

Oliveira NM, Niehus R, Foster KR. Evolutionary limits to cooperation in microbial communities. Proc Natl Acad Sci USA. 2014;111:17941–6.

28.

Kallus Y, Miller JH, Libby E. Paradoxes in leaky microbial trade. Nat Commun. 2017;8:1361.

29.

Muller EE, Faust K, Widder S, Herold M, Arbas SM, Wilmes P. Using metabolic networks to resolve ecological properties of microbiomes. Curr Opin Syst Biol. 2018;8:73–80.

30.

Friedman J, Higgins LM, Gore J. Community structure follows simple assembly rules in microbial microcosms. Nat Ecol Evol. 2017;1:0109.

31.

Harcombe WR, Betts A, Shapiro JW, Marx CJ. Adding biotic complexity alters the metabolic benefits of mutualism. Evolution. 2016;70:1871–81.

32.

Harcombe WR, Chacón JM, Adamowicz EM, Chubiz LM, Marx CJ. Evolution of bidirectional costly mutualism from byproduct consumption. Proc Natl Acad Sci USA. 2018;115:12000–4.

33.

Farrell JM, Brown SP. Evolution of bacterial trade in a two-species community. Proc Natl Acad Sci USA. 2018;115:11874–5.

34.

Morris JJ. Black Queen evolution: the role of leakiness in structuring microbial communities. Trends Genet. 2015;31:475–82.

35.

Lawrence D, Fiegna F, Behrends V, Bundy JG, Phillimore AB, Bell T, et al. Species interactions alter evolutionary responses to a novel environment. PLoS Biol. 2012;10:e1001330.

36.

Goldford JE, Lu N, Bajić D, Estrela S, Tikhonov M, Sanchez-Gorostiaga A, et al. Emergent simplicity in microbial community assembly. Science. 2018;361:469–74.

37.

Cordero OX, Ventouras L-A, DeLong EF, Polz MF. Public good dynamics drive evolution of iron acquisition strategies in natural bacterioplankton populations. Proc Natl Acad Sci USA. 2012;109:20059–64.

38.

Adler PB, HilleRisLambers J, Levine JM. A niche for neutrality. Ecol Lett. 2007;10:95–104.

39.

Paterson S, Vogwill T, Buckling A, Benmayor R, Spiers AJ, Thomson NR, et al. Antagonistic coevolution accelerates molecular evolution. Nature. 2010;464:275.

40.

Buckling A, Rainey PB. Antagonistic coevolution between a bacterium and a bacteriophage. Proc R Soc Lond Ser B: Biol Sci. 2002;269:931–6.

41.

Piccardi P, Vessman B, Mitri S. Toxicity drives facilitation between 4 bacterial species. Proc Natl Acad Sci USA. 2019;116:15979–84.

42.

Goddard MR, Greig D. Saccharomyces cerevisiae: a nomadic yeast with no niche? FEMS Yeast Res. 2015;15:fov009.

43.

Van Elsas JD, Semenov AV, Costa R, Trevors JT. Survival of Escherichia coli in the environment: fundamental and public health aspects. ISME J. 2011;5:173–83.

44.

Good BH, McDonald MJ, Barrick JE, Lenski RE, Desai MM. The dynamics of molecular evolution over 60,000 generations. Nature. 2017;551:45.

45.

Lang GI, Botstein D, Desai MM. Genetic variation and the fate of beneficial mutations in asexual populations. Genetics. 2011;188:647–61.

46.

Ratzke C, Barrere J, Gore J. Strength of species interactions determines biodiversity and stability in microbial communities. Nat Ecol Evol. 2020;4:376–83.

47.

Braun V. Energy-coupled transport and signal transduction through the gram-negative outer membrane via TonB-ExbB-ExbD-dependent receptor proteins. FEMS Microbiol Rev. 1995;16:295–307.

48.

Branco P, Francisco D, Chambon C, Hebraud M, Arneborg N, Almeida MG, et al. Identification of novel GAPDH-derived antimicrobial peptides secreted by Saccharomyces cerevisiae and involved in wine microbial interactions. Appl Microbiol Biotechnol. 2014;98:843–53.

49.

Noinaj N, Guillier M, Barnard TJ, Buchanan SK. TonB-dependent transporters: regulation, structure, and function. Annu Rev Microbiol. 2010;64:43–60.

50.

Howard SP, Herrmann C, Stratilo CW, Braun V. In vivo synthesis of the periplasmic domain of TonB inhibits transport through the FecA and FhuA iron siderophore transporters of Escherichia coli. J Bacteriol. 2001;183:5885–95.

51.

Hughes TR, Marton MJ, Jones AR, Roberts CJ, Stoughton R, Armour CD, et al. Functional discovery via a compendium of expression profiles. Cell. 2000;102:109–26.

52.

Zhou K, Qiao K, Edgar S, Stephanopoulos G. Distributing a metabolic pathway among a microbial consortium enhances production of natural products. Nat Biotechnol. 2015;33:377.

53.

Barrick JE, Colburn G, Deatherage DE, Traverse CC, Strand MD, Borges JJ, et al. Identifying structural variation in haploid microbial genomes from short-read resequencing data using breseq. BMC Genom. 2014;15:1039.

54.

Hall BG, Acar H, Nandipati A, Barlow M. Growth rates made easy. Mol Biol Evol. 2014;31:232–8.

55.

Sprouffske K, Wagner A. Growthcurver: an R package for obtaining interpretable metrics from microbial growth curves. BMC Bioinform. 2016;17:172.

56.

Jiang Y, Chen B, Duan C, Sun B, Yang J, Yang S. Multigene editing in the Escherichia coli genome via the CRISPR-Cas9 system. Appl Environ Microbiol. 2015;81:2506–14.

57.

Stemmer M, Thumberger T, del Sol Keyer M, Wittbrodt J, Mateo JL. CCTop: an intuitive, flexible and reliable CRISPR/Cas9 target prediction tool. PLoS ONE. 2015;10:e0124633.

58.

Zhang H, Cheng Q-X, Liu A-M, Zhao G-P, Wang J. A novel and efficient method for bacteria genome editing employing both CRISPR/Cas9 and an antibiotic resistance cassette. Front Microbiol. 2017;8:812.

59.

Sharan SK, Thomason LC, Kuznetsov SG, Court DL. Recombineering: a homologous recombination-based method of genetic engineering. Nat Protoc. 2009;4:206.

60.

DiCarlo JE, Norville JE, Mali P, Rios X, Aach J, Church GM. Genome engineering in Saccharomyces cerevisiae using CRISPR-Cas systems. Nucleic Acids Res. 2013;41:4336–43.

61.

Biot-Pelletier D, Martin VJ. Seamless site-directed mutagenesis of the Saccharomyces cerevisiae genome using CRISPR-Cas9. J Biol Eng. 2016;10:6.

62.

Quan J, Tian J. Circular polymerase extension cloning of complex gene libraries and pathways. PLoS ONE. 2009;4:e6441.

63.

Gietz RD, Schiestl RH. High-efficiency yeast transformation using the LiAc/SS carrier DNA/PEG method. Nat Protoc. 2007;2:31–34.
Acknowledgements
MJM was supported by ARC Discovery Grant (DP180102161) and an ARC Future Fellowship (FT170100441).
Ethics declarations
Conflict of interest
The authors declare that they have no conflict of interest.
Additional information
Publisher's note Springer Nature remains neutral with regard to jurisdictional claims in published maps and institutional affiliations.
Supplementary information
About this article
Cite this article
Barber, J.N., Sezmis, A.L., Woods, L.C. et al. The evolution of coexistence from competition in experimental co-cultures of Escherichia coli and Saccharomyces cerevisiae. ISME J (2020). https://doi.org/10.1038/s41396-020-00810-z
Received:

Revised:

Accepted:

Published: