Abstract
Bacterial viruses are widespread and abundant across natural and engineered habitats. They influence ecosystem functioning through interactions with their hosts. Laboratory studies of phage–host pairs have advanced our understanding of phenotypic and genetic diversification in bacteria and phages. However, the dynamics of phage–host interactions have been seldom recorded in complex natural environments. We conducted an observational metagenomic study of the dynamics of interaction between Gordonia and their phages using a three-year data series of samples collected from a full-scale wastewater treatment plant. The aim was to obtain a comprehensive picture of the coevolution dynamics in naturally evolving populations at relatively high time resolution. Coevolution was followed by monitoring changes over time in the CRISPR loci of Gordonia metagenome-assembled genome, and reciprocal changes in the viral genome. Genome-wide analysis indicated low strain variability of Gordonia, and almost clonal conservation of the trailer end of the CRISPR loci. Incorporation of newer spacers gave rise to multiple coexisting bacterial populations. The host population carrying a shorter CRISPR locus that contain only ancestral spacers, which has not acquired newer spacers against the coexisting phages, accounted for more than half of the total host abundance in the majority of samples. Phages genome co-evolved by introducing directional changes, with no preference for mutations within the protospacer and PAM regions. Metagenomic reconstruction of time-resolved variants of host and viral genomes revealed how the complexity at the population level has important consequences for bacteria-phage coexistence.
Access options
Subscribe to Journal
Get full journal access for 1 year
$499.00
only $41.58 per issue
All prices are NET prices.
VAT will be added later in the checkout.
Rent or Buy article
Get time limited or full article access on ReadCube.
from$8.99
All prices are NET prices.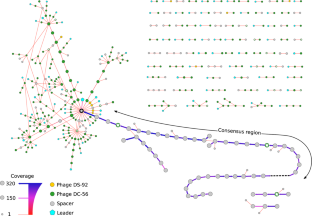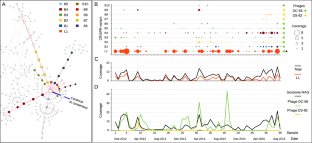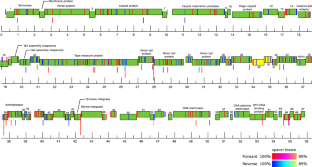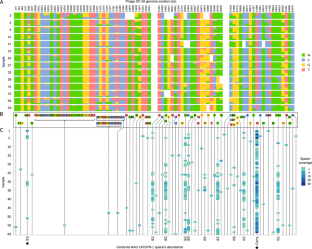 References
1.

Bouvier T, del Giorgio PA. Key role of selective viral-induced mortality in determining marine bacterial community composition. Environ Microbiol. 2007;9:287–97.

2.

Brown MR, Baptista JC, Lunn M, Swan DL, Smith SJ, Davenport RJ, et al. Coupled virus - bacteria interactions and ecosystem function in an engineered microbial system. Water Res. 2019;152:264–73.

3.

Shapiro OH, Kushmaro A, Brenner A. Bacteriophage predation regulates microbial abundance and diversity in a full-scale bioreactor treating industrial wastewater. ISME J. 2010;4:327–36.

4.

Buckling A, Rainey PB. Antagonistic coevolution between a bacterium and a bacteriophage. Proc R Soc B Biol Sci. 2002;269:931–6.

5.

Stern A, Sorek R. The phage-host arms race: shaping the evolution of microbes. BioEssays. 2011;33:43–51.

6.

Rostøl JT, Marraffini L. (Ph)ighting phages: how bacteria resist their parasites. Cell Host Microbe. 2019;25:184–94.

7.

Paez-Espino D, Sharon I, Morovic W, Stahl B, Thomas BC, Barrangou R, et al. CRISPR immunity drives rapid phage genome evolution in streptococcus thermophilus. MBio. 2015;6:1–9.

8.

Common J, Morley D, Westra ER, Van Houte S. CRISPR-Cas immunity leads to a coevolutionary arms race between Streptococcus thermophilus and lytic phage. Philos Trans R Soc B Biol Sci. 2019;374:20180098.

9.

Flores CO, Valverde S, Weitz JS. Multi-scale structure and geographic drivers of cross-infection within marine bacteria and phages. ISME J. 2013;7:520–32.

10.

Breitbart M, Rohwer F. Here a virus, there a virus, everywhere the same virus? Trends Microbiol. 2005;13:278–84.

11.

Heilmann S, Sneppen K, Krishna S. Coexistence of phage and bacteria on the boundary of self-organized refuges. Proc Natl Acad Sci USA. 2012;109:12828–33.

12.

Patterson AG, Jackson SA, Taylor C, Evans GB, Salmond GPC, Przybilski R, et al. Quorum sensing controls adaptive immunity through the regulation of multiple CRISPR-Cas systems. Mol Cell. 2016;64:1102–8.

13.

Alseth EO, Pursey E, Luján AM, McLeod I, Rollie C, Westra ER. Bacterial biodiversity drives the evolution of CRISPR-based phage resistance. Nature. 2019;574:549–52.

14.

Sousa JAM, de, Rocha EPC. Environmental structure drives resistance to phages and antibiotics during phage therapy and to invading lysogens during colonisation. Sci Rep. 2019;9:1–13.

15.

Scanlan PD. Bacteria–bacteriophage coevolution in the human gut: implications for microbial diversity and functionality. Trends Microbiol. 2017;25:614–23.

16.

Dang VT, Sullivan MB. Emerging methods to study bacteriophage infection at the single-cell level. Front Microbiol. 2014;5:724.

17.

Edwards RA, McNair K, Faust K, Raes J, Dutilh BE. Computational approaches to predict bacteriophage-host relationships. FEMS Microbiol Rev. 2016;40:258–72.

18.

Barrangou R, Fremaux C, Deveau H, Richards M, Boyaval P, Moineau S, et al. CRISPR provides acquired resistance against viruses in prokaryotes. Science. 2007;315:1709–12.

19.

McGinn J, Marraffini LA. Molecular mechanisms of CRISPR–Cas spacer acquisition. Nat Rev Microbiol. 2019;17:7–12.

20.

Andersson AF, Banfield JF. Virus population dynamics and acquired virus resistance in natural microbial communities. Science. 2008;320:1047–50.

21.

Sun CL, Thomas BC, Barrangou R, Banfield JF. Metagenomic reconstructions of bacterial CRISPR loci constrain population histories. ISME J. 2016;10:858–70.

22.

Stern A, Mick E, Tirosh I, Sagy O, Sorek R. CRISPR targeting reveals a reservoir of common phages associated with the human gut microbiome. Genome Res. 2012;22:1985–94.

23.

Emerson JB, Andrade K, Thomas BC, Norman A, Allen EE, Heidelberg KB, et al. Virus-host and CRISPR dynamics in archaea-dominated hypersaline Lake Tyrrell, Victoria, Australia. Archaea. 2013;2013:370871.

24.

Laanto E, Hoikkala V, Ravantti J, Sundberg LR. Long-term genomic coevolution of host-parasite interaction in the natural environment. Nat Commun. 2017;8:111.

25.

Held NL, Herrera A, Quiroz HC, Whitaker RJ. CRISPR associated diversity within a population of Sulfolobus islandicus. PLoS ONE. 2010;5:e12988.

26.

Tomida J, Morita Y, Shibayama K, Kikuchi K, Sawa T, Akaike T, et al. Diversity and microevolution of CRISPR loci in Helicobacter cinaedi. PLoS ONE. 2017;12:e0186241.

27.

Pauly MD, Bautista MA, Black JA, Whitaker RJ. Diversified local CRISPR-Cas immunity to viruses of Sulfolobus islandicus. Philos Trans R Soc B Biol Sci. 2019;374:20180093.

28.

Richter C, Dy RL, McKenzie RE, Watson BNJ, Taylor C, Chang JT, et al. Priming in the Type I-F CRISPR-Cas system triggers strand-independent spacer acquisition, bi-directionally from the primed protospacer. Nucleic Acids Res. 2014;42:8516–26.

29.

Watson BNJ, Vercoe RB, Salmond GPC, Westra ER, Staals RHJ, Fineran PC. Type I-F CRISPR-Cas resistance against virulent phages results in abortive infection and provides population-level immunity. Nat Commun. 2019;10:1–8.

30.

Childs LM, England WE, Young MJ, Weitz JS, Whitaker RJ. CRISPR-induced distributed immunity in microbial populations. PLoS ONE. 2014;9:e101710.

31.

Common J, Walker-Sünderhauf D, van Houte S, Westra ER. Diversity in CRISPR-based immunity protects susceptible genotypes by restricting phage spread and evolution. J Evol Biol. 2020;33:1097–108.

32.

Payne P, Geyrhofer L, Barton NH, Bollback JP. CRISPR-based herd immunity can limit phage epidemics in bacterial populations. Elife. 2018;7:e32035.

33.

Van Houte S, Ekroth AKE, Broniewski JM, Chabas H, Ashby B, Bondy-Denomy J, et al. The diversity-generating benefits of a prokaryotic adaptive immune system. Nature. 2016;532:385–8.

34.

Chabas H, Lion S, Nicot A, Meaden S, van Houte S, Moineau S, et al. Evolutionary emergence of infectious diseases in heterogeneous host populations. PLoS Biol. 2018;16:e2006738.

35.

Morley D, Broniewski JM, Westra ER, Buckling A, van Houte S. Host diversity limits the evolution of parasite local adaptation. Mol Ecol. 2017;26:1756–63.

36.

Westra ER, Van Houte S, Gandon S, Whitaker R. The ecology and evolution of microbial CRISPR-Cas adaptive immune systems. Philos Trans R Soc B Biol Sci. 2019;374:20190101.

37.

Fernández L, Rodríguez A, García P. Phage or foe: an insight into the impact of viral predation on microbial communities. ISME J. 2018;12:1171–9.

38.

Pérez MV, Guerrero LD, Orellana E, Figuerola EL, Erijman L. Time Series Genome-Centric Analysis Unveils Bacterial Response to Operational Disturbance in Activated Sludge. mSystems. 2019;4:e00169–19.

39.

Goodfellow M, Kumar Y, Maldonado LA. Bergey's manual of systematics of archaea and bacteria. Hoboken, New Jersey: John Wiley & Sons, Inc; 2015.

40.

Drzyzga O. The strengths and weaknesses of Gordonia: a review of an emerging genus with increasing biotechnological potential. Crit Rev Microbiol. 2012;38:300–16.

41.

Arenskötter M, Bröker D, Steinbüchel A. Biology of the metabolically diverse genus Gordonia. Appl Environ Microbiol. 2004;70:3195–204.

42.

de los Reyes MF, de los Reyes FL, Hernandez M, Raskin L. Quantification of Gordona amarae strains in foaming activated sludge and anaerobic digester systems with oligonucleotide hybridization probes. Appl Environ Microbiol. 1998;64:2503–12.

43.

Kragelund C, Remesova Z, Nielsen JL, Thomsen TR, Eales K, Seviour R, et al. Ecophysiology of mycolic acid-containing Actinobacteria (Mycolata) in activated sludge foams. FEMS Microbiol Ecol. 2007;61:174–84.

44.

Russell DA, Hatfull GF. PhagesDB: The actinobacteriophage database. Bioinformatics. 2017;33:784–6.

45.

Pope WH, Mavrich TN, Garlena RA, Guerrero-Bustamante CA, Jacobs-Sera D, Montgomery MT, et al. Bacteriophages of Gordonia spp. Display a spectrum of diversity and genetic relationships. mBio. 2017;8:e01069–17.

46.

Montgomery MT, Guerrero Bustamante CA, Dedrick RM, Jacobs-Sera D, Hatfull GF. Yet more evidence of collusion: a new viral defense system encoded by Gordonia phage CarolAnn. mBio. 2019;10:e02417–18.

47.

Rodriguez-R LM, Konstantinidis KT. Bypassing cultivation to identify bacterial species, culture-independent genomic approaches identify credibly distinct clusters, avoid cultivation bias, and provide true insights into microbial species. Microbe. 2014;9:111–7.

48.

Quince C, Delmont TO, Raguideau S, Alneberg J, Darling AE, Collins G, et al. DESMAN: a new tool for de novo extraction of strains from metagenomes. Genome Biol. 2017;18:181.

49.

Couvin D, Bernheim A, Toffano-Nioche C, Touchon M, Michalik J, Néron B, et al. CRISPRCasFinder, an update of CRISRFinder, includes a portable version, enhanced performance and integrates search for Cas proteins. Nucleic Acids Res. 2018;46:W246–51.

50.

Biswas A, Staals RHJ, Morales SE, Fineran PC, Brown CM. CRISPRDetect: a flexible algorithm to define CRISPR arrays. BMC Genomics. 2016;17:356.

51.

Schloss PD, Westcott SL, Ryabin T, Hall JR, Hartmann M, Hollister EB, et al. Introducing mothur: open-source, platform-independent, community-supported software for describing and comparing microbial communities. Appl Environ Microbiol. 2009;75:7537–41.

52.

Bankevich A, Nurk S, Antipov D, Gurevich AA, Dvorkin M, Kulikov AS, et al. SPAdes: a new genome assembly algorithm and its applications to single-cell sequencing. J Comput Biol. 2012;19:455–77.

53.

Langmead B, Salzberg SL. Fast gapped-read alignment with Bowtie 2. Nat Methods. 2012;9:357–9.

54.

Kang DD, Froula J, Egan R, Wang Z. MetaBAT, an efficient tool for accurately reconstructing single genomes from complex microbial communities. PeerJ. 2015;3:e1165.

55.

Pope WH, Jacobs-Sera D. Annotation of bacteriophage genome sequences using DNA master: an overview. Methods Mol Biol. 2018;1681:217–29.

56.

Crooks GE, Hon G, Chandonia JM, Brenner SE. WebLogo: a sequence logo generator. Genome Res. 2004;14:1188–90.

57.

Skennerton CT, Imelfort M, Tyson GW. Crass: identification and reconstruction of CRISPR from unassembled metagenomic data. Nucleic Acids Res. 2013;41:e105.

58.

Rho M, Wu YW, Tang H, Doak TG, Ye Y. Diverse CRISPRs evolving in human microbiomes. PLoS Genet. 2012;8:e1002441.

59.

Li H. A statistical framework for SNP calling, mutation discovery, association mapping and population genetical parameter estimation from sequencing data. Bioinformatics. 2011;27:2987–93.

60.

Keck F, Rimet F, Bouchez A, Franc A. Phylosignal: an R package to measure, test, and explore the phylogenetic signal. Ecol Evol. 2016;6:2774–80.

61.

Parks DH, Imelfort M, Skennerton CT, Hugenholtz P, Tyson GW. CheckM: assessing the quality of microbial genomes recovered from isolates, single cells, and metagenomes. Genome Res. 2015;25:1043–55.

62.

Bowers RM, Kyrpides NC, Stepanauskas R, Harmon-Smith M, Doud D, Reddy TBK, et al. Minimum information about a single amplified genome (MISAG) and a metagenome-assembled genome (MIMAG) of bacteria and archaea. Nat Biotechnol. 2017;35:725–31.

63.

Lei J, Sun Y. Assemble CRISPRs from metagenomic sequencing data. Bioinformatics. 2016;32:i520–8.

64.

Lam TJ, Ye Y. Long reads reveal the diversification and dynamics of CRISPR reservoir in microbiomes. BMC Genomics. 2019;20:567.

65.

Leenay RT, Maksimchuk KR, Slotkowski RA, Agrawal RN, Gomaa AA, Briner AE, et al. Identifying and visualizing functional PAM diversity across CRISPR-Cas systems. Mol Cell. 2016;62:137–47.

66.

Jackson SA, McKenzie RE, Fagerlund RD, Kieper SN, Fineran PC, Brouns SJJ. CRISPR-Cas: adapting to change. Science. 2017;356:eaal5056.

67.

Levy A, Goren MG, Yosef I, Auster O, Manor M, Amitai G, et al. CRISPR adaptation biases explain preference for acquisition of foreign DNA. Nature. 2015;520:505–10.

68.

Ellington MJ, Heinz E, Wailan AM, Dorman MJ, de Goffau M, Cain AK, et al. Contrasting patterns of longitudinal population dynamics and antimicrobial resistance mechanisms in two priority bacterial pathogens over 7 years in a single center. Genome Biol. 2019;20:184.

69.

Jackson SA, Birkholz N, Malone LM, Fineran PC. Imprecise spacer acquisition generates CRISPR-Cas immune diversity through primed adaptation. Cell Host Microbe. 2019;25:250–60.

70.

Deveau H, Barrangou R, Garneau JE, Labonté J, Fremaux C, Boyaval P, et al. Phage response to CRISPR-encoded resistance in Streptococcus thermophilus. J Bacteriol. 2008;190:1390–400.

71.

Semenova E, Jore MM, Datsenko KA, Semenova A, Westra ER, Wanner B, et al. Interference by clustered regularly interspaced short palindromic repeat (CRISPR) RNA is governed by a seed sequence. Proc Natl Acad Sci USA. 2011;108:10098–103.

72.

Iranzo J, Lobkovsky AE, Wolf YI, Koonin EV. Evolutionary dynamics of the prokaryotic adaptive immunity system CRISPR-Cas in an explicit ecological context. J Bacteriol. 2013;195:3834–44.

73.

Lenski RE. Coevolution of bacteria and phage: Are there endless cycles of bacterial defenses and phage counterdefenses? J Theor Biol. 1984;108:319–25.

74.

Bull JJ, Christensen KA, Scott C, Jack BR, Crandall CJ, Krone SM. Phage-bacterial dynamics with spatial structure: Self organization around phage sinks can promote increased cell densities. Antibiotics. 2018;7:8.

75.

Hall AR, Scanlan PD, Morgan AD, Buckling A. Host-parasite coevolutionary arms races give way to fluctuating selection. Ecol Lett. 2011;14:635–42.

76.

Best A, Ashby B, White A, Bowers R, Buckling A, Koskella B, et al. Host-parasite fluctuating selection in the absence of specificity. Proc R Soc B Biol Sci. 2017;284:20171615.

77.

Gómez P, Buckling A. Bacteria-phage antagonistic coevolution in soil. Science. 2011;332:106–9.

78.

Ignacio-Espinoza JC, Ahlgren NA, Fuhrman JA. Long-term stability and Red Queen-like strain dynamics in marine viruses. Nat Microbiol. 2020;5:265–71.

79.

Lopez Pascua L, Hall AR, Best A, Morgan AD, Boots M, Buckling A. Higher resources decrease fluctuating selection during host-parasite coevolution. Ecol Lett. 2014;17:1380–8.

80.

Hampton HG, Watson BNJ, Fineran PC. The arms race between bacteria and their phage foes. Nature. 2020;577:327–36.

81.

Brockhurst MA, Chapman T, King KC, Mank JE, Paterson S, Hurst GDD. Running with the Red Queen: The role of biotic conflicts in evolution. Proc R Soc B Biol Sci. 2014;281:20141382.

82.

Vuono DC, Benecke J, Henkel J, Navidi WC, Cath TY, Munakata-Marr J, et al. Disturbance and temporal partitioning of the activated sludge metacommunity. ISME J. 2015;9:425–35.

83.

Kuai L, Verstraete W. Ammonium removal by the oxygen-limited autotrophic nitrification- denitrification system. Appl Environ Microbiol. 1998;64:4500–6.

84.

Hosseinidoust Z, Tufenkji N, van de Ven TGM. Formation of biofilms under phage predation: considerations concerning a biofilm increase. Biofouling. 2013;29:457–68.

85.

Doron S, Melamed S, Ofir G, Leavitt A, Lopatina A, Keren M, et al. Systematic discovery of antiphage defense systems in the microbial pangenome. Science. 2018;359:eaar4120.

86.

Winter C, Bouvier T, Weinbauer MG, Thingstad TF. Trade-Offs between competition and defense specialists among unicellular planktonic organisms: the 'Killing the Winner' hypothesis revisited. Microbiol Mol Biol Rev. 2010;74:42–57.

87.

Tyson GW, Banfield JF. Rapidly evolving CRISPRs implicated in acquired resistance of microorganisms to viruses. Environ Microbiol. 2008;10:200–7.

88.

Weinberger AD, Wolf YI, Lobkovsky AE, Gilmore MS, Koonin EV. Viral diversity threshold for adaptive immunity in prokaryotes. mBio. 2012;3:e00456–12.

89.

Cohan FM, Perry EB. A systematics for discovering the fundamental units of bacterial diversity. Curr Biol. 2007;17:R373–86.

90.

Bendall ML, Stevens SLR, Chan LK, Malfatti S, Schwientek P, Tremblay J, et al. Genome-wide selective sweeps and gene-specific sweeps in natural bacterial populations. ISME J. 2016;10:1589–601.

91.

Sloan WT, Lunn M, Woodcock S, Head IM, Nee S, Curtis TP. Quantifying the roles of immigration and chance in shaping prokaryote community structure. Environ Microbiol. 2006;8:732–40.

92.

Ayarza JM, Erijman L. Balance of neutral and deterministic components in the dynamics of activated sludge floc assembly. Micro Ecol. 2011;61:486–95.

93.

de los Reyes FL. Foam in wastewater treatment facilities. In: Handbook of hydrocarbon and lipid microbiology. Berlin Heidelberg: Springer; 2010. pp. 2401–11.

94.

Petrovski S, Seviour RJ, Tillett D. Prevention of Gordonia and Nocardia stabilized foam formation by using bacteriophage GTE7. Appl Environ Microbiol. 2011;77:7864–7.

95.

Liu M, Gill JJ, Young R, Summer EJ. Bacteriophages of wastewater foaming-associated filamentous Gordonia reduce host levels in raw activated sludge. Sci Rep. 2015;5:13754.

96.

Curtis TP, Head IM, Graham DW. Peer reviewed: theoretical ecology for engineering biology. Environ Sci Technol. 2003;37:64A–70A.

97.

Daims H, Taylor MW, Wagner M. Wastewater treatment: a model system for microbial ecology. Trends Biotechnol. 2006;24:483–9.
Acknowledgements
This work was supported by grants from AySA-CONICET (Res. 3816/11 and 1371/15) and FONCyT (PICT 0746/15). The funders had no role in study design, data analysis, decision to publish, or preparation of the manuscript.
Ethics declarations
Conflict of interest
The authors declare that they have no conflict of interest.
Additional information
Publisher's note Springer Nature remains neutral with regard to jurisdictional claims in published maps and institutional affiliations.
Supplementary information
About this article
Cite this article
Guerrero, L.D., Pérez, M.V., Orellana, E. et al. Long-run bacteria-phage coexistence dynamics under natural habitat conditions in an environmental biotechnology system. ISME J (2020). https://doi.org/10.1038/s41396-020-00802-z
Received:

Revised:

Accepted:

Published: