Abstract
Introduction
Chronic irritation caused by urinary catheter may predispose to metaplastic changes in the bladder and very rarely, nephrogenic metaplasia.
Case presentation
A 53-year-old lady with T-2 paraplegia and urethral catheter drainage for 27 years presented with haematuria. MRI of pelvis, performed seven years ago, showed a 10 cm intramural fibroid within the anterior aspect of the uterine body which was pushing the collapsed urinary bladder containing the Foley catheter to the left. The patient decided to avoid surgery to remove the fibroid at that time. Ultrasound scan of the urinary bladder done now, revealed a polypoidal lesion in the left superolateral wall. Superficial enhancing lesion with no invasion of the bladder wall was seen in the CT urography. Cystoscopy showed extensive catheter reaction, and in the centre, a slightly more papillary area, which was resected. Histology revealed inflamed bladder mucosa showing tubular and papillary structures lined by cuboidal epithelial cells; the features were of nephrogenic metaplasia. The tubular and papillary structures were lined by cells showing positive immunohistochemical staining for CK7 and PAX8.
Discussion
Catheter reaction and nephrogenic metaplasia was found in the left superolateral wall of the bladder where the large uterine fibroid was pushing the balloon of the catheter against the bladder wall for more than seven years. The patient decided to undergo surgery to remove the large fibroid and thereby prevent further pressure effects upon the urinary bladder.
Your institute does not have access to this article
Access options
Subscribe to Journal
Get full journal access for 1 year
We are sorry, but there is no personal subscription option available for your country.
Buy article
Get time limited or full article access on ReadCube.
$32.00
All prices are NET prices.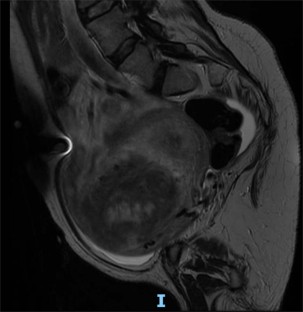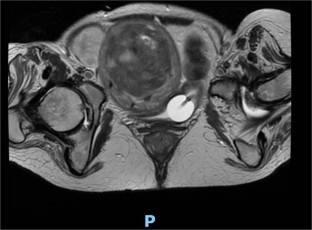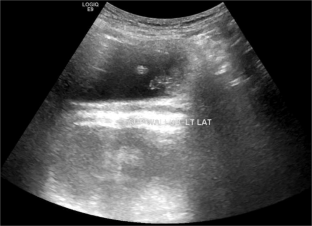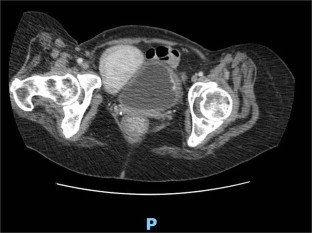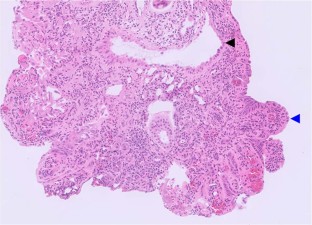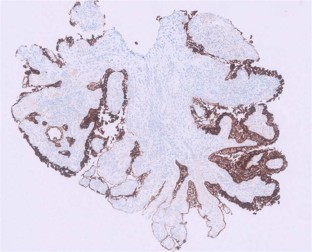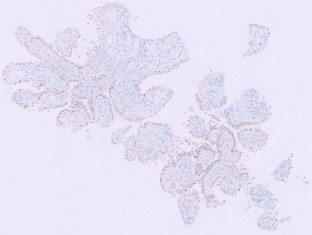 Data availability
All relevant clinical data pertaining to this case have been provided. Only the confidential data of the patient such as name, date of birth have been withheld to maintain anonymity of the patient.
References
Gandhi JS. Nephrogenic metaplasia. PathologyOutlines.com website. https://www.pathologyoutlines.com/topic/bladdernephroadenoma.html. Pathology Outlines - Nephrogenic metaplasia Accessed February 7th, 2022.

Sammer U, Walter M, Knüpfer SC, Mehnert U, Bode-Lesniewska B, Kessler TM, et al. Do we need surveillance urethro-cystoscopy in patients with neurogenic lower urinary tract dysfunction? PLoS ONE. 2015;10:e0140970. https://doi.org/10.1371/journal.pone.0140970.

Chen C-S, Cheng C-L. Nephrogenic adenoma of the urinary bladder: clinical experience and review of the literature. J Chin Med Assoc. 2006;69:166–8. PMID: 16689198 23

Zougkas K, Kalafatis M, Kalafatis P. Nephrogenic adenoma of the urinary bladder. Int Urol Nephrol. 2004;36:513–7.

Hungerhuber E, Bach E, Hartmann A, Frimberger D, Stief C, Zaak D, et al. Adenocarcinoma of the bladder following nephrogenic adenoma: a case report. J Med Case Rep. 2008;2:164. https://doi.org/10.1186/1752-1947-2-164.

Delnay KM, Stonehill WH, Goldman H, Jukkola AF, Dmochowski RR. Bladder histological changes associated with chronic indwelling urinary catheter. J Urol. 1999;161:1106–8.

Piña-Oviedo S, Shen S, Truong L. Flat pattern of nephrogenic adenoma: previously unrecognized pattern unveiled using PAX2 and PAX8 immunohistochemistry. Mod Pathol. 2013;26:792–8. https://doi.org/10.1038/modpathol.2012.239.

Quinones W, Ziober A, Yao Y, Bing Z. Immunohistochemical markers for the differential diagnosis of nephrogenic adenomas. Ann Diagn Pathol. 2013;17:41–4. https://doi.org/10.1016/j.anndiagpath.2012.05.003.
Acknowledgements
The authors are most grateful to all doctors, present and past, who looked after this patient during the 27 years after she sustained spinal cord injury.
Ethics declarations
Competing interests
The authors declare no competing interests.
Additional information
Publisher's note Springer Nature remains neutral with regard to jurisdictional claims in published maps and institutional affiliations.
About this article
Cite this article
Subramanian, V., Hasan, N., Khadr, R. et al. Nephrogenic metaplasia in a female person with spinal cord injury: chronic irritation caused by Foley balloon was aggravated by a large uterine fibroid pressing upon the bladder wall for several years: a case report. Spinal Cord Ser Cases 8, 51 (2022). https://doi.org/10.1038/s41394-022-00521-x
Received:

Revised:

Accepted:

Published:

DOI: https://doi.org/10.1038/s41394-022-00521-x