Abstract
Introduction
Myositis of unknown aetiology might be a very rare complication of intramuscular injections of onabotulinum toxin A (Botox) for spasticity treatment.
Case presentation
We describe a case of significant myositis of unknown aetiology in a 17-year-old man, who was admitted for rehabilitation 4 months after his initial spinal cord injury (SCI) as a result of a mountain bike accident. He has an incomplete tetraplegia, C4 AIS B international Standards for Neurological Classification for Spinal Cord Injury (ISNCSCI) [1] due to C5 vertebra 3 column fracture [2]. He had severe spasticity of his lower limb muscles treated with Botox, following which, he required two acute hospital transfers for diagnosis and management of myositis.
Discussion
This is a severe unusual presentation of myositis caused by intramuscular botulinum toxin for treatment of spasticity, in the frequent setting of spasticity where intramuscular botulinum toxin injections are routinely used.
Access options
Subscribe to Journal
Get full journal access for 1 year
We are sorry, but there is no personal subscription option available for your country.
Buy article
Get time limited or full article access on ReadCube.
$32.00
All prices are NET prices.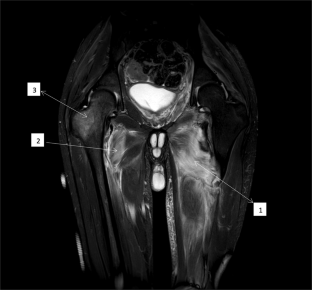 References
American Spinal Injury Association. International Standards for Neurological Classification of Spinal Cord Injury. Richmond, VA: American Spinal Injury Association; 2019.

Bono CM, Vives MJ, Kauffman CP Cervical Injuries: Indications and Options for Surgery. In: Lin V, editor. Spinal Cord Medicine Principles and Practice: Demos Medical Publishing; 2003. p. 132.

Lance JW. What is spasticity? Lancet. 1990;335:606 https://doi.org/10.1016/0140-6736(90)90389-m.

Trompetto C, Marinelli L, Mori L, Pelosin E, Currà A, Molfetta L, et al. Pathophysiology of spasticity: implications for neurorehabilitation. Biomed Res Int. 2014;2014:354906 https://doi.org/10.1155/2014/354906.

Horn LJ, Singh G, Dabrowski E Chemoneurolysis With Phenol and Alcohol: A Dying Art That Merits Revival. In: Brashear A, Elovic E, editors. Spasticity Diagnosis and Management: Demos Medical Publishing; 2011. p. 101-19.

Therapeutic Goods Administration. AusPAR Botox Botulinum toxin, type A Allergan Australia Pty Ltd PM-2012-01467-3-3. Australian Government Department of Health; 2013.

Carstens PO, Schmidt J. Diagnosis, pathogenesis and treatment of myositis: recent advances. Clin Exp Immunol. 2014;175:349–58. https://doi.org/10.1111/cei.12194.

Barsotti S, Lundberg IE. Current treatment for myositis. Curr Treatm Opt Rheumatol 2018;4:299–315. https://doi.org/10.1007/s40674-018-0106-2.

Fagien S, Cohen JL, Coleman W, Monheit G, Carruthers J, Street J, et al. Forehead line treatment with OnabotulinumtoxinA in subjects with forehead and glabellar facial rhytids: a phase 3 study. Dermatol Surg. 2017;43:S274–s84. https://doi.org/10.1097/dss.0000000000001414. Suppl 3.

De Boulle K, Werschler WP, Gold MH, Bruce S, Sattler G, Ogilvie P, et al. Phase 3 study of OnabotulinumtoxinA distributed between frontalis, glabellar complex, and lateral canthal areas for treatment of upper facial lines. Dermatol Surg. 2018;44:1437–48. https://doi.org/10.1097/dss.0000000000001612.

Kaji R, Osako Y, Suyama K, Maeda T, Uechi Y, Iwasaki M. Botulinum toxin type A in post-stroke lower limb spasticity: a multicenter, double-blind, placebo-controlled trial. J Neurol. 2010;257:1330–7. https://doi.org/10.1007/s00415-010-5526-3.

Wein T, Esquenazi A, Jost WH, Ward AB, Pan G, Dimitrova R. OnabotulinumtoxinA for the treatment of poststroke distal lower limb spasticity: a randomized. Trial PM R 2018;10:693–703. https://doi.org/10.1016/j.pmrj.2017.12.006.

Schrey A, Airas L, Jokela M, Pulkkinen J. Botulinum toxin alleviates dysphagia of patients with inclusion body myositis. J Neurol Sci. 2017;380:142–7. https://doi.org/10.1016/j.jns.2017.07.031.

Mancini F, Sandrini G, Moglia A, Nappi G, Pacchetti C. A randomised, double-blind, dose-ranging study to evaluate efficacy and safety of three doses of botulinum toxin type A (Botox) for the treatment of spastic foot. Neurol Sci. 2005;26:26–31. https://doi.org/10.1007/s10072-005-0378-9.

Haugh AB, Pandyan AD, Johnson GR. A systematic review of the Tardieu Scale for the measurement of spasticity. Disabil Rehabil. 2006;28:899–907. https://doi.org/10.1080/09638280500404305.
Acknowledgements
Ms Nicole Whitehead, Physiotherapist at Spinal Injuries Unit, Royal Rehab, Ryde, NSW 2112, Australia for assessing the patient before and after injections and offering ongoing advice regarding spasticity management. Dr Hwei Choo Soh, Senior Staff Specialist, Department of Anatomical Pathology, Royal North Shore Hospital, St Leonards NSW 2065, Australia, for the provision and interpretation of the histopathological slides. Royal North Shore Hospital Consulting specialists: Dr David Hunter, Consulting Rheumatologist, Dr Dimitri Papadimitriou, Consulting Orthopaedic Surgeon and Dr Melanie Figtree, Consulting Infectious Diseases Specialist. Dr Andreea Heriseanu, DClinPsych/PhD, who assisted in the proofreading of the manuscript. No financial assistance was received in support of the study.
Ethics declarations
Competing interests
The authors declare no competing interests.
Additional information
Publisher's note Springer Nature remains neutral with regard to jurisdictional claims in published maps and institutional affiliations.
Appendices
Appendix A
Tardieu Scale [15]
This scale quantifies muscle spasticity by assessing the response of the muscle to stretch applied at specified velocities. Grading is always performed at the same time of day, in a constant position of the body for a given limb. For each muscle group, reaction to stretch is rated at a specified stretch velocity with 2 parameters x and v. Measurements take place at 3 velocities to stretch (V1, V2, and V3). Responses are recorded at each velocity as X/Y, with X indicating the quality of muscle reaction from 0 to 5 rating, and Y indicating the degree of angle at which the muscle reaction occurs.
By moving the limb at different velocities, the response to stretch can be more easily gauged since the stretch reflex responds differently to velocity.
Velocities:
V1: As slow as possible, slower than the natural drop of the limb segment under gravity.
V2: Speed of limb segment falling under gravity.
V3: As fast as possible, faster than the rate of the natural drop of the limb segment under gravity.
Scoring:
0 No resistance throughout the course of the passive movement.
1 Slight resistance throughout the course of passive movement, no clear catch at a precise angle.
2 Clear catch at a precise angle, interrupting the passive movement, followed by release.
3 Fatigable clonus with less than 10 s when maintaining the pressure and appearing at the precise angle.
4 Unfatigable clonus with more than 10 s when maintaining the pressure and appearing at a precise angle.
5 Joint is immovable.
Example:
When testing spasticity of the hamstring at the speed V1, place the patient in the supine position. Flex the hip to 90 degrees, with the opposite hip extended (as for popliteal angle test). Beginning with the knee flexed, extend the knee as slowly as possible. If a clear catch interrupts the passive movement at −70 degrees of extension, followed by a release facilitating further extension to −50 degrees of extension, then the Tardieu V1 score would be 2/−70. The rating would be repeated for V2 and V3 velocities. Evaluating movement of a part at different velocities may help distinguish passive stiffness from spasticity.
Appendix B
Literature search:
Search Databases: Allergan Product Literature Database Search Date: 14-MAY-2020
Search Parameters: (BOTOX OR BOTOX VISTA OR BOTOX Cosmetic OR VISTABEL OR VISTABEX) AND (myositis OR inflammatory myopathy).
Search Limits: Meta-Analyses, Systematic Reviews, Clinical Trials, Observational Studies, Case Reports, English, Humans Allergan's Product Literature Database contains publications compiled from publicly accessible literature databases (i.e., MEDLINE®, EMBASE.com®, etc.).
About this article
Cite this article
Heriseanu, R.E., Chari, P. A severe case of non-infective myositis six weeks post intramuscular injections of Onabotulinum toxin A (Botox) in a young man with tetraplegia: case report. Spinal Cord Ser Cases 7, 76 (2021). https://doi.org/10.1038/s41394-021-00442-1
Received:

Revised:

Accepted:

Published:

DOI: https://doi.org/10.1038/s41394-021-00442-1