Abstract
Study design
Retrospective matched case-control study including patients with spinal cord injury who presented with an anus-near pressure injury. Two groups were formed based on the presence of a diverting stoma.
Objectives
To evaluate the primary microbial colonisation and secondary infection of anus-near pressure injuries depending on the presence of a pre-existing diverting stoma and to investigate the effect on the wound healing.
Setting
University hospital with a spinal cord injury unit.
Methods
A total of 120 patients who had undergone surgery of an anus-near decubitus stage 3 or 4 were included in a matched-pair cohort study. Matching was realised according to age, gender, body mass index and general condition.
Results
The most common species in both groups was Staphylococcus spp.(45.0%). The only significantly different primary colonisation affected Escherichia coli, that was found in the stoma patients less often (18.3 and 43.3%, p < 0.01). A secondary microbial colonisation occurred in 15.8% and was equally distributed, except for Enterococcus spp. that was present in the stoma group only (6.7%, p < 0.05). The time to complete cure took longer in the stoma group (78.5 versus 57.0 days, p < 0.05) and was associated with a larger ulcer size (25 versus 16 cm2, p < 0.01). After correction for the ulcers' size, there was no association to outcome parameters such as overall success, healing time or adverse events.
Conclusions
The presence of a diverting stoma alters the microbial flora of an anus-near decubitus slightly without impact on the healing process.
Access options
Subscribe to this journal
Receive 12 print issues and online access
$259.00 per year
only $21.58 per issue
Rent or buy this article
Prices vary by article type
from$1.95
to$39.95
Prices may be subject to local taxes which are calculated during checkout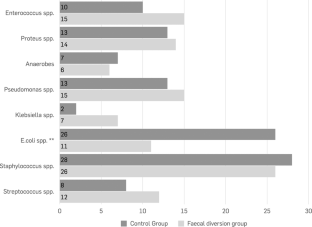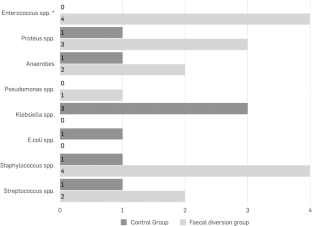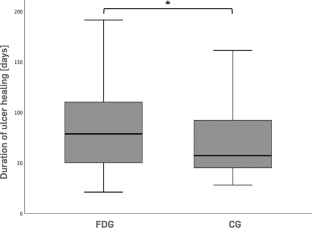 Data availability
Data for this study are available on reasonable request. Please contact the corresponding author for the research data.
References
European Pressure Ulcer Advisory Panel and National Pressure Ulcer Advisory Panel PPPIA. Prevention and Treatment of Pressure Ulcers: Quick Reference Guide. Cambridge Media; 2014.

Pancorbo-Hidalgo PL, Garcia-Fernandez FP, Lopez-Medina IM, Alvarez-Nieto C. Risk assessment scales for pressure ulcer prevention: a systematic review. J Adv Nurs. 2006;54:94–110. https://doi.org/10.1111/j.1365-2648.2006.03794.x

Bhattacharya S, Mishra R. Pressure ulcers: current understanding and newer modalities of treatment. Indian J Plast Surg. 2015;48:4–16. https://doi.org/10.4103/0970-0358.155260

Hauss A, Greshake S, Skiba T, Schmidt K, Rohe J, Jürgensen JS. Systematic pressureulcer risk management. Results of implementing multiple interventions at CharitéUniversitätsmedizin Berlin]. Z Evid Fortbild Qual Gesundhwes. 2016;113:19–26.

Harkey HL, White EA IV, Tibbs RE, Haines DE. A clinician's view of spinal cord injury. Anat Rec B N. Anat. 2003;271:41–48. https://doi.org/10.1002/ar.b.10012

Gélis A, Dupeyron A, Legros P, Benam C, Pelissier J, Fattal C. Pressure ulcer risk factors in persons with spinal cord injury Part 2: the chronic stage. Spinal Cord. 2009;47:651–61. https://doi.org/10.1038/sc.2009.32

Biglari B, Büchler A, Reitzel T, Swing T, Gerner HJ, Ferbert T, et al. A retrospective study on flap complications after pressure ulcer surgery in spinal cord-injured patients. Spinal Cord. 2014;52:80–3. https://doi.org/10.1038/sc.2013.130

Cardenas DD, Hoffman JM, Kirshblum S, McKinley W. Etiology and incidence of rehospitalization after traumatic spinal cord injury: a multicenter analysis. Arch Phys Med Rehabil. 2004;85:1757–63. https://doi.org/10.1016/j.apmr.2004.03.016

Sezer N. Chronic complications of spinal cord injury. World J Orthop. 2015;6:24. https://doi.org/10.5312/wjo.v6.i1.24

Krause JS, Devivo MJ, Jackson AB. Health status, community integration, and economic risk factors for mortality after spinal cord injury. Arch Phys Med Rehabil. 2004;85:1764–73. https://doi.org/10.1016/j.apmr.2004.06.062

Citak M, Backhaus M, Tilkorn DJ, O'loughlin PF, Meindl R, Muhr G, et al. Necrotizing fasciitis in patients with spinal cord injury: an analysis of 25 patients. Spine (Philos Pa 1976). 2011;36:E1225–29. https://doi.org/10.1097/BRS.0b013e3182059950.

Zhao R, Liang H, Clarke E, Jackson C, Xue M. Inflammation in chronic wounds. Int J Mol Sci. 2016;17:2085. https://doi.org/10.3390/ijms17122085

Montgomerie JZ. Infections in patients with spinal cord injuries. Clin Infect Dis. 1997;25:1285–90. https://doi.org/10.1086/516144

Oli AN, Eze DE, Gugu TH, Ezeobi I, Maduagwu UN, Ihekwereme CP. Multi-antibiotic resistant extended-spectrum beta-lactamase producing bacteria pose a challenge to the effective treatment of wound and skin infections. Pan Afr Med J. 2017;27:66. https://doi.org/10.11604/pamj.2017.27.66.10226

Alanis AJ. Resistance to antibiotics: are we in the post-antibiotic era. Arch Med Res. 2005;36:697–705. https://doi.org/10.1016/j.arcmed.2005.06.009

Branagan G, Tromans A, Finnis D. Effect of stoma formation on bowel care and quality of life in patients with spinal cord injury. Spinal Cord. 2003;41:680–3. https://doi.org/10.1038/sj.sc.3101529

De La Fuente SG, Levin LS, Reynolds JD, Olivares C, Pappas TN, Ludwig KA, et al. Elective stoma construction improves outcomes in medically intractable pressure ulcers. Dis Colon Rectum. 2003;46:1525–30. https://doi.org/10.1007/s10350-004-6808-6

Pussin AM, Lichtenthäler LC, Aach M, Schildhauer TA, Brechmann T. Fecal diversion does not support healing of anus-near pressure ulcers in patients with spinal cord injury—results of a retrospective cohort study. Spinal Cord. 2021. https://doi.org/10.1038/s41393-021-00717-2

Deshmukh GR, Barkel DC, Darcey S, Penny H. Use or misuse of colostomy to heal pressure ulcers. Dis. Colon Rectum. 1996;39:737–8. https://doi.org/10.1007/BF02054436

Dana AN, Bauman WA. Bacteriology of pressure ulcers in individuals with spinal cord injury: what we know and what we should know. J. Spinal Cord Med. 2015;38:147–60. https://doi.org/10.1179/2045772314Y.0000000234

Levy SB, Bonnie M. Antibacterial resistance worldwide: Causes, challenges and responses. Nat. Med. 2004;10:S122–9. https://doi.org/10.1038/nm1145

Sansonetti PJ. E08 Flora pathogenicity and paneth cells. J. Crohn's Colitis Suppl. 2010;4:7–8. https://doi.org/10.1016/s1873-9954(10)70012-4

Lyon CC, Smith AJ, Griffiths CEM, Beck MH. The spectrum of skin disorders in abdominal stoma patients. Br J. Dermatol. 2000;143:1258–60. https://doi.org/10.1046/j.1365-2133.2000.03896.x

Espejo E, Andrés M, Borrallo RM, Padilla E, Garcia-Restoy E, Bella F. Bacteremia associated with pressure ulcers: a prospective cohort study. Eur J Clin Microbiol Infect Dis. 2018;37:969–75. https://doi.org/10.1007/s10096-018-3216-8

Höfle MG. Transfer RNAs as genotypic fingerprints of eubacteria. Arch Microbiol. 1990;153:299–304. https://doi.org/10.1007/BF00249086
Ethics declarations
Ethics approval
The study protocol was approved by the institutional review board of the Ruhr University Bochum [registry number 18-6351] on the basis of the ethical guidelines of the Declaration of Helsinki and its later revisions; informed consent was obtained from all patients before surgery. Informed consent was neither practicable nor necessary for this retrospective study and was exempted by the institutional review board.
Competing interests
The authors declare no competing interests.
Additional information
Publisher's note Springer Nature remains neutral with regard to jurisdictional claims in published maps and institutional affiliations.
Supplementary information
Rights and permissions
Springer Nature or its licensor (e.g. a society or other partner) holds exclusive rights to this article under a publishing agreement with the author(s) or other rightsholder(s); author self-archiving of the accepted manuscript version of this article is solely governed by the terms of such publishing agreement and applicable law.
About this article
Cite this article
Lichtenthäler, L.C., Pussin, A.M., Aach, M. et al. Minor microbial alterations after faecal diversion do not affect the healing process of anus-near pressure injuries in patients with spinal cord injury - results of a matched case-control study. Spinal Cord 61, 352–358 (2023). https://doi.org/10.1038/s41393-023-00901-6
Received:

Revised:

Accepted:

Published:

Issue Date:

DOI: https://doi.org/10.1038/s41393-023-00901-6