Abstract
Study design
Retrospective cohort study.
Objective
Bowel and anorectal dysfunctions are common in patients with multiple sclerosis (pwMS). The use of validated questionnaires is recommended in the initial assessment and patient's follow-up. The Neurogenic Bowel Dysfunction (NBD) score is the most used questionnaire but has been developed in spinal cord injured patients and has never been validated in other neurological diseases. We aimed to assess NBD's relevance in pwMS.
Settings
Monocentric study in a tertiary neuro-urology department.
Methods
A retrospective study in pwMS consulting for the first time in our department, that fulfilled the NBD questionnaire between 2010 and 2021 was performed. Qualitative and quantitative answers for each question were analyzed. Content validity and internal consistency were evaluated.
Results
One hundred thirty-five pwMS (mean age 47.1, 58% of women) fulfilled the NBD questionnaire. Mean NBD score was 6.0 (SD 6.1) and 75% of patients had a score <9. Content validity analysis revealed 4 items not appropriate, 1 item with irrelevant calibration, and omission of some treatment widely used in pwMS. Internal consistency was appreciated with Cronbach's alpha = 0.48 IC 95% [0.31; 0.6].
Conclusion
NBD questionnaire lacks content validity and presents a weak internal consistency in pwMS. A specific questionnaire is therefore required in pwMS to optimize bowel management and follow-up.
Access options
Subscribe to this journal
Receive 12 print issues and online access
$259.00 per year
only $21.58 per issue
Rent or buy this article
Get just this article for as long as you need it
$39.95
Prices may be subject to local taxes which are calculated during checkout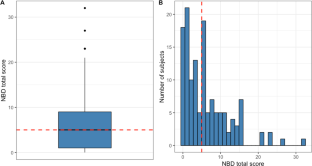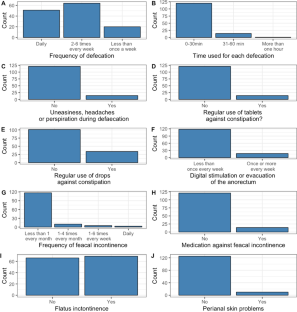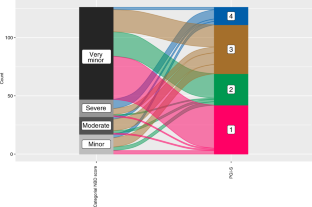 Data availability
The datasets generated and/or analyzed during the current study are available from the corresponding author on reasonable request.
References
McGinley MP, Goldschmidt CH, Rae-Grant AD. Diagnosis and treatment of multiple sclerosis: a review. JAMA. 2021;325:765–79.

Preziosi G, Gordon-Dixon A, Emmanuel A. Neurogenic bowel dysfunction in patients with multiple sclerosis: prevalence, impact, and management strategies. Degener Neurol Neuromuscul Dis. 2018;8:79–90.

Dibley L, Coggrave M, McClurg D, Woodward S, Norton C. "It's just horrible": a qualitative study of patients' and carers' experiences of bowel dysfunction in multiple sclerosis. J Neurol. 2017;264:1354–61.

Khan F, Pallant JF, Shea TL, Whishaw M. Multiple sclerosis: prevalence and factors impacting bladder and bowel function in an Australian community cohort. Disabil Rehabil. 2009;31:1567–76.

Panicker JN, Marcelissen T, Gontard A, von, Vrijens D, Abrams P, Wyndaele M, et al. Bladder-bowel interactions: do we understand pelvic organ cross-sensitization? International Consultation on Incontinence Research Society (ICI-RS) 2018. Neurourol Urodyn. 2019;38:S25–34.

Krogh K, Christensen P, Sabroe S, Laurberg S. Neurogenic bowel dysfunction score. Spinal Cord. 2006;44:625.

Haab F, Richard F, Amarenco G, Coloby P, Arnould B, Benmedjahed K, et al. Comprehensive evaluation of bladder and urethral dysfunction symptoms: development and psychometric validation of the urinary symptom profile (USP) questionnaire. Urology. 2008;71:646–56.

Prévinaire JG, Soler JM, Bordji H, Fiolet MC, Navaux MA, Mortier PE, et al. Assessment of severity of neurogenic bowel dysfunction in chronic patients with a simple 1-item questionnaire (PGI-S). Prog Urol. 2016;26:573–81.

Yalcin I, Bump RC. Validation of two global impression questionnaires for incontinence. Am J Obstet Gynecol. 2003;189:98–101.

Viktrup L, Hayes RP, Wang P, Shen W. Construct validation of patient global impression of severity (PGI-S) and improvement (PGI-I) questionnaires in the treatment of men with lower urinary tract symptoms secondary to benign prostatic hyperplasia. BMC Urol. 2012;12:30.

McClurg D, Goodman K, Hagen S, Harris F, Treweek S, Emmanuel A, et al. Abdominal massage for neurogenic bowel dysfunction in people with multiple sclerosis (AMBER—Abdominal Massage for Bowel Dysfunction Effectiveness Research): study protocol for a randomised controlled trial. Trials. 2017;18:150.

Pintér A, Cseh D, Sárközi A, Illigens BM, Siepmann T. Autonomic dysregulation in multiple sclerosis. Int J Mol Sci. 2015;16:16920–52.

Kulcu DG, Akbas B, Citci B, Cihangiroglu M. Autonomic dysreflexia in a man with multiple sclerosis. J Spinal Cord Med. 2009;32:198–203.

Bateman AM, Goldish GD. Autonomic dysreflexia in multiple sclerosis. J Spinal Cord Med. 2002;25:40–2.

Eldahan KC, Rabchevsky AG. Autonomic dysreflexia after spinal cord injury: systemic pathophysiology and methods of management. Auton Neurosci. 2018;209:59–70.

Gourcerol G, Bénard C, Melchior C, Touchais J-Y, Ducrotte P, Menard J-F, et al. Botulinum toxin: an endoscopic approach for treating fecal incontinence. Endoscopy. 2016;48:484–8.

Cariati M, Chiarello MM, Cannistra M, Lerose MA, Brisinda G. Gastrointestinal uses of botulinum toxin. In: Whitcup SM, Hallett M, editors. Botulinum toxin therapy (Handbook of experimental pharmacology). Cham: Springer International Publishing; 2021. p. 185–226.

Cadeddu F, Bentivoglio AR, Brandara F, Marniga G, Brisinda G, Maria G, et al. Outlet type constipation in Parkinson's disease: results of botulinum toxin treatment. Aliment Pharm Ther. 2005;22:997–1003.

McClurg D, Harris F, Goodman K, Doran S, Hagen S, Treweek S, et al. Abdominal massage plus advice, compared with advice only, for neurogenic bowel dysfunction in MS: a RCT. Health Technol Assess. 2018;22:1–134.

Cotelle O, Cargill G, Marty MML, Bueno L, Cappelletti MC, Colangeli-Hagège H, et al. A concomitant treatment by CO2-releasing suppositories improves the results of anorectal biofeedback training in patients with dyschezia: results of a randomized, double-blind, placebo-controlled trial. Dis Colon Rectum. 2014;57:781–9.

Tarrerias AL, Abramowitz L, Marty MML, Coulom P, Staumont G, Merlette C, et al. Efficacy of a CO2-releasing suppository in dyschezia: a double-blind, randomized, placebo-controlled clinical trial. Dig Liver Dis. 2014;46:682–7.

Christensen P, Krogh K, Buntzen S, Payandeh F, Laurberg S. Long-term outcome and safety of transanal irrigation for constipation and fecal incontinence. Dis Colon Rectum. 2009;52:286–92.

Passananti V, Wilton A, Preziosi G, Storrie JB, Emmanuel A. Long-term efficacy and safety of transanal irrigation in multiple sclerosis. Neurogastroenterol Motil. 2016;28:1349–55.

Preziosi G, Gosling J, Raeburn A, Storrie J, Panicker J, Emmanuel A, et al. Transanal irrigation for bowel symptoms in patients with multiple sclerosis. Dis Colon Rectum. 2012;55:1066–73.

Krogh K, Christensen P. Neurogenic colorectal and pelvic floor dysfunction. Best Pr Res Clin Gastroenterol. 2009;23:531–43.

Abrams P, Cardozo L, Wagg A, Wein A, editors. Incontinence. 6th ed. ISBN: 978-0956960733. Bristol, UK: ICI-ICS. International Continence Society; 2017.

Fermanian J. Validation of assessment scales in physical medicine and rehabilitation: how are psychometric properties determined? Ann Readapt Med Phys. 2005;48:281–7.

Schober P, Boer C, Schwarte LA. Correlation coefficients: appropriate use and interpretation. Anesth Analg. 2018;126:1763–8.

Carotenuto A, Costabile T, Moccia M, Falco F, Petracca M, Satelliti B, et al. Interplay between cognitive and bowel/bladder function in multiple sclerosis. Int Neurourol J. 2021;25:310–8.

Bisecco A, Fornasiero A, Bianco A, Cortese A, D'Amico E, Mataluni G, et al. Prevalence and predictors of bowel dysfunction in a large multiple sclerosis outpatient population: an Italian multicenter study. J Neurol. 2022;269:1610–17.

Khan F, McPhail T, Brand C, Turner-Stokes L, Kilpatrick T. Multiple sclerosis: disability profile and quality of life in an Australian community cohort. Int J Rehabil Res. 2006;29:87–96.
Funding
ET reports a grant from ARSEP Foundation (foundation pour l'aide à la recherche sur la sclérose en plaques). The others author(s) received no financial support for the research, authorship and/or publication of this article.
Ethics declarations
Competing interests
The author(s) declared the following potential conflicts of interest with respect to the research, authorship and/or publication of this article: ET reports a grant from ARSEP foundation (foundation pour l'aide à la recherche sur la sclérose en plaques). None of the other authors reported no competing interests.
Additional information
Publisher's note Springer Nature remains neutral with regard to jurisdictional claims in published maps and institutional affiliations.
About this article
Cite this article
Miget, G., Tan, E., Pericolini, M. et al. The Neurogenic Bowel Dysfunction score (NBD) is not suitable for patients with multiple sclerosis. Spinal Cord 60, 1130–1135 (2022). https://doi.org/10.1038/s41393-022-00837-3
Received:

Revised:

Accepted:

Published:

Issue Date:

DOI: https://doi.org/10.1038/s41393-022-00837-3
This article is cited by
J. Becker
K. Hoppe
M. Krämer

DGNeurologie (2023)