Abstract
Study design
Outcome measure item generation and reduction.
Objectives
To develop a patient reported outcome measure (PROM) addressing the impact of neurogenic bowel dysfunction (NBD) on individuals living with traumatic or nontraumatic spinal cord injury (SCI).
Setting
Tertiary rehabilitation center in Toronto, Canada.
Methods
A PROM based on the International Classification of Functioning, Disability and Health (ICF) framework was developed using the following steps: (a) item generation, (b) item refinement through iterative review, (c) completion of items by individuals living with SCI and NBD followed by cognitive interviewing, and (d) further item refinement, item reduction, and construction of the preliminary PROM.
Results
Following initial item generation and iterative review, the investigative team agreed on 55 initial items. Cognitive interviewing, additional revisions, and item reduction yielded an instrument comprised of 35 items; while ensuring at least two items were retained for each of the 16 previously identified challenges of living with NBD following the onset of a SCI. Scoring for the preliminary PROM ranges from 0 to 140.
Conclusions
A preliminary PROM informed by the ICF for assessing the impact of NBD post-SCI has been devised, which can be used to inform clinicians and decision-makers on optimal ways to treat this serious secondary health complication. Future work will assess the validity and clinimetric properties of the PROM.
Access options
Subscribe to Journal
Get full journal access for 1 year
$361.00
only $30.08 per issue
All prices are NET prices.
VAT will be added later in the checkout.
Rent or Buy article
Get time limited or full article access on ReadCube.
from$8.99
All prices are NET prices.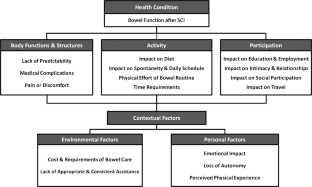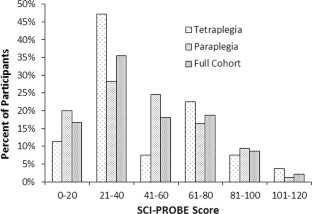 Data availability
The datasets generated and/or analyzed during the current study are available from the corresponding author on reasonable request.
References
1.

Anderson KD. Targeting recovery: priorities of the spinal cord-injured population. J Neurotrauma. 2004;21:1371–83.

2.

Glickman S, Kamm MA. Bowel dysfunction in spinal-cord-injury patients. Lancet. 1996;347:1651–3.

3.

Kirk PM, King RB, Temple R, Bourjaily J, Thomas P. Long-term follow-up of bowel management after spinal cord injury. SCI Nurs. 1997;14:56–63.

4.

Stone JM, Nino-Murcia M, Wolfe VA, Perkash I. Chronic gastrointestinal problems in spinal cord injury patients: a prospective analysis. Am J Gastroenterol. 1990;85:1114–9.

5.

Coggrave M, Norton C, Wilson-Barnett J. Management of neurogenic bowel dysfunction in the community after spinal cord injury: a postal survey in the United Kingdom. Spinal Cord. 2009;47:323–30. quiz 31-3.

6.

Dunn M. Social discomfort in the patient with spinal cord injury. Arch Phys Med Rehabil. 1977;58:257–60.

7.

Simpson LA, Eng JJ, Hsieh JT, Wolfe DL. The health and life priorities of individuals with spinal cord injury: a systematic review. J Neurotrauma. 2012;29:1548–55.

8.

Coggrave M, Norton C, Cody JD. Management of faecal incontinence and constipation in adults with central neurological diseases. Cochrane Database Syst Rev. 2014;1:Cd002115.

9.

Burns AS, St-Germain D, Connolly M, Delparte JJ, Guindon A, Hitzig SL, et al. A phenomenological study of neurogenic bowel from the perspective of individuals living with spinal cord injury. Arch Phys Med Rehabil. 2015;96:49–55.

10.

Burns AS, St-Germain D, Connolly M, Delparte JJ, Guindon A, Hitzig SL, et al. Neurogenic bowel after spinal cord injury from the perspective of support providers: a phenomenological study. PM R. 2015;7:407–16.

11.

Pires JM, Ferreira AM, Rocha F, Andrade LG, Campos I, Margalho P, et al. Assessment of neurogenic bowel dysfunction impact after spinal cord injury using the International Classification of Functioning, Disability and Health. Eur J Phys Rehabil Med. 2018;54:873–9.

12.

Wheeler TL, de Groat W, Eisner K, Emmanuel A, French J, Grill W, et al. Translating promising strategies for bowel and bladder management in spinal cord injury. Exp Neurol. 2018;306:169–76.

13.

Craven BC, Verrier MC, Balioussis C, Wolfe DL, Hsieh JTC, Noonan VK, et al. Rehabilitation environmental scan atlas: capturing capacity in Canadian SCI rehabilitation. Vancouver, BC: Rick Hansen Institute; 2012. http://www.rickhanseninstitute.org/e-scan-atlas.

14.

Choukou MA, Best KL, Craven BC, Hitzig SL. Identifying and classifying quality of life tools for assessing neurogenic bowel dysfunction after spinal cord injury. Top Spinal Cord Inj Rehabil. 2019;25:1–22.

15.

DeWalt DA, Rothrock N, Yount S, Stone AA. Evaluation of item candidates: the PROMIS qualitative item review. Med Care. 2007;45:S12–21.

16.

Department of Health & Human Support Food & Drug Administration. Patient-reported outcome measures: use in medical product development to support labeling claims. Rockville, MD: U.S. Food and Drug Administration; 2009.

17.

Streiner DL, Norman GR. Health Measurement Scales: A practical guide to their development and use. Fourth ed. New York, NY: Oxford University Press; 2008.

18.

Khanna P, Agarwal N, Khanna D, Hays RD, Chang L, Bolus R, et al. Development of an online library of patient-reported outcome measures in gastroenterology: the GI-PRO database. Am J Gastroenterol. 2014;109:234–48.

19.

Krogh K, Perkash I, Stiens SA, Biering-Sorensen F. International bowel function extended spinal cord injury data set. Spinal Cord. 2009;47:235–41.

20.

Krogh K, Christensen P, Sabroe S, Laurberg S. Neurogenic bowel dysfunction score. Spinal Cord. 2006;44:625–31.

21.

Tulsky DS, Kisala PA, Tate DG, Spungen AM, Kirshblum SC. Development and psychometric characteristics of the SCI-QOL Bladder Management Difficulties and Bowel Management Difficulties item banks and short forms and the SCI-QOL Bladder Complications scale. J Spinal Cord Med. 2015;38:288–302.

22.

Willis GB. Cognitive interviewing: a tool for improving questionnaire design. Thousand Oaks, CA: Sage Publications; 2005.

23.

Beatty PC, Willis GB. Research synthesis: the practice of cognitive interviewing. Public Opin Q. 2007;71:287–311.

24.

Bredart A, Marrel A, Abetz-Webb L, Lasch K, Acquadro C. Interviewing to develop Patient-Reported Outcome (PRO) measures for clinical research: eliciting patients' experience. Health Qual Life Outcomes. 2014;12:15.

25.

Coggrave MJ, Ingram RM, Gardner BP, Norton CS. The impact of stoma for bowel management after spinal cord injury. Spinal Cord. 2012;50:848–52.

26.

Patel DP, Elliott SP, Stoffel JT, Brant WO, Hotaling JM, Myers JB. Patient reported outcomes measures in neurogenic bladder and bowel: a systematic review of the current literature. Neurourol Urodyn. 2016;35:8–14.

27.

Krogh K, Emmanuel A, Perrouin-Verbe B, Korsten MA, Mulcahey MJ, Biering-Sorensen F. International spinal cord injury bowel function basic data set (Version 2.0). Spinal Cord. 2017;55:692–8.

28.

Juul T, Bazzocchi G, Coggrave M, Johannesen IL, Hansen RB, Thiyagarajan C, et al. Reliability of the international spinal cord injury bowel function basic and extended data sets. Spinal Cord. 2011;49:886–91.
Funding
This study was funded by The Rick Hansen Institute (RHI #G2015-28).
Ethics declarations
Conflict of interest
The authors declare that they have no conflict of interest.
Ethics
We certify that all applicable institutional and governmental regulations concerning the ethical use of human volunteers/animals were followed during the course of this research. All study procedures were approved by the University Health Network research ethics board (#15-9461).
Additional information
Publisher's note Springer Nature remains neutral with regard to jurisdictional claims in published maps and institutional affiliations.
Supplementary information
About this article
Cite this article
Burns, A.S., Delparte, J.J., Hitzig, S.L. et al. Development of a novel neurogenic bowel patient reported outcome measure: the Spinal Cord Injury Patient Reported Outcome Measure of Bowel Function & Evacuation (SCI-PROBE). Spinal Cord (2020). https://doi.org/10.1038/s41393-020-0467-x
Received:

Revised:

Accepted:

Published: