Abstract
Background
Alterations in the PTEN/PI3K/AKT/mTOR pathway are prevalent in prostate cancer. In this retrospective study, we evaluated the clinical effectiveness of mTOR inhibitors (mTORi) in patients with metastatic prostate cancer (mPCA) and tissue assessed phosphatidyl-3-inositol kinase (PI3K) pathway alterations.
Methods
This study used a nationwide (US-based) de-identified PCA clinico-genomic database, originating from approximately 280 US cancer clinics (~800 sites of care). We evaluated treatment data for patients with PCA from October 2014 to February 2020. In a cohort of 2301 PCA patients with 7208 evaluable treatment lines, we selected 17 mPCA patients (2 hormone-sensitive, 15 castrate-resistant) with tissue assessed PI3K pathway alterations by comprehensive genomic profiling who received mTORi treatment.
Results
Patients had a median age of 72 years (IQR 68.0, 76.0) and were heavily pretreated with a median 3 lines of therapy prior to mTORi use (range 0–6). The PI3K pathway alterations included PTENdel (10 patients, 58.8%), AKT1mut (4 patients, 23.5%), PTENmut (2 patients, 11.8%), and dual PTENmut and PIK3CAmut (1 patient, 5.9%). Most (15 patients, 88.2%) were treated with everolimus monotherapy. Among 10 patients with on treatment PSA available, 2 patients had a PSA decrease ≥10% at week 12 and 5 patients overall had a subsequent PSA decrease. For those on mTORi, the median time to next treatment was 3.62 months (range 0, 8.52).
Conclusions
In this small cohort of mPCA patients with tissue assessed PI3K pathway alterations, mTORi therapy was not effective with few PSA responses and short duration of therapy.
Access options
Subscribe to this journal
Receive 4 print issues and online access
$259.00 per year
only $64.75 per issue
Rent or buy this article
Prices vary by article type
from$1.95
to$39.95
Prices may be subject to local taxes which are calculated during checkout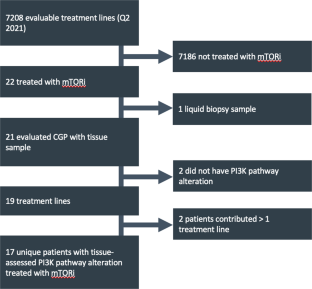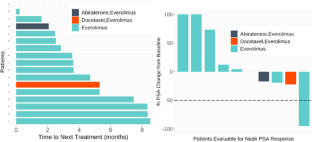 Data availability
The data supporting the findings of this study originated from Flatiron Health, Inc. and Foundation Medicine, Inc. These de-identified data may be made available upon request, and are subject to a license agreement with Flatiron Health and Foundation Medicine; interested researchers should contact <cgdb-fmi@flatiron.com> and <dataaccess@flatiron.com> to determine licensing terms.
References
Siegel RL, Miller KD, Fuchs HE, Jemal A. Cancer statistics, 2022. CA Cancer J Clin. 2022;72:7–33.

Taylor BS, Schultz N, Hieronymus H, Gopalan A, Xiao Y, Carver BS, et al. Integrative genomic profiling of human prostate cancer. Cancer Cell. 2010;18:11–22.

Chung JH, Dewal N, Sokol E, Mathew P, Whitehead R, Millis SZ, et al. Prospective comprehensive genomic profiling of primary and metastatic prostate tumors. JCO Precis Oncol. 2019;3:PO.18.00283. https://doi.org/10.1200/PO.18.00283.

Cully M, You H, Levine AJ, Mak TW. Beyond PTEN mutations: the PI3K pathway as an integrator of multiple inputs during tumorigenesis. Nat Rev Cancer. 2006;6:184–92.

Liu P, Cheng H, Roberts TM, Zhao JJ. Targeting the phosphoinositide 3-kinase pathway in cancer. Nat Rev Drug Disco. 2009;8:627–44.

Courtney KD, Corcoran RB, Engelman JA. The PI3K pathway as drug target in human cancer. J Clin Oncol. 2010;28:1075–83.

Carver BS, Chapinski C, Wongvipat J, Hieronymus H, Chen Y, Chandarlapaty S, et al. Reciprocal feedback regulation of PI3K and androgen receptor signaling in PTEN-deficient prostate cancer. Cancer Cell. 2011;19:575–86.

Scher HI, Halabi S, Tannock I, Morris M, Sternberg CN, Carducci MA, et al. Design and end points of clinical trials for patients with progressive prostate cancer and castrate levels of testosterone: recommendations of the Prostate Cancer Clinical Trials Working Group. J Clin Oncol. 2008;26:1148–59.

Nakabayashi M, Werner L, Courtney KD, Buckle G, Oh WK, Bubley GJ, et al. Phase II trial of RAD001 and bicalutamide for castration-resistant prostate cancer. BJU Int. 2012;110:1729–35.

Chow H, Ghosh PM, deVere White R, Evans CP, Dall'Era MA, Yap SA, et al. A phase 2 clinical trial of everolimus plus bicalutamide for castration-resistant prostate cancer. Cancer. 2016;122:1897–904.

George DJ, Halabi S, Healy P, Jonasch D, Anand M, Rasmussen J, et al. Phase 2 clinical trial of TORC1 inhibition with everolimus in men with metastatic castration-resistant prostate cancer. Urol Oncol. 2020;38:79.e15–22.

Templeton AJ, Dutoit V, Cathomas R, Rothermundt C, Bartschi D, Droge C, et al. Phase 2 trial of single-agent everolimus in chemotherapy-naive patients with castration-resistant prostate cancer (SAKK 08/08). Eur Urol. 2013;64:150–8.

Singal G, Miller PG, Agarwala V, Li G, Kaushik G, Backenroth D, et al. Association of patient characteristics and tumor genomics with clinical outcomes among patients with non-small cell lung cancer using a clinicogenomic database. JAMA. 2019;321:1391–9.

Frampton GM, Fichtenholtz A, Otto GA, Wang K, Downing SR, He J, et al. Development and validation of a clinical cancer genomic profiling test based on massively parallel DNA sequencing. Nat Biotechnol. 2013;31:1023–31.

Zurita AJ, Graf RP, Villacampa G, Raskina K, Sokol E, Jin D, et al. Genomic biomarkers and genome-wide loss-of-heterozygosity scores in metastatic Prostate Cancer following progression on Androgen-Targeting therapies. JCO Precis Oncol. 2022;6:e2200195.

Sayegh N, Swami U, Agarwal N. Recent advances in the management of metastatic prostate cancer. JCO Oncol Pr. 2022;18:45–55.

Koshkin VS, Mir MC, Barata P, Gul A, Gupta R, Stephenson AJ, et al. Randomized phase II trial of neoadjuvant everolimus in patients with high-risk localized prostate cancer. Invest N. Drugs. 2019;37:559–66.

Azad AA, Beardsley EK, Hotte SJ, Ellard SL, Klotz L, Chin J, et al. A randomized phase II efficacy and safety study of vandetanib (ZD6474) in combination with bicalutamide versus bicalutamide alone in patients with chemotherapy naive castration-resistant prostate cancer. Invest N. Drugs. 2014;32:746–52.

Culig Z, Hoffmann J, Erdel M, Eder IE, Hobisch A, Hittmair A, et al. Switch from antagonist to agonist of the androgen receptor bicalutamide is associated with prostate tumour progression in a new model system. Br J Cancer. 1999;81:242–51.

Ku SY, Rosario S, Wang Y, Mu P, Seshadri M, Goodrich ZW, et al. Rb1 and Trp53 cooperate to suppress prostate cancer lineage plasticity, metastasis, and antiandrogen resistance. Science. 2017;355:78–83.

Nyquist MD, Corella A, Coleman I, De Sarkar N, Kaipainen A, Ha G, et al. Combined TP53 and RB1 loss promotes prostate cancer resistance to a spectrum of therapeutics and confers vulnerability to replication stress. Cell Rep. 2020;31:107669.

Aggarwal R, Huang J, Alumkal JJ, Zhang L, Feng FY, Thomas GV, et al. Clinical and genomic characterization of treatment-emergent small-cell neuroendocrine prostate cancer: a multi-institutional prospective study. J Clin Oncol. 2018;36:2492–503.

Sweeney C, Bracarda S, Sternberg CN, Chi KN, Olmos D, Sandhu S, et al. Ipatasertib plus abiraterone and prednisolone in metastatic castration-resistant prostate cancer (IPATential150): a multicentre, randomised, double-blind, phase 3 trial. Lancet. 2021;398:131–42.

Bono JSD, Sweeney C, Bracarda S, Sternberg CN, Chi KN, Olmos D, et al. PI3K/AKT pathway biomarkers analysis from the phase III IPATential150 trial of ipatasertib plus abiraterone in metastatic castration-resistant prostate cancer. J Clin Oncol. 2021;39:13–13.

Choudhury AD. PTEN-PI3K pathway alterations in advanced prostate cancer and clinical implications. Prostate. 2022;82:S60–72.
Acknowledgements
We thank the patients whose data made this research possible, the clinical and laboratory staff at Foundation Medicine, and the team at Flatiron Health.
Funding
ETL and TWF received funding from the National Cancer Institute ETCTN and CTEP Program UM1 Supplement 1UM1-CA186688-04 for related preclinical work. Foundation Medicine pays the salaries of KW and RG.
Ethics declarations
Competing interests
CJE has no conflicts of interest to disclose. TWF has received research funding from Roche/Genentech. KW and RG are employees of Foundation Medicine, a wholly owned subsidiary of Roche, and have equity interest in Roche. ETL has received institutional research funding from Roche/Genentech.
Additional information
Publisher's note Springer Nature remains neutral with regard to jurisdictional claims in published maps and institutional affiliations.
Rights and permissions
Springer Nature or its licensor (e.g. a society or other partner) holds exclusive rights to this article under a publishing agreement with the author(s) or other rightsholder(s); author self-archiving of the accepted manuscript version of this article is solely governed by the terms of such publishing agreement and applicable law.
About this article
Cite this article
Eule, C.J., Flaig, T.W., Wong, K. et al. Effectiveness and durability of benefit of mTOR inhibitors in a real-world cohort of patients with metastatic prostate cancer and PI3K pathway alterations. Prostate Cancer Prostatic Dis 26, 188–193 (2023). https://doi.org/10.1038/s41391-022-00612-8
Received:

Revised:

Accepted:

Published:

Issue Date:

DOI: https://doi.org/10.1038/s41391-022-00612-8