Abstract
Background
An ancillary study of the High-Dose Erythropoietin for Asphyxia and Encephalopathy (HEAL) trial for neonates with hypoxic-ischemic encephalopathy (HIE) and treated with therapeutic hypothermia examined the hypothesis that neonates randomized to receive erythropoietin (Epo) would have a lower seizure risk and burden compared with neonates who received placebo.
Methods
Electroencephalograms (EEGs) from 7/17 HEAL trial centers were reviewed. Seizure presence was compared across treatment groups using a logistic regression model adjusting for treatment, HIE severity, center, and seizure burden prior to the first dose. Among neonates with seizures, differences across treatment groups in median maximal hourly seizure burden were assessed using adjusted quantile regression models.
Results
Forty-six of 150 (31%) neonates had EEG seizures (31% in Epo vs 30% in placebo, p = 0.96). Maximal hourly seizure burden after the study drug was not significantly different between groups (median 11.4 for Epo, IQR: 5.6, 18.1 vs median 9.7, IQR: 4.9, 21.0 min/h for placebo).
Conclusion
In neonates with HIE treated with hypothermia who were randomized to Epo or placebo, we found no meaningful between-group difference in seizure risk or burden. These findings are consistent with overall trial results, which do not support Epo use for neonates with HIE undergoing therapeutic hypothermia.
Impact
In the HEAL trial of erythropoietin (Epo) vs placebo for neonates with encephalopathy presumed due to hypoxic-ischemic encephalopathy (HIE) who were also treated with therapeutic hypothermia, electrographic seizures were detected in 31%, which is lower than most prior studies.

Epo did not reduce the proportion of neonates with acute provoked seizures (31% in Epo vs 30% in placebo) or maximal hourly seizure burden after the study drug (median 11.4, IQR 5.6, 18.1 for Epo vs median 9.7, IQR 4.9, 21.0 min/h for placebo).

There was no anti- or pro-convulsant effect of Epo when combined with therapeutic hypothermia for HIE.
Access options
Subscribe to this journal
Receive 13 print issues and online access
$259.00 per year
only $19.92 per issue
Rent or buy this article
Get just this article for as long as you need it
$39.95
Prices may be subject to local taxes which are calculated during checkout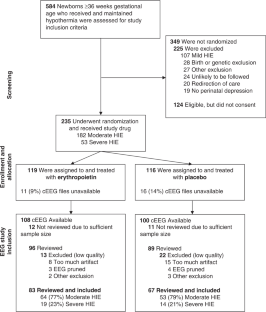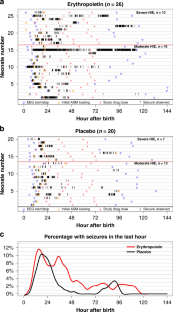 Data availability
HEAL Trial Data-sharing plan. We will prepare and share a final research data set that the accepted primary pragmatic trial publication is based upon. The final data set will be structured to maximize future scientific value while protecting patient and health system privacy. The UW DCC will remove or de-identify all 18 HIPAA-specified direct identifiers. The aim of our data-sharing policy is to strive for the least restrictive plan possible while providing appropriate protection for participant privacy, health system privacy, and scientific integrity. Within 9 months of the end of the final year of funding, a final study data set will be accessible via a supervised private data enclave managed by the National Institute of Neurological Disorder and Stroke (NINDS) at: https://www.ninds.nih.gov/Current-Research/Research-Funded-NINDS/Clinical-Research/Archived-Clinical-Research-Datasets. The shared data set will contain all data collected under both the HEAL Trial protocol and HEAL ancillary studies. Access will be limited to registered users who submit proposed specific questions or analysis plans and sign a data use agreement according to NINDS guidelines. "Supervised" indicates that individual requests are reviewed to protect the intellectual property rights of the project investigative team by restricting external development of manuscripts using the study data that substantially overlap with those that are already in development by study investigators.
References
Glass, H. C. et al. Contemporary profile of seizures in neonates: a prospective cohort study. J. Pediatr. 174, 98–103.e101 (2016).

Ronen, G. M., Penney, S. & Andrews, W. The epidemiology of clinical neonatal seizures in Newfoundland: a population-based study. J. Pediatr. 134, 71–75 (1999).

Juul, S. Erythropoietin in the central nervous system, and its use to prevent hypoxic-ischemic brain damage. Acta Paediatr. 91, 36–42 (2002).

Yang, J. et al. Erythropoietin preconditioning suppresses neuronal death following status epilepticus in rats. Acta Neurobiol. Exp. (Wars.) 67, 141–148 (2007).

Nadam, J. et al. Neuroprotective effects of erythropoietin in the rat hippocampus after pilocarpine-induced status epilepticus. Neurobiol. Dis. 25, 412–426 (2007).

Mikati, M. A., El Hokayem, J. A. & El Sabban, M. E. Effects of a single dose of erythropoietin on subsequent seizure susceptibility in rats exposed to acute hypoxia at P10. Epilepsia 48, 175–181 (2007).

Chu, K. et al. Erythropoietin reduces epileptogenic processes following status epilepticus. Epilepsia 49, 1723–1732 (2008).

Brown, A. L., Tucker, B., Baker, L. R. & Raine, A. E. Seizures related to blood transfusion and erythropoietin treatment in patients undergoing dialysis. BMJ 299, 1258–1259 (1989).

Beccari, M., Romagnoni, M. & Sorgato, G. Seizures in dialysis patients treated with recombinant erythropoietin. Nephrol. Dialysis. Transplant. 10, 423–424 (1995).

Edmunds, M. E. et al. Seizures in haemodialysis patients treated with recombinant human erythropoietin. Nephrol. Dialysis. Transplant. 4, 1065–1069 (1989).

Wu, Y. W. et al. Erythropoietin for neuroprotection in neonatal encephalopathy: safety and pharmacokinetics. Pediatrics 130, 683–691 (2012).

Baserga, M. C. et al. Darbepoetin administration to neonates undergoing cooling for encephalopathy: a safety and pharmacokinetic trial. Pediatr. Res. 78, 315–322 (2015).

Wu, Y. W. et al. Trial of erythropoietin for hypoxic-ischemic encephalopathy in newborns. N. Engl. J. Med. 387, 148–159 (2022).

Juul, S. E. et al. High-Dose Erythropoietin for Asphyxia and Encephalopathy (HEAL): a randomized controlled trial - background, aims, and study protocol. Neonatology 113, 331–338 (2018).

Shellhaas, R. A. et al. The American Clinical Neurophysiology Society's Guideline on continuous electroencephalography monitoring in neonates. J. Clin. Neurophysiol. 28, 611–617 (2011).

Landis, J. R. & Koch, G. G. The measurement of observer agreement for categorical data. Biometrics 33, 159–174 (1977).

Tsuchida, T. N. et al. American Clinical Neurophysiology Society standardized EEG terminology and categorization for the description of continuous EEG monitoring in neonates: report of the American Clinical Neurophysiology Society critical care monitoring committee. J. Clin. Neurophysiol. 30, 161–173 (2013).

R Core Team. R: A Language and Environment for Statistical Computing. R Foundation for Statistical Computing. https://www.R-project.org/ (2020).

Lynch, N. E. et al. The temporal characteristics of seizures in neonatal hypoxic ischemic encephalopathy treated with hypothermia. Seizure 33, 60–65 (2015).

Glass, H. C. et al. Risk factors for EEG seizures in neonates treated with hypothermia: a multicenter cohort study. Neurology 82, 1239–1244 (2014).

Bahcekapili, N. et al. Erythropoietin pretreatment suppresses seizures and prevents the increase in inflammatory mediators during pentylenetetrazole-induced generalized seizures. Int J. Neurosci. 124, 762–770 (2014).

Yoo, J. Y. et al. Neuroprotective effects of erythropoietin posttreatment against kainate-induced excitotoxicity in mixed spinal cultures. J. Neurosci. Res. 87, 150–163 (2009).

Montero, M. et al. Comparison of neuroprotective effects of erythropoietin (EPO) and carbamylerythropoietin (CEPO) against ischemia-like oxygen-glucose deprivation (OGD) and NMDA excitotoxicity in mouse hippocampal slice cultures. Exp. Neurol. 204, 106–117 (2007).

Garzon, F. et al. NeuroEPO preserves neurons from glutamate-induced excitotoxicity. J. Alzheimers Dis. 65, 1469–1483 (2018).

Wassink, G. et al. Recombinant erythropoietin does not augment hypothermic white matter protection after global cerebral ischaemia in near-term fetal sheep. Brain Commun. 3, fcab172 (2021).

Soul, J. S. et al. A pilot randomized, controlled, double-blind trial of bumetanide to treat neonatal seizures. Ann. Neurol. 89, 327–340 (2021).

Soul, J. S. et al. Recommendations for the design of therapeutic trials for neonatal seizures. Pediatr. Res. 85, 943–954 (2019).

Wusthoff, C. J. et al. Electrographic seizures during therapeutic hypothermia for neonatal hypoxic-ischemic encephalopathy. J. Child Neurol. 26, 724–728 (2011).

Nash, K. B. et al. Video-EEG monitoring in newborns with hypoxic-ischemic encephalopathy treated with hypothermia. Neurology 76, 556–562 (2011).
Acknowledgements
The authors would like to thank Dr Taeun Chang (1971–2022) for her tireless contributions to this work, site investigators Drs John Flibotte and Lori Billinghurst, as well as the Clinical Research Coordinators at each study site.
Funding
The study was funded by NIH/NINDS R01NS104322, U01NS092764, and U01NS092553. A.L.N. received grant support during the study period from NINDS K23NS105918.
Ethics declarations
Competing interests
The authors declare no competing interests.
Consent to participate
Neonates were studied after informed parental consent.
Additional information
Publisher's note Springer Nature remains neutral with regard to jurisdictional claims in published maps and institutional affiliations.
Rights and permissions
Springer Nature or its licensor (e.g. a society or other partner) holds exclusive rights to this article under a publishing agreement with the author(s) or other rightsholder(s); author self-archiving of the accepted manuscript version of this article is solely governed by the terms of such publishing agreement and applicable law.
About this article
Cite this article
Glass, H.C., Wusthoff, C.J., Comstock, B.A. et al. Risk of seizures in neonates with hypoxic-ischemic encephalopathy receiving hypothermia plus erythropoietin or placebo. Pediatr Res (2022). https://doi.org/10.1038/s41390-022-02398-w
Received:

Revised:

Accepted:

Published:

DOI: https://doi.org/10.1038/s41390-022-02398-w