Abstract
Background
The aim of this study was to identify genetic variants associated with NAS through a genome-wide association study (GWAS) and estimate a Polygenic Risk Score (PRS) model for NAS.
Methods
A prospective case–control study included 476 in utero opioid-exposed term neonates. A GWAS of 1000 genomes-imputed genotypes was performed to identify variants associated with need for pharmacotherapy for NAS. PRS models for estimating genetic predisposition were generated via a nested cross-validation approach using 382 neonates of European ancestry. PRS predictive ability, discrimination, and calibration were assessed.
Results
Cross-ancestry GWAS identified one intergenic locus on chromosome 7 downstream of SNX13 exhibiting genome-wide association with need for pharmacotherapy. PRS models derived from the GWAS for a subset of the European ancestry neonates reliably discriminated between need for pharmacotherapy using cis variant effect sizes within validation sets of European and African American ancestry neonates. PRS were less effective when applying variant effect sizes across datasets and in calibration analyses.
Conclusions
GWAS has the potential to identify genetic loci associated with need for pharmacotherapy for NAS and enable development of clinically predictive PRS models. Larger GWAS with additional ancestries are needed to confirm the observed SNX13 association and the accuracy of PRS in NAS risk prediction models.
Impact
Genetic associations appear to be important in neonatal abstinence syndrome.

This is the first genome-wide association in neonates with neonatal abstinence syndrome.

Polygenic risk scores can be developed examining single-nucleotide polymorphisms across the entire genome.

Polygenic risk scores were higher in neonates receiving pharmacotherapy for treatment of their neonatal abstinence syndrome.

Future studies with larger cohorts are needed to better delineate these genetic associations.
Access options
Subscribe to Journal
Get full journal access for 1 year
$119.00
only $9.15 per issue
All prices are NET prices.
VAT will be added later in the checkout.
Tax calculation will be finalised during checkout.
Buy article
Get time limited or full article access on ReadCube.
$32.00
All prices are NET prices.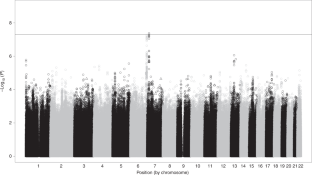 References
MacMillan, K. D. Neonatal abstinence syndrome: review of epidemiology, care models, and current understanding of outcomes. Clin. Perinatol. 46, 817–822 (2019).

Grossman, M. & Berkwitt, A. Neonatal abstinence syndrome. Semin. Perinatol. 43, 173–186 (2019).

U.S. Agency for Healthcare and Quality (AHRQ). Trends in neonatal abstinence syndrome births in the United States. https://www.hcup-us.ahrq.gov/reports/Trends_NeonatalAbstinenceSyndrome_Births_UnitedStates.pdf (2019).

Jansson, L. M. & Patrick, S. W. Neonatal abstinence syndrome. Pediatr. Clin. North Am. 66, 353–367 (2019).

Devlin, L. A. & Davis, J. M. A practical approach to neonatal opiate withdrawal syndrome. Am. J. Perinatol. 35, 324–330 (2018).

Patrick, S. W. et al. Neonatal opioid withdrawal syndrome. Pediatrics 146, e2020029074 (2020).

Winkelman, T. N. A. et al. Incidence and costs of neonatal abstinence syndrome among infants with Medicaid: 2004-2014. Pediatrics 141, e20173520 (2018).

Singh, R. et al. Predictors of pharmacologic therapy for neonatal opioid withdrawal syndrome: a retrospective analysis of a statewide database. J. Perinatol. 41, 1381–1388 (2021).

Patrick, S. W. et al. Development and validation of a model to predict neonatal abstinence syndrome. J. Pediatr. 229, 154–160 (2021).

Kendler, K. S. et al. Illicit psychoactive substance use, heavy use, abuse, and dependence in a US population-based sample of male twins. Arch. Gen. Psychiatr. 57, 261–269 (2000).

Goldman, D., Oroszi, G. & Ducci, F. The genetics of addictions: uncovering the genes. Nat. Rev. Genet. 6, 521–532 (2005).

Smith, A. H. et al. Genome-wide association study of therapeutic opioid dosing identifies a novel locus upstream of OPRM1. Mol. Psychiatry 22, 346–352 (2017).

Wachman, E. M. et al. Association of OPRM1 and COMT single-nucleotide polymorphisms with hospital length of stay and treatment of neonatal abstinence syndrome. JAMA 309, 1821–1827 (2013).

Wachman, E. M. & Farrer, L. A. The genetics and epigenetics of neonatal abstinence syndrome. Semin. Fetal Neonatal Med. 24, 105–110 (2019).

Davis, J. M. et al. Comparison of safety and efficacy of methadone vs morphine for treatment of neonatal abstinence syndrome: a randomized clinical trial. JAMA Pediatr. 172, 741–748 (2018).

Kraft, W. K. et al. Buprenorphine for the treatment of the neonatal abstinence syndrome. N. Engl. J. Med. 376, 2341–2348 (2017).

Kaltenbach, K. & Jones, H. E. Neonatal abstinence syndrome: presentation and treatment considerations. J. Addict. Med. 10, 217–223 (2016).

https://www.dnagenotek.com/US/support/protocols/oragene-discover.html. Accessed Sep 30 2021.

Frazer, K. A. et al. A second generation human haplotype map of over 3.1 million SNPs. Nature 449, 851–861 (2007).

Falush, D., Stephens, M. & Pritchard, J. K. Inference of population structure using multilocus genotype data: dominant markers and null alleles. Mol. Ecol. Notes 7, 574–578 (2007).

Purcell, S. et al. PLINK: a tool set for whole-genome association and population-based linkage analyses. Am. J. Hum. Genet. 81, 559–575 (2007).

Das, S. et al. Next-generation genotype imputation service and methods. Nat. Genet. 48, 1284–1287 (2016).

Zhan, X. et al. RVTESTS: an efficient and comprehensive tool for rare variant association analysis using sequence data. Bioinformatics 32, 1423–1426 (2016).

Willer, C. J., Li, Y. & Abecasis, G. R. METAL: fast and efficient meta-analysis of genomewide association scans. Bioinformatics 26, 2190–2191 (2010).

de Leeuw, C. et al. MAGMA: generalized gene-set analysis of GWAS data. PLoS Comput. Biol. 11, e1004219 (2015).

Choi, S. W. & O'Reilly, P. F. PRSice-2: Polygenic Risk Score software for biobank-scale data. Gigascience 8, giz082 (2019).

Van Calster, B. et al. 'Evaluating diagnostic tests and prediction models' of the STRATOS initiative. Calibration: the Achilles heel of predictive analytics. BMC Med. 17, 230 (2019).

Rifkin, R. A. et al. GIRK currents in VTA dopamine neurons control the sensitivity of mice to cocaine-induced locomotor sensitization. Proc. Natl Acad. Sci. USA 115, E9479–E9488 (2018).

Bauer, I. E., Soares, J. C. & Nielsen, D. A. The role of opioidergic genes in the treatment outcome of drug addiction pharmacotherapy: a systematic review. Am. J. Addict. 24, 15–23 (2015).

Martin, A. R. et al. Clinical use of current polygenic risk scores may exacerbate health disparities. Nat. Genet. 51, 584 (2019).

Li, J. et al. SNX13 reduction mediates heart failure through degradative sorting of apoptosis repressor with caspase recruitment domain. Nat. Commun. 5, 5177 (2014).

Chen, M. H. et al. Trans-ethnic and ancestry-specific blood-cell genetics in 746,667 individuals from 5 global populations. Cell 182, 1198–1213 (2020).

Vuckovic, D. et al. The polygenic and monogenic basis of blood traits and diseases. Cell 182, 1214–1231 (2020).

Willer, C. J. et al. Discovery and refinement of loci associated with lipid levels. Nat. Genet. 45, 1274–1283 (2013).

Richardson, T. G. et al. Evaluating the relationship between circulating lipoprotein lipids and apolipoproteins with risk of coronary heart disease: a multivariable Mendelian randomisation analysis. PLoS Med. 17, e1003062 (2020).

Lonsdale, J. et al. The Genotype-Tissue Expression (GTEx) project. Nat. Genet. 45, 580–585 (2013).

Munoz, M. B. & Slesinger, P. A. Sorting nexin 27 regulation of G protein-gated inwardly rectifying K+ channels attenuates in vivo cocaine response. Neuron 82, 659–669 (2014).

Wachman, E. M. et al. Variations in opioid receptor genes in neonatal abstinence syndrome. Drug Alcohol Depend. 155, 253–259 (2015).

Wachman, E. M. et al. Association of maternal and infant variants in PNOC and COMT genes with neonatal abstinence syndrome severity. Am. J. Addict. 26, 42–49 (2017).

Parikh, A. et al. Racial association and pharmacotherapy in neonatal opioid withdrawal syndrome. J. Perinatol. 39, 1370–1376 (2019).

Brown, S. E. et al. Association of race and ethnicity with withdrawal symptoms, attrition, opioid use, and side-effects during buprenorphine therapy. J. Ethn. Subst. Abus. 9, 106–114 (2010).

Galinsky, K. J. et al. Estimating cross-population genetic correlations of causal effect sizes. Genet. Epidemiol. 43, 180–188 (2019).

Vilhjálmsson et al. Modeling linkage disequilibrium increases accuracy of polygenic risk scores. Am. J. Hum. Genet. 97, 576–592 (2015).

Lam, M. et al. Comparative genetic architectures of schizophrenia in East Asian and European populations. Nat. Genet. 51, 1670–1678 (2019).
Acknowledgements
The authors want to thank: Adam Czynski, Erica Oliveira—Brown, Mark Hudak—Jacksonville, Jeffrey Shenberger—Baystate Medical Center, Peter Marro—Maine Medical Center, Elisha Wachman—Boston Medical Center, Barbara Engelhardt—Vanderbilt, Debra Bogen—University of Pittsburgh, and Michelle Ehrlich—Mt. Sinai.
Funding
This study was funded by the National Institute of Drug Abuse (NIDA) R01DA032889, R21DA041706-02 (to J.M.D., B.M.L.), NIDA R01DA02976 (to W.K.), and Charles H. Hood Foundation (to J.M.D.).
Ethics declarations
Competing interests
The authors declare no competing interests.
Ethics approval and consent to participate
Informed consent was required.
Additional information
Publisher's note Springer Nature remains neutral with regard to jurisdictional claims in published maps and institutional affiliations.
Supplementary information
Rights and permissions
Springer Nature or its licensor holds exclusive rights to this article under a publishing agreement with the author(s) or other rightsholder(s); author self-archiving of the accepted manuscript version of this article is solely governed by the terms of such publishing agreement and applicable law.
About this article
Cite this article
Bibi, S., Gaddis, N., Johnson, E.O. et al. Polygenic risk scores and the need for pharmacotherapy in neonatal abstinence syndrome. Pediatr Res (2022). https://doi.org/10.1038/s41390-022-02243-0
Received:

Revised:

Accepted:

Published:

DOI: https://doi.org/10.1038/s41390-022-02243-0