Abstract
Background
The source and clearance of cytokines in the fetal circulation in term pregnancies complicated by chorioamnionitis remains unclear as are the contributions of placental transport, synthesis, and clearance. The objectives of the study were to determine (1) fetal and/or placental contributions to synthesis and/or clearance of inflammatory and anti-inflammatory cytokines in term pregnancies complicated by chorioamnionitis and (2) whether this differs in pregnancies further complicated by fetal hypoxia.
Methods
Prospective cohort study of pregnancies >37 weeks gestational age that included: Group 1, uncomplicated cesarean delivery without labor (n = 20); Group 2, uncomplicated vaginal delivery (n = 30); Group 3, pregnancies complicated by chorioamnionitis (n = 10); Group 4, complicated by chorioamnionitis + fetal hypoxia (n = 10). Umbilical arterial (UmA) and venous (UmV) blood were assayed for IL-1β, IL-2, IL-6, IL-8, TNFα, and IL-10.
Results
IL-6 and IL-8 were below assay detection in UmA and UmV blood in Group 1 and increased in Group 2 (P < 0.01), UmA»UmV (P < 0.01). Their concentrations increased further in Groups 3 and 4 (P = 0.003), UmA»UmV. Placental clearance was concentration dependent that approaches saturation in the presence of chorioamnionitis.
Conclusions
Marked increases in fetal synthesis of IL-6 and IL-8 occur in chorioamnionitis. Synthesis increase further when complicated by fetal hypoxia. Cytokine removal occurs via placental concentration-dependent mechanisms, potentially contributing to adverse fetal effects.
Impact
The source and role of the placenta in synthesis and/or clearance of inflammatory mediators in term pregnancies complicated by clinical chorioamnionitis are unclear; however, conventional wisdom suggests the placenta is their source.

This is the first study demonstrating that circulating concentrations of fetal IL-6 and IL-8 in clinical chorioamnionitis ± birth asphyxia in term pregnancies are of fetal origin.

Circulating fetal inflammatory cytokines are cleared by concentration-dependent placental mechanisms that are nearly saturated in chorioamnionitis ± fetal hypoxia.

These observations provide additional insight into understanding the fetal immune response in term pregnancies complicated by clinical chorioamnionitis.
Your institute does not have access to this article
Access options
Subscribe to Journal
Get full journal access for 1 year
$119.00
only $9.15 per issue
All prices are NET prices.
VAT will be added later in the checkout.
Tax calculation will be finalised during checkout.
Buy article
Get time limited or full article access on ReadCube.
$32.00
All prices are NET prices.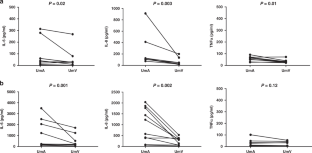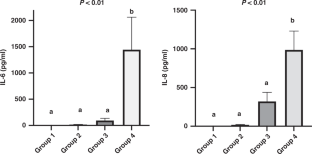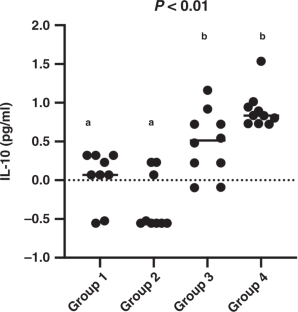 Data availability
The datasets generated during and/or analyzed during the current study are available from the corresponding author on reasonable request.
References
Gibbs, R. S. Diagnosis of intra-amniotic infection. Semin. Perinatol. 1, 71–77 (1977).

Kiser, C., Nawab, U., McKenna, K. & Aghai, Z. H. Role of guidelines on length of therapy in chorioamnionitis and neonatal sepsis. Pediatrics 133, 992–998 (2014).

Tita, A. T. & Andrews, W. W. Diagnosis and management of clinical chorioamnionitis. Clin. Perinatol. 37, 339–354 (2010).

Yoder, P. R., Gibbs, R. S., Blanco, J. D., Castaneda, Y. S. & St Clair, P. J. A prospective, controlled study of maternal and perinatal outcome after intra-amniotic infection at term. Am. J. Obstet. Gynecol. 145, 695–701 (1983).

Yancey, M. K., Duff, P., Kubilis, P., Clark, P. & Frentzen, B. H. Risk factors for neonatal sepsis. Obstet. Gynecol. 87, 188–194 (1996).

Rouse, D. J. et al. The Maternal-Fetal Medicine Units cesarean registry: chorioamnionitis at term and its duration-relationship to outcomes. Am. J. Obstet. Gynecol. 191, 211–216 (2004).

Romero, R. et al. Meconium-stained amniotic fluid: a risk factor for microbial invasion of the amniotic cavity. Am. J. Obstet. Gynecol. 164, 859–862 (1991).

Wen, T. S. et al. Association of clinical intra-amniotic infection and meconium. Am. J. Perinatol. 10, 438–440 (1993).

Romero, R. et al. Secreted phospholipase A2 is increased in meconium-stained amniotic fluid of term gestations: potential implications for the genesis of meconium aspiration syndrome. J. Matern. Fetal Neonatal Med. 27, 975–983 (2014).

Shalak, L. F., Laptook, A. R., Jafri, H. S., Ramilo, O. & Perlman, J. M. Clinical chorioamnionitis, elevated cytokines, and brain injury in term infants. Pediatrics 110, 673–680 (2002).

Cooke, R. Chorioamnionitis, maternal fever, and neonatal encephalopathy. Dev. Med. Child Neurol. 50, 9 (2008).

Blume, H. K., Li, C. I., Loch, C. M. & Koepsell, T. D. Intrapartum fever and chorioamnionitis as risks for encephalopathy in term newborns: a case-control study. Dev. Med. Child Neurol. 50, 19–24 (2008).

Hillier, S. L., Krohn, M. A., Kiviat, N. B., Watts, D. H. & Eschenbach, D. A. Microbiologic causes and neonatal outcomes associated with chorioamnion infection. Am. J. Obstet. Gynecol. 165, 955–961 (1991).

Moyo, S. R. et al. Stillbirths and intrauterine infection, histologic chorioamnionitis and microbiological findings. Int. J. Gynaecol. Obstet. 54, 115–123 (1996).

Malloy, M. H. Chorioamnionitis: epidemiology of newborn management and outcome United States 2008. J. Perinatol. 34, 611–615 (2014).

Versland, L. B., Sommerfelt, K. & Elgen, I. Maternal signs of chorioamnionitis: persistent cognitive impairment in low-birthweight children. Acta Paediatr. 95, 231–235 (2006).

Burd, I., Brown, A., Gonzalez, J. M., Chai, J. & Elovitz, M. A. A mouse model of term chorioamnionitis: unraveling causes of adverse neurological outcomes. Reprod. Sci. 18, 900–907 (2011).

Korzeniewski, S. J. et al. A "multi-hit" model of neonatal white matter injury: cumulative contributions of chronic placental inflammation, acute fetal inflammation and postnatal inflammatory events. J. Perinat. Med. 42, 731–743 (2014).

Pappas, A. et al. Chorioamnionitis and early childhood outcomes among extremely low-gestational-age neonates. JAMA Pediatr. 168, 137–147 (2014).

Grether, J. K. & Nelson, K. B. Maternal infection and cerebral palsy in infants of normal birth weight. JAMA 278, 207–211 (1997).

Nelson, K. B. & Willoughby, R. E. Infection, inflammation and the risk of cerebral palsy. Curr. Opin. Neurol. 13, 133–139 (2000).

Wu, Y. W. & Colford, J. M. Jr Chorioamnionitis as a risk factor for cerebral palsy: a meta-analysis. JAMA 284, 1417–1424 (2000).

Shatrov, J. G. et al. Chorioamnionitis and cerebral palsy: a meta-analysis. Obstet. Gynecol. 116, 387–392 (2010).

Romero, R. et al. Clinical chorioamnionitis at term IV: the maternal plasma cytokine profile. J. Perinat. Med. 44, 77–98 (2016).

Romero, R. et al. Clinical chorioamnionitis at term V: umbilical cord plasma cytokine profile in the context of a systemic maternal inflammatory response. J. Perinat. Med. 44, 53–76 (2016).

Rosenfeld, C. R., Worley, R. J., Milewich, L., Grant, N. F. Jr. & Parker, C. R. Jr Ovine fetoplacental sulfoconjugation and aromatization of dehydroepiandrosterone. Endocrinology 106, 1971–1979 (1980).

Smulian, J. C., Bhandari, V., Campbell, W. A., Rodis, J. F. & Vintzileos, A. M. Value of umbilical artery and vein levels of interleukin-6 and soluble intracellular adhesion molecule-1 as predictors of neonatal hematologic indices and suspected early sepsis. J. Matern. Fetal Med. 6, 254–259 (1997).

Mir, I. N. et al. Fetal-placental crosstalk occurs through fetal cytokine synthesis and placental clearance. Placenta 69, 1–8 (2018).

Singh, B., Merchant, P., Walker, C. R., Kryworuchko, M. & Diaz-Mitoma, F. Interleukin-6 expression in cord blood of patients with clinical chorioamnionitis. Pediatr. Res. 39, 976–979 (1996).

Miller, L. C., Isa, S., LoPreste, G., Schaller, J. G. & Dinarello, C. A. Neonatal interleukin-1 beta, interleukin-6, and tumor necrosis factor: cord blood levels and cellular production. J. Pediatr. 117, 961–965 (1990).

Chaiworapongsa, T. et al. Evidence for fetal involvement in the pathologic process of clinical chorioamnionitis. Am. J. Obstet. Gynecol. 186, 1178–1182 (2002).

Berner, R. et al. Plasma levels and gene expression of granulocyte colony-stimulating factor, tumor necrosis factor-alpha, interleukin (IL)-1beta, IL-6, IL-8, and soluble intercellular adhesion molecule-1 in neonatal early onset sepsis. Pediatr. Res. 44, 469–477 (1998).

Weimann, E., Rutkowski, S. & Reisbach, G. G-CSF, GM-CSF and IL-6 levels in cord blood: diminished increase of G-CSF and IL-6 in preterms with perinatal infection compared to term neonates. J. Perinat. Med. 26, 211–218 (1998).

Dollner, H., Vatten, L., Halgunset, J., Rahimipoor, S. & Austgulen, R. Histologic chorioamnionitis and umbilical serum levels of pro-inflammatory cytokines and cytokine inhibitors. BJOG 109, 534–539 (2002).

Smulian, J. C. et al. Intrapartum fever at term: serum and histologic markers of inflammation. Am. J. Obstet. Gynecol. 188, 269–274 (2003).

Tasci, Y. et al. The value of cord blood interleukin-6 levels for predicting chorioamnionitis, funisitis and neonatal infection in term premature rupture of membranes. Eur. J. Obstet. Gynecol. Reprod. Biol. 128, 34–39 (2006).

Jarvis, J. N., Deng, L., Berry, S. M., Romero, R. & Moore, H. Fetal cytokine expression in utero detected by reverse transcriptase polymerase chain reaction. Pediatr. Res. 37, 450–454 (1995).

Hsiao, E. Y. & Patterson, P. H. Activation of the maternal immune system induces endocrine changes in the placenta via IL-6. Brain Behav. Immun. 25, 604–615 (2011).

Zarate, M. A. et al. In utero inflammatory challenge induces an early activation of the hepatic innate immune response in late gestation fetal sheep. Innate Immun. 26, 549–564 (2020).

Grigsby, P. L., Hirst, J. J., Scheerlinck, J. P., Phillips, D. J. & Jenkin, G. Fetal responses to maternal and intra-amniotic lipopolysaccharide administration in sheep. Biol. Reprod. 68, 1695–1702 (2003).

Ireland, D. J. et al. Intra-amniotic pharmacological blockade of inflammatory signalling pathways in an ovine chorioamnionitis model. Mol. Hum. Reprod. 21, 479–489 (2015).

Gayle, D. A. et al. Maternal LPS induces cytokines in the amniotic fluid and corticotropin releasing hormone in the fetal rat brain. Am. J. Physiol. Regul. Integr. Comp. Physiol. 286, R1024–1029 (2004).

Toti, P. et al. Focal increases of fetal macrophages in placentas from pregnancies with histological chorioamnionitis: potential role of fibroblast monocyte chemotactic protein-1. Am. J. Reprod. Immunol. 65, 470–479 (2011).

Kumazaki, K., Nakayama, M., Yanagihara, I., Suehara, N. & Wada, Y. Immunohistochemical distribution of Toll-like receptor 4 in term and preterm human placentas from normal and complicated pregnancy including chorioamnionitis. Hum. Pathol. 35, 47–54 (2004).

Kallapur, S. G., Willet, K. E., Jobe, A. H., Ikegami, M. & Bachurski, C. J. Intra-amniotic endotoxin: chorioamnionitis precedes lung maturation in preterm lambs. Am. J. Physiol. Lung Cell. Mol. Physiol. 280, L527–536 (2001).

Bieghs, V. et al. Chorioamnionitis induced hepatic inflammation and disturbed lipid metabolism in fetal sheep. Pediatr. Res. 68, 466–472 (2010).

Dijkstra, F. et al. Erythropoietin ameliorates damage to the placenta and fetal liver induced by exposure to lipopolysaccharide. Placenta 31, 282–288 (2010).

Dahlgren, J., Samuelsson, A. M., Jansson, T. & Holmang, A. Interleukin-6 in the maternal circulation reaches the rat fetus in mid-gestation. Pediatr. Res. 60, 147–151 (2006).

Zaretsky, M. V., Alexander, J. M., Byrd, W. & Bawdon, R. E. Transfer of inflammatory cytokines across the placenta. Obstet. Gynecol. 103, 546–550 (2004).

Hanna, N. et al. Gestational age-dependent expression of IL-10 and its receptor in human placental tissues and isolated cytotrophoblasts. J. Immunol. 164, 5721–5728 (2000).

Rosenfeld, C. R., Gresores, A., Roy, T. A. & Magness, R. R. Comparison of ANG II in fetal and pregnant sheep: metabolic clearance and vascular sensitivity. Am. J. Physiol. 268, E237–247 (1995).
Funding
This work was supported by MacGregor Professorship awarded to C.R.R.
Ethics declarations
Competing interests
The authors declare no competing interests.
Ethics approval and consent to participate
Consent was not required for this study, as we had obtained waiver of consent from IRB.
Additional information
Publisher's note Springer Nature remains neutral with regard to jurisdictional claims in published maps and institutional affiliations.
About this article
Cite this article
Mir, I.N., Uddin, N., Liao, J. et al. Placental clearance not synthesis tempers exaggerated pro-inflammatory cytokine response in neonates exposed to chorioamnionitis. Pediatr Res (2022). https://doi.org/10.1038/s41390-022-02147-z
Received:

Revised:

Accepted:

Published:

DOI: https://doi.org/10.1038/s41390-022-02147-z