Abstract
Background
Inadequate pregnancy cobalamin status has been associated with adverse offspring metabolic health in Indian and Nepalese studies. Studies of pregnancy cobalamin status and mid-childhood health outside of Asia are scarce.
Methods
Associations between pregnancy fasting plasma total homocysteine (tHcy), cobalamin status (plasma cobalamin, holotranscobalamin (holoTC), methylmalonic acid (MMA)) and mid-childhood metabolic score (MetSco) ((including fat mass index (zFMI), homeostatic model assessment of insulin resistance (zHOMA-IR) and dyslipidemia (zTG − zHDLc)/2) z-scores)) were investigated in a prospective study of 293 mother–child dyads.
Results
Highest versus low–mid pregnancy tHcy tertile was associated with higher mid-childhood MetSco, specifically with higher child zFMI. Stratifying by sex, the maternal tHcy–child MetSco association was limited to boys and confirmed for zFMI and zHOMA-IR. The maternal tHcy-child zFMI association was not mediated by birth weight z-score. First trimester plasma cobalamin was not associated with child outcomes, but other indicators of cobalamin status were. Lowest versus mid–high plasma holoTC tertile was associated with MetSco (specifically zFMI and zHOMA-IR) and highest versus low–mid plasma MMA tertile with higher MetSco and dyslipidemia in boys.
Conclusions
Moderately elevated pregnancy tHcy and low cobalamin status were associated with mid-childhood metabolic score in boys. The pregnancy tHcy–child zFMI association was not mediated by birth weight.
Impact
Fasting plasma total homocysteine (tHcy) during pregnancy and low cobalamin status during early pregnancy are associated with mid-childhood metabolic score and its components in the offspring. These findings were only significant in male offspring.

The study provides new evidence that impaired one carbon metabolism during pregnancy is associated with negative health outcomes in the offspring, in a population with low prevalence of cobalamin deficiency.

The maternal–offspring associations were observed in the functional markers of cobalamin status (holotranscobalamin and methylmalonic acid) and tHcy, not with plasma cobalamin concentration.

Screening for low pregnancy cobalamin status should be considered.
This is a preview of subscription content
Access options
Subscribe to Journal
Get full journal access for 1 year
$119.00
only $9.15 per issue
All prices are NET prices.
VAT will be added later in the checkout.
Tax calculation will be finalised during checkout.
Buy article
Get time limited or full article access on ReadCube.
$32.00
All prices are NET prices.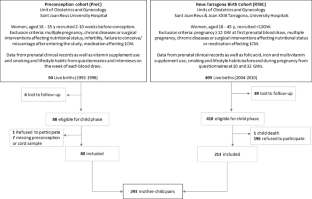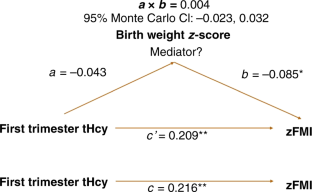 Data availability
The datasets generated during and/or analyzed during the current study are not publicly available because participant consent covers data exploration in response to hypothesis testing within a defined field and with the compromise that this will be vetted by the Principal Investigator (M.M.M.). The corresponding author (M.M.M.) is willing to provide the data to interested parties on reasonable request and agreement that it will be exploited under the terms of participant consent and following further approval by the Ethics Committees if required.
References
Barker, D. J., Osmond, C., Golding, J., Kuh, D. & Wadsworth, M. E. Growth in utero, blood pressure in childhood and adult life, and mortality from cardiovascular disease. Br. Med. J. 298, 564–567 (1989).

Barker, D. J., Winter, P. D., Osmond, C., Margetts, B. & Simmonds, S. J. Weight in infancy and death from ischaemic heart disease. Lancet 2, 577–580 (1989).

Barker, D. J. et al. Type 2 (non-insulin-dependent) diabetes mellitus, hypertension and hyperlipidaemia (syndrome X): relation to reduced fetal growth. Diabetologia 36, 62–67 (1993).

Curhan, G. C. et al. Birth weight and adult hypertension, diabetes mellitus, and obesity in US men. Circulation 94, 3246–3250 (1996).

Curhan, G. C. et al. Birth weight and adult hypertension and obesity in women. Circulation 94, 1310–1315 (1996).

Hogeveen, M., Blom, H. J. & den Heijer, M. Maternal homocysteine and small-for-gestational-age offspring: systematic review and meta-analysis. Am. J. Clin. Nutr. 95, 130–136 (2012).

Murphy, M. M., Scott, J. M., Arija, V., Molloy, A. M. & Fernandez-Ballart, J. D. Maternal homocysteine before conception and throughout pregnancy predicts fetal homocysteine and birth weight. Clin. Chem. 50, 1406–1412 (2004).

Yajnik, C. S. et al. Vitamin B12 and folate concentrations during pregnancy and insulin resistance in the offspring: the Pune Maternal Nutrition Study. Diabetologia 51, 29–38 (2008).

Sobczyńska-Malefora, A., Yajnik, C. S., Harrington, D. J., Hitman, G. A. & Finer, S. Vitamin B12 and folate markers are associated with insulin resistance during the third trimester of pregnancy in South Asian women, living in the United Kingdom, with gestational diabetes and normal glucose tolerance. J. Nutr. 152, 163–170 (2022).

Lai, J. S. et al. High folate and low vitamin B12 status during pregnancy is associated with gestational diabetes mellitus. Clin. Nutr. 37, 940–947 (2018).

Krishnaveni, G. V., Veena, S. R., Karat, S. C., Yajnik, C. S. & Fall, C. H. D. Association between maternal folate concentrations during pregnancy and insulin resistance in Indian children. Diabetologia 57, 110–121 (2014).

Solé-Navais, P. et al. Early pregnancy folate-cobalamin interactions and their effects on cobalamin status and hematologic variables throughout pregnancy. Am. J. Clin. Nutr. 107, 173–182 (2018).

Murphy, M. M. et al. Longitudinal study of the effect of pregnancy on maternal and fetal cobalamin status in healthy women and their offspring. J. Nutr. 137, 1863–1867 (2007).

Milman, N., Byg, K. E., Bergholt, T., Eriksen, L. & Hvas, A. M. Cobalamin status during normal pregnancy and postpartum: a longitudinal study comprising 406 Danish women. Eur. J. Haematol. 76, 521–525 (2006).

Krikke, G. G. et al. Vitamin B12 and folate status in early pregnancy and cardiometabolic risk factors in the offspring at age 5–6 years: findings from the ABCD multi-ethnic birth cohort. BJOG 23, 384–392 (2016).

Wang, G. et al. Association between maternal prepregnancy body mass index and plasma folate concentrations with child metabolic health. JAMA Pediatr. 170, e160845 (2016).

Bison, A. et al. Foetal programming by methyl donor deficiency produces steato-hepatitis in rats exposed to high fat diet. Sci. Rep. 6, 37207 (2016).

Kumar, K. A. et al. Chronic maternal vitamin B12 restriction induced changes in body composition & glucose metabolism in the Wistar rat offspring are partly correctable by rehabilitation. PLoS ONE 9, e112991 (2014).

Murphy, M. M., Scott, J. M., McPartlin, J. M. & Fernandez-Ballart, J. D. The pregnancy-related decrease in fasting plasma homocysteine is not explained by folic acid supplementation, hemodilution, or a decrease in albumin in a longitudinal study. Am. J. Clin. Nutr. 76, 614–619 (2002).

Murphy, M. M., Fernandez-Ballart, J. D., Molloy, A. M. & Canals, J. Moderately elevated maternal homocysteine at preconception is inversely associated with cognitive performance in children 4 months and 6 years after birth. Mat. Child Nutr. 13, e12289 (2017).

Fernàndez-Roig, S. et al. Low folate status enhances pregnancy changes in plasma betaine and dimethylglycine concentrations and the association between betaine and homocysteine. Am. J. Clin. Nutr. 97, 1252–1259 (2013).

Departament de Salut, Generalitat de Catalunya. Protocol de seguiment de l'embaràs a Catalunya [The prenatal care protocol in Catalonia] 3rd edn (Departament de Salut, Generalitat de Catalunya, 2018).

Slaughter, M. H. et al. Skinfold equations for estimation of body fatness in children and youth. Hum. Biol. 60, 709–723 (1988).

Nagy, P. et al. Erratum: Percentile reference values for anthropometric body composition indices in European children from the IDEFICS study. Int. J. Obes. 40, 1604–1605 (2016).

Ueland, P. M. et al. Quantitative profiling of folate and one-carbon metabolism in large-scale epidemiological studies by mass spectrometry. Clin. Chem. Lab. Med. 45, 1737–1745 (2007).

Molloy, A. M. & Scott, J. M. Microbiological assay for serum, plasma, and red cell folate using cryopreserved, microtiter plate method. Methods Enzymol. 281, 43–53 (1997).

Kelleher, B. P. & Broin, S. D. Microbiological assay for vitamin B12 performed in 96-well microtitre plates. J. Clin. Pathol. 44, 592–595 (1991).

Orning, L. et al. Characterization of a monoclonal antibody with specificity for holo-transcobalamin. Nutr. Metab. 3, 3 (2006).

Wallace, T. M., Levy, J. C. & Matthews, D. R. Use and abuse of HOMA modeling. Diabetes Care 27, 1487–1495 (2004).

Friedewald, W. T., Levy, R. I. & Fredrickson, D. S. Estimation of the concentration of low-density lipoprotein cholesterol in plasma, without use of the preparative ultracentrifuge. Clin. Chem. 18, 499–502 (1972).

Ahrens, W. et al. Metabolic syndrome in young children: definitions and results of the IDEFICS study. Int. J. Obes. 38, S4–14 (2014).

Carrascosa, A. et al. Estudio transversal español de crecimiento 2008. Parte II: valores de talla, peso e índice de masa corporal desde el nacimiento a la talla adulta. Ann. Pediatr. 68, 552–569 (2008).

Santamaría, R., Verdú, L.I., Caballero, M. & García, G. Tablas españolas de pesos neonatales según edad gestacional. Grupo de Trabajo de Segovia de la Sociedad Española de Ginecología y Obstetricia. https://www.menarini.es/aviso-legal/509-salud/areas-terapeuticas/ginecologia/3073-tablas-espanolas-de-pesos-neonatales.html (1998).

Hayes, A. F. Introduction to Mediation, Moderation, and Conditional Process Analysis, Second Edition: A Regression-Based Approach (Guilford Publications, 2017).

Stewart, C. P. et al. Low maternal vitamin b-12 status is associated with offspring insulin resistance regardless of antenatal micronutrient supplementation in rural Nepal. J. Nutr. 141, 1912–1917 (2011).

Nexo, E. & Hoffmann-Lücke, E. Holotranscobalamin, a marker of vitamin B-12 status: analytical aspects and clinical utility. Am. J. Clin. Nutr. 94, 359S–365S (2011).

Christensen, K. E. et al. Steatosis in mice is associated with gender, folate intake, and expression of genes of one-carbon metabolism. J. Nutr. 140, 1736–1741 (2010).

Christensen, K. E. et al. High folic acid consumption leads to pseudo-MTHFR deficiency, altered lipid metabolism, and liver injury in mice. Am. J. Clin. Nutr. 101, 646–658 (2015).

Adane, A. A., Tooth, L. R. & Mishra, G. D. The role of offspring's birthweight on the association between pre-pregnancy obesity and offspring's childhood anthropometrics: a mediation analysis. J. Dev. Orig. Health Dis. 10, 570–577 (2019).

Wang, H., Xu, B. P., Xu, R. B., Walker, S. O. & Wang, G. Joint effect of maternal plasma homocysteine and prepregnancy obesity on child blood pressure: a prospective birth cohort study. Int. J. Obes. 41, 1447–1453 (2017).

Barceló, M. A., Rodríguez-Poncelas, A., Saez, M. & Coll-de-Tuero, G. The dynamic behaviour of metabolic syndrome and its components in an eight-year population-based cohort from the Mediterranean. PLoS ONE 12, e0176665 (2017).

Clare, C. E., Brassington, A. H., Kwong, W. Y. & Sinclair, K. D. One-carbon metabolism: linking nutritional biochemistry to epigenetic programming of long-term development. Annu. Rev. Anim. Biosci. 7, 263–287 (2019).

Kennedy, D. G. et al. Cobalt-vitamin B12 deficiency causes accumulation of odd-numbered, branched-chain fatty acids in the tissues of sheep. Br. J. Nutr. 71, 67–76 (1994).

Gaillard, R. et al. Childhood cardiometabolic outcomes of maternal obesity during pregnancy: the Generation R Study. Hypertension 63, 683–691 (2014).

Perng, W., Gillman, M. W., Mantzoros, C. S. & Oken, E. A prospective study of maternal prenatal weight and offspring cardiometabolic health in midchildhood. Ann. Epidemiol. 24, 793–800 (2014). e1.

Graber, S. E., Scheffel, U., Hodkinson, B. & McIntyre, P. A. Placental transport of vitamin B12 in the pregnant rat. J. Clin. Investig. 50, 1000–1004 (1971).

Tiffin, G. J., Rieger, D., Betteridge, K. J., Yadav, B. R. & King, W. A. Glucose and glutamine metabolism in pre-attachment cattle embryos in relation to sex and stage of development. J. Reprod. Fertil. 93, 125–132 (1991).

Ray, P. F., Conaghan, J., Winston, R. M. & Handyside, A. H. Increased number of cells and metabolic activity in male human preimplantation embryos following in vitro fertilization. J. Reprod. Fertil. 104, 165–171 (1995).

Erickson, R. P. Does sex determination start at conception? Bioessays 19, 1027–1032 (1997).

Kwong, W. Y., Wild, A. E., Roberts, P., Willis, A. C. & Fleming, T. P. Maternal undernutrition during the preimplantation period of rat development causes blastocyst abnormalities and programming of postnatal hypertension. Development 127, 4195–4202 (2000).

Luan, Y. et al. Moderate folic acid supplementation in pregnant mice results in altered methyl metabolism and in sex-specific placental transcription changes. Mol. Nutr. Food Res. 65, e2100197 (2021).

Resseguie, M. et al. Phosphatidylethanolamine N-methyltransferase (PEMT) gene expression is induced by estrogen in human and mouse primary hepatocytes. FASEB J. 21, 2622–2632 (2007).

Sadre-Marandi, F., Dahdoul, T., Reed, M. C. & Nijhout, H. F. Sex differences in hepatic one-carbon metabolism. BMC Syst. Biol. 12, 89 (2018).

Sinclair, K. D. et al. DNA methylation, insulin resistance, and blood pressure in offspring determined by maternal periconceptional B vitamin and methionine status. Proc. Natl Acad. Sci. USA 104, 19351–19356 (2007).

Maloney, C. A., Hay, S. M., Young, L. E., Sinclair, K. D. & Rees, W. D. A methyl-deficient diet fed to rat dams during the peri-conception period programs glucose homeostasis in adult male but not female offspring. J. Nutr. 141, 95–100 (2011).

Nagy, P. et al. Percentile reference values for anthropometric body composition indices in European children from the IDEFICS study. Int. J. Obes. 38, S15–25 (2014).

Kriemler, S. et al. Estimation of percentage body fat in 6- to 13-year-old children by skinfold thickness, body mass index and waist circumference. Br. J. Nutr. 104, 1565–1572 (2010).

Sardinha, L. B., Going, S. B., Teixeira, P. J. & Lohman, T. G. Receiver operating characteristic analysis of body mass index, triceps skinfold thickness, and arm girth for obesity screening in children and adolescents. Am. J. Clin. Nutr. 70, 1090–1095 (1999).

Cole, T. J. & Lobstein, T. Extended international (IOTF) body mass index cut-offs for thinness, overweight and obesity. Pediatr. Obes. 7, 284–294 (2012).

González-Jiménez, E., Montero-Alonso, M. A., Schmidt-RioValle, J., García-García, C. J. & Padez, C. Metabolic syndrome in Spanish adolescents and its association with birth weight, breastfeeding duration, maternal smoking, and maternal obesity: a cross-sectional study. Eur. J. Nutr. 54, 589–597 (2015).
Acknowledgements
We thank the families who participated in the study and the University, Clinical, Laboratory, and Biobank teams involved in the field work of the study.
Funding
This work was supported by grants from The Interministerial Science and Technology Committee (ALI 89-0388 and SAF2005-05096); The Carlos III Health Institute, National Scientific Research, Development and Technological Innovation Program Health Investigation Resources, cofinanced by The European Regional Development Fund (10/00335, 13/02500, 16/00506, 19/00844); The European Union Horizon 2020 Research and Innovation program (EPIBRAIN project, funded by the Joint Programming Initiative "A Healthy Diet for a Healthy Life" (ERA HDHL); JFA2 Nutrition and the Epigenome, Horizon2020 grant agreement number 696300, with funding provided by The Spanish State Agency for Investigation PCI2018-093098/AEI); Pere Virgili Health Research Institute (IISPV-2010/21); Biomedical Research Networking Center for the Pathophysiology of Obesity (CIBERobn); Agency for Management of University and Research grants, Generalitat de Catalunya (Support to Research Groups: 2009-1237, 2014-332); Italfarmaco S.A., Spain; predoctoral research fellowship from the European Union's Horizon 2020 research and innovation program under the Marie Skłodowska-Curie and from the Universitat Rovira i Virgili (URV) (713679 [to A.R.-G.]) and the URV Martí-Franques program [to P.S.-N., G.O.-M., C.R.-R.]. The funders played no role of any sort in the design and execution of the study or the reporting and interpretation of the results.
Ethics declarations
Competing interests
The authors declare no competing interests.
Ethics approval and consent to participate
Signed informed consent to participate in the study was obtained from all participants, from either parent on behalf of the children and verbal assent from the children.
Additional information
Publisher's note Springer Nature remains neutral with regard to jurisdictional claims in published maps and institutional affiliations.
Supplementary information
About this article
Cite this article
Rojas-Gómez, A., Solé-Navais, P., Cavallé-Busquets, P. et al. Pregnancy homocysteine and cobalamin status predict childhood metabolic health in the offspring. Pediatr Res (2022). https://doi.org/10.1038/s41390-022-02117-5
Received:

Revised:

Accepted:

Published:

DOI: https://doi.org/10.1038/s41390-022-02117-5