Abstract
Invasive bilirubin measurements remain the gold standard for the diagnosis and treatment of infants with severe neonatal hyperbilirubinemia. The present paper describes different methods currently available to assess hyperbilirubinemia in newborn infants. Novel point-of-care bilirubin measurement methods, such as the BiliSpec and the Bilistick, would benefit many newborn infants, especially in low-income and middle-income countries where the access to costly multi-analyzer in vitro diagnostic instruments is limited. Total serum bilirubin test results should be accurate within permissible limits of measurement uncertainty to be fit for clinical purposes. This implies correct implementation of internationally endorsed reference measurement systems as well as participation in external quality assessment programs. Novel analytic methods may, apart from bilirubin, include the determination of bilirubin photoisomers and bilirubin oxidation products in blood and even in other biological matrices.
Impact
Key message: Bilirubin measurements in blood remain the gold standard for diagnosis and treatment of severe neonatal hyperbilirubinemia (SNH). External quality assessment (EQA) plays an important role in revealing inaccuracies in diagnostic bilirubin measurements.

What does this article add to the existing literature? We provide analytic performance data on total serum bilirubin (TSB) as measured during recent EQA surveys. We review novel diagnostic point-of-care (POC) bilirubin measurement methods and analytic methods for determining bilirubin levels in biological matrices other than blood.

Impact: Manufacturers should make TSB test results traceable to the internationally endorsed total bilirubin reference measurement system and should ensure permissible limits of measurement uncertainty.
Access options
Subscribe to Journal
Get full journal access for 1 year
$399.00
only $30.69 per issue
All prices are NET prices.
VAT will be added later in the checkout.
Tax calculation will be finalised during checkout.
Rent or Buy article
Get time limited or full article access on ReadCube.
from$8.99
All prices are NET prices.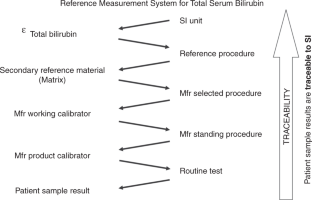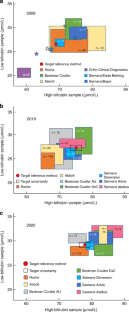 References
1.

Tiedemann, F. & Gmelin, L. In Die Verdauung nach Versuchen Ch. 10 (ed. Groos, K.) 79 (1826).

2.

Frerichs, F. T. Klinik der Leberkrankheiten 1st edn, Vol. I of 2 volumes (1858).

3.

Van den Bergh, A. A. H. & Snapper, J. Die Farbstoffe des Blutserums. Deut. Arch. Klin. Med. 110, 540–561 (1913).

4.

Malloy, H. T. & Evelyn, K. A. The determination of bilirubin with the photoelectric colorimeter. J. Biol. Chem. 119, 481–490 (1937).

5.

Jendrassik, L. & Grof, P. Vereinfachte photometrische Methoden zur Bestimmung des Blutbilirubins. Biochem Z. 297, 81–89 (1938).

6.

BIPM, IEC, IFCC, ILAC, IUPAC, IUPAP, ISO, OIML. The International Vocabulary of Metrology—Basic And General Concepts and Associated Terms (VIM) 3rd edn. https://www.bipm.org/utils/common/documents/jcgm/JCGM_200_2012.pdf (2012).

7.

Ngashangva, L., Bachu, V. & Goswami, P. Development of new methods for determination of bilirubin. J. Pharm. Biomed. Anal. 162, 272–285 (2019).

8.

Vreman, H. J. et al. Interlaboratory variability of bilirubin measurements. Clin. Chem. 42, 869–873 (1996).

9.

Doumas, B. T. & Eckfeldt, J. H. Errors in measurement of total bilirubin: a perennial problem. Clin. Chem. 42, 845–848 (1996).

10.

Cobbaert, C., Weykamp, C. & Hulzebos, C. V. Bilirubin standardization in the Netherlands: alignment within and between manufacturers. Clin. Chem. 56, 872–873 (2010).

11.

Greene, D. N., Liang, J., Holmes, D. T., Resch, A. & Lorey, T. S. Neonatal total bilirubin measurements: Still room for harmonization. Clin. Biochem. 47, 1112–1115 (2014).

12.

Kirk, J. M. Neonatal jaundice: a critical review of the role and practice of bilirubin analysis. Ann. Clin. Biochem. 45, 452–462 (2008).

13.

Lano, I. M., Lyon, A. W., Wang, L., Ruskin, R. & Lyon, M. E. Comparative evaluation of neonatal bilirubin using radiometer whole blood co-oximetry and plasma bilirubin methods from Roche diagnostics and ortho clinical diagnostics. Clin. Biochem. 53, 88–92 (2018).

14.

Wang, L. et al. Limitations and opportunities of whole blood bilirubin measurements by GEM premier 4000®. BMC Pediatr. 17, 92 (2017).

15.

Kazmierczak, S. C. et al. Direct spectrophotometric method for measurement of bilirubin in newborns: comparison with HPLC and an automated diazo method. Clin. Chem. 48, 1096–1097 (2002).

16.

Barko, H. A., Jackson, G. L. & Engle, W. D. Evaluation of a point-of-care direct spectrophotometric method for measurement of total serum bilirubin in term and near-term neonates. J. Perinatol. 26, 100–105 (2006).

17.

Lo, S. F., Jendrzejczak, B. & Doumas, B. T. Laboratory performance in neonatal bilirubin testing using commutable specimens: a progress report on a college of american pathologists study. Arch. Pathol. Lab Med. 132, 1781–1785 (2008).

18.

Olusanya, B. O., Ogunlesi, T. A. & Slusher, T. M. Why is kernicterus still a major cause of death and disability in low-income and middle-income countries? Arch. Dis. Child 99, 1117–1121 (2014).

19.

Slusher, T. M. et al. Burden of severe neonatal jaundice: a systematic review and meta-analysis. BMJ Paediatr. Open 1, e000105 (2017).

20.

Keahey, P. A. et al. Point-of-care device to diagnose and monitor neonatal jaundice in low-resource settings. PNAS 114, E10965–E10971 (2017).

21.

Coda Zabetta, C. D. et al. Bilistick: a low-cost point-of-care system to measure total plasma bilirubin. Neonatology 103, 177–181 (2013).

22.

Greco, C. et al. Diagnostic performance analysis of the point-of-care Bilistick system in identifying SNH by a multi-country approach. EClinicalMedicine 1, 14–20 (2018).

23.

Greco, C. et al. Comparison between Bilistick System and transcutaneous bilirubin in assessing total bilirubin serum concentration in jaundiced newborns. J. Perinatol. 37, 1028–1031 (2017).

24.

Thielemans, L. et al. Laboratory validation and field usability assessment of a point-of-care test for serum bilirubin levels in neonates in a tropical setting. Version 2. Wellcome Open Res. 3, 110 (2018).

25.

Kamineni, B. et al. Accuracy of Bilistick (a point-of-care device) to detect neonatal hyperbilirubinemia. J. Trop. Pediatr. 66, 630–636 (2020).

26.

Rohsiswatmo, R. et al. Agreement test of transcutaneous bilirubin and bilistick with serum bilirubin in preterm infants receiving phototherapy. BMC Pediatr. 18, 315 (2018).

27.

Boo, N.-Y. et al. The point-of-care Bilistick method has very short turn-around-time and high accuracy at lower cutoff levels to predict laboratory-measured TSB. Pediatr. Res. 86, 216–220 (2019).

28.

Tabatabaee, R. S., Golmohammadi, H. & Ahmadi, S. H. Easy diagnosis of jaundice: a smartphone-based nanosensor bioplatform using photoluminescent bacterial nanopaper for point-of-care diagnosis of hyperbilirubinemia. ACS Sens. 4, 1063–1071 (2019).

29.

Grohmann, K. et al. Bilirubin measurement for neonates: comparison of 9 frequently used methods. Pediatrics 117, 1174–1183 (2006).

30.

Lo, S. F. Laboratory accuracy in neonatal bilirubin: the search for truth in laboratory medicine. JAMA Pediatr. 170, 529–530 (2016).

31.

Stepman, H. C. M. et al. Measurements for 8 common analytes in native sera identify inadequate standardization among 6 routine laboratory assays. Clin. Chem. 60, 855–863 (2014).

32.

Vítek, L. Bilirubin as a predictor of diseases of civilization. Is it time to establish decision limits for serum bilirubin concentrations? Arch. Biochem. Biophys. 672, 108062 (2019).

33.

Jones, G. R. & Jackson, C. The Joint Committee for Traceability in Laboratory Medicine (JCTLM) - its history and operation. Clin. Chim. Acta 453, 86–94 (2016).

34.

Cobbaert, C., Smit, N. & Gillery, P. Metrological traceability and harmonization of medical tests: a quantum leap forward is needed to keep pace with globalization and stringent IVD-regulations in the 21st century! Clin. Chem. Lab Med. 56, 1598–1602 (2018).

35.

Klauke, R. et al. Reference measurement procedure for total bilirubin in serum re-evaluated and measurement uncertainty determined. Clin. Chim. Acta 481, 115–120 (2018).

36.

Fraser, C. G. & Peake, M. J. Problems associated with clinical chemistry quality control materials. CRC Crit. Rev. Clin. Lab Sci. 12, 59–86 (1980).

37.

Vitek, L. Bilirubin as a signaling molecule. Med. Res. Rev. 40, 1335–1351 (2020).

38.

Gazzin, S. et al. Bilirubin accumulation and Cyp mRNA expression in selected brain regions of jaundiced Gunn rat pups. Pediatr. Res. 71, 653–660 (2012).

39.

Adachi, Y. et al. Clinical application of serum bilirubin fractionation by simplified liquid chromatography. Clin. Chem. 34, 385–388 (1988).

40.

Muraca, M. & Blanckaert, N. Liquid-chromatographic assay and identification of mono- and diester conjugates of bilirubin in normal serum. Clin. Chem. 29, 1767–1771 (1983).

41.

Aziz, S. et al. Bilirubin-IX alpha and -IX beta pigments, coproporphyrins and bile acids in meconium and stools from full-term and preterm neonates during the first month of life. Acta Paediatr. 90, 81–87 (2001).

42.

Spivak, W. & Yuey, W. Application of a rapid and efficient h.p.l.c. method to measure bilirubin and its conjugates from native bile and in model bile systems. Potential use as a tool for kinetic reactions and as an aid in diagnosis of hepatobiliary disease. Biochem. J. 234, 101–109 (1986).

43.

Ostrea, E. M. Jr, Ongtengco, E. A., Tolia, V. A. & Apostol, E. The occurrence and significance of the bilirubin species, including delta bilirubin, in jaundiced infants. J. Pediatr. Gastroenterol. Nutr. 7, 511–516 (1988).

44.

Kuenzle, C. C., Sommerhalder, M., Ruttner, J. R. & Maier, C. Separation and quantitative estimation of four bilirubin fractions from serum and of three bilirubin fractions from bile. J. Lab Clin. Med. 67, 282–293 (1966).

45.

Heirwegh, K. P., Fevery, J. & Blanckaert, N. Chromatographic analysis and structure determination of biliverdins and bilirubins. J. Chromatogr. 496, 1–26 (1989).

46.

Zelenka, J. et al. Highly sensitive method for quantitative determination of bilirubin in biological fluids and tissues. J. Chromatogr. B Anal. Technol. Biomed. Life Sci. 867, 37–42 (2008).

47.

Jašprova, J. et al. A novel accurate LC-MS/MS method for quantitative determination of Z-lumirubin. Sci. Rep. 10, 4411 (2020).

48.

Sawasaki, Y., Yamada, N. & Nakajima, H. Developmental features of cerebellar hypoplasia and brain bilirubin levels in a mutant (Gunn) rat with hereditary hyperbilirubinaemia. J. Neurochem. 27, 577–583 (1976).

49.

Muchova, L. et al. Statin treatment increases formation of carbon monoxide and bilirubin in mice: a novel mechanism of in vivo antioxidant protection. Can. J. Physiol. Pharm. 85, 800–810 (2007).

50.

Cuperus, F. J. et al. Beyond plasma bilirubin: the effects of phototherapy and albumin on brain bilirubin levels in Gunn rats. J. Hepatol. 58, 134–140 (2013).

51.

Schreuder, A. B. et al. Albumin administration protects against bilirubin-induced auditory brainstem dysfunction in Gunn rat pups. Liver Int. 33, 1557–1565 (2013).

52.

Schreuder, A. B. et al. Optimizing exchange transfusion for severe unconjugated hyperbilirubinemia: studies in the Gunn rat. PLoS ONE 8, e77179 (2013).

53.

Bortolussi, G. et al. Life-long correction of hyperbilirubinemia with a neonatal liver-specific AAV-mediated gene transfer in a lethal mouse model of Crigler-Najjar syndrome. Hum. Gene Ther. 25, 844–855 (2014).

54.

Vodret, S. et al. Albumin administration prevents neurological damage and death in a mouse model of SNH. Sci. Rep. 5, 16203 (2015).

55.

Vodret, S., Bortolussi, G., Jasprova, J., Vitek, L. & Muro, A. F. Inflammatory signature of cerebellar neurodegeneration during neonatal hyperbilirubinemia in Ugt1 -/- mouse model. J. Neuroinflam. 14, 64 (2017).

56.

Bockor, L. et al. Modulation of bilirubin neurotoxicity by the Abcb1 transporter in the Ugt1-/- lethal mouse model of neonatal hyperbilirubinemia. Hum. Mol. Genet. 26, 145–157 (2017).

57.

Jasprova, J. et al. The biological effects of bilirubin photoisomers. PLoS ONE 11, e0148126 (2016).

58.

Itoh, S., Isobe, K. & Onishi, S. Accurate and sensitive high-performance liquid chromatographic method for geometrical and structural photoisomers of bilirubin IX alpha using the relative molar absorptivity values. J. Chromatogr. A 848, 169–177 (1999).

59.

Vitek, L., Kraslova, I., Muchova, L., Novotny, L. & Yamaguchi, T. Urinary excretion of oxidative metabolites of bilirubin in subjects with Gilbert syndrome. J. Gastroenterol. Hepatol. 22, 841–845 (2007).

60.

Joerk, A. et al. Propentdyopents as heme degradation intermediates constrict mouse cerebral arterioles and are present in the cerebrospinal fluid of patients with subarachnoid hemorrhage. Circ. Res. 124, e101–e114 (2019).

61.

Clark, J. F., Loftspring, M., Wurster, W. L. & Pyne-Geithman, G. J. Chemical and biochemical oxidations in spinal fluid after subarachnoid hemorrhage. Front. Biosci. 13, 1806–1812 (2008).

62.

Konickova, R. Anti-cancer effects of blue-green alga Spirulina platensis, a natural source of bilirubin-like tetrapyrrolic compounds. Ann. Hepatol. 13, 273–283 (2014).

63.

Ritter, M. et al. Pyrrolic and dipyrrolic chlorophyll degradation products in plants and herbivores. Chemistry 26, 6205–6213 (2020).
Acknowledgements
We greatly appreciate the help of T. van Wulfften Palthe in correcting the English grammar and language. The study was supported by grants NV18-07-00342 and RVO-VFN64165/2020 from the Czech Ministry of Health. The support of an intramural grant of Fondazione Italiana Fegato to Claudio Tiribelli is appreciated.
Ethics declarations
Competing interests
Claudio Tiribelli is the President and Carlos D. Coda Zabetta is the CTO of Bilimetrix, the company responsible for the development of the Bilistick® System. The remaining authors declare no competing interests.
Additional information
Publisher's note Springer Nature remains neutral with regard to jurisdictional claims in published maps and institutional affiliations.
About this article
Cite this article
Hulzebos, C.V., Vitek, L., Coda Zabetta, C.D. et al. Diagnostic methods for neonatal hyperbilirubinemia: benefits, limitations, requirements, and novel developments. Pediatr Res (2021). https://doi.org/10.1038/s41390-021-01546-y
Received:

Revised:

Accepted:

Published: