Abstract
Background
High quality communication between providers and parents of seriously ill neonatal patients is vital and yet poorly understood. Feudtner summarized five challenges and seven priorities to the study and advancement of pediatric palliative care. Improvement of communication is a priority, while lack of specification and measurement of outcomes relevant to the pediatric population remains a challenge. Specifically, measurement of communication quality in pediatrics, and especially neonatology, is problematic.
Methods
We conducted a focused review of this topic which we hope will serve to support further research. We reviewed the current literature in Pubmed and searched the Palliative Care Research Cooperative (PCRC) instrument library.
Results
We found five validated instruments which met our criteria, relied on patient or surrogate report, and were developed to measure quality of communication and/or satisfaction with communication with adult patients or their surrogates. Our Pubmed search yielded 249 unique results, only two of which met our inclusion criteria.
Conclusion
We conclude that development and exhaustive testing of a validated, comprehensive measure of communication quality for the neonatal population is needed. Without such a measure, it will be difficult to advance the field and achieve high quality prognostic communication for the parents of seriously ill babies.
Impact
Measurement of communication quality in pediatrics, and especially neonatology, is problematic, understudied, and yet critical to the advancement of the field.

There has not been an overview of existing measures of communication quality in the NICU published, nor has there been a comprehensive discussion of this important topic. Our paper provides such an overview and initiates such a discussion.

We present a narrative review of existing measures of communication quality in the NICU in order to highlight the need for further study.
Access options
Subscribe to Journal
Get full journal access for 1 year
$119.00
only $9.15 per issue
All prices are NET prices.
VAT will be added later in the checkout.
Tax calculation will be finalised during checkout.
Buy article
Get time limited or full article access on ReadCube.
$32.00
All prices are NET prices.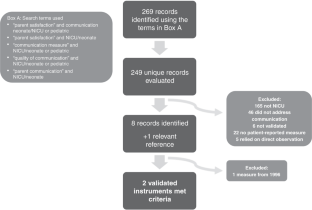 References
Levetown, M. & American Academy of Pediatrics Committee on Bioethics. Communicating with children and families: from everyday interactions to skill in conveying distressing information. Pediatrics 121, e1441–e1460 (2008).

Feudtner, C. et al. Challenges and priorities for pediatric palliative care research in the U.S. and similar practice settings: report from a Pediatric Palliative Care Research Network Workshop. J. Pain Symptom Manage. 58, 909.e3–917.e3 (2019).

Sisk, B. A. et al. Communication in pediatric oncology: a qualitative study. Pediatrics 146, e20201193 (2020).

Lantos, J. D. We know less than we think we know about perinatal outcomes. Pediatrics 142, e20181223 (2018).

de Haes, H. & Bensing, J. Endpoints in medical communication research, proposing a framework of functions and outcomes. Patient Educ. Couns. 74, 287–294 (2009).

Nobile, C. & Drotar, D. Research on the quality of parent-provider communication in pediatric care: implications and recommendations. J. Dev. Behav. Pediatr. 24, 279–290 (2003).

Igler, E. et al. Development and initial validation of the Communication About Medication by Providers–Parent Scale (CAMP-P). Glob. Pediatr. Health 6, 2333794X1985798 (2019).

Palliative Care Research Cooperative Group. Palliative Care Measurement Tool Library. https://palliativecareresearch.org/corescenters/measurement-core/Palliative-Care-Measurement-Tool-Library (2019).

Chang, B. P., Carter, E., Ng, N., Flynn, C. & Tan, T. Association of clinician burnout and perceived clinician-patient communication. Am. J. Emerg. Med. 36, 156–158 (2018).

Mori, M., Fujimori, M., Hamano, J., Naito, A. S. & Morita, T. Which physicians' behaviors on death pronouncement affect family-perceived physician compassion? A randomized, scripted, video-vignette study. J. Pain Symptom Manag. 55, 189–197 (2018).

Wigert, H., Dellenmark, M. B. & Bry, K. Strengths and weaknesses of parent-staff communication in the NICU: a survey assessment. BMC Pediatr. 13, 1–14 (2013).

Weiss, S., Goldlust, E. & Vaucher, Y. E. Improving parent satisfaction: an intervention to increase neonatal parent-provider communication. J. Perinatol. 30, 425–430 (2010).

Reid, T., Bramwell, R., Booth, N. & Weindling, M. Perceptions of parent-staff communication in neonatal intensive care: the development of a rating scale. J. Neonatal Nurs. 13, 24–35 (2007).

Latour, J. M., Duivenvoorden, H. J., Hazelzet, J. A. & Van Goudoever, J. B. Development and validation of a neonatal intensive care parent satisfaction instrument. Pediatr. Crit. Care Med. 13, 554–559 (2012).

Engelberg, R., Downey, L. & Curtis, J. R. Psychometric characteristics of a quality of communication questionnaire assessing communication about end-of-life care. J. Palliat. Med. 9, 1086–1098 (2006).

Bredart, A. et al. A comprehensive assessment of satisfaction with care: preliminary psychometric analysis in an oncology institute in Italy. Ann. Oncol. 10, 839–846 (1999).

Bredart, A. et al. The European organization for research and treatment of cancer – satisfaction with cancer care questionnaire: revision and extended application development. Psychooncology 26, 400–404 (2017).

Meakin, R. & Weinman, J. The "Medical Interview Satisfaction Scale" (MISS-21) adapted for British general practice. Fam. Pract. 19, 257–263 (2002).

Loblaw, D. A., Bezjak, A. & Bunston, T. Development and testing of a visit-specific patient satisfaction questionnaire: the Princess Margaret Hospital Satisfaction With Doctor Questionnaire. J. Clin. Oncol. 17, 1931–1938 (1999).
Acknowledgements
A.S.K.'s work is funded by NIA K24AG062785.
Ethics declarations
Competing interests
The authors declare no competing interests.
Consent statement
Patient consent was not required for this study.
Additional information
Publisher's note Springer Nature remains neutral with regard to jurisdictional claims in published maps and institutional affiliations.
About this article
Cite this article
Guttmann, K.F., Orfali, K. & Kelley, A.S. Measuring communication quality in the Neonatal Intensive Care Unit. Pediatr Res 91, 816–819 (2022). https://doi.org/10.1038/s41390-021-01522-6
Received:

Revised:

Accepted:

Published:

Issue Date:

DOI: https://doi.org/10.1038/s41390-021-01522-6
This article is cited by
Roger Winters
Claire M. Hennigan
Beatrice E. Lechner

Journal of Perinatology (2022)