Abstract
Background
Non-invasive prenatal screening (NIPS) has fundamentally changed the screening process for Down syndrome (DS). Rates of complex congenital heart defects (CHD) have decreased in international studies but whether these shifts exist in the US is unknown.
Methods
Encounters for neonates with DS from 2007 to 2018 were obtained from the Pediatric Health Information System database. CHD were categorized as complex CHD, atrioventricular septal defects (AVSD), ventricular septal defects (VSD), and tetralogy of Fallot (TOF). Comparisons were made between pre-NIPS era (2007–2010) vs. post-NIPS era (2014–2018) and between states with low vs. high access to pregnancy termination as described by the Guttmacher Institute.
Results
Among 9122 patients, 6% had complex CHD, 22% had an AVSD, 22% had a VSD, and 4% had TOF. No difference in proportions of CHD was seen between eras. A small difference was observed in the proportion of AVSD between states with low vs. high access to pregnancy termination (23 vs. 17%, p < 0.001).
Conclusions
The proportion of CHD in patients with DS appears to be stable despite widespread adoption of NIPS in the US. Variations were observed between states with low vs. high access to pregnancy termination. Population based studies are needed to fully evaluate the current epidemiology of CHD in DS.
Impact
Through investigation of the Pediatric Health Information System database, this study assesses contemporary epidemiology of congenital heart disease among patients with Down syndrome.

It has been suggested that improved prenatal screening for Down syndrome has altered the cardiac phenotype in international populations. Whether a similar shift also exists in the United States is unknown.

In a contemporary United States cohort, a shift in the proportion or type of heart defects over the past decade was not observed. Regional differences in the proportion of heart defects were seen and may be due to differential access to prenatal care.
Access options
Subscribe to Journal
Get full journal access for 1 year
$399.00
only $30.69 per issue
All prices are NET prices.
VAT will be added later in the checkout.
Tax calculation will be finalised during checkout.
Rent or Buy article
Get time limited or full article access on ReadCube.
from$8.99
All prices are NET prices.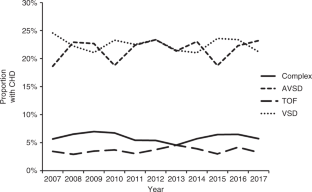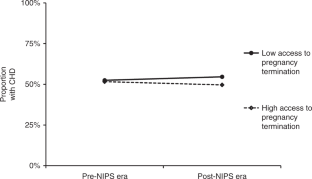 References
1.

de Graaf, G., Buckley, F. & Skotko, B. G. Estimates of the live births, natural losses, and elective terminations with Down syndrome in the United States. Am. J. Med. Genet. A 167, 756–767 (2015).

2.

Källén, B., Mastroiacovo, P. & Robert, E. Major congenital malformations in Down syndrome. Am. J. Med. Genet. 65, 160–166 (1996).

3.

Fudge, J. C. et al. Congenital heart surgery outcomes in Down syndrome: analysis of a national clinical database. Pediatrics 126, 315–322 (2010).

4.

Stoll, C., Dott, B., Alembik, Y. & Roth, M.-P. Associated congenital anomalies among cases with Down syndrome. Eur. J. Med. Genet. 58, 674–680 (2015).

5.

Cua, C. L., Haque, U., Santoro, S., Nicholson, L. & Backes, C. H. Differences in mortality characteristics in neonates with Down's syndrome. J. Perinatol. 37, 427–431 (2017).

6.

Derrington, T. M. et al. Racial/ethnic differences in hospital use and cost among a statewide population of children with down syndrome. Res. Dev. Disabil. 34, 3276–3287 (2013).

7.

Practice Bulletin No. 163: screening for fetal aneuploidy. Obstet. Gynecol. 127, e123–e137 (2016).

8.

Cocchi, G. et al. International trends of Down syndrome 1993-2004: births in relation to maternal age and terminations of pregnancies. Birth Defects Res. A Clin. Mol. Teratol. 88, 474–479 (2010).

9.

Jackson, J. M., Druschel, C. M. & Shapira, S. K. Expanding diagnostic testing beyond cytogenetics: implications for birth defects research and surveillance. Birth Defects Res. A Clin. Mol. Teratol. 97, 726 (2013).

10.

Rink, B. D. & Norton, M. E. Screening for fetal aneuploidy. Semin. Perinatol. 40, 35–43 (2016).

11.

Haymon, L., Simi, E., Moyer, K., Aufox, S. & Ouyang, D. W. Clinical implementation of noninvasive prenatal testing among maternal fetal medicine specialists. Prenat. Diagn. 34, 416–423 (2014).

12.

Greely, H. T. Get ready for the flood of fetal gene screening. Nature 469, 289–291 (2011).

13.

Palomaki, G. E., Knight, G. J., Ashwood, E. R., Best, R. G. & Haddow, J. E. Screening for down syndrome in the United States: results of surveys in 2011 and 2012. Arch. Pathol. Lab. Med. 137, 921–926 (2013).

14.

Norton, M. E. et al. Non-Invasive Chromosomal Evaluation (NICE) study: results of a multicenter prospective cohort study for detection of fetal trisomy 21 and trisomy 18. Am. J. Obstet. Gynecol. 207, 137.e1–137.e8 (2012).

15.

Gil, M. M., Quezada, M. S., Revello, R., Akolekar, R. & Nicolaides, K. H. Analysis of cell-free DNA in maternal blood in screening for fetal aneuploidies: updated meta-analysis. Ultrasound Obstet. Gynecol. 45, 249–266 (2015).

16.

Donofrio, M. T. et al. Diagnosis and treatment of fetal cardiac disease: a scientific statement from the American Heart Association. Circulation 129, 2183–2242 (2014).

17.

Hill, M. et al. Has noninvasive prenatal testing impacted termination of pregnancy and live birth rates of infants with Down syndrome? Prenat. Diagn. 37, 1281–1290 (2017).

18.

Morris, J. K. et al. Major congenital anomalies in babies born with Down syndrome: a EUROCAT population-based registry study. Am. J. Med. Genet. A 164A, 2979–2986 (2014).

19.

Bergstro, M. S. et al. Trends in congenital heart defects in infants with Down syndrome. Pediatrics 138, e20160123 (2016).

20.

Riehle-Colarusso, T. & Oster, M. E. Down syndrome: changing cardiac phenotype? Pediatrics 138, e20161223 (2016).

21.

Nash, E. Abortion rights in peril—what clinicians need to know. N. Engl. J. Med. 381, 497–499 (2019).

22.

Guttmacher Institute. State abortion policy landscape: from hostile to supportive. https://www.guttmacher.org/article/2019/08/state-abortion-policy-landscape-hostile-supportive (2018).

23.

Pfitzer, C. et al. Dynamics in prevalence of Down syndrome in children with congenital heart disease. Eur. J. Pediatr. 177, 107–115 (2018).

24.

Warsof, S. L., Larion, S. & Abuhamad, A. Z. Overview of the impact of noninvasive prenatal testing on diagnostic procedures. Prenat. Diagn. 35, 972–979 (2015).

25.

Skotko, B. G. With new prenatal testing, will babies with Down syndrome slowly disappear? Arch. Dis. Child. 94, 823–826 (2009).
Ethics declarations
Competing interests
The authors declare no competing interests.
Patient consent
Not required.
Additional information
Publisher's note Springer Nature remains neutral with regard to jurisdictional claims in published maps and institutional affiliations.
Supplementary information
About this article
Cite this article
Hart, S.A., Nandi, D., Backes, C.H. et al. Impact of prenatal screening on congenital heart defects in neonates with Down syndrome in the US. Pediatr Res (2021). https://doi.org/10.1038/s41390-021-01416-7
Received:

Revised:

Accepted:

Published: