Abstract
In patients with locally advanced cancer without distant metastases, the neoadjuvant setting presents a platform to evaluate new drugs. For mismatch repair proficient/microsatellite stable (pMMR/MSS) colon and rectal cancer, immunotherapy has shown limited efficacy. Herein, we report exceptional responses observed with neoadjuvant botensilimab (BOT), an Fc-enhanced next-generation anti–CTLA-4 antibody, alongside balstilimab (BAL; an anti-PD-1 antibody) in two patients with pMMR/MSS colon and rectal cancer. The histological pattern of rapid immune response observed ("inside-out" (serosa-to-mucosa) tumor regression) has not been described previously in this setting. Spatial biology analyses (RareCyte Inc.) reveal mechanisms of actions of BOT, a novel innate-adaptive immune activator. These observations have downstream implications for clinical trial designs using neoadjuvant immunotherapy and potentially sparing patients chemotherapy.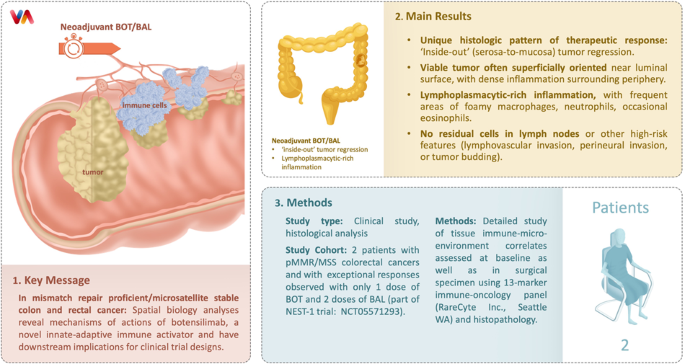 Data availability
All data generated or analyzed during this study are included in this published article and the supplementary files.
References
Le Saux O, Lounici Y, Wajda P, Barrin S, Caux C, Dubois B, et al. Neoadjuvant immune checkpoint inhibitors in cancer, current state of the art. Crit Rev Oncol Hematol. 2021;157:103172.

Marron TU, Galsky MD, Taouli B, Fiel MI, Ward S, Kim E, et al. Neoadjuvant clinical trials provide a window of opportunity for cancer drug discovery. Nat Med. 2022;28:626–9.

Chalabi M. The promise of neoadjuvant immunotherapy across solid tumors. 2023. https://meetings.asco.org/2023-asco-annual-meeting/15057?presentation=225720#225720 (Accessed 18 Aug 2023).

El-Khoueiry AB, Fakih M, Gordon MS, Tsimberidou AM, Bullock AJ, Wilky BA, et al. Results from a phase 1a/1b study of botensilimab (BOT), a novel innate/adaptive immune activator, plus balstilimab (BAL; anti-PD-1 antibody) in metastatic heavily pretreated microsatellite stable colorectal cancer (MSS CRC). J Clin Oncol. 2023;41:LBA8.

Delepine C, Levey D, Krishnan S, Kim K-S, Sonabend A, Wilkens M, et al. 470 Botensilimab, an Fc-enhanced CTLA-4 antibody, enhances innate and adaptive immune activation to promote superior anti-tumor immunity in cold and I-O refractory tumors. J Immunother Cancer. 2022;10:A490.

Mandard AM, Dalibard F, Mandard JC, Marnay J, Henry-Amar M, Petiot JF, et al. Pathologic assessment of tumor regression after preoperative chemoradiotherapy of esophageal carcinoma clinicopathologic correlations. Cancer. 1994;73:2680–6.

Tetzlaff MT, Messina JL, Stein JE, Xu X, Amaria RN, Blank CU, et al. Pathological assessment of resection specimens after neoadjuvant therapy for metastatic melanoma. Ann Oncol J Eur Soc Med Oncol. 2018;29:1861–8.

Le DT, Uram JN, Wang H, Bartlett BR, Kemberling H, Eyring AD, et al. PD-1 blockade in tumors with mismatch-repair deficiency. N Engl J Med. 2015;372:2509–20.

O'Brien MJ, Gibbons D. The adenoma-carcinoma sequence in colorectal neoplasia. Surg Oncol Clin N Am. 1996;5:513–30.

Cottrell TR, Thompson ED, Forde PM, Stein JE, Duffield AS, Anagnostou V, et al. Pathologic features of response to neoadjuvant anti-PD-1 in resected non-small-cell lung carcinoma: a proposal for quantitative immune-related pathologic response criteria (irPRC). Ann Oncol J Eur Soc Med Oncol. 2018;29:1853–60.

Chalabi M, Fanchi LF, Dijkstra KK, Van den Berg JG, Aalbers AG, Sikorska K, et al. Neoadjuvant immunotherapy leads to pathological responses in MMR-proficient and MMR-deficient early-stage colon cancers. Nat Med. 2020;26:566–76.

Cercek A, Lumish M, Sinopoli J, Weiss J, Shia J, Lamendola-Essel M, et al. PD-1 blockade in mismatch repair-deficient, locally advanced rectal cancer. N Engl J Med. 2022;386:2363–76.

Grothey A, Sobrero AF, Shields AF, Yoshino T, Paul J, Taieb J, et al. Duration of adjuvant chemotherapy for stage III colon cancer. N Engl J Med. 2018;378:1177–88.

ClinicalTrials.gov. Novel Exploratory Study to Test Combination of Botensilimab and Balstilimab Immunotherapy in Resectable Colorectal Cancer Patients. clinicaltrials.gov, 2023 https://clinicaltrials.gov/study/NCT05571293 (Accessed 16 Aug 2023).

Lin J-R, Chen Y-A, Campton D, Cooper J, Coy S, Yapp C, et al. High-plex immunofluorescence imaging and traditional histology of the same tissue section for discovering image-based biomarkers. Nat Cancer. 2023;4:1036–52.

Anderson AN, Gibbs SL. Shooting for multiplexed pathology with Orion. Nat Cancer. 2023;4:930–2.

Lin J-R, Wang S, Coy S, Chen Y-A, Yapp C, Tyler M. et al. Multiplexed 3D atlas of state transitions and immune interaction in colorectal cancer. Cell. 2023;186:363–81.e19.
Acknowledgements
We are deeply indebted to DrawImpacts for their work on Fig. 1 that accompanies this article, and to colleagues at RareCyte for their work on the immune/spatial analyses/figures that accompany this report. The idea for the investigator-initiated trial was conceived by author PMK. Funding for this investigator-initiated trial was by Agenus Bio Inc. Additional support for correlatives was through departmental/PI funds and through GI Research Foundation (GIRF) support of RareCyte. Finally, and most importantly, we are deeply indebted to the patients and caregivers who participated in the trial without whom none of this would have been possible.
Ethics declarations
Competing interests
Author PMK reports grants paid to the institution by Merck, Agenus Bio, Novartis, Advanced Accelerator Applications, Tersera, and Boston Scientific; a consultancy and advisory board relationship with Elicio (scientific advisory board member/shares/stock ownership); consultancy/advisory board fees from Guardant Health, Natera, Foundation Medicine, Illumina, BostonGene, Merck/MSD Oncology, Tempus, Bayer, Lilly, Delcath Systems, IPBA, QED Therapeutics, Boston Healthcare Associates, Servier, Taiho Oncology, Exact Sciences, Daiichi Sankyo/AstraZeneca, Eisai, Saga Diagnostics, Neogenomics, Do More Diagnostics AS, and Seattle Genetics; consulting fees paid to the institution by Taiho Pharmaceutical and Ipsen; receiving travel support from AstraZeneca for presentation of an investigator initiated trial. All other authors report no COIs. MH is a member of the board of directors for Bristol Myers Squibb; is a founder of Champions Oncology, Inc., and Nelum Inc.; holds stock options for Champions Oncology, Inc.; InxMed; Biooncotech; and Bristol Myers Squibb; has received research support from Agenus; has received honoraria from InxMed, Oncomatrix, MiNKi, and Peaches Biotech; and has received royalties from Myriad and Khar. MDJ has received honorarium as a speaker for Covidien. A.P. has received honorarium as a consultant for Medtronic, Vioptix, Ethicon, and Intuitive. MAS reports receiving research funding from Astellas Pharma Inc., Merck, Bristol Myers Squibb and Oncolys BioPharma and serving a leadership or judiciary role in board, society, committee or advocacy groups for the American Society of Clinical Oncology Leadership Council. U.K. reports honoraria and travel/accommodations from Cardinal Health, and 2nd.MD. DS reports consultancy for Ciox Health and Zephyr AI, Inc., and speaker/lecturer for Natera, Inc. AJO discloses royalties from Guardant Health and Natera. All other authors have no declared competing interests or financial ties to disclose.
Additional information
Publisher's note Springer Nature remains neutral with regard to jurisdictional claims in published maps and institutional affiliations.
Supplementary information
Rights and permissions
Open Access This article is licensed under a Creative Commons Attribution 4.0 International License, which permits use, sharing, adaptation, distribution and reproduction in any medium or format, as long as you give appropriate credit to the original author(s) and the source, provide a link to the Creative Commons license, and indicate if changes were made. The images or other third party material in this article are included in the article's Creative Commons license, unless indicated otherwise in a credit line to the material. If material is not included in the article's Creative Commons license and your intended use is not permitted by statutory regulation or exceeds the permitted use, you will need to obtain permission directly from the copyright holder. To view a copy of this license, visit http://creativecommons.org/licenses/by/4.0/.
About this article
Cite this article
Kasi, P.M., Hidalgo, M., Jafari, M.D. et al. Neoadjuvant botensilimab plus balstilimab response pattern in locally advanced mismatch repair proficient colorectal cancer. Oncogene 42, 3252–3259 (2023). https://doi.org/10.1038/s41388-023-02835-y
Received:

Revised:

Accepted:

Published:

Issue Date:

DOI: https://doi.org/10.1038/s41388-023-02835-y