Abstract
Alternative splicing of mRNA precursors allows cancer cells to create different protein isoforms that promote growth and survival. Compared to normal cells, cancer cells frequently exhibit a higher diversity of their transcriptomes. A comprehensive understanding of splicing regulation is required to correct the splicing alterations for the future precision oncology. A quantitative proteomic screen was performed to identify the regulators associated the metastasis in triple-negative breast cancer. Multiple in vitro and in vivo functional analyses were used to study the effects of NSrp70 on breast cancer metastasis. Next, transcriptomic sequencing (RNA-seq) and alternative splicing bioinformatics analysis was applied to screen the potential targets of NSrp70. Moreover, in vitro splicing assays, RNA pull-down, and RNA immunoprecipitation assay were used to confirm the specific binding between NSrp70 and downstream target genes. Furthermore, the prognostic value of NSrp70 was analyzed in a cohort of patients by performing IHC. We uncovered NSrp70 as a novel suppressor of breast cancer metastasis. We discovered that NSrp70 inhibited the skipped exon alternative splicing of NUMB, promoted the degradation of transforming growth factor receptor 1 through lysosome pathway, and regulated TGFβ/SMAD-mediated epithelial-mesenchymal transition phenotype in breast cancer cells. Furthermore, high NSrp70 expression correlated with a better prognosis in breast cancer patients. Our findings revealed that splicing regulator NSrp70 serves as a metastasis suppressor.
Relevant articles
Open Access articles citing this article.
Binggong Zhao

,

Wei Huo

…

Huijian Wu

Cellular Oncology Open Access 03 February 2023
Access options
Subscribe to Journal
Get full journal access for 1 year
$119.00
only $2.38 per issue
All prices are NET prices.
VAT will be added later in the checkout.
Tax calculation will be finalised during checkout.
Buy article
Get time limited or full article access on ReadCube.
$32.00
All prices are NET prices.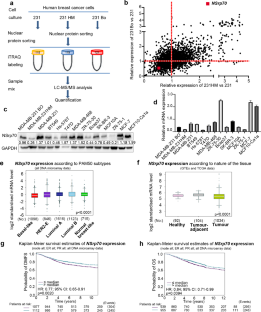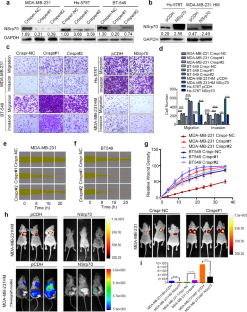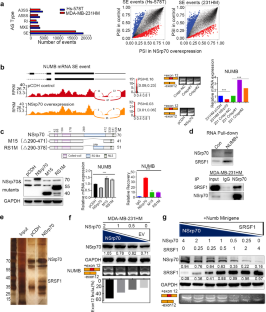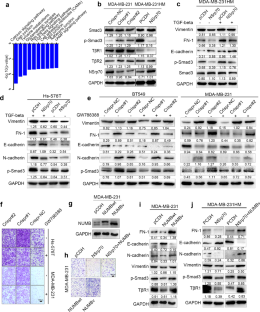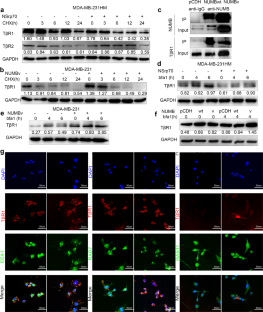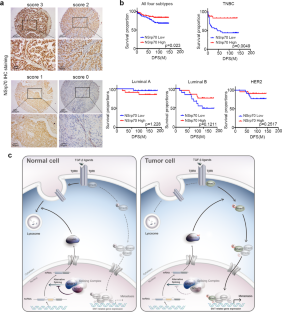 References
Torre LA, Bray F, Siegel RL, Ferlay J, Lortet-Tieulent J, Jemal A. Global cancer statistics, 2012. CA Cancer J Clin. 2015;65:87–108.

Lee Y, Rio DC. Mechanisms and regulation of alternative pre-mRNA splicing. Annu Rev Biochem. 2015;84:291–323.

Wang ET, Sandberg R, Luo S, Khrebtukova I, Zhang L, Mayr C, et al. Alternative isoform regulation in human tissue transcriptomes. Nature. 2008;456:470–6.

Venables JP. Aberrant and alternative splicing in cancer. Cancer Res. 2004;64:7647–54.

David CJ, Manley JL. Alternative pre-mRNA splicing regulation in cancer: pathways and programs unhinged. Genes Dev. 2010;24:2343–64.

Ladomery M. Aberrant alternative splicing is another hallmark of cancer. Int J Cell Biol. 2013;2013:463786.

Read A, Natrajan R. Splicing dysregulation as a driver of breast cancer. Endocr Relat Cancer. 2018;25:R467–r478.

Kim YD, Lee JY, Oh KM, Araki M, Araki K, Yamamura K, et al. NSrp70 is a novel nuclear speckle-related protein that modulates alternative pre-mRNA splicing in vivo. Nucleic Acids Res. 2011;39:4300–14.

Spector DL, Lamond AI. Nuclear speckles. Cold Spring Harb Perspect Biol. 2011;3:a000646.

Xie J, Gizatullin R, Vukojevic V, Leopardi R. The CCDC55 couples cannabinoid receptor CNR1 to a putative DISC1 schizophrenia pathway. Neuroscience. 2015;310:723–30.

Lee SH, Kim C, Lee HK, Kim YK, Ismail T, Jeong Y, et al. NSrp70 is significant for embryonic growth and development, being a crucial factor for gastrulation and mesoderm induction. Biochem Biophys Res Commun. 2016;479:238–44.

Choi DB, Park MR, Kim HR, Jun CD, Kim HJ, Shim H, et al. Aberrant proteomic expression of NSRP70 and its clinical implications and connection to the transcriptional level in adult acute leukemia. Leuk Res. 2014;38:1252–9.

Minn AJ, Gupta GP, Siegel PM, Bos PD, Shu W, Giri DD, et al. Genes that mediate breast cancer metastasis to lung. Nature. 2005;436:518–24.

Kim CH, Kim YD, Choi EK, Kim HR, Na BR, Im SH, et al. Nuclear speckle-related protein 70 binds to serine/arginine-rich splicing factors 1 and 2 via an arginine/serine-like region and counteracts their alternative splicing activity. J Biol Chem. 2016;291:6169–81.

Imamura T, Hikita A, Inoue Y. The roles of TGF-beta signaling in carcinogenesis and breast cancer metastasis. Breast Cancer. 2012;19:118–24.

Pece S, Confalonieri S, P RR, Di Fiore PP. NUMB-ing down cancer by more than just a NOTCH. Biochim Biophys Acta. 2011;1815:26–43.

Reithmeier A, Panizza E, Krumpel M, Orre LM, Branca RMM, Lehtio J, et al. Tartrate-resistant acid phosphatase (TRAP/ACP5) promotes metastasis-related properties via TGFbeta2/TbetaR and CD44 in MDA-MB-231 breast cancer cells. BMC Cancer. 2017;17:650.

Sun H, Liu Y, Zhang L, Shao X, Liu K, Ding Z, et al. Numb positively regulates autophagic flux via regulating lysosomal function. Biochem Biophys Res Commun. 2017;491:780–6.

Zhang J, Manley JL. Misregulation of pre-mRNA alternative splicing in cancer. Cancer Discov. 2013;3:1228–37.

Kahles A, Lehmann KV, Toussaint NC, Hüser M, Stark SG, Sachsenberg T, et al. Comprehensive analysis of alternative splicing across tumors from 8,705 patients. Cancer Cell. 2018;34:211–24.e216.

Lee SC, Abdel-Wahab O. Therapeutic targeting of splicing in cancer. Nat Med. 2016;22:976–86.

Tripathi V, Song DY, Zong X, Shevtsov SP, Hearn S, Fu XD, et al. SRSF1 regulates the assembly of pre-mRNA processing factors in nuclear speckles. Mol Biol Cell. 2012;23:3694–706.

Cheng C, Yaffe MB, Sharp PA. A positive feedback loop couples Ras activation and CD44 alternative splicing. Genes Dev. 2006;20:1715–20.

Sherman LS, Rizvi TA, Karyala S, Ratner N. CD44 enhances neuregulin signaling by Schwann cells. J Cell Biol. 2000;150:1071–84.

Bell MV, Cowper AE, Lefranc MP, Bell JI, Screaton GR. Influence of intron length on alternative splicing of CD44. Mol Cell Biol. 1998;18:5930–41.

Loh TJ, Moon H, Cho S, Jung DW, Hong SE, Kim DH, et al. SC35 promotes splicing of the C5-V6-C6 isoform of CD44 pre-mRNA. Oncol Rep. 2014;31:273–9.

Erb U, Megaptche AP, Gu X, Buchler MW, Zoller M. CD44 standard and CD44v10 isoform expression on leukemia cells distinctly influences niche embedding of hematopoietic stem cells. J Hematol Oncol. 2014;7:29.

Li N, Tsuji M, Kanda K, Murakami Y, Kanayama H, Kagawa S. Analysis of CD44 isoform v10 expression and its prognostic value in renal cell carcinoma. BJU Int. 2000;85:514–8.

Kandachar V, Roegiers F. Endocytosis and control of Notch signaling. Curr Opin Cell Biol. 2012;24:534–40.

Santolini E, Puri C, Salcini AE, Gagliani MC, Pelicci PG, Tacchetti C, et al. Numb is an endocytic protein. J Cell Biol. 2000;151:1345–52.

Misquitta-Ali CM, Cheng E, O'Hanlon D, Liu N, McGlade CJ, Tsao MS, et al. Global profiling and molecular characterization of alternative splicing events misregulated in lung cancer. Mol Cell Biol. 2011;31:138–50.

Zong FY, Fu X, Wei WJ, Luo YG, Heiner M, Cao LJ, et al. The RNA-binding protein QKI suppresses cancer-associated aberrant splicing. PLoS Genet. 2014;10:e1004289.

Wang Z, Li SS. Numb: a new player in EMT. Cell Adhes Migr. 2010;4:176–9.

Xiao X, Wang L, Wei P, Chi Y, Li D, Wang Q, et al. Role of MUC20 overexpression as a predictor of recurrence and poor outcome in colorectal cancer. J Transl Med. 2013;11:151.

Sun HF, Yang XL, Zhao Y, Tian Q, Chen MT, Zhao YY, et al. Loss of TMEM126A promotes extracellular matrix remodeling, epithelial-to-mesenchymal transition, and breast cancer metastasis by regulating mitochondrial retrograde signaling. Cancer Lett. 2019;440-441:189–201.

Zheng YZ, Cao ZG, Hu X, Shao ZM. The endoplasmic reticulum stress markers GRP78 and CHOP predict disease-free survival and responsiveness to chemotherapy in breast cancer. Breast Cancer Res Treat. 2014;145:349–58.

Hsu PD, Lander ES, Zhang F. Development and applications of CRISPR-Cas9 for genome engineering. Cell. 2014;157:1262–78.

Townley-Tilson WH, Pendergrass SA, Marzluff WF, Whitfield ML. Genome-wide analysis of mRNAs bound to the histone stem-loop binding protein. RNA. 2006;12:1853–67.

Zhang Y, Zhang XO, Chen T, Xiang JF, Yin QF, Xing YH, et al. Circular intronic long noncoding RNAs. Mol Cell. 2013;51:792–806.

Katz Y, Wang ET, Airoldi EM, Burge CB. Analysis and design of RNA sequencing experiments for identifying isoform regulation. Nat Methods. 2010;7:1009–15.

Cooper TA. Use of minigene systems to dissect alternative splicing elements. Methods. 2005;37:331–40.

Stoss O, Stoilov P, Hartmann AM, Nayler O, Stamm S. The in vivo minigene approach to analyze tissue-specific splicing. Brain Res Brain Res Protoc. 1999;4:383–94.
Acknowledgements
This work was supported by a grant from National Natural Science Foundation of China (81972727) and the Municipal Human Resources Development Program for Outstanding Leaders in Medical Disciplines in Shanghai (2017BR028). We gratefully acknowledge the help of professor Igor Vladimirovich Reshetov (I.M. Sechenov First Moscow State Medical University of the Ministry of Health of the Russian Federation) for the support of clinical statistical analysis.
Ethics declarations
Competing interests
The authors declare no competing interests.
Additional information
Publisher's note Springer Nature remains neutral with regard to jurisdictional claims in published maps and institutional affiliations.
Supplementary information
About this article
Cite this article
Zhao, Y., Sun, H., Zhao, Y. et al. NSrp70 suppresses metastasis in triple-negative breast cancer by modulating Numb/TβR1/EMT axis. Oncogene 41, 3409–3422 (2022). https://doi.org/10.1038/s41388-022-02349-z
Received:

Revised:

Accepted:

Published:

Issue Date:

DOI: https://doi.org/10.1038/s41388-022-02349-z
This article is cited by
Binggong Zhao
Wei Huo
Huijian Wu

Cellular Oncology (2023)