Abstract
The endocytic adaptor protein Numb acts as a tumor suppressor through downregulation of oncogenic pathways in multiple cancer types. The identification of splicing alterations giving rise to changes in Numb protein isoform expression indicate that Numb also has tumor promoting activity, though the underlying mechanisms are unknown. Here we report that NUMB exon 9 inclusion, which results in production of a protein isoform with an additional 49 amino acids, is a feature of multiple cancer types including all subtypes of breast cancer and correlates with worse progression-free survival. Specific deletion of exon 9-included Numb isoforms (Exon9in) from breast cancer cells reduced cell growth and prevents spontaneous lung metastasis in a mouse model. Quantitative proteome profiling showed that loss of Exon9in causes downregulation of membrane receptors and adhesion molecules, as well as proteins involved in extracellular matrix organization and the epithelial-mesenchymal transition (EMT) state. In addition, exon 9 deletion caused remodeling of the endocytic network, decreased ITGβ5 surface localization, cell spreading on vitronectin and downstream signaling to ERK and SRC. Together these observations suggest that Exon9in isoform expression disrupts the endocytic trafficking functions of Numb, resulting in increased surface expression of ITGβ5 as well as other plasma membrane proteins to promote cell adhesion, EMT, and tumor metastasis.
Relevant articles
Open Access articles citing this article.
Quanyou Wu

,

Lin Feng

…

Ting Xiao

Signal Transduction and Targeted Therapy Open Access 22 August 2022
Access options
Subscribe to this journal
Receive 50 print issues and online access
$259.00 per year
only $5.18 per issue
Rent or buy this article
Get just this article for as long as you need it
$39.95
Prices may be subject to local taxes which are calculated during checkout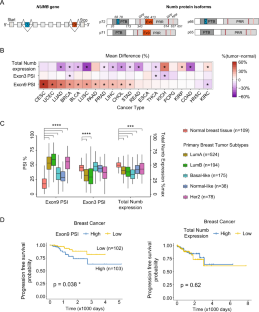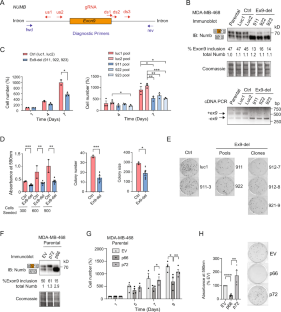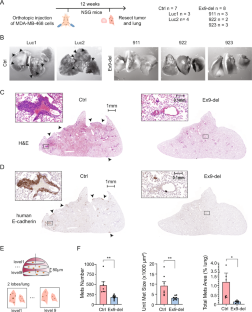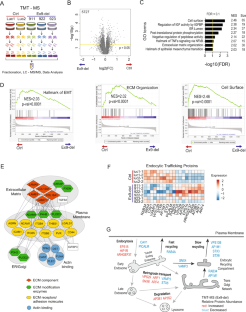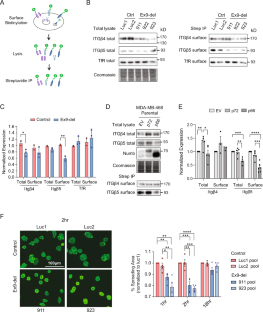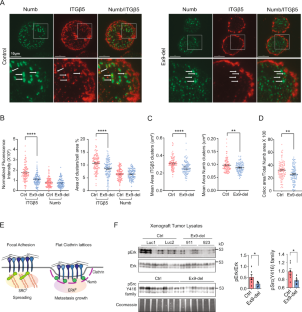 Data availability
The TMT labeling proteomics data can be downloaded from MASSIVE MSV00087458.
References
Uemura T, Shepherd S, Ackerman L, Jan LY, Jan YN. Numb, a gene required in determination of cell fate during sensory organ formation in Drosophila embryos. Cell. 1989;58:349–60.

Santolini E, Puri C, Salcini AE, Gagliani MC, Pelicci PG, Tacchetti C, et al. Numb is an endocytic protein. J Cell Biol. 2000;151:1345–51.

Smith CA, Dho SE, Donaldson J, Tepass U, McGlade CJ. The Cell Fate Determinant Numb Interacts with EHD/Rme-1 Family Proteins and Has a Role in Endocytic Recycling. Mol Biol Cell. 2004;15:3698–708.

McGill MA, Dho SE, Weinmaster G, McGlade CJ. Numb regulates post-endocytic trafficking and degradation of notch1. J Biol Chem. 2009;284:26427–38.

Nishimura T, Kaibuchi K. Numb Controls Integrin Endocytosis for Directional Cell Migration with aPKC and PAR-3. Dev Cell. 2007;13:15–28.

Wang Z, Sandiford S, Wu C, Li SSC. Numb regulates cell-cell adhesion and polarity in response to tyrosine kinase signalling. EMBO J. 2009;28:2360–73.

Lau KM, McGlade CJ. Numb is a negative regulator of HGF dependent cell scattering and Rac1 activation. Exp Cell Res. 2011;317:539–51.

Di Marcotullio L, Ferretti E, Greco A, De Smaele E, Po A, Sico MA, et al. Numb is a suppressor of Hedgehog signalling and targets Gli1 for Itch-dependent ubiquitination. Nat Cell Biol. 2006;8:1415–23.

Colaluca IN, Tosoni D, Nuciforo P, Senic-Matuglia F, Galimberti V, Viale G, et al. NUMB controls p53 tumour suppressor activity. Nature. 2008;451:76–80.

Pece S, Serresi M, Santolini E, Capra M, Hulleman E, Galimberti V, et al. Loss of negative regulation by Numb over Notch is relevant to human breast carcinogenesis. J Cell Biol. 2004;167:215–21.

Westhoff B, Colaluca IN, D'Ario G, Donzelli M, Tosoni D, Volorio S, et al. Alterations of the Notch pathway in lung cancer. Proc Natl Acad Sci USA. 2009;106:22293–8.

Tosoni D, Zecchini S, Coazzoli M, Colaluca I, Mazzarol G, Rubio A, et al. The Numb/p53 circuitry couples replicative self-renewal and tumor suppression in mammary epithelial cells. J Cell Biol. 2015;211:845–62.

Colaluca IN, Basile A, Freiburger L, D'Uva V, Disalvatore D, Vecchi M, et al. A Numb-Mdm2 fuzzy complex reveals an isoformspecific involvement of Numb in breast cancer. J Cell Biol. 2018;217:745–62.

Dho SE, French MB, Woods SA, McGlade CJ. Characterization of Four Mammalian Numb Protein Isoforms. J Biol Chem. 1999;274:33097–104.

Krieger JR, Taylor P, Gajadhar AS, Guha A, Moran MF, McGlade CJ. Identification and selected reaction monitoring (SRM) quantification of endocytosis factors associated with Numb. Mol Cell Proteom. 2013;12:499–514.

Krieger JR, Taylor P, Moran MF, Mcglade CJ. Comprehensive identification of phosphorylation sites on the Numb endocytic adaptor protein. Proteomics. 2015;15:434–46.

Verdi JM, Bashirullah A, Goldhawk DE, Kubu CJ, Jamali M, Meakin SO, et al. Distinct human NUMB isoforms regulate differentiation vs. proliferation in the neuronal lineage. Proc Natl Acad Sci USA. 1999;96:10472–6.

Bani-Yaghoub M, Kubu CJ, Cowling R, Rochira J, Nikopoulos GN, Bellum S, et al. A switch in numb isoforms is a critical step in cortical development. Dev Dyn. 2007;236:696–705.

Dooley CM, James J, McGlade CJ, Ahmad I. Involvement of numb in vertebrate retinal development: evidence for multiple roles of numb in neural differentiation and maturation. J Neurobiol. 2003;54:313–25.

Moran TB, Goldberg LB, Serviss SL, Raetzman LT. Numb deletion in pomc-expressing cells impairs pituitary intermediate lobe cell adhesion, progenitor cell localization, and neuro-intermediate lobe boundary formation. Mol Endocrinol. 2011;25:117–27.

Kim KK, Nam J, Mukouyama YS, Kawamoto S. Rbfox3-regulated alternative splicing of Numb promotes neuronal differentiation during development. J Cell Biol. 2013;200:443–58.

Misquitta-Ali CM, Cheng E, O'Hanlon D, Liu N, McGlade CJ, Tsao MS, et al. Global Profiling and Molecular Characterization of Alternative Splicing Events Misregulated in Lung Cancer. Mol Cell Biol. 2011;31:138–50.

Rajendran D, Zhang Y, Berry DM, McGlade CJ. Regulation of Numb isoform expression by activated ERK signaling. Oncogene. 2016;35:5202–13.

Bechara EG, Sebestyén E, Bernardis I, Eyras E, Valcárcel J. RBM5, 6, and 10 differentially regulate NUMB alternative splicing to control cancer cell proliferation. Mol Cell. 2013;52:720–33.

Chen H, Chen X, Ye F, Lu W, Xie X. Symmetric division and expression of its regulatory gene numb in human cervical squamous carcinoma cells. Pathobiology. 2009;76:149–54.

Zhang S, Liu Y, Liu Z, Zhang C, Cao H, Ye Y, et al. Transcriptome profiling of a multiple recurrent muscle-invasive urothelial carcinoma of the bladder by deep sequencing. PLoS One. 2014;9:1–14.

Lu Y, Xu W, Ji J, Feng D, Sourbier C, Yang Y, et al. Alternative splicing of the cell fate determinant Numb in hepatocellular carcinoma. Hepatology. 2015;62:1122–31.

Zong F-Y, Fu X, Wei W-J, Luo Y-G, Heiner M, Cao L-J, et al. The RNA-binding protein QKI suppresses cancer-associated aberrant splicing. PLoS Genet. 2014;10:e1004289.

Kahles A, Lehmann KVan, Toussaint NC, Hüser M, Stark SG, Sachsenberg T, et al. Comprehensive Analysis of Alternative Splicing Across Tumors from 8,705 Patients. Cancer Cell. 2018;34:211–224.e6.

Liu J, Lichtenberg T, Hoadley KA, Poisson LM, Lazar AJ, Cherniack AD, et al. An Integrated TCGA Pan-Cancer Clinical Data Resource to Drive High-Quality Survival Outcome Analytics. Cell. 2018;173:400–416.e11.

Wei R, Liu X, Voss C, Qin W, Dagnino L, Li L, et al. NUMB regulates the endocytosis and activity of the anaplastic lymphoma kinase in an isoform-specific manner. J Mol Cell Biol. 2019;11:994–1005.

Ke H, Zhao L, Zhang H, Feng X, Xu H, Hao J, et al. Loss of TDP43 inhibits progression of triple-negative breast cancer in coordination with SRSF3. Proc Natl Acad Sci USA. 2018;115:E3426–E3435.

Müller AC, Giambruno R, Weißer J, Májek P, Hofer A, Bigenzahn JW, et al. Pathway enrichment analysis and visualization of omics data using g:Profiler, GSEA, Cytoscape and EnrichmentMap. Nat Protoc. 2019;22:924–34.

Ricono JM, Huang M, Barnes LA, Lau SK, Weis SM, Schlaepfer DD, et al. Specific cross-talk between epidermal growth factor receptor and integrin α vβ 5 promotes carcinoma cell invasion and metastasis. Cancer Res. 2009;69:1383–91.

Lu S, Simin K, Khan A, Mercurio AM. Analysis of integrin β4 expression in human breast cancer: association with basal-like tumors and prognostic significance. Clin Cancer Res. 2008;14:1050–8.

Taftaf R, Liu X, Singh S, Jia Y, Dashzeveg NK, Hoffmann AD, et al. ICAM1 initiates CTC cluster formation and trans-endothelial migration in lung metastasis of breast cancer. Nat Commun. 2021;12. https://doi.org/10.1038/s41467-021-25189-z.

Zecchini S, Bombardelli L, Decio A, Bianchi M, Mazzarol G, Sanguineti F, et al. The adhesion molecule NCAM promotes ovarian cancer progression via FGFR signalling. EMBO Mol Med. 2011;3:480–94.

Song W, Hwang Y, Youngblood VM, Cook RS, Balko JM, Chen J, et al. Targeting EphA2 impairs cell cycle progression and growth of basal-like/triple-negative breast cancers. Oncogene. 2017;36:5620–30.

Peden AA, Oorschot V, Hesser BA, Austin CD, Scheller RH, Klumperman J. Localization of the AP-3 adaptor complex defines a novel endosomal exit site for lysosomal membrane proteins. J Cell Biol. 2004;164:1065–76.

Cullen PJ, Steinberg F. To degrade or not to degrade: mechanisms and significance of endocytic recycling. Nat Rev Mol Cell Biol. 2018;19:679–96.

Koike S, Jahn R. SNAREs define targeting specificity of trafficking vesicles by combinatorial interaction with tethering factors. Nat Commun. 2019;10. https://doi.org/10.1038/s41467-019-09617-9.

Sanchez E, Gonzalez EA, Moreno DS, Cardenas RA, Ramos MA, Davalos AJ, et al. Syntaxin 3, but not syntaxin 4, is required for mast cell–regulated exocytosis, where it plays a primary role mediating compound exocytosis. J Biol Chem. 2019;294:3012–23.

Sun L, Xu X, Chen Y, Zhou Y, Tan R, Qiu H, et al. Rab34 regulates adhesion, migration, and invasion of breast cancer cells. Oncogene. 2018;37:3698–714.

Guo W, Pylayeva Y, Pepe A, Yoshioka T, Muller WJ, Inghirami G, et al. β4 integrin amplifies ErbB2 signaling to promote mammary tumorigenesis. Cell. 2006;126:489–502.

Bianchi-Smiraglia A, Paesante S, Bakin AV. Integrin β5 contributes to the tumorigenic potential of breast cancer cells through the Src-FAK and MEK-ERK signaling pathways. Oncogene. 2013;32:3049–58.

Wayner EA, Orlando RA, Cheresh DA. Integrins αvβ3 and αvβ5 contribute to cell attachment to vitronectin but differentially distribute on the cell surface. J Cell Biol. 1991;113:919–29.

Zuidema A, Wang W, Kreft M, Te Molder L, Hoekman L, Bleijerveld OB, et al. Mechanisms of integrin αVβ5 clustering in flat clathrin lattices. J Cell Sci. 2018;131. https://doi.org/10.1242/jcs.221317.

Baschieri F, Dayot S, Elkhatib N, Ly N, Capmany A, Schauer K, et al. Frustrated endocytosis controls contractility-independent mechanotransduction at clathrin-coated structures. Nat Commun. 2018;9. https://doi.org/10.1038/s41467-018-06367-y.

Lock JG, Jones MC, Askari JA, Gong X, Oddone A, Olofsson H, et al. Reticular adhesions are a distinct class of cell-matrix adhesions that mediate attachment during mitosis. Nat Cell Biol. 2018;20:1290–302.

Leyton-Puig D, Isogai T, Argenzio E, Van Den Broek B, Klarenbeek J, Janssen H, et al. Flat clathrin lattices are dynamic actin-controlled hubs for clathrin-mediated endocytosis and signalling of specific receptors. Nat Commun. 2017;8:1–14.

Zheng KL, He TL, Ji WP, Jiang H, Shen Y, Li G, et al. Alternative splicing of NUMB, APP and VEGFA as the features of pancreatic ductal carcinoma. Int J Clin Exp Pathol. 2015;8:6181–91.

Olivier M, Hollstein M, Hainaut P. TP53 mutations in human cancers: origins, consequences, and clinical use. Cold Spring Harb Perspect Biol. 2010;2:1–17.

Toriya M, Tokunaga A, Sawamoto K, Nakao K, Okano H. Distinct functions of human numb isoforms revealed by misexpression in the neural stem cell lineage in the Drosophila larval brain. Dev Neurosci. 2006;28:142–55.

Zhang Y, Li F, Song Y, Sheng X, Ren F, Xiong K, et al. Numb and Numbl act to determine mammary myoepithelial cell fate, maintain epithelial identity, and support lactogenesis. FASEB J. 2016;30:3474–8.

Cheng C, Huang Z, Zhou R, An H, Cao G, Ye J, et al. Numb negatively regulates the epithelial-to-mesenchymal transition in colorectal cancer through the Wnt signaling pathway. Am J Physiol Gastrointest Liver Physiol. 2020;318:G841–G853.

Hamidi H, Ivaska J. Every step of the way: integrins in cancer progression and metastasis. Nat Rev Cancer. 2018;18:533–48.

Chaudhuri O, Koshy ST, Branco Da Cunha C, Shin JW, Verbeke CS, Allison KH, et al. Extracellular matrix stiffness and composition jointly regulate the induction of malignant phenotypes in mammary epithelium. Nat Mater. 2014;13:970–8.

Calderwood DA, Fujioka Y, De Pereda JM, García-Alvarez B, Nakamoto T, Margolis B, et al. Integrin β cytoplasmic domain interactions with phosphotyrosine-binding domains: A structural prototype for diversity in integrin signaling. Proc Natl Acad Sci USA. 2003;100:2272–7.

Lajoie P, Nabi IR. Lipid rafts, caveolae, and their endocytosis. 1st ed. Elsevier Inc., 2010. https://doi.org/10.1016/S1937-6448(10)82003-9.

Lamaze C, Torrino S. Caveolae and cancer: a new mechanical perspective. Biomed J. 2015;38:367–79.

Khan I, Steeg PS. Endocytosis: a pivotal pathway for regulating metastasis. Br J Cancer. 2021;124:66–75.

Yamaguchi H, Takeo Y, Yoshida S, Kouchi Z, Nakamura Y, Fukami K. Lipid rafts and caveolin-1 are required for invadopodia formation and extracellular matrix degradation by human breast cancer cells. Cancer Res. 2009;69:8594–602.

Bianchini G, Balko JM, Mayer IA, Sanders ME, Gianni L. Triple-negative breast cancer: Challenges and opportunities of a heterogeneous disease. Nat Rev Clin Oncol. 2016;13:674–90.

Ran FA, Hsu PD, Wright J, Agarwala V, Scott DA, Zhang F. Genome engineering using the CRISPR-Cas9 system. Nat Protoc. 2013;8:2281–308.

Krieger JR, Wybenga-Groot LE, Tong J, Bache N, Tsao MS, Moran MF. Evosep one enables robust deep proteome coverage using tandem mass tags while significantly reducing instrument time. J Proteome Res. 2019;18:2346–53.

Welinder C, Ekblad L. Coomassie staining as loading control in western blot analysis. J Proteome Res. 2011;10:1416–9.

Saftig P, Klumperman J. Lysosome biogenesis and lysosomal membrane proteins: trafficking meets function. Nat Rev Mol Cell Biol. 2009;10:623–35.

Moreno-Layseca P, Icha J, Hamidi H, Ivaska J. Integrin trafficking in cells and tissues. Nat Cell Biol. 2019;21:122–32.
Acknowledgements
The authors thank the following: Michael Reedijk and Qiang Shen for assistance with mouse xenograft experiments, SPARC Molecular Analysis for TMT mass spectrometry, Amanda Luck for mouse colony maintenance and caliper measurements, Nesrin Sabha for help with IHC staining, and Kim Lau and Paul Paroutis (The Imaging Facility, The Hospital for Sick Children) for their assistance with TIRF microscopy and imaging analysis. This work was supported with funds from the Canadian Institutes of Health Research to CJM (FRN 106507).
Ethics declarations
Competing interests
The authors declare no competing interests.
Additional information
Publisher's note Springer Nature remains neutral with regard to jurisdictional claims in published maps and institutional affiliations.
About this article
Cite this article
Zhang, Y., Dho, S.E., Othman, K. et al. Numb exon 9 inclusion regulates Integrinβ5 surface expression and promotes breast cancer metastasis. Oncogene 41, 2079–2094 (2022). https://doi.org/10.1038/s41388-022-02225-w
Received:

Revised:

Accepted:

Published:

Issue Date:

DOI: https://doi.org/10.1038/s41388-022-02225-w
This article is cited by
Quanyou Wu
Lin Feng
Ting Xiao

Signal Transduction and Targeted Therapy (2022)