Abstract
Emerging evidence suggests that long noncoding RNAs (lncRNAs) function as competitive endogenous RNA (ceRNA) targeting proteins and genes; however, the role of lncRNAs in hepatocellular carcinoma (HCC) is not well understood. We investigated the mechanism by which lncRNA SNHG6 promotes the development of HCC. RT-qPCR revealed upregulated lncRNA SNHG6 in the HCC setting. Elevated SNHG6 expression was indicative of poor prognosis in patients with HCC. SNHG6 overexpression resulted in increased cyclin D1, cyclin E1, and E2F1 expression both in vitro and in vivo. SNHG6 also promoted HCC cell proliferation by enhancing G1-S phase transition in vitro. Dual luciferase reporter assays, RIP, and RNA pull-down assays demonstrated SNHG6 competitively bound to miR-204-5p and inhibited its expression preventing miR-204-5p from targeting E2F1. Overexpression of miR-204-5p abolished the effect of SNHG6. Our data suggest that SNHG6 functions as a ceRNA that targets miR-204-5p resulting in an increased E2F1 expression and enhanced G1-S phase transition, thereby promoting the tumorigenesis of HCC.
Access options
Subscribe to Journal
Get full journal access for 1 year
$399.00
only $7.98 per issue
All prices are NET prices.
VAT will be added later in the checkout.
Tax calculation will be finalised during checkout.
Rent or Buy article
Get time limited or full article access on ReadCube.
from$8.99
All prices are NET prices.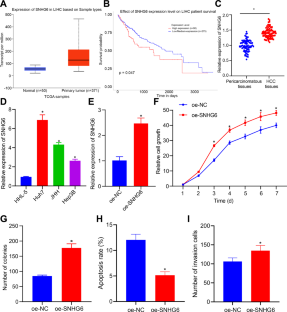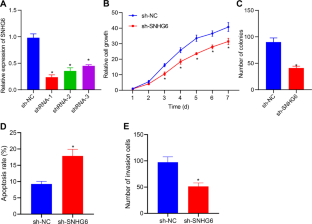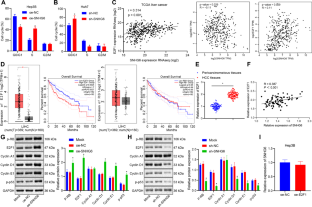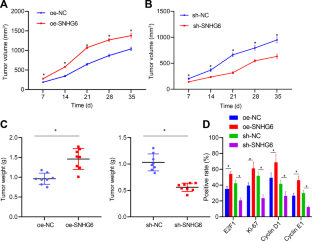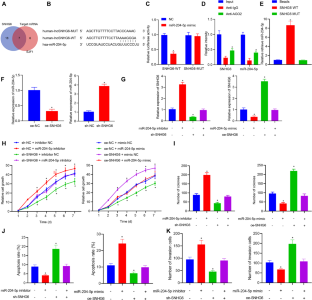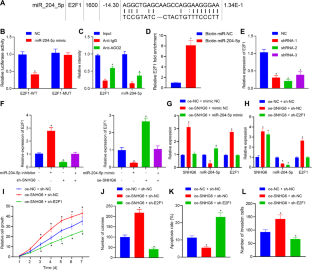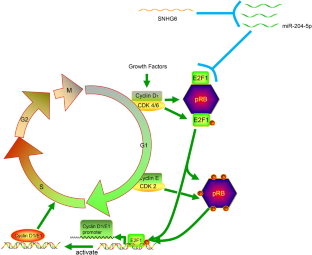 Data availability
The datasets generated/analyzed during the current study are available.
References
1.

Bray F, Ferlay J, Soerjomataram I, Siegel RL, Torre LA, Jemal A. Global cancer statistics 2018: GLOBOCAN estimates of incidence and mortality worldwide for 36 cancers in 185 countries. CA Cancer J Clin. 2018;68:394–424.

2.

Yang JD, Hainaut P, Gores GJ, Amadou A, Plymoth A, Roberts LR. A global view of hepatocellular carcinoma: trends, risk, prevention and management. Nat Rev Gastroenterol Hepatol. 2019;16:589–604.

3.

Forner A, Reig M, Bruix J. Hepatocellular carcinoma. Lancet. 2018;391:1301–14.

4.

Greten TF, Lai CW, Li G, Staveley-O'Carroll KF. Targeted and immune-based therapies for hepatocellular carcinoma. Gastroenterology. 2019;156:510–24.

5.

Boon RA, Jae N, Holdt L, Dimmeler S. Long noncoding RNAs: from clinical genetics to therapeutic targets? J Am Coll Cardiol. 2016;67:1214–26.

6.

Parasramka MA, Maji S, Matsuda A, Yan IK, Patel T. Long non-coding RNAs as novel targets for therapy in hepatocellular carcinoma. Pharm Ther. 2016;161:67–78.

7.

Wong CM, Tsang FH, Ng IO. Non-coding RNAs in hepatocellular carcinoma: molecular functions and pathological implications. Nat Rev Gastroenterol Hepatol. 2018;15:137–51.

8.

Huang Z, Zhou JK, Peng Y, He W, Huang C. The role of long noncoding RNAs in hepatocellular carcinoma. Mol Cancer. 2020;19:77.

9.

Yuan SX, Zhang J, Xu QG, Yang Y, Zhou WP. Long noncoding RNA, the methylation of genomic elements and their emerging crosstalk in hepatocellular carcinoma. Cancer Lett. 2016;379:239–44.

10.

Birgani MT, Hajjari M, Shahrisa A, Khoshnevisan A, Shoja Z, Motahari P, et al. Long non-coding RNA SNHG6 as a potential biomarker for hepatocellular carcinoma. Pathol Oncol Res. 2018;24:329–37.

11.

Wu G, Ju X, Wang Y, Li Z, Gan X. Up-regulation of SNHG6 activates SERPINH1 expression by competitive binding to miR-139-5p to promote hepatocellular carcinoma progression. Cell Cycle. 2019;18:1849–67.

12.

Tay Y, Rinn J, Pandolfi PP. The multilayered complexity of ceRNA crosstalk and competition. Nature. 2014;505:344–52.

13.

Cao C, Zhang T, Zhang D, Xie L, Zou X, Lei L, et al. The long non-coding RNA, SNHG6-003, functions as a competing endogenous RNA to promote the progression of hepatocellular carcinoma. Oncogene. 2017;36:1112–22.

14.

Otto T, Sicinski P. Cell cycle proteins as promising targets in cancer therapy. Nat Rev Cancer. 2017;17:93–115.

15.

Ingham M, Schwartz GK. Cell-cycle therapeutics come of age. J Clin Oncol. 2017;35:2949–59.

16.

Zhang Y, Song X, Herrup K. Context-dependent functions of E2F1: cell cycle, cell death, and DNA damage repair in cortical neurons. Mol Neurobiol. 2020;57:2377–90.

17.

Gu Y, Wang X, Liu H, Li G, Yu W, Ma Q. SET7/9 promotes hepatocellular carcinoma progression through regulation of E2F1. Oncol Rep. 2018;40:1863–74.

18.

Farra R, Dapas B, Baiz D, Tonon F, Chiaretti S, Del Sal G, et al. Impairment of the Pin1/E2F1 axis in the anti-proliferative effect of bortezomib in hepatocellular carcinoma cells. Biochimie. 2015;112:85–95.

19.

Zhao H, Zhang Y, Sun J, Zhan C, Zhao L. Raltitrexed inhibits HepG2 cell proliferation via G0/G1 cell cycle arrest. Oncol Res. 2016;23:237–48.

20.

Chen L, Wei T, Si X, Wang Q, Li Y, Leng Y, et al. Lysine acetyltransferase GCN5 potentiates the growth of non-small cell lung cancer via promotion of E2F1, cyclin D1, and cyclin E1 expression. J Biol Chem. 2013;288:14510–21.

21.

Duan Y, Tian L, Gao Q, Liang L, Zhang W, Yang Y, et al. Chromatin remodeling gene ARID2 targets cyclin D1 and cyclin E1 to suppress hepatoma cell progression. Oncotarget. 2016;7:45863–75.

22.

Jin Y, Liang ZY, Zhou WX, Zhou L. Plasminogen activator inhibitor 2 (PAI2) inhibits invasive potential of hepatocellular carcinoma cells in vitro via uPA- and RB/E2F1-related mechanisms. Hepatol Int. 2019;13:180–9.

23.

Salmena L, Poliseno L, Tay Y, Kats L, Pandolfi PP. A ceRNA hypothesis: the Rosetta Stone of a hidden RNA language? Cell. 2011;146:353–8.

24.

Zhang J, Xing L, Xu H, Wang K, She J, Shi F, et al. miR-204-5p suppress lymph node metastasis via regulating CXCL12 and CXCR4 in gastric cancer. J Cancer. 2020;11:3199–206.

25.

Chu Y, Jiang M, Du F, Chen D, Ye T, Xu B, et al. miR-204-5p suppresses hepatocellular cancer proliferation by regulating homeoprotein SIX1 expression. FEBS Open Bio. 2018;8:189–200.

26.

Ikeda K, Satoh M, Pauley KM, Fritzler MJ, Reeves WH, Chan EK. Detection of the argonaute protein Ago2 and microRNAs in the RNA induced silencing complex (RISC) using a monoclonal antibody. J Immunol Methods. 2006;317:38–44.

27.

Marchese FP, Raimondi I, Huarte M. The multidimensional mechanisms of long noncoding RNA function. Genome Biol. 2017;18:206.

28.

Thomson DW, Dinger ME. Endogenous microRNA sponges: evidence and controversy. Nat Rev Genet. 2016;17:272–83.

29.

Long J, Bai Y, Yang X, Lin J, Yang X, Wang D, et al. Construction and comprehensive analysis of a ceRNA network to reveal potential prognostic biomarkers for hepatocellular carcinoma. Cancer Cell Int. 2019;19:90.

30.

Liu J, Li W, Zhang J, Ma Z, Wu X, Tang L. Identification of key genes and long non-coding RNA associated ceRNA networks in hepatocellular carcinoma. PeerJ. 2019;7:e8021.

31.

Chang L, Yuan Y, Li C, Guo T, Qi H, Xiao Y, et al. Upregulation of SNHG6 regulates ZEB1 expression by competitively binding miR-101-3p and interacting with UPF1 in hepatocellular carcinoma. Cancer Lett. 2016;383:183–94.

32.

Li Y, Li D, Zhao M, Huang S, Zhang Q, Lin H, et al. Long noncoding RNA SNHG6 regulates p21 expression via activation of the JNK pathway and regulation of EZH2 in gastric cancer cells. Life Sci. 2018;208:295–304.

33.

Bertoli C, Skotheim JM, de Bruin RA. Control of cell cycle transcription during G1 and S phases. Nat Rev Mol Cell Biol. 2013;14:518–28.

34.

Kent LN, Leone G. The broken cycle: E2F dysfunction in cancer. Nat Rev Cancer. 2019;19:326–38.

35.

Kumari A, Iwasaki T, Pyndiah S, Cassimere EK, Palani CD, Sakamuro D. Regulation of E2F1-induced apoptosis by poly(ADP-ribosyl)ation. Cell Death Differ. 2015;22:311–22.

36.

Zheng S, Moehlenbrink J, Lu YC, Zalmas LP, Sagum CA, Carr S, et al. Arginine methylation-dependent reader-writer interplay governs growth control by E2F-1. Mol Cell. 2013;52:37–51.

37.

Chen HZ, Tsai SY, Leone G. Emerging roles of E2Fs in cancer: an exit from cell cycle control. Nat Rev Cancer. 2009;9:785–97.

38.

Chen Q, Wang L, Jiang M, Huang J, Jiang Z, Feng H, et al. E2F1 interactive with BRCA1 pathway induces HCC two different small molecule metabolism or cell cycle regulation via mitochondrion or CD4+T to cytosol. J Cell Physiol. 2018;233:1213–21.

39.

He Y, Huang S, Cheng T, Wang Y, Zhou SJ, Zhang YM, et al. High glucose may promote the proliferation and metastasis of hepatocellular carcinoma via E2F1/RRBP1 pathway. Life Sci. 2020;252:117656.

40.

Putzer BM, Engelmann D. E2F1 apoptosis counterattacked: evil strikes back. Trends Mol Med. 2013;19:89–98.

41.

Ma L, Peng L, Fang S, He B, Liu Z. Celastrol downregulates E2F1 to induce growth inhibitory effects in hepatocellular carcinoma HepG2 cells. Oncol Rep. 2017;38:2951–8.

42.

Huang JY, Chen HL, Shih C. MicroRNA miR-204 and miR-1236 inhibit hepatitis B virus replication via two different mechanisms. Sci Rep. 2016;6:34740.

43.

Ge Y, Yan X, Jin Y, Yang X, Yu X, Zhou L, et al. MiRNA-192 [corrected] and miRNA-204 Directly Suppress lncRNA HOTTIP and Interrupt GLS1-Mediated Glutaminolysis in Hepatocellular Carcinoma. PLoS Genet. 2015;11:e1005726.

44.

Tsang FH, Au SL, Wei L, Fan DN, Lee JM, Wong CC, et al. Long non-coding RNA HOTTIP is frequently up-regulated in hepatocellular carcinoma and is targeted by tumour suppressive miR-125b. Liver Int. 2015;35:1597–606.

45.

Li HM, Yu YK, Liu Q, Wei XF, Zhang J, Zhang RX, et al. LncRNA SNHG1 regulates the progression of esophageal squamous cell cancer by the miR-204/HOXC8 axis. Onco Targets Ther. 2020;13:757–67.

46.

Duan S, Wu A, Chen Z, Yang Y, Liu L, Shu Q. miR-204 regulates cell proliferation and invasion by targeting EphB2 in human cervical cancer. Oncol Res. 2018;26:713–23.

47.

Farra R, Dapas B, Pozzato G, Scaggiante B, Agostini F, Zennaro C, et al. Effects of E2F1-cyclin E1-E2 circuit down regulation in hepatocellular carcinoma cells. Dig Liver Dis. 2011;43:1006–14.

48.

Wu X, Zeng Y, Wu S, Zhong J, Wang Y. Xu J. MiR-204, down-regulated in retinoblastoma, regulates proliferation and invasion of human retinoblastoma cells by targeting CyclinD2 and MMP-9. FEBS Lett. 2015;589:645–50.

49.

Ali Syeda Z, Langden SSS, Munkhzul C, Lee M, Song SJ. Regulatory mechanism of microRNA expression in cancer. Int J Mol Sci. 2020;21:1723

50.

Pecoraro A, Carotenuto P, Russo G, Russo A. Ribosomal protein uL3 targets E2F1 and Cyclin D1 in cancer cell response to nucleolar stress. Sci Rep. 2019;9:15431.

51.

Zhao L, Hu K, Cao J, Wang P, Li J, Zeng K, et al. lncRNA miat functions as a ceRNA to upregulate sirt1 by sponging miR-22-3p in HCC cellular senescence. Aging. 2019;11:7098–122.

52.

Duan Y, Zhao M, Jiang M, Li Z, Ni C. LINC02476 promotes the malignant phenotype of hepatocellular carcinoma by sponging miR-497 and increasing HMGA2 expression. Onco Targets Ther. 2020;13:2701–10.

53.

Zhang P, Hou Q, Yue Q. MiR-204-5p/TFAP2A feedback loop positively regulates the proliferation, migration, invasion and EMT process in cervical cancer. Cancer Biomark. 2020;28:381–90.

54.

Lu M, Qin X, Zhou Y, Li G, Liu Z, Yue H, et al. LncRNA HOTAIR suppresses cell apoptosis, autophagy and induces cell proliferation in cholangiocarcinoma by modulating the miR-204-5p/HMGB1 axis. Biomed Pharmacother. 2020;130:110566.

55.

Jiang G, Wen L, Deng W, Jian Z, Zheng H. Regulatory role of miR-211-5p in hepatocellular carcinoma metastasis by targeting ZEB2. Biomed Pharmacother. 2017;90:806–12.

56.

Grieco FA, Schiavo AA, Brozzi F, Juan-Mateu J, Bugliani M, Marchetti P, et al. The miRNAs miR-211-5p and miR-204-5p modulate ER stress in human beta cells. J Mol Endocrinol. 2019;63:139–49.

57.

Hu F, Li H, Liu L, Xu F, Lai S, Luo X, et al. Histone demethylase KDM4D promotes gastrointestinal stromal tumor progression through HIF1beta/VEGFA signalling. Mol Cancer. 2018;17:107.
Acknowledgements
The authors would like to acknowledge the helpful comments on this paper received from the reviewers.
Ethics declarations
Conflict of interest
The authors declare no competing interests.
Ethics approval and consent to participate
Study protocols were approved by the Ethics Committee of Sichuan Provincial People's Hospital and conducted in compliance with the ethical principles for medical research involving human subjects described in the Declaration of Helsinki. Written, informed consent was obtained from all patients or their relatives prior to entering the study and all patient-specific data are kept confidential. Animal experiments were approved by the Animal Ethics Committee of Sichuan Provincial People's Hospital and performed according to the Guide for the Ethical Care and Use of Laboratory Animals published by the US National Institutes of Health. Extensive efforts were made to ensure animals were subjected to the minimum amount of suffering possible.
Additional information
Publisher's note Springer Nature remains neutral with regard to jurisdictional claims in published maps and institutional affiliations.
Supplementary information
About this article
Cite this article
Chen, K., Hou, Y., Liao, R. et al. LncRNA SNHG6 promotes G1/S-phase transition in hepatocellular carcinoma by impairing miR-204-5p-mediated inhibition of E2F1. Oncogene 40, 3217–3230 (2021). https://doi.org/10.1038/s41388-021-01671-2
Received:

Revised:

Accepted:

Published:

Issue Date: