Abstract
Non-traditional model organisms are typically defined as any model the deviates from the typical laboratory animals, such as mouse, rat, and worm. These models are becoming increasingly important in human disease research, such as cancer, as they often display unusual biological features. Naked mole rats (NMRs) are currently one of the most popular non-traditional model, particularly in the longevity and cancer research fields. NMRs display an exceptionally long lifespan (~30 years), yet have been observed to display a low incidence of cancer, making them excellent candidates for understanding endogenous cancer resistance mechanisms. Over the past decade, many potential resistance mechanisms have been characterized. These include unique biological mechanisms involved in genome stability, protein stability, oxidative metabolism, and other cellular mechanisms such as cell cycle regulation and senescence. This review aims to summarize the many identified cancer resistance mechanisms to understand some of the main hypotheses that have thus far been generated. Many of these proposed mechanisms remain to be fully characterized or confirmed in vivo, giving the field a direction to grow and further understand the complex biology displayed by the NMR.
Access options
Subscribe to Journal
Get full journal access for 1 year
$119.00
only $2.38 per issue
All prices are NET prices.
VAT will be added later in the checkout.
Tax calculation will be finalised during checkout.
Buy article
Get time limited or full article access on ReadCube.
$32.00
All prices are NET prices.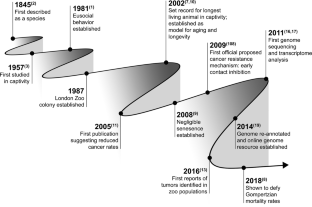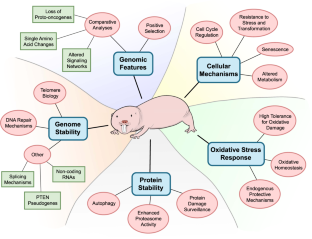 References
Jarvis JUM. Eusociality in a mammal: cooperative breeding in naked mole-rat colonies. Science 1981;212:571–3.

Rüppell E. Heterocephalus, Nov. Gen. (Rüppell) Mus Senckenbergianum Abhandlungen aus dem Geb der beschreibenden Naturgeschichte 1845;3:99–101.

Hill WCO, Porter A, Bloom RT, Seago J, Southwick MD. Field and laboratory studies on the naked mole rat, Heterocephalus glaber. Proc Zool Soc Lond. 1957;128:455–514.

Faulkes CG, Abbott DH, Jarvis JUM, Sherriff FE. LH responses of female naked mole-rats, Heterocephalus glaber, to single and multiple doses of exogenous GnRH. J Reprod Fertil. 1990;89:317–23.

Kanui TI, Hole K. Morphine induces aggression but not analgesia in the naked mole-rat (Heterocephalus glaber). Comp Biochem Physiol C. 1990;96:131–3.

Buffenstein R, Yahav S. Cholecalciferol has no effect on calcium and inorganic phosphorus balance in a naturally cholecalciferol-deplete subterranean mammal, the naked mole rat (Heterocephalus glaber). J Endocrinol. 1991;129:21–6.

Buffenstein R, Jarvis J. The naked mole rat–a new record for the oldest living rodent. Sci Aging Knowl Environ 2002;2002:pe7.

Ruby JG, Smith M, Buffenstein R. Naked mole-rat mortality rates defy Gompertzian laws by not increasing with age. eLife 2018;7:e31157.

Buffenstein R. Negligible senescence in the longest living rodent, the naked mole-rat: Insights from a successfully aging species. J Comp Physiol B Biochem Syst Environ Physiol. 2008;178:439–45.

O'Connor TP, Lee A, Jarvis JUM, Buffenstein R. Prolonged longevity in naked mole-rats: Age-related changes in metabolism, body composition and gastrointestinal function. Comp Biochem Physiol A Mol Integr Physiol. 2002;133:835–42.

Buffenstein R. The naked mole-rat: a new long-living model for human aging research. J Gerontol A Biol Sci Med Sci. 2005;60:1369–77.

Delaney MA, Nagy L, Kinsel MJ, Treuting PM. Spontaneous histologic lesions of the adult naked mole rat (Heterocephalus glaber): a retrospective survey of lesions in a zoo population. Vet Pathol 2013;50:607–21.

Delaney MA, Ward JM, Walsh TF, Chinnadurai SK, Kerns K, Kinsel MJ, et al. Animal models of human disease-case report initial case reports of cancer in naked mole-rats (Heterocephalus glaber). Vet Pathol 2016;53:691–6.

Taylor KR, Milone NA, Rodriguez CE. Four cases of spontaneous neoplasia in the naked mole-rat (heterocephalus glaber), a putative cancer-resistant species. J Gerontol A Biol Sci Med Sci. 2017;72:38–43.

Cole JE, Steeil JC, Sarro SJ, Kerns KL, Cartoceti A. Chordoma of the sacrum of an adult naked mole-rat. J Vet Diagnostic Investig. 2020;32:132–5.

Kim EB, Fang X, Fushan AA, Huang Z, Lobanov AV, Han L, et al. Genome sequencing reveals insights into physiology and longevity of the naked mole rat. Nature 2011;479:223–7.

Yu C, Li Y, Holmes A, Szafranski K, Faulkes CG, Coen CW, et al. RNA sequencing reveals differential expression of mitochondrial and oxidation reduction genes in the long-lived naked mole-rat when compared to mice. PLoS ONE 2011;6:e26729.

Fang X, Seim I, Huang Z, Gerashchenko MV, Xiong Z, Turanov AA, et al. Adaptations to a subterranean environment and longevity revealed by the analysis of mole rat genomes. Cell Rep. 2014;8:1354–64.

Keane M, Craig T, Alf J, Berlin AM, Johnson J, Seluanov A, et al. The Naked Mole Rat Genome Resource: facilitating analyses of cancer and longevity-related adaptations. Bioinformatics 2014;30:3558–60.

Bens M, Sahm A, Groth M, Jahn N, Morhart M, Holtze S, et al. FRAMA: From RNA-seq data to annotated mRNA assemblies. BMC Genomics. 2016;17:54.

Gelfond JA, Ibrahim JG, Chen MH, Sun W, Lewis K, Kinahan S, et al. Homology cluster differential expression analysis for interspecies mRNA-Seq experiments. Stat Appl Genet Mol Biol. 2015;14:507–16.

Went P, Vasei M, Bubendorf L, Terracciano L, Tornillo L, Riede U, et al. Frequent high-level expression of the immunotherapeutic target Ep-CAM in colon, stomach, prostate and lung cancers. Br J Cancer. 2006;94:128–35.

Yang Z, Zhang Y, Chen L. Investigation of anti-cancer mechanisms by comparative analysis of naked mole rat and rat. BMC Syst Biol. 2013;7(Suppl 2):S5.

Yang Z, Zhang Y, Chen L. Single amino acid changes in naked mole rat may reveal new anti-cancer mechanisms in mammals. Gene 2015;572:101–7.

Millet C, Zhang YE. Roles of Smad3 in TGF-β signaling during carcinogenesis. Crit Rev Eukaryot Gene Expr. 2007;17:281–93.

Tang PMK, Zhou S, Meng XM, Wang QM, Li CJ, Lian GY, et al. Smad3 promotes cancer progression by inhibiting E4BP4-mediated NK cell development. Nat Commun 2017;8:14677.

Bailey KL, Agarwal E, Chowdhury S, Luo J, Brattain MG, Black JD, et al. TGFβ/Smad3 regulates proliferation and apoptosis through IRS-1 inhibition in colon cancer cells. PLoS ONE. 2017;12:e0176096.

Guan C, Shi H, Wang H, Zhang J, Ni W, Chen B, et al. CtBP2 contributes to malignant development of human esophageal squamous cell carcinoma by regulation of p16 INK4A. J Cell Biochem. 2013;114:1343–54.

Stewart DJ. Wnt signaling pathway in non-small cell lung cancer. J Natl Cancer Inst. 2014;106:djt356.

Sabeti PC, Schaffner SF, Fry B, Lohmueller J, Varilly P, Shamovsky O, et al. Positive natural selection in the human lineage. Science 2006;312:1614–20.

Morgan CC, Mc Cartney AM, Donoghue MT, Loughran NB, Spillane C, Teeling EC, et al. Molecular adaptation of telomere associated genes in mammals. BMC Evol Biol. 2013;13:251.

Ballal RD, Saha T, Fan S, Haddad BR, Rosen EM. BRCA1 localization to the telomere and its loss from the telomere in response to DNA damage. J Biol Chem. 2009;284:36083–98.

Davies KTJ, Bennett NC, Tsagkogeorga G, Rossiter SJ, Faulkes CG. Family wide molecular adaptations to underground life in African mole-rats revealed by phylogenomic analysis. Mol Biol Evol. 2015;32:3089–107.

Sahm A, Bens M, Szafranski K, Holtze S, Groth M, Gö Rlach M, et al. Long-lived rodents reveal signatures of positive selection in genes associated with lifespan. PLoS Genet 2018;14:e1007272.

Bowers LW, Rossi EL, O'Flanagan CH, De Graffenried LA, Hursting SD The role of the insulin/IGF system in cancer: Lessons learned from clinical trials and the energy balance-cancer link. Front Endocrinol (Lausanne). 2015;6:77.

Pópulo H, Lopes JM, Soares P. The mTOR signalling pathway in human cancer. Int J Mol Sci. 2012;13:1886–918.

Kowalczyk A, Partha R, Clark NL, Chikina M. Pan-mammalian analysis of molecular constraints underlying extended lifespan. eLife 2020;9:e51089.

Cvijović I, Good BH, Desai MM. The effect of strong purifying selection on genetic diversity. Genetics 2018;209:1235–78.

MacRae SL, Zhang Q, Lemetre C, Seim I, Calder RB, Hoeijmakers J, et al. Comparative analysis of genome maintenance genes in naked mole rat, mouse, and human. Aging Cell 2015;14:288–91.

Greer EL, Shi Y. Histone methylation: a dynamic mark in health, disease and inheritance. Nat Rev Genet. 2012;13:343–57.

Tan L, Ke Z, Tombline G, Macoretta N, Hayes K, Tian X, et al. Naked mole rat cells have a stable epigenome that resists iPSC reprogramming. Stem Cell Rep. 2017;9:1721–34.

Salmon AB, Sadighi Akha AA, Buffenstein R, Miller RA. Fibroblasts from naked mole-rats are resistant to multiple forms of cell injury, but sensitive to peroxide, UV light, and ER stress. J Gerontol A Biol Sci Med Sci. 2008;63:232–41.

Evdokimov A, Kutuzov M, Petruseva I, Lukjanchikova N, Kashina E, Kolova E, et al. Naked mole rat cells display more efficient excision repair than mouse cells. Aging 2018;10:1454–73.

Wei H, Yu X. Functions of PARylation in DNA damage repair pathways. Genomics Proteom Bioinform 2016;14:131–9.

Kosova AA, Kutuzov MM, Evdokimov AN, Ilina ES, Belousova EA, Romanenko SA, et al. Poly(ADP-ribosyl)ation and DNA repair synthesis in the extracts of naked mole rat, mouse, and human cells. Aging 2019;11:2852–73.

Tian X, Firsanov D, Zhang Z, Cheng Y, Luo L, Tombline G, et al. SIRT6 Is responsible for more efficient DNA double-strand break repair in long-lived species. Cell 2019;177:622–38.

Mao Z, Hine C, Tian X, Van Meter M, Au M, Vaidya A, et al. SIRT6 promotes DNA repair under stress by activating PARP1. Science 2011;332:1443–6.

MacRae SL, Croken MM, Calder RB, Aliper A, Milholland B, White RR, et al. DNA repair in species with extreme lifespan differences. Aging 2015;7:1171–84.

Triplett JC, Tramutola A, Swomley A, Kirk J, Grimes K, Lewis K, et al. Age-related changes in the proteostasis network in the brain of the naked mole-rat: implications promoting healthy longevity. Biochim Biophys Acta. 2015;1852:2213–24.

Djojosubroto MW, Choi YS, Lee HW, Rudolph KL. Telomeres and telomerase in aging, regeneration and cancer. Mol Cells 2003;15:164–75.

Takai KK, Kibe T, Donigian JR, Frescas D, de Lange T. Telomere Protection by TPP1/POT1 Requires Tethering to TIN2. Mol Cell 2011;44:647–59.

Nugent CI, Lundblad V. The telomerase reverse transcriptase: components and regulation. Genes Dev 1998;12:1073–85.

Allsopp RC, Vaziri H, Patterson C, Goldstein S, Younglai EV, Futcher AB, et al. Telomere length predicts replicative capacity of human fibroblasts. Proc Natl Acad Sci USA. 1992;89:10114–8.

Seluanov A, Hine C, Bozzella M, Hall A, Sasahara THC. Ribeiro AACM, et al. Distinct tumor suppressor mechanisms evolve in rodent species that differ in size and lifespan. Aging Cell 2008;7:813–23.

Seluanov A, Chen Z, Hine C, Sasahara THC. Ribeiro AACM, Catania KC, et al. Telomerase activity coevolves with body mass not lifespan. Aging Cell 2007;6:45–52.

Evfratov SA, Smekalova EM, Golovin AV, Logvina NA, Zvereva MI, Dontsova OA. Structural features of the telomerase RNA gene in the naked mole rat heterocephalus glaber. Acta Nat 2014;6:41–7.

Jiang J-J, Cheng L-H, Wu H, He Y-H, Kong Q-P. Insights into long noncoding RNAs of naked mole rat (Heterocephalus glaber) and their potential association with cancer resistance. Epigenetics Chromatin 2016;9:51.

Tang J, Ning R, Zeng B, Li Y. Molecular evolution of PTEN pseudogenes in mammals. PLoS ONE 2016;11:e0167851.

Sulak M, Fong L, Mika K, Chigurupati S, Yon L, Mongan NP, et al. TP53 copy number expansion is associated with the evolution of increased body size and an enhanced DNA damage response in elephants. eLife 2016;5:e11994.

Lee BP, Smith M, Buffenstein R, Harries LW. Negligible senescence in naked mole rats may be a consequence of well-maintained splicing regulation. Geroscience. 2020;42:633–651.

Nevo Y, Kamhi E, Jacob-Hirsch J, Amariglio N, Rechavi G, Sperling J, et al. Genome-wide activation of latent donor splice sites in stress and disease. Nucleic Acids Res. 2012;40:10980–94.

Hetz C, Chevet E, Oakes SA. Proteostasis control by the unfolded protein response. Nat Cell Biol. 2015;17:829–38.

Pace CN. Determination and analysis of urea and guanidine hydrochloride denaturation curves. Methods Enzymol. 1986;131:266–80.

Pérez VI, Buffenstein R, Masamsetti V, Leonard S, Salmon AB, Mele J, et al. Protein stability and resistance to oxidative stress are determinants of longevity in the longest-living rodent, the naked mole-rat. Proc Natl Acad Sci USA. 2009;106:3059–64.

Azpurua J, Ke Z, Chen IX, Zhang Q, Ermolenko DN, Zhang ZD, et al. Naked mole-rat has increased translational fidelity compared with the mouse, as well as a unique 28S ribosomal RNA cleavage. Proc Natl Acad Sci USA. 2013;110:17350–5.

Melen G, Pesce C, Rossi M, Kornblihtt A. Novel processing in a mammalian nuclear 28S pre-rRNA: tissue-specific elimination of an "intron" bearing a hidden break site. EMBO J. 1999;18:3107–18.

Rodriguez KA, Valentine JM, Kramer DA, Gelfond JA, Kristan DM, Nevo E, et al. Determinants of rodent longevity in the chaperone-protein degradation network. Cell Stress Chaperones. 2016;21:453–66.

Lewis KN, Mele J, Hornsby PJ, Buffenstein R. Stress resistance in the naked mole-rat: the bare essentials - a mini-review. Gerontology 2012;58:453–62.

Ma Q. Role of Nrf2 in oxidative stress and toxicity. Annu Rev Pharm Toxicol. 2013;53:401–26.

Kensler TW, Wakabayashi N, Biswal S. Cell survival responses to environmental stresses via the Keap1-Nrf2-ARE pathway. Annu Rev Pharm Toxicol. 2007;47:89–116.

Rodriguez KA, Osmulski PA, Pierce A, Weintraub ST, Gaczynska M, Buffenstein R. A cytosolic protein factor from the naked mole-rat activates proteasomes of other species and protects these from inhibition. Biochim Biophys Acta. 2014;1842:2060–72.

Pride H, Yu Z, Sunchu B, Mochnick J, Coles A, Zhang Y, et al. Long-lived species have improved proteostasis compared to phylogenetically-related shorter-lived species. Biochem Biophys Res Commun. 2015;457:669–75.

Whitley D, Goldberg SP, Jordan WD. Heat shock proteins: a review of the molecular chaperones. J Vasc Surg. 1999;29:748–51.

Hensen SMM, Heldens L, Van Enckevort CMW, Van Genesen ST, Pruijn GJM, Lubsen NH. Activation of the antioxidant response in methionine deprived human cells results in an HSF1-independent increase in HSPA1A mRNA levels. Biochimie 2013;95:1245–51.

Wu J, Liu T, Rios Z, Mei Q, Lin X, Cao S. Heat shock proteins and cancer. Trends Pharm Sci. 2017;38:226–56.

Mizushima N. Autophagy: process and function. Genes Dev 2007;21:2861–73.

Zhao S, Lin L, Kan G, Xu C, Tang Q, Yu C, et al. High autophagy in the naked mole rat may play a significant role in maintaining good health. Cell Physiol Biochem. 2014;33:321–32.

Zhao S, Luo H, Kan G, Zhao Y, Zhao S, Luo H, et al. The protective role of autophagy in heterocephalus glaber hepatic stellate cells exposed to H2O2 or nutritional stress. Cell Physiol Biochem. 2014;34:463–73.

Zhao S, Li L, Wang S, Yu C, Xiao B, Lin L, et al. H2O2 treatment or serum deprivation induces autophagy and apoptosis in naked mole-rat skin fibroblasts by inhibiting the PI3K/Akt signaling pathway. Oncotarget 2016;7:84839–50.

Harmon D. Aging: a theory based on free radical and radiation chemistry. J Gerontol 1956;11:298–300.

Viña J, Borras C, Abdelaziz KM, Garcia-Valles R, Gomez-Cabrera MC. The free radical theory of aging revisited: the cell signaling disruption theory of aging. Antioxid Redox Signal 2013;19:779–87.

Andziak B, O'Connor TP, Qi W, DeWaal EM, Pierce A, Chaudhuri AR, et al. High oxidative damage levels in the longest-living rodent, the naked mole-rat. Aging Cell 2006;5:463–71.

Andziak B, O'Connor TP, Buffenstein R. Antioxidants do not explain the disparate longevity between mice and the longest-living rodent, the naked mole-rat. Mech Ageing Dev. 2005;126:1206–12.

Munro D, Baldy C, Pamenter ME, Treberg JR. The exceptional longevity of the naked mole-rat may be explained by mitochondrial antioxidant defenses. Aging Cell 2019;18:e12916.

Vyssokikh MY, Holtze S, Averina OA, Lyamzaev KG, Panteleeva AA, Marey MV, et al. Mild depolarization of the inner mitochondrial membrane is a crucial component of an anti-aging program. Proc Natl Acad Sci USA. 2020;117:6491–501.

Yuan PM, Talent JM, Gracy RW. Molecular basis for the accumulation of acidic isozymes of triosephosphate isomerase on aging. Mech Ageing Dev. 1981;17:151–62.

De Waal EM, Liang H, Pierce A, Hamilton RT, Buffenstein R, Chaudhuri AR. Elevated protein carbonylation and oxidative stress do not affect protein structure and function in the long-living naked-mole rat: a proteomic approach. Biochem Biophys Res Commun. 2013;434:815–9.

Stöcker S, Maurer M, Ruppert T, Dick TP. A role for 2-Cys peroxiredoxins in facilitating cytosolic protein thiol oxidation. Nat Chem Biol. 2018;14:148–55.

Hulbert AJ, Faulks SC, Buffenstein R. Oxidation-resistant membrane phospholipids can explain longevity differences among the longest-living rodents and similarly-sized mice. J Gerontol A Biol Sci Med Sci. 2006;61:1009–18.

Mitchell TW, Buffenstein R, Hulbert AJ. Membrane phospholipid composition may contribute to exceptional longevity of the naked mole-rat (Heterocephalus glaber): a comparative study using shotgun lipidomics. Exp Gerontol 2007;42:1053–62.

Brites P, Waterham HR, Wanders RJA. Functions and biosynthesis of plasmalogens in health and disease. Biochim Biophys Acta Mol Cell Biol Lipids 2004;1636:219–31.

Triplett JC, Swomley A, Kirk J, Lewis K, Orr M, Rodriguez K, et al. Metabolic clues to salubrious longevity in the brain of the longest-lived rodent: the naked mole-rat. J Neurochem 2015;134:538–50.

Bleeker FE, Atai NA, Lamba S, Jonker A, Rijkeboer D, Bosch KS, et al. The prognostic IDH1R132 mutation is associated with reduced NADP+-dependent IDH activity in glioblastoma. Acta Neuropathol 2010;119:487–94.

Lewis KN, Mele J, Hayes JD, Buffenstein R. Nrf2, a guardian of healthspan and gatekeeper of species longevity. Integr Comp Biol. 2010;50:829–43.

Lewis KN, Wason E, Edrey YH, Kristan DM, Nevo E, Buffenstein R. Regulation of Nrf2 signaling and longevity in naturally long-lived rodents. Proc Natl Acad Sci USA. 2015;112:3722–7.

Heinze I, Bens M, Calzia E, Holtze S, Dakhovnik O, Sahm A, et al. Species comparison of liver proteomes reveals links to naked mole-rat longevity and human aging. BMC Biol 2018;16:1–18.

Lambert MJ, Portfors CV. Adaptive sequence convergence of the tumor suppressor ADAMTS9 between small-bodied mammals displaying exceptional longevity. Aging 2017;9:573–82.

Kurz S, Thieme R, Amberg R, Groth M, Jahnke H-G, Pieroh P, et al. The anti-tumorigenic activity of A2M-A lesson from the naked mole-rat. PLoS ONE 2017;12:e0189514.

Thieme R, Kurz S, Kolb M, Debebe T, Holtze S, Morhart M, et al. Analysis of Alpha-2 macroglobulin from the long-lived and cancer-resistant naked mole-rat and human plasma. PLoS ONE 2015;10:e0130470.

Du W, Wang S, Zhou Q, Li X, Chu J, Chang Z, et al. ADAMTS9 is a functional tumor suppressor through inhibiting AKT/mTOR pathway and associated with poor survival in gastric cancer. Oncogene 2013;32:3319–28.

Lindner I, Hemdan NYA, Buchold M, Huse K, Bigl M, Oerlecke I, et al. α2-macroglobulin inhibits the malignant properties of astrocytoma cells by impeding β-catenin signaling. Cancer Res 2010;70:277–87.

Pawaria S, Kropp LE, Binder RJ. Immunotherapy of tumors with α2-macroglobulin-antigen complexes pre-formed in vivo. PLoS ONE. 2012;7:e50365.

Ben-David U, Benvenisty N. The tumorigenicity of human embryonic and induced pluripotent stem cells. Nat Rev Cancer. 2011;11:268–77.

Miyawaki S, Kawamura Y, Oiwa Y, Shimizu A, Hachiya T, Bono H, et al. Tumour resistance in induced pluripotent stem cells derived from naked mole-rats. Nat Commun 2016;7:11471.

Takahashi K, Mitsui K, Yamanaka S. Role of ERas in promoting tumour-like properties in mouse embryonic stem cells. Nature 2003;423:541–5.

Ozenne P, Eymin B, Brambilla E, Gazzeri S. The ARF tumor suppressor: Structure, functions and status in cancer. Int J Cancer. 2010;127:2239–47.

Lee SG, Mikhalchenko AE, Yim SH, Lobanov AV, Park JK, Choi KH, et al. Naked mole rat induced pluripotent stem cells and their contribution to interspecific chimera. Stem Cell Rep. 2017;9:1706–20.

Seluanov A, Hine C, Azpurua J, Feigenson M, Bozzella M, Mao Z, et al. Hypersensitivity to contact inhibition provides a clue to cancer resistance of naked mole-rat. Proc Natl Acad Sci USA. 2009;106:19352–7.

Liang S, Mele J, Wu Y, Buffenstein R, Hornsby PJ. Resistance to experimental tumorigenesis in cells of a long-lived mammal, the naked mole-rat (Heterocephalus glaber). Aging Cell 2010;9:626–35.

Sgambato A, Cittadini A, Faraglia A, Weinstein I. Multiple functions of p27(Kip1) and its alterations in tumor cells: a review. J Cell Physiol. 2000;183:18–27.

Tian X, Azpurua J, Hine C, Vaidya A, Myakishev-Rempel M, Ablaeva J, et al. High molecular weight hyaluronan mediates the cancer resistance of the naked mole-rat. Nature 2013;499:346–9.

Morrison H, Sherman LS, Legg J, Banine F, Isacke C, Haipek CA, et al. The NF2 tumor suppressor gene product, merlin, mediates contact inhibition of growth through interactions with CD44. Genes Dev. 2001;15:968–80.

Faulkes CG, Davies KTJ, Rossiter SJ, Bennett NC. Molecular evolution of the hyaluronan synthase 2 gene in mammals: implications for adaptations to the subterranean niche and cancer resistance. Biol Lett 2015;11:20150185.

Zhao Y, Qiao S, Hou X, Tian H, Deng S, Ye K, et al. Bioengineered tumor microenvironments with naked mole rats high-molecular-weight hyaluronan induces apoptosis in breast cancer cells. Oncogene 2019;38:4297–309.

Deuker MM, Lewis KN, Ingaramo M, Kimmel J, Buffenstein R, Settleman J. Unprovoked stabilization and nuclear accumulation of the naked mole-rat p53 protein. Sci Rep. 2020;10:6966.

Tian X, Azpurua J, Ke Z, Augereau A, Zhang ZD, Vijg J, et al. INK4 locus of the tumor-resistant rodent, the naked mole rat, expresses a functional p15/p16 hybrid isoform. Proc Natl Acad Sci USA. 2015;112:1053–8.

Hulbert AJ, Pamplona R, Buffenstein R, Buttemer WA. Life and death: Metabolic rate, membrane composition, and life span of animals. Physiol Rev 2007;87:1175–213.

Anastasiou D, Yu Y, Israelsen WJ, Jiang JK, Boxer MB, Hong BS, et al. Pyruvate kinase M2 activators promote tetramer formation and suppress tumorigenesis. Nat Chem Biol. 2012;8:839–47.

Cellarier E, Durando X, Vasson MP, Farges MC, Demiden A, Maurizis JC, et al. Methionine dependency and cancer treatment. Cancer Treat Rev. 2003;29:489–99.

Lewis KN, Rubinstein ND, Buffenstein R. A window into extreme longevity; the circulating metabolomic signature of the naked mole-rat, a mammal that shows negligible senescence. Geroscience 2018;40:105–21.

Viltard M, Durand S, Pérez-Lanzón M, Aprahamian F, Lefevre D, Leroy C, et al. The metabolomic signature of extreme longevity: Naked mole rats versus mice. Aging 2019;11:4783–800.

Lee S, Schmitt CA. The dynamic nature of senescence in cancer. Nat Cell Biol. 2019;21:94–101.

Zhao Y, Tyshkovskiy A, Muñoz-Espín D, Tian X, Serrano M, Pedro De Magalhaes J, et al. Naked mole rats can undergo developmental, oncogene-induced and DNA damage-induced cellular senescence. Proc Natl Acad Sci USA. 2018;115:1801–6.

Debebe T, Holtze S, Morhart M, Hildebrandt TB, Rodewald S, Huse K, et al. Analysis of cultivable microbiota and diet intake pattern of the long-lived naked mole-rat. Gut Pathog. 2016;8,25.

Debebe T, Biagi E, Soverini M, Holtze S, Hildebrandt TB, Birkemeyer C, et al. Unraveling the gut microbiome of the long-lived naked mole-rat. Sci Rep. 2017;7:9590.

Cong W, Xing J, Feng Y, Wang J, Fu R, Yue B, et al. The microbiota in the intestinal and respiratory tracts of naked mole-rats revealed by high-throughput sequencing. BMC Microbiol 2018;18:89.

Cheng J, Yuan Z, Yang W, Xu C, Cong W, Lin L, et al. Comparative study of macrophages in naked mole rats and ICR mice. Oncotarget 2017;8:96924–34.

Shebzukhov Y, Holtze S, Hirseland H, Schäfer H, Radbruch A, Hildebrandt T, et al. Identification of cross‐reactive antibodies for the detection of lymphocytes, myeloid cells and haematopoietic precursors in the naked mole rat. Eur J Immunol. 2019;49:2103–10.

Wada H, Shibata Y, Abe Y, Otsuka R, Eguchi N, Kawamura Y, et al. Flow cytometric identification and cell-line establishment of macrophages in naked mole-rats. Sci Rep. 2019;9:17981.

Hilton HG, Rubinstein ND, Janki P, Ireland AT, Bernstein N, Fong NL, et al. Single-cell transcriptomics of the naked molerat reveals unexpected features of mammalian immunity. PLoS Biol 2019;17:e3000528.

Manov I, Hirsh M, Iancu TC, Malik A, Sotnichenko N, Band M, et al. Pronounced cancer resistance in a subterranean rodent, the blind mole-rat, Spalax: in vivo and in vitro evidence. BMC Biol. 2013;11,91.

Gorbunova V, Hine C, Tian X, Ablaeva J, Gudkov AV, Nevo E, et al. Cancer resistance in the blind mole rat is mediated by concerted necrotic cell death mechanism. Proc Natl Acad Sci USA. 2012;109:19392–6.

Seim I, Ma S, Zhou X, Gerashchenko MV, Lee S-G, Suydam R, et al. The transcriptome of the bowhead whale Balaena mysticetus reveals adaptations of the longest-lived mammal. Aging 2014;6:879–99.
Ethics declarations
Conflict of interest
The authors declare that they have no conflict of interest.
Additional information
Publisher's note Springer Nature remains neutral with regard to jurisdictional claims in published maps and institutional affiliations.
About this article
Cite this article
Shepard, A., Kissil, J.L. The use of non-traditional models in the study of cancer resistance—the case of the naked mole rat. Oncogene 39, 5083–5097 (2020). https://doi.org/10.1038/s41388-020-1355-8
Received:

Revised:

Accepted:

Published:

Issue Date:

DOI: https://doi.org/10.1038/s41388-020-1355-8
This article is cited by
David F. Carrageta
Bárbara Guerra-Carvalho
Marco G. Alves

Reviews in Endocrine and Metabolic Disorders (2022)

GeroScience (2021)