Abstract
Perineural invasion (PNI), a pathologic feature defined as cancer cell invasion in, around, and through nerves, is an indicator of poor prognosis and survival in prostate cancer (PC). Despite widespread recognition of the clinical significance of PNI, the molecular mechanisms are largely unknown. Here, we report that monoamine oxidase A (MAOA) is a clinically and functionally important mediator of PNI in PC. MAOA promotes PNI of PC cells in vitro and tumor innervation in an orthotopic xenograft model. Mechanistically, MAOA activates SEMA3C in a Twist1-dependent transcriptional manner, which in turn stimulates cMET to facilitate PNI via autocrine or paracrine interaction with coactivated PlexinA2 and NRP1. Furthermore, MAOA inhibitor treatment effectively reduces PNI of PC cells in vitro and tumor-infiltrating nerve fiber density along with suppressed xenograft tumor growth and progression in mice. Collectively, these findings characterize the contribution of MAOA to the pathogenesis of PNI and provide a rationale for using MAOA inhibitors as a targeted treatment for PNI in PC.
Access options
Subscribe to Journal
Get full journal access for 1 year
$499.00
only $9.98 per issue
All prices are NET prices.
VAT will be added later in the checkout.
Rent or Buy article
Get time limited or full article access on ReadCube.
from$8.99
All prices are NET prices.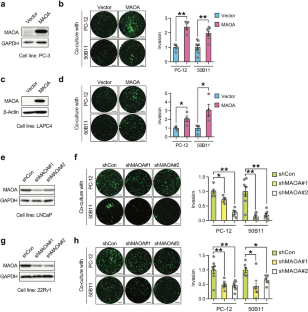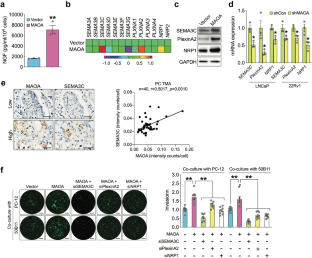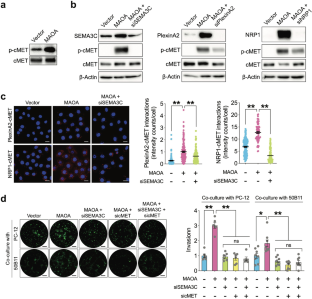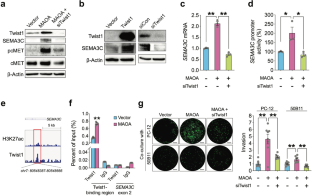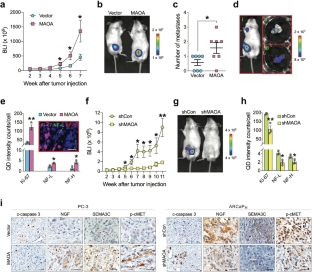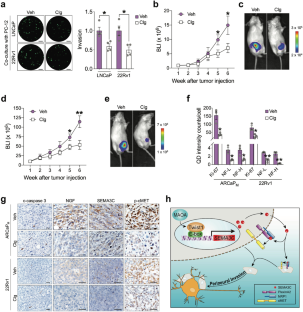 References
1.

Siegel RL, Miller KD, Jemal A. Cancer statistics, 2020. CA Cancer J Clin. 2020;70:7–30.

2.

Deng X, He G, Liu J, Luo F, Peng X, Tang S, et al. Recent advances in bone-targeted therapies of metastatic prostate cancer. Cancer Treat Rev. 2014;40:730–8.

3.

Liebig C, Ayala G, Wilks JA, Berger DH, Albo D. Perineural invasion in cancer: a review of the literature. Cancer. 2009;115:3379–91.

4.

Maru N, Ohori M, Kattan MW, Scardino PT, Wheeler TM. Prognostic significance of the diameter of perineural invasion in radical prostatectomy specimens. Hum Pathol. 2001;32:828–33.

5.

Villers A, McNeal JE, Redwine EA, Freiha FS, Stamey TA. The role of perineural space invasion in the local spread of prostatic adenocarcinoma. J Urol. 1989;142:763–8.

6.

Kraus RD, Barsky A, Ji L, Garcia Santos PM, Cheng N, Groshen S, et al. The perineural invasion paradox: is perineural invasion an independent prognostic indicator of biochemical recurrence risk in patients with pT2N0R0 prostate cancer? A multi-institutional study. Adv Radiat Oncol. 2019;4:96–102.

7.

DeLancey JO, Wood DP Jr., He C, Montgomery JS, Weizer AZ, Miller DC, et al. Evidence of perineural invasion on prostate biopsy specimen and survival after radical prostatectomy. Urology. 2013;81:354–7.

8.

Ciftci S, Yilmaz H, Ciftci E, Simsek E, Ustuner M, Yavuz U, et al. Perineural invasion in prostate biopsy specimens is associated with increased bone metastasis in prostate cancer. Prostate. 2015;75:1783–9.

9.

Bakst RL, Wong RJ. Mechanisms of perineural invasion. J Neurol Surg B Skull Base. 2016;77:96–106.

10.

Jobling P, Pundavela J, Oliveira SM, Roselli S, Walker MM, Hondermarck H. Nerve-cancer cell cross-talk: a novel promoter of tumor progression. Cancer Res. 2015;75:1777–81.

11.

Ding Y, He D, Florentin D, Frolov A, Hilsenbeck S, Ittmann M, et al. Semaphorin 4F as a critical regulator of neuroepithelial interactions and a biomarker of aggressive prostate cancer. Clin Cancer Res. 2013;19:6101–11.

12.

Binmadi NO, Yang YH, Zhou H, Proia P, Lin YL, De Paula AM, et al. Plexin-B1 and semaphorin 4D cooperate to promote perineural invasion in a RhoA/ROK-dependent manner. Am J Pathol. 2012;180:1232–42.

13.

Kruger RP, Aurandt J, Guan KL. Semaphorins command cells to move. Nat Rev Mol Cell Biol. 2005;6:789–800.

14.

Bortolato M, Chen K, Shih JC. Monoamine oxidase inactivation: from pathophysiology to therapeutics. Adv drug Deliv Rev. 2008;60:1527–33.

15.

Shih JC, Chen K, Ridd MJ. Monoamine oxidase: from genes to behavior. Annu Rev Neurosci. 1999;22:197–217.

16.

True L, Coleman I, Hawley S, Huang CY, Gifford D, Coleman R, et al. A molecular correlate to the Gleason grading system for prostate adenocarcinoma. Proc Natl Acad Sci USA. 2006;103:10991–6.

17.

Wu JB, Shao C, Li X, Li Q, Hu P, Shi C, et al. Monoamine oxidase A mediates prostate tumorigenesis and cancer metastasis. J Clin Invest. 2014;124:2891–908.

18.

Wu JB, Yin L, Shi C, Li Q, Duan P, Huang JM, et al. MAOA-dependent activation of Shh-IL6-RANKL signaling network promotes prostate cancer metastasis by engaging tumor-stromal cell interactions. Cancer Cell. 2017;31:368–82.

19.

Flamand V, Zhao H, Peehl DM. Targeting monoamine oxidase A in advanced prostate cancer. J Cancer Res Clin Oncol. 2010;136:1761–71.

20.

Westerink RH, Ewing AG. The PC12 cell as model for neurosecretion. Acta Physiol (Oxf). 2008;192:273–85.

21.

Chen W, Mi R, Haughey N, Oz M, Hoke A. Immortalization and characterization of a nociceptive dorsal root ganglion sensory neuronal line. J Peripher Nerv Syst. 2007;12:121–30.

22.

Saloman JL, Albers KM, Rhim AD, Davis BM. Can stopping nerves, stop cancer? Trends Neurosci. 2016;39:880–9.

23.

Pundavela J, Demont Y, Jobling P, Lincz LF, Roselli S, Thorne RF, et al. ProNGF correlates with Gleason score and is a potential driver of nerve infiltration in prostate cancer. Am J Pathol. 2014;184:3156–62.

24.

Herman JG, Meadows GG. Increased class 3 semaphorin expression modulates the invasive and adhesive properties of prostate cancer cells. Int J Oncol. 2007;30:1231–8.

25.

Tam KJ, Hui DHF, Lee WW, Dong M, Tombe T, Jiao IZF, et al. Semaphorin 3 C drives epithelial-to-mesenchymal transition, invasiveness, and stem-like characteristics in prostate cells. Sci Rep. 2017;7:11501.

26.

Tam KJ, Dalal K, Hsing M, Cheng CW, Khosravi S, Yenki P, et al. Androgen receptor transcriptionally regulates semaphorin 3C in a GATA2-dependent manner. Oncotarget. 2017;8:9617–33.

27.

Peacock JW, Takeuchi A, Hayashi N, Liu L, Tam KJ, Al Nakouzi N, et al. SEMA3C drives cancer growth by transactivating multiple receptor tyrosine kinases via Plexin B1. EMBO Mol Med. 2018;10:219–38.

28.

He S, Chen CH, Chernichenko N, He S, Bakst RL, Barajas F, et al. GFRalpha1 released by nerves enhances cancer cell perineural invasion through GDNF-RET signaling. Proc Natl Acad Sci USA. 2014;111:E2008–2017.

29.

Swiercz JM, Kuner R, Offermanns S. Plexin-B1/RhoGEF-mediated RhoA activation involves the receptor tyrosine kinase ErbB-2. J Cell Biol. 2004;165:869–80.

30.

Giordano S, Corso S, Conrotto P, Artigiani S, Gilestro G, Barberis D, et al. The semaphorin 4D receptor controls invasive growth by coupling with Met. Nat Cell Biol. 2002;4:720–4.

31.

Yang J, Mani SA, Donaher JL, Ramaswamy S, Itzykson RA, Come C, et al. Twist, a master regulator of morphogenesis, plays an essential role in tumor metastasis. Cell. 2004;117:927–39.

32.

Carden MJ, Trojanowski JQ, Schlaepfer WW, Lee VM. Two-stage expression of neurofilament polypeptides during rat neurogenesis with early establishment of adult phosphorylation patterns. J Neurosci. 1987;7:3489–504.

33.

Magnon C, Hall SJ, Lin J, Xue X, Gerber L, Freedland SJ, et al. Autonomic nerve development contributes to prostate cancer progression. Science. 2013;341:1236361.

34.

Zhang D, Park D, Zhong Y, Lu Y, Rycaj K, Gong S, et al. Stem cell and neurogenic gene-expression profiles link prostate basal cells to aggressive prostate cancer. Nat Commun. 2016;7:10798.

35.

Chilton JK. Molecular mechanisms of axon guidance. Developmental Biol. 2006;292:13–24.

36.

Ayala GE, Dai H, Powell M, Li R, Ding Y, Wheeler TM, et al. Cancer-related axonogenesis and neurogenesis in prostate cancer. Clin Cancer Res. 2008;14:7593–603.

37.

Chauvet S, Cohen S, Yoshida Y, Fekrane L, Livet J, Gayet O, et al. Gating of Sema3E/PlexinD1 signaling by neuropilin-1 switches axonal repulsion to attraction during brain development. Neuron. 2007;56:807–22.

38.

Li J, Pu T, Yin L, Li Q, Liao CP, Wu BJ. MAOA-mediated reprogramming of stromal fibroblasts promotes prostate tumorigenesis and cancer stemness. Oncogene. 2020;39:3305–21.

39.

Parra LM, Zou Y. Sonic hedgehog induces response of commissural axons to Semaphorin repulsion during midline crossing. Nat Neurosci. 2010;13:29–35.

40.

Khatiwada P, Kannan A, Malla M, Dreier M, Shemshedini L. Androgen up-regulation of Twist1 gene expression is mediated by ETV1. PeerJ. 2020;8:e8921.

41.

Eide T, Ramberg H, Glackin C, Tindall D, Tasken KA. TWIST1, A novel androgen-regulated gene, is a target for NKX3-1 in prostate cancer cells. Cancer Cell Int. 2013;13:4.

42.

Gaur S, Gross ME, Liao CP, Qian B, Shih JC. Effect of monoamine oxidase A (MAOA) inhibitors on androgen-sensitive and castration-resistant prostate cancer cells. Prostate. 2019;79:667–77.

43.

Gherardi E, Birchmeier W, Birchmeier C, Vande Woude G. Targeting MET in cancer: rationale and progress. Nat Rev Cancer. 2012;12:89–103.

44.

Knudsen BS, Gmyrek GA, Inra J, Scherr DS, Vaughan ED, Nanus DM, et al. High expression of the Met receptor in prostate cancer metastasis to bone. Urology. 2002;60:1113–7.

45.

Ko KR, Lee J, Lee D, Nho B, Kim S. Hepatocyte growth factor (HGF) promotes peripheral nerve regeneration by activating repair Schwann cells. Sci Rep. 2018;8:8316.

46.

Wong V, Glass DJ, Arriaga R, Yancopoulos GD, Lindsay RM, Conn G. Hepatocyte growth factor promotes motor neuron survival and synergizes with ciliary neurotrophic factor. J Biol Chem. 1997;272:5187–91.

47.

Huyett P, Gilbert M, Liu L, Ferris RL, Kim S. A model for perineural invasion in head and neck squamous cell Carcinoma. J Vis Exp. 2017;119:55043.
Acknowledgements
We thank Gina Chu (Cedars-Sinai Medical Center) for technical help, Leland W.K. Chung (Cedars-Sinai Medical Center) for comprehensive support of this study, and Gary Mawyer for editorial assistance. This work was supported by DOD Prostate Cancer Research Program grants W81XWH-15-1-0493 and W81XWH-19-1-0279, NIH/NCI grant R37CA233658, and the WSU startup fund to BJW.
Ethics declarations
Conflict of interest
The authors declare that they have no conflict of interest.
Additional information
Publisher's note Springer Nature remains neutral with regard to jurisdictional claims in published maps and institutional affiliations.
Supplementary information
About this article
Cite this article
Yin, L., Li, J., Wang, J. et al. MAOA promotes prostate cancer cell perineural invasion through SEMA3C/PlexinA2/NRP1–cMET signaling. Oncogene (2021). https://doi.org/10.1038/s41388-020-01615-2
Received:

Revised:

Accepted:

Published: