Abstract
Cadherins form a large and pleiotropic superfamily of membranous proteins sharing Ca2+-binding repeats. While the importance of classic cadherins such as E- or N-cadherin for tumorigenesis is acknowledged, there is much less information about other cadherins that are merely considered as tissue-specific adhesion molecules. Here, we focused on the atypical cadherin MUCDHL that stood out for its unusual features and unique function in the gut. Analyses of transcriptomic data sets (n > 250) established that MUCDHL mRNA levels are down-regulated in colorectal tumors. Importantly, the decrease of MUCDHL expression is more pronounced in the worst-prognosis subset of tumors and is associated with decreased survival. Molecular characterization of the tumors indicated a negative correlation with proliferation-related processes (e.g., nucleic acid metabolism, DNA replication). Functional genomic studies showed that the loss of MUCDHL enhanced tumor incidence and burden in intestinal tumor-prone mice. Extensive structure/function analyses revealed that the mode of action of MUCDHL goes beyond membrane sequestration of ß-catenin and targets through its extracellular domain key oncogenic signaling pathways (e.g., EGFR, AKT). Beyond MUCDHL, this study illustrates how the loss of a gene critical for the morphological and functional features of mature cells contributes to tumorigenesis by dysregulating oncogenic pathways.
Access options
Subscribe to this journal
Receive 50 print issues and online access
$259.00 per year
only $5.18 per issue
Rent or buy this article
Get just this article for as long as you need it
$39.95
Prices may be subject to local taxes which are calculated during checkout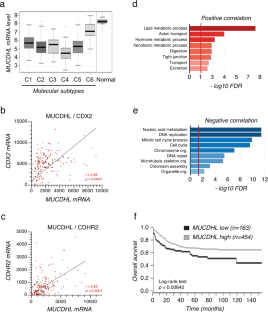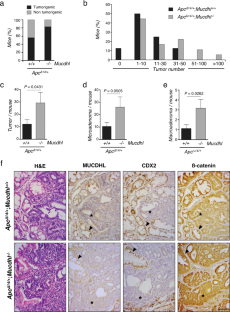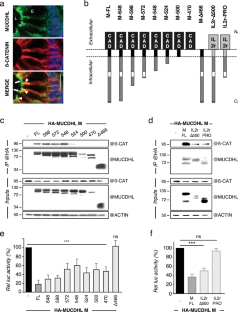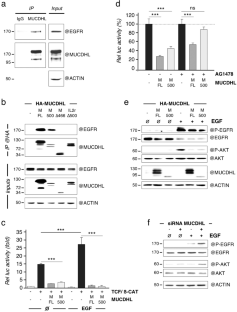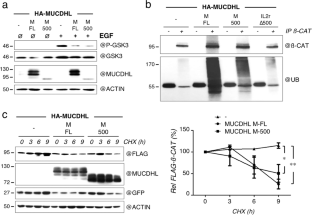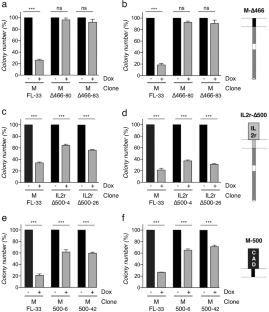 References
Bray F, Ferlay J, Soerjomataram I, Siegel RL, Torre LA, Jemal A. Global cancer statistics 2018: GLOBOCAN estimates of incidence and mortality worldwide for 36 cancers in 185 countries. CA Cancer J Clin. 2018;68:394–424.

Gehart H, Clevers H. Tales from the crypt: new insights into intestinal stem cells. Nat Rev Gastroenterol Hepatol. 2019;16:19–34.

Hughes LAE, Simons C, van den Brandt PA, van Engeland M, Weijenberg MP. Lifestyle, diet, and colorectal cancer risk according to (Epi)genetic instability: current evidence and future directions of molecular pathological epidemiology. Curr Colorectal Cancer Rep. 2017;13:455–69.

Markowitz SD, Dawson DM, Willis J, Willson JK. Focus on colon cancer. Cancer Cell. 2002;1:233–6.

Novellasdemunt L, Antas P, Li VS. Targeting Wnt signaling in colorectal cancer. A review in the theme: cell signaling: proteins, pathways and mechanisms. Am J Physiol Cell Physiol. 2015;309:C511–21.

Basu S, Haase G, Ben-Ze'ev A. Wnt signaling in cancer stem cells and colon cancer metastasis. F1000Res. 2016;5:F1000.

Gul IS, Hulpiau P, Saeys Y, van Roy F. Evolution and diversity of cadherins and catenins. Exp Cell Res. 2017;358:3–9.

Goldberg M, Wei M, Tycko B, Falikovich I, Warburton D. Identification and expression analysis of the human mu-protocadherin gene in fetal and adult kidneys. Am J Physiol Ren Physiol. 2002;283:F454–63.

Crawley SW, Shifrin DA Jr., Grega-Larson NE, McConnell RE, Benesh AE, Mao S, et al. Intestinal brush border assembly driven by protocadherin-based intermicrovillar adhesion. Cell. 2014;157:433–46.

Goldberg M, Peshkovsky C, Shifteh A, Al-Awqati Q. mu-Protocadherin, a novel developmentally regulated protocadherin with mucin-like domains. J Biol Chem. 2000;275:24622–9.

Bujko M, Kober P, Statkiewicz M, Mikula M, Ligaj M, Zwierzchowski L, et al. Epigenetic-mediated downregulation of mu-protocadherin in colorectal tumours. Gastroenterol Res Pr. 2015;2015:317093.

Hinkel I, Duluc I, Martin E, Guenot D, Freund JN, Gross I. Cdx2 controls expression of the protocadherin Mucdhl, an inhibitor of growth and beta-catenin activity in colon cancer cells. Gastroenterology. 2012;142:875–85.e3.

Losi L, Parenti S, Ferrarini F, Rivasi F, Gavioli M, Natalini G, et al. Down-regulation of mu-protocadherin expression is a common event in colorectal carcinogenesis. Hum Pathol. 2011;42:960–71.

Blasius FM, Meller S, Stephan C, Jung K, Ellinger J, Glocker MO, et al. Loss of cadherin related family member 5 (CDHR5) expression in clear cell renal cell carcinoma is a prognostic marker of disease progression. Oncotarget. 2017;8:75076–86.

Ding X, Tian X, Liu W, Li Z. CDHR5 inhibits proliferation of hepatocellular carcinoma and predicts clinical prognosis. Ir J Med Sci. 2019;189:439–47.

Parenti S, Ferrarini F, Zini R, Montanari M, Losi L, Canovi B, et al. Mesalazine inhibits the beta-catenin signalling pathway acting through the upregulation of mu-protocadherin gene in colo-rectal cancer cells. Aliment Pharm Ther. 2010;31:108–19.

Marisa L, de Reynies A, Duval A, Selves J, Gaub MP, Vescovo L, et al. Gene expression classification of colon cancer into molecular subtypes: characterization, validation, and prognostic value. PLoS Med. 2013;10:e1001453.

Guinney J, Dienstmann R, Wang X, de Reynies A, Schlicker A, Soneson C, et al. The consensus molecular subtypes of colorectal cancer. Nat Med. 2015;21:1350–6.

Balbinot C, Armant O, Elarouci N, Marisa L, Martin E, De Clara E, et al. The Cdx2 homeobox gene suppresses intestinal tumorigenesis through non-cell-autonomous mechanisms. J Exp Med. 2018;215:911–26.

Cancer Genome Atlas N. Comprehensive molecular characterization of human colon and rectal cancer. Nature. 2012;487:330–7.

Szklarczyk D, Gable AL, Lyon D, Junge A, Wyder S, Huerta-Cepas J, et al. STRING v11: protein-protein association networks with increased coverage, supporting functional discovery in genome-wide experimental datasets. Nucleic Acids Res. 2019;47:D607–13.

Colnot S, Niwa-Kawakita M, Hamard G, Godard C, Le Plenier S, Houbron C, et al. Colorectal cancers in a new mouse model of familial adenomatous polyposis: influence of genetic and environmental modifiers. Lab Invest. 2004;84:1619–30.

Korinek V, Barker N, Morin PJ, van Wichen D, de Weger R, Kinzler KW, et al. Constitutive transcriptional activation by a beta-catenin-Tcf complex in APC-/- colon carcinoma. Science. 1997;275:1784–7.

Gottardi CJ, Wong E, Gumbiner BM. E-cadherin suppresses cellular transformation by inhibiting beta-catenin signaling in an adhesion-independent manner. J Cell Biol. 2001;153:1049–60.

van Roy F. Beyond E-cadherin: roles of other cadherin superfamily members in cancer. Nat Rev Cancer. 2014;14:121–34.

Hu T, Li C. Convergence between Wnt-beta-catenin and EGFR signaling in cancer. Mol Cancer. 2010;9:236.

Lee CH, Hung HW, Hung PH, Shieh YS. Epidermal growth factor receptor regulates beta-catenin location, stability, and transcriptional activity in oral cancer. Mol Cancer. 2010;9:64.

Manning BD, Cantley LC. AKT/PKB signaling: navigating downstream. Cell. 2007;129:1261–74.

McCubrey JA, Steelman LS, Bertrand FE, Davis NM, Sokolosky M, Abrams SL, et al. GSK-3 as potential target for therapeutic intervention in cancer. Oncotarget. 2014;5:2881–911.

Borowicz S, Van Scoyk M, Avasarala S, Karuppusamy Rathinam MK, Tauler J, Bikkavilli RK, et al. The soft agar colony formation assay. J Vis Exp. 2014:e51998.

Montorsi L, Parenti S, Losi L, Ferrarini F, Gemelli C, Rossi A, et al. Expression of mu-protocadherin is negatively regulated by the activation of the beta-catenin signaling pathway in normal and cancer colorectal enterocytes. Cell Death Dis. 2016;7:e2263.

O'Connell MJ, Lavery I, Yothers G, Paik S, Clark-Langone KM, Lopatin M, et al. Relationship between tumor gene expression and recurrence in four independent studies of patients with stage II/III colon cancer treated with surgery alone or surgery plus adjuvant fluorouracil plus leucovorin. J Clin Oncol. 2010;28:3937–44.

Martin-Belmonte F, Perez-Moreno M. Epithelial cell polarity, stem cells and cancer. Nat Rev Cancer. 2012;12:23–38.

Shih IM, Wang TL, Traverso G, Romans K, Hamilton SR, Ben-Sasson S, et al. Top-down morphogenesis of colorectal tumors. Proc Natl Acad Sci USA. 2001;98:2640–5.

Schwitalla S, Fingerle AA, Cammareri P, Nebelsiek T, Goktuna SI, Ziegler PK, et al. Intestinal tumorigenesis initiated by dedifferentiation and acquisition of stem-cell-like properties. Cell. 2013;152:25–38.

Mazzolini R, Dopeso H, Mateo-Lozano S, Chang W, Rodrigues P, Bazzocco S, et al. Brush border myosin Ia has tumor suppressor activity in the intestine. Proc Natl Acad Sci USA. 2012;109:1530–5.

Moulton DE, Crandall W, Lakhani R, Lowe ME. Expression of a novel cadherin in the mouse and human intestine. Pediatr Res. 2004;55:927–34.

Danielsen SA, Eide PW, Nesbakken A, Guren T, Leithe E, Lothe RA. Portrait of the PI3K/AKT pathway in colorectal cancer. Biochim Biophys Acta. 2015;1855:104–21.

Fichera A, Little N, Jagadeeswaran S, Dougherty U, Sehdev A, Mustafi R, et al. Epidermal growth factor receptor signaling is required for microadenoma formation in the mouse azoxymethane model of colonic carcinogenesis. Cancer Res. 2007;67:827–35.

Chantret I, Rodolosse A, Barbat A, Dussaulx E, Brot-Laroche E, Zweibaum A, et al. Differential expression of sucrase-isomaltase in clones isolated from early and late passages of the cell line Caco-2: evidence for glucose-dependent negative regulation. J Cell Sci. 1994;107:213–25.
Acknowledgements
The authors thank Drs. C. Perret, M. Rousset, H. Clevers, E. Fearon, A. Sorkin, B. Gumbiner, and A. Jung for reagents.
Funding
This work was supported by the financial support of INSERM (2013–2019), Fondation ARC (#SFI20101201854), and La Ligue Contre Le Cancer (Haute-Marne 2013, Haut-Rhin 2016); MBe, MBa, EB, AMS, and IH were fellows of the French government (Ministère de l'Enseignement Supérieur et de la Recherche). MBe and MBawere also fellows of Fondation ARC, and EB of the FRM.
Ethics declarations
Conflict of interest
The authors declare that they have no conflict of interest.
Additional information
Publisher's note Springer Nature remains neutral with regard to jurisdictional claims in published maps and institutional affiliations.
Supplementary information
About this article
Cite this article
Beck, M., Baranger, M., Moufok-Sadoun, A. et al. The atypical cadherin MUCDHL antagonizes colon cancer formation and inhibits oncogenic signaling through multiple mechanisms. Oncogene 40, 522–535 (2021). https://doi.org/10.1038/s41388-020-01546-y
Received:

Revised:

Accepted:

Published:

Issue Date:

DOI: https://doi.org/10.1038/s41388-020-01546-y