Abstract
Early studies indicated that estrogen receptor α (ERα) might impact the progression of hepatocellular carcinoma (HCC). However, the detailed mechanisms, especially its linkage to the gelsolin (GSN)-mediated cell invasion, remain unclear. Here we found that ERα could decrease HCC cell invasion via suppressing the circular RNA-SMG1.72 (circRNA-SMG1.72) expression via transcriptional regulation through directly binding to the 5′ promoter region of its host gene SMG1, We showed that ERα-suppressed circ-SMG1.72 could sponge and inhibit the expression of the microRNA (miRNA, miR), miR-141-3p, which could then result in increasing the GSN messenger RNA translation via reduced miR binding to its 3′ untranslated region (3′UTR). The preclinical study using an in vivo mouse model with orthotopic xenografts of HCC cells confirmed the in vitro data, and the human HCC clinical sample survey and tissue staining also confirmed the linkage of ERα/miR-141-3p/GSN signaling to the HCC progression. Together, our findings suggest that ERα can suppress HCC cell invasion via altering the ERα/circRNA-SMG1.72/miR-141-3p/GSN signaling, and targeting this newly identified signaling with small molecules may help in the development of novel therapies to better suppress the HCC progression.
Relevant articles
Open Access articles citing this article.
Xia-Hui Lin

,

Zhi-Yong Liu

…

Ling Dong

Experimental Hematology & Oncology Open Access 08 November 2022

Jiyin Wang

,

Ruixiang Yang

…

Xiaowei Zhang

Oncogenesis Open Access 08 August 2022

Shiqing Liu

,

Chengping Hu

…

Yao Xiao

Cell Death & Disease Open Access 21 January 2022
Access options
Subscribe to this journal
Receive 50 print issues and online access
$259.00 per year
only $5.18 per issue
Rent or buy this article
Get just this article for as long as you need it
$39.95
Prices may be subject to local taxes which are calculated during checkout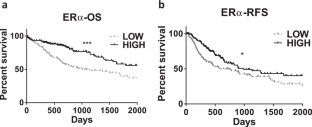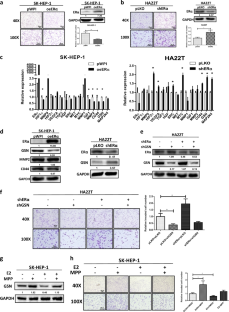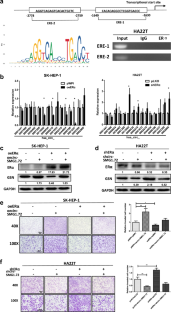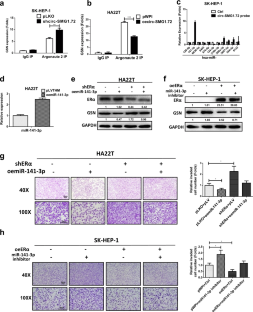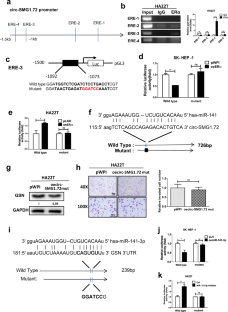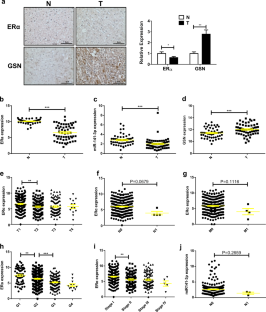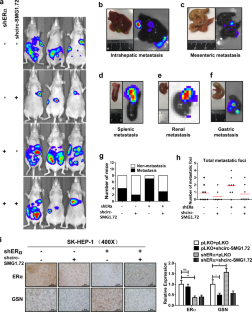 References
Jemal A, Bray F, Center MM, Ferlay J, Ward E, Forman D. Global cancer statistics. CA Cancer J Clin. 2011;61:69–90.

Njei B, McCarty TR, Sharma P, Lange A, Najafian N, Ngu JN, et al. Bariatric surgery and hepatocellular carcinoma: a propensity score-matched analysis. Obes Surg. 2018;28:3880–9.

Siegel RL, Miller KD, Jemal A. Cancer statistics, 2017. CA Cancer J Clin. 2017;67:7–30.

El-Serag HB, Mason AC, Key C. Trends in survival of patients with hepatocellular carcinoma between 1977 and 1996 in the United States. Hepatology. 2001;33:62–65.

Li Z, Tuteja G, Schug J, Kaestner KH. Foxa1 and Foxa2 are essential for sexual dimorphism in liver cancer. Cell. 2012;148:72–83.

Wang SH, Chen PJ, Yeh SH. Gender disparity in chronic hepatitis B: mechanisms of sex hormones. J Gastroenterol Hepatol. 2015;30:1237–45.

Ahlbory-Dieker DL, Stride BD, Leder G, Schkoldow J, Trolenberg S, Seidel H, et al. DNA binding by estrogen receptor-alpha is essential for the transcriptional response to estrogen in the liver and the uterus. Mol Endocrinol. 2009;23:1544–55.

Wang SH, Yeh SH, Lin WH, Yeh KH, Yuan Q, Xia NS, et al. Estrogen receptor alpha represses transcription of HBV genes via interaction with hepatocyte nuclear factor 4alpha. Gastroenterology. 2012;142:989–98 e984.

Yu MW, Chang HC, Chang SC, Liaw YF, Lin SM, Liu CJ, et al. Role of reproductive factors in hepatocellular carcinoma: impact on hepatitis B- and C-related risk. Hepatology. 2003;38:1393–1400.

Naugler WE, Sakurai T, Kim S, Maeda S, Kim K, Elsharkawy AM, et al. Gender disparity in liver cancer due to sex differences in MyD88-dependent IL-6 production. Science. 2007;317:121–4.

Jiang SY, Shyu RY, Yeh MY, Jordan VC. Tamoxifen inhibits hepatoma cell growth through an estrogen receptor independent mechanism. J Hepatol. 1995;23:712–9.

Villa E, Colantoni A, Grottola A, Ferretti I, Buttafoco P, Bertani H, et al. Variant estrogen receptors and their role in liver disease. Mol Cell Endocrinol. 2002;193:65–69.

Chow PK, Tai BC, Tan CK, Machin D, Win KM, Johnson PJ, et al. High-dose tamoxifen in the treatment of inoperable hepatocellular carcinoma: a multicenter randomized controlled trial. Hepatology. 2002;36:1221–6.

Sanger HL, Klotz G, Riesner D, Gross HJ, Kleinschmidt AK. Viroids are single-stranded covalently closed circular RNA molecules existing as highly base-paired rod-like structures. Proc Natl Acad Sci USA. 1976;73:3852–6.

Jeck WR, Sorrentino JA, Wang K, Slevin MK, Burd CE, Liu J, et al. Circular RNAs are abundant, conserved, and associated with ALU repeats. RNA. 2013;19:141–57.

Memczak S, Jens M, Elefsinioti A, Torti F, Krueger J, Rybak A, et al. Circular RNAs are a large class of animal RNAs with regulatory potency. Nature. 2013;495:333–8.

Hansen TB, Jensen TI, Clausen BH, Bramsen JB, Finsen B, Damgaard CK, et al. Natural RNA circles function as efficient microRNA sponges. Nature. 2013;495:384–8.

Yang W, Du WW, Li X, Yee AJ, Yang BB. Foxo3 activity promoted by non-coding effects of circular RNA and Foxo3 pseudogene in the inhibition of tumor growth and angiogenesis. Oncogene. 2016;35:3919–31.

Treiber T, Treiber N, Meister G. Regulation of microRNA biogenesis and function. Thromb Haemost. 2012;107:605–10.

Chen Q, Yin D, Zhang Y, Yu L, Li XD, Zhou ZJ, et al. MicroRNA-29a induces loss of 5-hydroxymethylcytosine and promotes metastasis of hepatocellular carcinoma through a TET-SOCS1-MMP9 signaling axis. Cell Death Dis. 2017;8:e2906.

Li GH, Arora PD, Chen Y, McCulloch CA, Liu P. Multifunctional roles of gelsolin in health and diseases. Med Res Rev. 2012;32:999–1025.

Chen P, Murphy-Ullrich JE, Wells A. A role for gelsolin in actuating epidermal growth factor receptor-mediated cell motility. J Cell Biol. 1996;134:689–98.

Lader AS, Lee JJ, Cicchetti G, Kwiatkowski DJ. Mechanisms of gelsolin-dependent and -independent EGF-stimulated cell motility in a human lung epithelial cell line. Exp Cell Res. 2005;307:153–63.

Deng R, Hao J, Han W, Ni Y, Huang X, Hu Q. Gelsolin regulates proliferation, apoptosis, migration and invasion in human oral carcinoma cells. Oncol Lett. 2015;9:2129–34.

Megger DA, Bracht T, Kohl M, Ahrens M, Naboulsi W, Weber F, et al. Proteomic differences between hepatocellular carcinoma and nontumorous liver tissue investigated by a combined gel-based and label-free quantitative proteomics study. Mol Cell Proteom. 2013;12:2006–20.

Nathan S, Ma Y, Tomita YA, De Oliveira E, Brown ML, Rosen EM. BRCA1-mimetic compound NSC35446.HCl inhibits IKKB expression by reducing estrogen receptor-alpha occupancy in the IKKB promoter and inhibits NF-kappaB activity in antiestrogen-resistant human breast cancer cells. Breast Cancer Res Treat. 2017;166:681–93.

Han D, Li J, Wang H, Su X, Hou J, Gu Y, et al. Circular RNA circMTO1 acts as the sponge of microRNA-9 to suppress hepatocellular carcinoma progression. Hepatology. 2017;66:1151–64.

Sayeed A, Konduri SD, Liu W, Bansal S, Li F, Das GM. Estrogen receptor alpha inhibits p53-mediated transcriptional repression: implications for the regulation of apoptosis. Cancer Res. 2007;67:7746–55.

Maynadier M, Ramirez JM, Cathiard AM, Platet N, Gras D, Gleizes M, et al. Unliganded estrogen receptor alpha inhibits breast cancer cell growth through interaction with a cyclin-dependent kinase inhibitor (p21(WAF1)). FASEB J. 2008;22:671–81.

Zhou J, Teng R, Xu C, Wang Q, Guo J, Xu C, et al. Overexpression of ERalpha inhibits proliferation and invasion of MKN28 gastric cancer cells by suppressing beta-catenin. Oncol Rep. 2013;30:1622–30.

Kavoosi F, Dastjerdi MN, Valiani A, Esfandiari E, Sanaei M, Hakemi MG. Genistein potentiates the effect of 17-beta estradiol on human hepatocellular carcinoma cell line. Adv Biomed Res. 2016;5:133.

Wu H, Yao S, Zhang S, Wang JR, Guo PD, Li XM, et al. Elevated expression of Erbin destabilizes ERalpha protein and promotes tumorigenesis in hepatocellular carcinoma. J Hepatol. 2017;66:1193–204.

Chen JJ, Tang YS, Huang SF, Ai JG, Wang HX, Zhang LP. HBx protein-induced upregulation of microRNA-221 promotes aberrant proliferation in HBVrelated hepatocellular carcinoma by targeting estrogen receptor-alpha. Oncol Rep. 2015;33:792–8.

Liu WH, Yeh SH, Lu CC, Yu SL, Chen HY, Lin CY, et al. MicroRNA-18a prevents estrogen receptor-alpha expression, promoting proliferation of hepatocellular carcinoma cells. Gastroenterology. 2009;136:683–93.

Deng L, Yang H, Tang J, Lin Z, Yin A, Gao Y, et al. Inhibition of MTA1 by ERalpha contributes to protection hepatocellular carcinoma from tumor proliferation and metastasis. J Exp Clin Cancer Res. 2015;34:128.

Gu J, Wang Y, Wang X, Zhou D, Shao C, Zhou M, et al. Downregulation of lncRNA GAS5 confers tamoxifen resistance by activating miR-222 in breast cancer. Cancer Lett. 2018;434:1–10.

Gu J, Wang Y, Wang X, Zhou D, Wang X, Zhou M, et al. Effect of the LncRNA GAS5-MiR-23a-ATG3 axis in regulating autophagy in patients with breast cancer. Cell Physiol Biochem. 2018;48:194–207.

Liu C, Fu H, Liu X, Lei Q, Zhang Y, She X, et al. LINC00470 coordinates the epigenetic regulation of ELFN2 to distract GBM cell autophagy. Mol Ther. 2018;26:2267–81.

Liu C, Zhang Y, She X, Fan L, Li P, Feng J, et al. A cytoplasmic long noncoding RNA LINC00470 as a new AKT activator to mediate glioblastoma cell autophagy. J Hematol Oncol. 2018;11:77.

Tang Y, He Y, Zhang P, Wang J, Fan C, Yang L, et al. LncRNAs regulate the cytoskeleton and related Rho/ROCK signaling in cancer metastasis. Mol Cancer. 2018;17:77.

Zlotorynski E, Non-coding RNA. Circular RNAs promote transcription. Nat Rev Mol Cell Biol. 2015;16:206.

Du WW, Yang W, Liu E, Yang Z, Dhaliwal P, Yang BB. Foxo3 circular RNA retards cell cycle progression via forming ternary complexes with p21 and CDK2. Nucleic Acids Res. 2016;44:2846–58.

Fu L, Yao T, Chen Q, Mo X, Hu Y, Guo J. Screening differential circular RNA expression profiles reveals hsa_circ_0004018 is associated with hepatocellular carcinoma. Oncotarget. 2017;8:58405–16.

Tian M, Chen R, Li T, Xiao B. Reduced expression of circRNA hsa_circ_0003159 in gastric cancer and its clinical significance. J Clin Lab Anal. 2018;32:e22281.

Yin WB, Yan MG, Fang X, Guo JJ, Xiong W, Zhang RP. Circulating circular RNA hsa_circ_0001785 acts as a diagnostic biomarker for breast cancer detection. Clin Chim Acta. 2018;487:363–8.

Zuo QF, Zhang R, Li BS, Zhao YL, Zhuang Y, Yu T, et al. MicroRNA-141 inhibits tumor growth and metastasis in gastric cancer by directly targeting transcriptional co-activator with PDZ-binding motif, TAZ. Cell Death Dis. 2015;6:e1623.

Ding M, Sun X, Zhong J, Zhang C, Tian Y, Ge J, et al. Decreased miR-200a-3p is a key regulator of renal carcinoma growth and migration by directly targeting CBL. J Cell Biochem. 2018;119:9974–85.

Gregory PA, Bert AG, Paterson EL, Barry SC, Tsykin A, Farshid G, et al. The miR-200 family and miR-205 regulate epithelial to mesenchymal transition by targeting ZEB1 and SIP1. Nat Cell Biol. 2008;10:593–601.

Sun HQ, Yamamoto M, Mejillano M, Yin HL. Gelsolin, a multifunctional actin regulatory protein. J Biol Chem. 1999;274:33179–82.

Liao CJ, Wu TI, Huang YH, Chang TC, Wang CS, Tsai MM, et al. Overexpression of gelsolin in human cervical carcinoma and its clinicopathological significance. Gynecol Oncol. 2011;120:135–44.

Deng B, Fang J, Zhang X, Qu L, Cao Z, Wang B. Role of gelsolin in cell proliferation and invasion of human hepatocellular carcinoma cells. Gene. 2015;571:292–7.

Chen CF, Hsu EC, Lin KT, Tu PH, Chang HW, Lin CH, et al. Overlapping high-resolution copy number alterations in cancer genomes identified putative cancer genes in hepatocellular carcinoma. Hepatology. 2010;52:1690–701.

Kramer MC, Liang D, Tatomer DC, Gold B, March ZM, Cherry S, et al. Combinatorial control of Drosophila circular RNA expression by intronic repeats, hnRNPs, and SR proteins. Genes Dev. 2015;29:2168–82.

Bai R, Yang F, Zhang Y, Zhao Z, Liao Q, Chen P, et al. Preparation of elastic diglycolamic-acid modified chitosan sponges and their application to recycling of rare-earth from waste phosphor powder. Carbohydr Polym. 2018;190:255–61.
Acknowledgements
This work was supported by George Whipple Professorship Endowment, National Natural Science Foundation of China (81903004) and The 12th Five-year Key Discipline Construction in Hunan Province (Biomedical Engineering). We thank Karen Wolf for help preparing the manuscript.
Ethics declarations
Conflict of interest
The authors declare that they have no conflict of interest.
Additional information
Publisher's note Springer Nature remains neutral with regard to jurisdictional claims in published maps and institutional affiliations.
Supplementary information
About this article
Cite this article
Xiao, Y., Liu, G., Sun, Y. et al. Targeting the estrogen receptor alpha (ERα)-mediated circ-SMG1.72/miR-141-3p/Gelsolin signaling to better suppress the HCC cell invasion. Oncogene 39, 2493–2508 (2020). https://doi.org/10.1038/s41388-019-1150-6
Received:

Revised:

Accepted:

Published:

Issue Date:

DOI: https://doi.org/10.1038/s41388-019-1150-6