Abstract
Radiation therapy (RT) is a cornerstone of treatment in the management of head and neck squamous cell carcinomas (HNSCC), yet treatment failure and disease recurrence are common. The p38/MK2 pathway is activated in response to cellular stressors, including radiation, and promotes tumor inflammation in a variety of cancers. We investigated MK2 pathway activation in HNSCC and the interaction of MK2 and RT in vitro and in vivo. We used a combination of an oropharyngeal SCC tissue microarray, HNSCC cell lines, and patient-derived xenograft (PDX) tumor models to study the effect of RT on MK2 pathway activation and to determine how inhibition of MK2 by pharmacologic (PF-3644022) and genetic (siRNA) methods impacts tumor growth. We show that high phosphorylated MK2 (p-MK2) levels are associated with worsened disease-specific survival in p16-negative HNSCC patients. RT increased p-MK2 in both p16-positive, HPV-positive and p16-negative, HPV-negative HNSCC cell lines. Pharmacologic inhibition or gene silencing of MK2 in vitro abrogated RT-induced increases in p-MK2; inflammatory cytokine expression and expression of the downstream MK2 target, heat shock protein 27 (HSP27); and markers of epithelial-to-mesenchymal transition. Mouse PDX models treated with a combination of RT and MK2 inhibitor experienced decreased tumor growth and increased survival. Our results suggest that MK2 is a potential prognostic biomarker for head and neck cancer and that MK2 pathway activation can mediate radiation resistance in HNSCC.
Access options
Subscribe to Journal
Get full journal access for 1 year
$119.00
only $2.38 per issue
All prices are NET prices.
VAT will be added later in the checkout.
Tax calculation will be finalised during checkout.
Buy article
Get time limited or full article access on ReadCube.
$32.00
All prices are NET prices.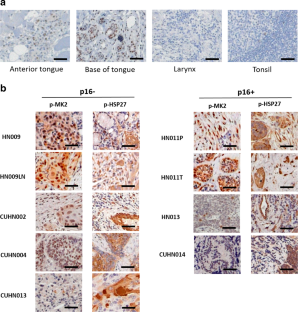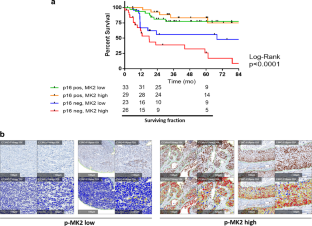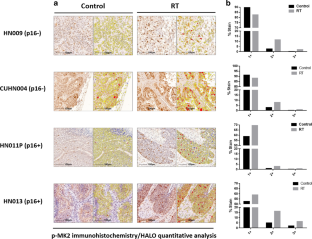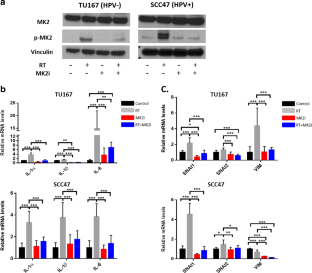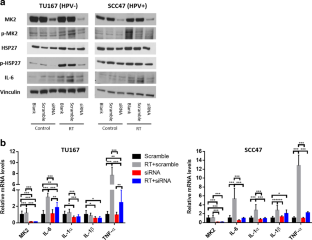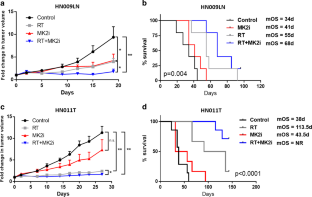 References
Siegel RL, Miller KD, Jemal A. Cancer statistics, 2018. CA Cancer J Clin. 2018;68:7–30.

Haigentz M Jr., Suarez C, Strojan P, Rodrigo JP, Rinaldo A, Bradford CR, et al. Understanding Interactions of smoking on prognosis of HPV-associated oropharyngeal cancers. Adv Ther. 2018;35:255–60.

Liskamp CP, Janssens GO, Bussink J, Melchers WJ, Kaanders JH, Verhoef CG. Adverse effect of smoking on prognosis in human papillomavirus-associated oropharyngeal carcinoma. Head Neck. 2016;38:1780–7.

Mirghani H, Leroy C, Chekourry Y, Casiraghi O, Auperin A, Tao Y, et al. Smoking impact on HPV driven head and neck cancer's oncological outcomes? Oral Oncol. 2018;82:131–7.

Klussmann JP, Gultekin E, Weissenborn SJ, Wieland U, Dries V, Dienes HP, et al. Expression of p16 protein identifies a distinct entity of tonsillar carcinomas associated with human papillomavirus. Am J Pathol. 2003;162:747–53.

Argiris A, Karamouzis MV, Raben D, Ferris RL. Head and neck cancer. Lancet. 2008;371:1695–709.

Argiris A, Harrington KJ, Tahara M, Schulten J, Chomette P, Ferreira Castro A, et al. Evidence-based treatment options in recurrent and/or metastatic squamous cell carcinoma of the head and neck. Front Oncol. 2017;7:72.

An SS, Pennella CM, Gonnabathula A, Chen J, Wang N, Gaestel M, et al. Hypoxia alters biophysical properties of endothelial cells via p38 MAPK- and Rho kinase-dependent pathways. Am J Physiol Cell Physiol. 2005;289:C521–30.

Munshi A, Ramesh R. Mitogen-activated protein kinases and their role in radiation response. Genes Cancer. 2013;4:401–8.

Singh RK, Najmi AK, Dastidar SG. Biological functions and role of mitogen-activated protein kinase activated protein kinase 2 (MK2) in inflammatory diseases. Pharmacol Rep. 2017;69:746–56.

Roux PP, Blenis J. ERK and p38 MAPK-activated protein kinases: a family of protein kinases with diverse biological functions. Microbiol Mol Biol Rev. 2004;68:320–44.

Kotlyarov A, Neininger A, Schubert C, Eckert R, Birchmeier C, Volk HD, et al. MAPKAP kinase 2 is essential for LPS-induced TNF-alpha biosynthesis. Nat Cell Biol. 1999;1:94–97.

Neininger A, Kontoyiannis D, Kotlyarov A, Winzen R, Eckert R, Volk HD, et al. MK2 targets AU-rich elements and regulates biosynthesis of tumor necrosis factor and interleukin-6 independently at different post-transcriptional levels. J Biol Chem. 2002;277:3065–8.

Jank BJ, Kadletz L, Schnoll J, Selzer E, Perisanidis C, Heiduschka G. Prognostic value of advanced lung cancer inflammation index in head and neck squamous cell carcinoma. Eur Arch Otorhinolaryngol. 2019;276:1487–92.

Schernberg A, Canova C, Blanchard P, Gorphe P, Breuskin I, Mirghani H, et al. Prognostic factors in patients with soft palate squamous cell carcinoma. Head Neck. 2019;41:1441–9.

Sumner WA, Stokes WA, Oweida A, Berggren KL, McDermott JD, Raben D, et al. Survival impact of pre-treatment neutrophils on oropharyngeal and laryngeal cancer patients undergoing definitive radiotherapy. J Transl Med. 2017;15:168.

Kumar B, Yadav A, Brown NV, Zhao S, Cipolla MJ, Wakely PE, et al. Nuclear PRMT5, cyclin D1 and IL-6 are associated with poor outcome in oropharyngeal squamous cell carcinoma patients and is inversely associated with p16-status. Oncotarget. 2017;8:14847–59.

Powrozek T, Mlak R, Brzozowska A, Mazurek M, Golebiowski P, Malecka-Massalska T. Relationship between TNF-alpha -1031T/C gene polymorphism, plasma level of TNF-alpha, and risk of cachexia in head and neck cancer patients. J cancer Res Clin Oncol. 2018;144:1423–34.

Duffy SA, Taylor JM, Terrell JE, Islam M, Li Y, Fowler KE, et al. Interleukin-6 predicts recurrence and survival among head and neck cancer patients. Cancer. 2008;113:750–7.

Bae JY, Kim EK, Yang DH, Zhang X, Park YJ, Lee DY, et al. Reciprocal interaction between carcinoma-associated fibroblasts and squamous carcinoma cells through interleukin-1alpha induces cancer progression. Neoplasia. 2014;16:928–38.

Yadav A, Kumar B, Teknos TN, Kumar P. Bazedoxifene enhances the anti-tumor effects of cisplatin and radiation treatment by blocking IL-6 signaling in head and neck cancer. Oncotarget. 2017;8:66912–24.

Ray AL, Castillo EF, Morris KT, Nofchissey RA, Weston LL, Samedi VG, et al. Blockade of MK2 is protective in inflammation-associated colorectal cancer development. Int J Cancer. 2016;138:770–5.

Ray AL, Berggren KL, Restrepo Cruz S, Gan GN, Beswick EJ. Inhibition of MK2 suppresses IL-1beta, IL-6, and TNF-alpha dependent colorectal cancer growth. Int J Cancer. 2017;142:1702–11.

Seiwert TY, Wang X, Heitmann J, Villegas-Bergazzi V, Sprott K, Finn S, et al. DNA repair biomarkers XPF and phospho-MAPKAP kinase 2 correlate with clinical outcome in advanced head and neck cancer. PLoS ONE. 2014;9:e102112.

Stokoe D, Engel K, Campbell DG, Cohen P, Gaestel M. Identification of MAPKAP kinase 2 as a major enzyme responsible for the phosphorylation of the small mammalian heat shock proteins. FEBS Lett. 1992;313:307–13.

Singh MK, Sharma B, Tiwari PK. The small heat shock protein Hsp27: present understanding and future prospects. J Therm Biol. 2017;69:149–54.

Sheng B, Qi C, Liu B, Lin Y, Fu T, Zeng Q. Increased HSP27 correlates with malignant biological behavior of non-small cell lung cancer and predicts patient's survival. Sci Rep. 2017;7:13807.

Muschter D, Geyer F, Bauer R, Ettl T, Schreml S, Haubner F. A comparison of cell survival and heat shock protein expression after radiation in normal dermal fibroblasts, microvascular endothelial cells, and different head and neck squamous carcinoma cell lines. Clin Oral Investig. 2018;22:2251–62.

Kim JY, An YM, Yoo BR, Kim JM, Han SY, Na Y, et al. HSP27 inhibitor attenuates radiation-induced pulmonary inflammation. Sci Rep. 2018;8:4189.

Pavan S, Musiani D, Torchiaro E, Migliardi G, Gai M, Di Cunto F, et al. HSP27 is required for invasion and metastasis triggered by hepatocyte growth factor. Int J Cancer. 2014;134:1289–99.

Guttmann DM, Hart L, Du K, Seletsky A, Koumenis C. Inhibition of Hsp27 radiosensitizes head-and-neck cancer by modulating deoxyribonucleic acid repair. Int J Radiat Oncol Biol Phys. 2013;87:168–75.

Sharma RA, Plummer R, Stock JK, Greenhalgh TA, Ataman O, Kelly S, et al. Clinical development of new drug-radiotherapy combinations. Nat Rev Clin Oncol. 2016;13:627–42.

Gan GN, Eagles J, Keysar SB, Wang G, Glogowska MJ, Altunbas C, et al. Hedgehog signaling drives radioresistance and stroma-driven tumor repopulation in head and neck squamous cancers. Cancer Res. 2014;74:7024–36.

Ray AL, Berggren KL, Restrepo Cruz S, Gan GN, Beswick EJ. Inhibition of MK2 suppresses IL-1beta, IL-6, and TNF-alpha-dependent colorectal cancer growth. Int J Cancer. 2018;142:1702–11.

Thuraisingam T, Xu YZ, Eadie K, Heravi M, Guiot MC, Greemberg R, et al. MAPKAPK-2 signaling is critical for cutaneous wound healing. J Investig Dermatol. 2010;130:278–86.

Xu L, Yates CC, Lockyer P, Xie L, Bevilacqua A, He J, et al. MMI-0100 inhibits cardiac fibrosis in myocardial infarction by direct actions on cardiomyocytes and fibroblasts via MK2 inhibition. J Mol Cell Cardiol. 2014;77:86–101.

Liu T, Warburton RR, Guevara OE, Hill NS, Fanburg BL, Gaestel M, et al. Lack of MK2 inhibits myofibroblast formation and exacerbates pulmonary fibrosis. Am J Respir Cell Mol Biol. 2007;37:507–17.

Tribius S, Hoffmann AS, Bastrop S, Gorogh T, Haag J, Rocken C, et al. HPV status in patients with head and neck of carcinoma of unknown primary site: HPV, tobacco smoking, and outcome. Oral Oncol. 2012;48:1178–84.

Cheng JC, Graber MS, Hsu FM, Tsai CL, Castaneda L, Lee JM, et al. High serum levels of vascular endothelial growth factor-A and transforming growth factor-beta1 before neoadjuvant chemoradiotherapy predict poor outcomes in patients with esophageal squamous cell carcinoma receiving combined modality therapy. Ann Surg Oncol. 2014;21:2361–8.

Leon X, Bothe C, Garcia J, Parreno M, Alcolea S, Quer M, et al. Expression of IL-1alpha correlates with distant metastasis in patients with head and neck squamous cell carcinoma. Oncotarget. 2015;6:37398–409.

Jomrich G, Maroske F, Stieger J, Preusser M, Ilhan-Mutlu A, Winkler D, et al. MK2 and ETV1 are prognostic factors in esophageal adenocarcinomas. J Cancer. 2018;9:460–8.

Gillison ML, Koch WM, Capone RB, Spafford M, Westra WH, Wu L, et al. Evidence for a causal association between human papillomavirus and a subset of head and neck cancers. J Natl Cancer Inst. 2000;92:709–20.

Morandell S, Reinhardt HC, Cannell IG, Kim JS, Ruf DM, Mitra T, et al. A reversible gene-targeting strategy identifies synthetic lethal interactions between MK2 and p53 in the DNA damage response in vivo. Cell Rep. 2013;5:868–77.

Qin X, Yan M, Wang X, Xu Q, Wang X, Zhu X, et al. Cancer-associated fibroblast-derived IL-6 promotes head and neck cancer progression via the osteopontin-NF-kappa B signaling pathway. Theranostics. 2018;8:921–40.

Park KJ, Gaynor RB, Kwak YT. Heat shock protein 27 association with the I kappa B kinase complex regulates tumor necrosis factor alpha-induced NF-kappa B activation. J Biol Chem. 2003;278:35272–8.

Gorska MM, Liang Q, Stafford SJ, Goplen N, Dharajiya N, Guo L, et al. MK2 controls the level of negative feedback in the NF-kappaB pathway and is essential for vascular permeability and airway inflammation. J Exp Med. 2007;204:1637–52.

Zheng G, Zhang Z, Liu H, Xiong Y, Luo L, Jia X, et al. HSP27-mediated extracellular and intracellular signaling pathways synergistically confer chemoresistance in squamous cell carcinoma of tongue. Clin Cancer Res. 2018;24:1163–75.

Gurgis FM, Yeung YT, Tang MX, Heng B, Buckland M, Ammit AJ, et al. The p38-MK2-HuR pathway potentiates EGFRvIII-IL-1beta-driven IL-6 secretion in glioblastoma cells. Oncogene. 2015;34:2934–42.

Yeung YT, Bryce NS, Adams S, Braidy N, Konayagi M, McDonald KL, et al. p38 MAPK inhibitors attenuate pro-inflammatory cytokine production and the invasiveness of human U251 glioblastoma cells. J Neuro-Oncol. 2012;109:35–44.

Keysar SB, Astling DP, Anderson RT, Vogler BW, Bowles DW, Morton JJ, et al. A patient tumor transplant model of squamous cell cancer identifies PI3K inhibitors as candidate therapeutics in defined molecular bins. Mol Oncol. 2013;7:776–90.

Keysar SB, Le PN, Anderson RT, Morton JJ, Bowles DW, Paylor JJ, et al. Hedgehog signaling alters reliance on EGF receptor signaling and mediates anti-EGFR therapeutic resistance in head and neck cancer. Cancer Res. 2013;73:3381–92.

Stein AP, Swick AD, Smith MA, Blitzer GC, Yang RZ, Saha S, et al. Xenograft assessment of predictive biomarkers for standard head and neck cancer therapies. Cancer Med. 2015;4:699–712.
Acknowledgements
Work supported in part by RSNA Foundation Research Scholar Grant, ACS-IRG (IRG-14-187-19), Dedicated Health Research Fund from the University of New Mexico School of Medicine (UNM RAC 2018), STI CRC (U19 AI 113187), and the NIH P30 Grant NCI P30CA118100. The research in this paper was supported by the Human Tissue Repository and Tissue Analysis Shared Resource, funded by the Department of Pathology and The University of New Mexico Comprehensive Cancer Center and NCI P30CA118100. Many of the images in this paper were generated in the University of New Mexico Cancer Center Fluorescence Microscopy Shared Resource with current funding from NCI 2P30 CA118100. Initial support with PDX generation was performed with the assistance from the University of New Mexico Cancer Center Animal Shared Resource funded by NCI 2P30 CA118100. We also wish to acknowledge UNM Cancer Center Biostatistics Core Facility for their statistical assistance.
Ethics declarations
Conflict of interest
The authors declare that they have no conflict of interest.
Additional information
Publisher's note: Springer Nature remains neutral with regard to jurisdictional claims in published maps and institutional affiliations.
Supplementary information
About this article
Cite this article
Berggren, K.L., Restrepo Cruz, S., Hixon, M.D. et al. MAPKAPK2 (MK2) inhibition mediates radiation-induced inflammatory cytokine production and tumor growth in head and neck squamous cell carcinoma. Oncogene 38, 7329–7341 (2019). https://doi.org/10.1038/s41388-019-0945-9
Received:

Revised:

Accepted:

Published:

Issue Date:

DOI: https://doi.org/10.1038/s41388-019-0945-9