Abstract
Aldehyde dehydrogenase (ALDH) is a proposed biomarker and possible target to eradicate cancer stem cells. ALDH inhibition as a treatment approach is supported by anti-cancer effects of the alcohol-abuse drug disulfiram (DSF, Antabuse). Given that metabolic products of DSF, rather than DSF itself inhibit ALDH in vivo, and that DSF's anti-cancer activity is potentiated by copper led us to investigate the relevance of ALDH as the suggested molecular cancer-relevant target of DSF. Here we show that DSF does not directly inhibit ALDH activity in diverse human cell types, while DSF's in vivo metabolite, S-methyl-N,N-diethylthiocarbamate-sulfoxide inhibits ALDH activity yet does not impair cancer cell viability. Our data indicate that the anti-cancer activity of DSF does not involve ALDH inhibition, and rather reflects the impact of DSF's copper-containing metabolite (CuET), that forms spontaneously in vivo and in cell culture media, and kills cells through aggregation of NPL4, a subunit of the p97/VCP segregase. We also show that the CuET-mediated, rather than any ALDH-inhibitory activity of DSF underlies the preferential cytotoxicity of DSF towards BRCA1- and BRCA2-deficient cells. These findings provide evidence clarifying the confusing literature about the anti-cancer mechanism of DSF, a drug currently tested in clinical trials for repositioning in oncology.
Relevant articles
Open Access articles citing this article.
Dimitris C. Kanellis

,

Asimina Zisi

…

Jiri Bartek

Cell Death & Differentiation Open Access 04 May 2023

Jiaming Xie

,

Yannan Yang

…

Jie He

Molecular Cancer Open Access 07 March 2023

Jingjing Zhang

,

Miao Lu

…

Liancheng Zhu

Cancer Cell International Open Access 28 October 2022
Access options
Subscribe to this journal
Receive 50 print issues and online access
$259.00 per year
only $5.18 per issue
Rent or buy this article
Get just this article for as long as you need it
$39.95
Prices may be subject to local taxes which are calculated during checkout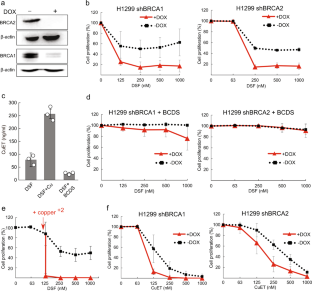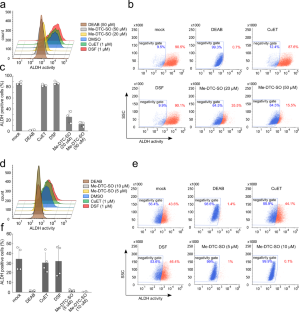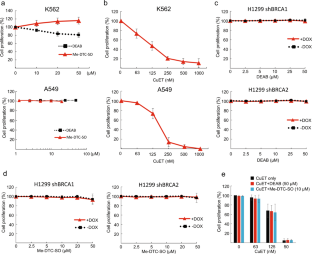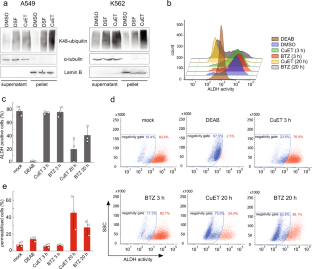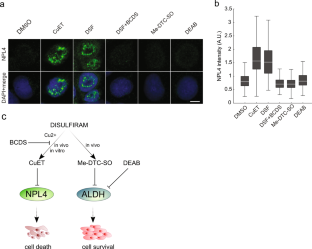 References
Marques DS, Sandrini JZ, Boyle RT, Marins LF, Trindade GS. Relationships between multidrug resistance (MDR) and stem cell markers in human chronic myeloid leukemia cell lines. Leuk Res. 2010;34:757–62.

Batlle E, Clevers H. Cancer stem cells revisited. Nat Med. 2017;23:1124–34.

Tirino V, Desiderio V, Paino F, De Rosa A, Papaccio F, La Noce M, et al. Cancer stem cells in solid tumors: an overview and new approaches for their isolation and characterization. FASEB J. 2013;27:13–24.

Koppaka V, Thompson DC, Chen Y, Ellermann M, Nicolaou KC, Juvonen RO, et al. Aldehyde dehydrogenase inhibitors: a comprehensive review of the pharmacology, mechanism of action, substrate specificity, and clinical application. Pharm Rev. 2012;64:520–39.

Pors K, Moreb JS. Aldehyde dehydrogenases in cancer: an opportunity for biomarker and drug development? Drug Disco Today. 2014;19:1953–63.

Marchitti SA, Brocker C, Stagos D, Vasiliou V. Non-P450 aldehyde oxidizing enzymes: the aldehyde dehydrogenase superfamily. Expert Opin Drug Metab Toxicol. 2008;4:697–720.

Brooks PJ, Theruvathu JA. DNA adducts from acetaldehyde: implications for alcohol-related carcinogenesis. Alcohol. 2005;35:187–93.

van den Hoogen C, van der Horst G, Cheung H, Buijs JT, Lippitt JM, Guzmán-Ramírez N, et al. High aldehyde dehydrogenase activity identifies tumor-initiating and metastasis-initiating cells in human prostate cancer. Cancer Res. 2010;70:5163–73.

Charafe-Jauffret E, Ginestier C, Iovino F, Tarpin C, Diebel M, Esterni B, et al. Aldehyde dehydrogenase 1-positive cancer stem cells mediate metastasis and poor clinical outcome in inflammatory breast cancer. Clin Cancer Res. 2010;16:45–55.

Ginestier C, Hur MH, Charafe-Jauffret E, Monville F, Dutcher J, Brown M, et al. ALDH1 is a marker of normal and malignant human mammary stem cells and a predictor of poor clinical outcome. Cell Stem Cell. 2007;1:555–67.

Yip NC, Fombon IS, Liu P, Brown S, Kannappan V, Armesilla AL, et al. Disulfiram modulated ROS–MAPK and NFκB pathways and targeted breast cancer cells with cancer stem cell-like properties. Br J Cancer. 2011;104:1564–74.

Allensworth JL, Evans MK, Bertucci F, Aldrich AJ, Festa RA, Finetti P, et al. Disulfiram (DSF) acts as a copper ionophore to induce copper-dependent oxidative stress and mediate anti-tumor efficacy in inflammatory breast cancer. Mol Oncol. 2015;9:1155–68.

Liu X, Wang L, Cui W, Yuan X, Lin L, Cao Q, et al. Targeting ALDH1A1 by disulfiram/copper complex inhibits non-small cell lung cancer recurrence driven by ALDH-positive cancer stem cells. Oncotarget. 2016;7:58516–30.

Liu P, Kumar IS, Brown S, Kannappan V, Tawari PE, Tang JZ, et al. Disulfiram targets cancer stem-like cells and reverses resistance and cross-resistance in acquired paclitaxel-resistant triple-negative breast cancer cells. Br J Cancer. 2013;109:1876–85.

Liu P, Brown S, Goktug T, Channathodiyil P, Kannappan V, Hugnot J-P, et al. Cytotoxic effect of disulfiram/copper on human glioblastoma cell lines and ALDH-positive cancer-stem-like cells. Br J Cancer. 2012;107:1488–97.

Liu P, Wang Z, Brown S, Kannappan V, Tawari PE, Jiang W, et al. Liposome encapsulated Disulfiram inhibits NFkappaB pathway and targets breast cancer stem cells in vitro and in vivo. Oncotarget. 2014;5:7471–85.

Jin N, Zhu X, Cheng F, Zhang L. Disulfiram/copper targets stem cell-like ALDH(+) population of multiple myeloma by inhibition of ALDH1A1 and Hedgehog pathway. J Cell Biochem. 2018;119:6882–93.

Choi SA, Choi JW, Wang K-C, Phi JH, Lee JY, Park KD, et al. Disulfiram modulates stemness and metabolism of brain tumor initiating cells in atypical teratoid/rhabdoid tumors. Neuro Oncol. 2015;17:810–21.

MacDonagh L, Gallagher MF, Ffrench B, Gasch C, Breen E, Gray SG, et al. Targeting the cancer stem cell marker, aldehyde dehydrogenase 1, to circumvent cisplatin resistance in NSCLC. Oncotarget. 2017;8:72544–63.

Tacconi EM, Lai X, Folio C, Porru M, Zonderland G, Badie S, et al. BRCA1 and BRCA2 tumor suppressors protect against endogenous acetaldehyde toxicity. EMBO Mol Med. 2017;9:1398–414.

Raha D, Wilson TR, Peng J, Peterson D, Yue P, Evangelista M, et al. The cancer stem cell marker aldehyde dehydrogenase is required to maintain a drug-tolerant tumor cell subpopulation. Cancer Res. 2014;74:3579–90.

Wu L, Meng F, Dong L, Block CJ, Mitchell AV, Wu J, et al. Disulfiram and BKM120 in combination with chemotherapy impede tumor progression and delay tumor recurrence in tumor initiating cell-rich TNBC. Sci Rep. 2019;9:236.

Wang N-N, Wang L-H, Li Y, Fu S-Y, Xue X, Jia L-N, et al. Targeting ALDH2 with disulfiram/copper reverses the resistance of cancer cells to microtubule inhibitors. Exp Cell Res. 2018;362:72–82.

Bista R, Lee DW, Pepper OB, Azorsa DO, Arceci RJ, Aleem E. Disulfiram overcomes bortezomib and cytarabine resistance in Down-syndrome-associated acute myeloid leukemia cells. J Exp Clin Cancer Res. 2017;36:22.

Lipsky JJ, Shen ML, Naylor S. In vivo inhibition of aldehyde dehydrogenase by disulfiram. Chem Biol Inter. 2001;130–132:93–102.

Shen ML, Johnson KL, Mays DC, Lipsky JJ, Naylor S. Determination of in vivo adducts of disulfiram with mitochondrial aldehyde dehydrogenase. Biochem Pharm. 2001;61:537–45.

Mays DC, Nelson AN, Fauq AH, Shriver ZH, Veverka KA, Naylor S, et al. S-Methyl N,N-diethylthiocarbamate sulfone, a potential metabolite of disulfiram and potent inhibitor of low Km mitochondrial aldehyde dehydrogenase. Biochem Pharm. 1995;49:693–700.

Lam JP, Mays DC, Lipsky JJ. Inhibition of recombinant human mitochondrial and cytosolic aldehyde dehydrogenases by two candidates for the active metabolites of disulfiram †. Biochemistry. 1997;36:13748–54.

Hart BW, Faiman MD. Bioactivation of S-methyl N,N-Diethylthiolcarbamate to S-methyl N,N-diethylthiolcarbamate sulfoxide. Biochem Pharm. 1993;46:2285–90.

Yourick JJ, Faiman MD. Disulfiram metabolism as a requirement for the inhibition of rat liver mitochondrial low Km aldehyde dehydrogenase. Biochem Pharm. 1991;42:1361–6.

Chen D, Cui QC, Yang H, Dou QP. Disulfiram, a clinically used anti-alcoholism drug and copper-binding agent, induces apoptotic cell death in breast cancer cultures and xenografts via inhibition of the proteasome activity. Cancer Res. 2006;66:10425–33.

Majera D, Skrott Z, Bouchal J, Bartkova J, Simkova D, Gachechiladze M, et al. Targeting genotoxic and proteotoxic stress-response pathways in human prostate cancer by clinically available PARP inhibitors, vorinostat and disulfiram. Prostate. 2019;79:352–62.

Skrott Z, Mistrik M, Andersen KK, Friis S, Majera D, Gursky J, et al. Alcohol-abuse drug disulfiram targets cancer via p97 segregase adaptor NPL4. Nature. 2017;552:194–9.

Farmer H, McCabe N, Lord CJ, Tutt ANJ, Johnson DA, Richardson TB, et al. Targeting the DNA repair defect in BRCA mutant cells as a therapeutic strategy. Nature. 2005;434:917–21.

Bryan N, Andrews KD, Loughran MJ, Rhodes NP, Hunt JA. Elucidating the contribution of the elemental composition of fetal calf serum to antigenic expression of primary human umbilical-vein endothelial cells in vitro. Biosci Rep. 2011;31:199–210.

Zhou L, Sheng D, Wang D, Ma W, Deng Q, Deng L, et al. Identification of cancer-type specific expression patterns for active aldehyde dehydrogenase (ALDH) isoforms in ALDEFLUOR assay. Cell Biol Toxicol. 2019;35:161–77.

Huddle BC, Grimley E, Buchman CD, Chtcherbinine M, Debnath B, Mehta P, et al. Structure-based optimization of a novel class of aldehyde dehydrogenase 1A (ALDH1A) subfamily-selective inhibitors as potential adjuncts to ovarian cancer chemotherapy. J Med Chem. 2018;61:8754–73.

Duan J-J, Cai J, Guo Y-F, Bian X-W, Yu S-C. ALDH1A3, a metabolic target for cancer diagnosis and therapy. Int J Cancer. 2016;139:965–75.

Lai C-L, Yao C-T, Chau G-Y, Yang L-F, Kuo T-Y, Chiang C-P, et al. Dominance of the inactive Asian variant over activity and protein contents of mitochondrial aldehyde dehydrogenase 2 in human liver. Alcohol Clin Exp Res. 2014;38:44–50.

Chang JS, Hsiao J-R, Chen C-H. ALDH2 polymorphism and alcohol-related cancers in Asians: a public health perspective. J Biomed Sci. 2017;24:19.

Suh JJ, Pettinati HM, Kampman KM, O'Brien CP. The status of disulfiram: a half of a century later. J Clin Psychopharmacol. 2006;26:290–302.

Chen W, Yang W, Chen P, Huang Y, Li F. Disulfiram copper nanoparticles prepared with a stabilized metal ion ligand complex method for treating drug-resistant prostate cancers. ACS Appl Mater Interfaces. 2018;10:41118–28.

Peng X, Pan Q, Zhang B, Wan S, Li S, Luo K, et al. Highly stable, coordinated polymeric nanoparticles loading copper(II) diethyldithiocarbamate for combinational chemo/chemodynamic therapy of cancer. Biomacromolecules. 2019;20:2372–83.
Acknowledgements
We thank Dr. M. Tarsounas (Oxford, UK) for the human H1299 cell lines with regulatable expression of shBRCA1 and shBRCA2. The study was supported by grants from: Grant agency of Czech Rep. GACR 17–25976 S, MEYS CR (LM2015062 Czech‐BioImaging and DRO‐61989592), Internal grant of University of Palacky IGA_LF_2019_026, Cancer Research Czech Republic, Ministry of School, Education, Youth and Sports of the Czech Republic (EATRIS-CZ No. LM2015064 and ENOCH No. CZ.02.1.01/0.0/0.0/16_019/0000868), the Novo Nordisk Foundation (no. 16854), the Danish National Research Foundation (project CARD: no. DNRF125), the Danish Cancer Society (R204-A12617) the Swedish Research Council (VR-MH 2014–46602–117891–30), and the Swedish Cancer Society (no. 170176).
Ethics declarations
Conflict of interest
The authors declare that they have no conflict of interest.
Additional information
Publisher's note: Springer Nature remains neutral with regard to jurisdictional claims in published maps and institutional affiliations.
Supplementary information
About this article
Cite this article
Skrott, Z., Majera, D., Gursky, J. et al. Disulfiram's anti-cancer activity reflects targeting NPL4, not inhibition of aldehyde dehydrogenase. Oncogene 38, 6711–6722 (2019). https://doi.org/10.1038/s41388-019-0915-2
Received:

Revised:

Accepted:

Published:

Issue Date:

DOI: https://doi.org/10.1038/s41388-019-0915-2