Abstract
IGF-1 receptor (IGF-1R) and integrin cooperative signaling promotes cancer cell survival, proliferation, and motility, but whether this influences cancer progression and therapy responses is largely unknown. Here we investigated the non-receptor tyrosine adhesion kinase FES-related (FER), following its identification as a potential mediator of sensitivity to IGF-1R kinase inhibition in a functional siRNA screen. We found that FER and the IGF-1R co-locate in cells and can be co-immunoprecipitated. Ectopic FER expression strongly enhanced IGF-1R expression and phosphorylation on tyrosines 950 and 1131. FER phosphorylated these sites in an IGF-1R kinase-independent manner and also enhanced IGF-1-mediated phosphorylation of SHC, and activation of either AKT or MAPK-signaling pathways in different cells. The IGF-1R, β1 Integrin, FER, and its substrate cortactin were all observed to co-locate in cell adhesion complexes, the disruption of which reduced IGF-1R expression and activity. High FER expression correlates with phosphorylation of SHC in breast cancer cell lines and with a poor prognosis in patient cohorts. FER and SHC phosphorylation and IGF-1R expression could be suppressed with a known anaplastic lymphoma kinase inhibitor (AP26113) that shows high specificity for FER kinase. Overall, we conclude that FER enhances IGF-1R expression, phosphorylation, and signaling to promote cooperative growth and adhesion signaling that may facilitate cancer progression.
Access options
Subscribe to Journal
Get full journal access for 1 year
$499.00
only $9.98 per issue
All prices are NET prices.
VAT will be added later in the checkout.
Rent or Buy article
Get time limited or full article access on ReadCube.
from$8.99
All prices are NET prices.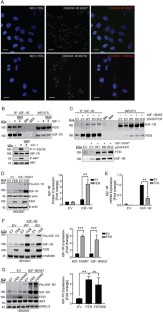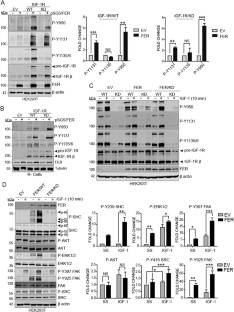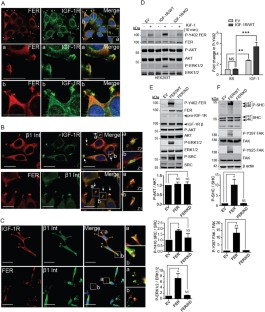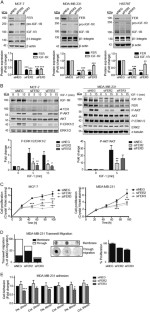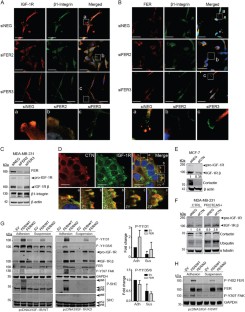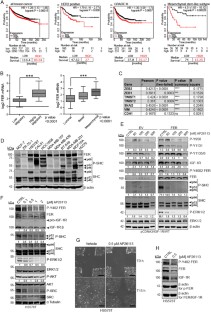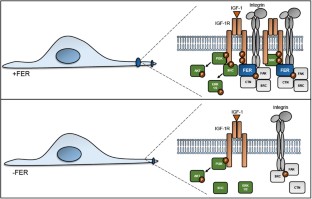 References
1.

Samani AA, Yakar S, LeRoith D, Brodt P. The role of the IGF system in cancer growth and metastasis: overview and recent insights. Endocr Rev. 2007;28:20–47.

2.

Cox OT, O'Shea S, Tresse E, Bustamante-Garrido M, Kiran-Deevi R, O'Connor R. IGF-1 receptor and adhesion signaling: an important axis in determining cancer cell phenotype and therapy resistance. Front Endocrinol. 2015;6:106.

3.

Baserga R, Peruzzi F, Reiss K. The IGF-1 receptor in cancer biology. Int J Cancer. 2003;107:873–7.

4.

Pollak M. The insulin and insulin-like growth factor receptor family in neoplasia: an update. Nat Rev Cancer. 2012;12:159–69.

5.

Kiely PA, Leahy M, O'Gorman D, O'Connor R. RACK1-mediated integration of adhesion and insulin-like growth factor I (IGF-I) signaling and cell migration are defective in cells expressing an IGF-I receptor mutated at tyrosines 1250 and 1251. J Biol Chem. 2005;280:7624–33.

6.

King H, Aleksic T, Haluska P, Macaulay VM. Can we unlock the potential of IGF-1R inhibition in cancer therapy? Cancer Treat Rev. 2014;40:1096–105.

7.

Farabaugh SM, Boone DN, Lee AV. Role of IGF1R in breast cancer subtypes, stemness, and lineage differentiation. Front Endocrinol. 2015;6:59.

8.

Niepel M, Hafner M, Pace EA, Chung M, Chai DH, Zhou L, et al. Profiles of basal and stimulated receptor signaling networks predict drug response in breast cancer lines. Sci Signal. 2013;6:ra84.

9.

Kostler WJ, Hudelist G, Rabitsch W, Czerwenka K, Muller R, Singer CF, et al. Insulin-like growth factor-1 receptor (IGF-1R) expression does not predict for resistance to trastuzumab-based treatment in patients with Her-2/neu overexpressing metastatic breast cancer. J Cancer Res Clin Oncol. 2006;132:9–18.

10.

Law JH, Habibi G, Hu K, Masoudi H, Wang MYC, Stratford AL, et al. Phosphorylated insulin-like growth factor-i/insulin receptor is present in all breast cancer subtypes and is related to poor survival. Cancer Res. 2008;68:10238–46.

11.

Goel HL, Breen M, Zhang J, Das I, Aznavoorian-Cheshire S, Greenberg NM, et al. beta1A integrin expression is required for type 1 insulin-like growth factor receptor mitogenic and transforming activities and localization to focal contacts. Cancer Res. 2005;65:6692–700.

12.

Taliaferro-Smith L, Oberlick E, Liu T, McGlothen T, Alcaide T, Tobin R, et al. FAK activation is required for IGF1R-mediated regulation of EMT, migration, and invasion in mesenchymal triple negative breast cancer cells. Oncotarget. 2015;6:4757–72.

13.

Shen MR, Hsu YM, Hsu KF, Chen YF, Tang MJ, Chou CY. Insulin-like growth factor 1 is a potent stimulator of cervical cancer cell invasiveness and proliferation that is modulated by alphavbeta3 integrin signaling. Carcinogenesis. 2006;27:962–71.

14.

Min HY, Yun HJ, Lee JS, Lee HJ, Cho J, Jang HJ, et al. Targeting the insulin-like growth factor receptor and Src signaling network for the treatment of non-small cell lung cancer. Mol Cancer. 2015;14:113.

15.

Hermanto U, Zong CS, Li W, Wang L-H. RACK1, an insulin-like growth factor I (IGF-I) receptor-interacting protein, modulates IGF-I-dependent integrin signaling and promotes cell spreading and contact with extracellular matrix. Mol Cell Biol. 2002;22:2345–65.

16.

Andersson S, D'Arcy P, Larsson O, Sehat B. Focal adhesion kinase (FAK) activates and stabilizes IGF-1 receptor. Biochem Biophys Res Commun. 2009;387:36–41.

17.

Peterson JE, Kulik G, Jelinek T, Reuter CW, Shannon JA, Weber MJ. Src phosphorylates the insulin-like growth factor type I receptor on the autophosphorylation sites. Requirement for transformation by src. J Biol Chem. 1996;271:31562–71.

18.

O'Flanagan CH, O'Shea S, Lyons A, Fogarty FM, McCabe N, Kennedy RD, et al. IGF-1R inhibition sensitizes breast cancer cells to ATM-related kinase (ATR) inhibitor and cisplatin. Oncotarget. 2016;7:56826–41.

19.

Greer P. Closing in on the biological functions of fps/fes and fer. Nat Rev Mol Cell Biol. 2002;3:278–89.

20.

Ivanova IA, Vermeulen JF, Ercan C, Houthuijzen JM, Saig FA, Vlug EJ, et al. FER kinase promotes breast cancer metastasis by regulating [alpha]6- and [beta]1-integrin-dependent cell adhesion and anoikis resistance. Oncogene. 2013;32:5582–92.

21.

Guo C, Stark GR. FER tyrosine kinase (FER) overexpression mediates resistance to quinacrine through EGF-dependent activation of NF-kappaB. Proc Natl Acad Sci USA. 2011;108:7968–73.

22.

Ahn J, Truesdell P, Meens J, Kadish C, Yang X, Boag AH, et al. Fer protein-tyrosine kinase promotes lung adenocarcinoma cell invasion and tumor metastasis. Mol Cancer Res. 2013;11:952–63.

23.

Sangrar W, Shi C, Mullins G, LeBrun D, Ingalls B, Greer PA. Amplified Ras-MAPK signal states correlate with accelerated EGFR internalization, cytostasis and delayed HER2 tumor onset in Fer-deficient model systems. Oncogene. 2015;34:4109–17.

24.

Fan G, Gao Y, Greer P, Tonks N. HGF-independent regulation of MET and Gab1 through non-receptor tyrosine kinase FER (609.4). FASEB J. 2014;28.

25.

Lennartsson J, Ma H, Wardega P, Pelka K, Engstrom U, Hellberg C, et al. The Fer tyrosine kinase is important for platelet-derived growth factor-BB-induced signal transducer and activator of transcription 3 (STAT3) protein phosphorylation, colony formation in soft agar, and tumor growth in vivo. J Biol Chem. 2013;288:15736–44.

26.

Voisset E, Lopez S, Chaix A, Georges C, Hanssens K, Prebet T, et al. FES kinases are required for oncogenic FLT3 signaling. Leukemia. 2010;24:721–728.

27.

Liu BA, Engelmann BW, Jablonowski K, Higginbotham K, Stergachis AB, Nash PD. SRC homology 2 domain bbinding sites in insulin, IGF-1 and FGF receptor mediated signaling networks reveal an extensive potential interactome. Cell Commun Signal. 2012;10:27.

28.

Ivanova IA, Vermeulen JF, Ercan C, Houthuijzen JM, Saig FA, Vlug EJ, et al. FER kinase promotes breast cancer metastasis by regulating alpha6- and beta1-integrin-dependent cell adhesion and anoikis resistance. Oncogene. 2013;32:5582–92.

29.

Vistein R, Puthenveedu MA. Src regulates sequence-dependent beta-2 adrenergic receptor recycling via cortactin phosphorylation. Traffic. 2014;15:1195–205.

30.

Craig AWB, Zirngibl R, Williams K, Cole L-A, Greer PA. Mice devoid of Fer protein-tyrosine kinase activity are viable and fertile but display reduced cortactin phosphorylation. Mol Cell Biol. 2001;21:603–13.

31.

Cao H, Weller S, Orth JD, Chen J, Huang B, Chen JL, et al. Actin and Arf1-dependent recruitment of a cortactin-dynamin complex to the Golgi regulates post-Golgi transport. Nat Cell Biol. 2005;7:483–92.

32.

Szasz AM, Lanczky A, Nagy A, Forster S, Hark K, Green JE, et al. Cross-validation of survival associated biomarkers in gastric cancer using transcriptomic data of 1,065 patients. Oncotarget. 2016;7:49322–33.

33.

Malaguarnera R, Belfiore A. The emerging role of insulin and insulin-like growth factor signaling in cancer stem cells. Front Endocrinol. 2014;5:10.

34.

Marcotte R, Sayad A, Brown KR, Sanchez-Garcia F, Reimand J, Haider M, et al. Functional genomic landscape of human breast cancer drivers, vulnerabilities, and resistance. Cell. 2016;164:293–309.

35.

Wu RF, Liao C, Fu G, Hayenga HN, Yang K, Ma Z, et al. p66Shc couples mechanical signals to RhoA through FAK-dependent recruitment of p115-RhoGEF and GEF-H1. Mol Cell Biol. 2016;36:2824–37.

36.

Zhang S, Anjum R, Squillace R, Nadworny S, Zhou T, Keats J, et al. The potent ALK inhibitor brigatinib (AP26113) overcomes mechanisms of resistance to first- and second-generation ALK inhibitors in preclinical models. Clin Cancer Res. 2016;22:5527–38.

37.

Hellwig S, Miduturu CV, Kanda S, Zhang J, Filippakopoulos P, Salah E, et al. Small molecule inhibitors of the c-Fes protein-tyrosine kinase. Chem Biol. 2012;19:529–40.

38.

Charafe-Jauffret E, Ginestier C, Monville F, Finetti P, Adelaide J, Cervera N, et al. Gene expression profiling of breast cell lines identifies potential new basal markers. Oncogene. 2006;25:2273–84.

39.

Zhang W, Zong CS, Hermanto U, Lopez-Bergami P, Ronai Ze, Wang L-H. RACK1 recruits STAT3 specifically to insulin and insulin-like growth factor 1 receptors for activation, which is important for regulating anchorage-independent growth. Mol Cell Biol. 2006;26:413–24.

40.

Ivaska J, Heino J. Cooperation between integrins and growth factor receptors in signaling and endocytosis. Annu Rev Cell Dev Biol. 2011;27:291–320.

41.

Muharram G, Sahgal P, Korpela T, De Franceschi N, Kaukonen R, Clark K, et al. Tensin-4-dependent MET stabilization Is essential for survival and proliferation in carcinoma cells. Dev Cell. 2014;29:421–36.

42.

Oneyama C, Yoshikawa Y, Ninomiya Y, Iino T, Tsukita S, Okada M. Fer tyrosine kinase oligomer mediates and amplifies Src-induced tumor progression. Oncogene. 2016;35:501–12.

43.

Itoh T, Hasegawa J, Tsujita K, Kanaho Y, Takenawa T. The tyrosine kinase Fer is a downstream target of the PLD-PA pathway that regulates cell migration. Sci Signal. 2009;2:ra52.

44.

van Rossum A, Gibcus J, van der Wal J, Schuuring E. Cortactin overexpression results in sustained epidermal growth factor receptor signaling by preventing ligand-induced receptor degradation in human carcinoma cells. Breast Cancer Res. 2005;7:235–7.

45.

Yoneyama T, Angata K, Bao X, Courtneidge S, Chanda SK, Fukuda M. Fer kinase regulates cell migration through α-dystroglycan glycosylation. Mol Biol Cell. 2012;23:771–80.

46.

Osorio FG, Soria-Valles C, Santiago-Fernandez O, Bernal T, Mittelbrunn M, Colado E, et al. Loss of the proteostasis factor AIRAPL causes myeloid transformation by deregulating IGF-1 signaling. Nat Med. 2016;22:91–6.

47.

Li H, Batth IS, Qu X, Xu L, Song N, Wang R, et al. IGF-IR signaling in epithelial to mesenchymal transition and targeting IGF-IR therapy: overview and new insights. Mol Cancer 2017;16:6.

48.

Graham TR, Zhau HE, Odero-Marah VA, Osunkoya AO, Kimbro KS, Tighiouart M, et al. Insulin-like growth factor-I-dependent up-regulation of ZEB1 drives epithelial-to-mesenchymal transition in human prostate cancer cells. Cancer Res. 2008;68:2479–88.

49.

Muellner MK, Mair B, Ibrahim Y, Kerzendorfer C, Lechtermann H, Trefzer C, et al. Targeting a cell state common to triple-negative breast cancers. Mol Syst Biol. 2015;11:789.

50.

Zheng D, Golubovskaya V, Kurenova E, Wood C, Massoll NA, Ostrov D, et al. A novel strategy to inhibit FAK and IGF-1R decreases growth of pancreatic cancer xenografts. Mol Carcinog. 2010;49:200–9.

51.

Deevi RK, Cox OT, O'Connor R. Essential function for PDLIM2 in cell polarization in three-dimensional cultures by feedback regulation of the beta1-integrin-RhoA signaling axis. Neoplasia. 2014;16:422–31.
Acknowledgements
We would like to acknowledge Dr. Janina Berghoff for assistance with site-directed mutagenesis and Dr. Fionola Fogarty for assistance with the original siRNA screen. We also thank colleagues in the Cell Biology Laboratory and the Center for Cell Biology and Cancer Research for helpful discussions.
Funding
This work was funded by a Science Foundation Ireland Principal Investigator award 11/PI/1139, and the European Union FP7 Marie Curie Industry-Academia Partnerships and Pathways (IAPP) Program 251480 BiomarkerIGF.
Author contributions
JS, LR, OTC, SO'S, MC, CO'F, BA contributed to conception and design of experiments, acquisition and interpretation of data, and drafting the manuscript. NMcC and RK contributed to conception of study and reviewing the manuscript. RO'C contributed to conception design, interpretation of data and drafting the article.
Ethics declarations
Conflict of interest
The authors declare that they have no conflict of interest.
Additional information
Sandra O'Shea and Orla Cox Joint authorship.
Electronic supplementary material
About this article
Cite this article
Stanicka, J., Rieger, L., O'Shea, S. et al. FES-related tyrosine kinase activates the insulin-like growth factor-1 receptor at sites of cell adhesion. Oncogene 37, 3131–3150 (2018). https://doi.org/10.1038/s41388-017-0113-z
Received:

Revised:

Accepted:

Published:

Issue Date: