Abstract
Mucoepidermoid carcinoma (MEC) arises in many glandular tissues and contributes to the most common malignant salivary gland cancers. MEC is specifically associated with a unique t(11;19) translocation and the resulting CRTC1-MAML2 fusion is a major oncogenic driver for MEC initiation and maintenance. However, the molecular basis underlying the CRTC1-MAML2 oncogenic functions remains elusive. Through gene expression profiling analysis, we observed that LINC00473, a long non-coding RNA (lncRNA), was the top down-regulated target in CRTC1-MAML2-depleted human MEC cells. LncRNAs belong to a new class of non-coding RNAs with emerging roles in tumorigenesis and progression, but remain poorly characterized. In this study, we investigated the role of LINC00473 in mediating CRTC1-MAML2 oncogenic activity in human MEC. We found that LINC00473 transcription was significantly induced in human CRTC1-MAML2-positive MEC cell lines and primary MEC tumors, and was tightly correlated with the CRTC1-MAML2 RNA level. LINC00473 induction was dependent on the ability of CRTC1-MAML2 to activate CREB-mediated transcription. Depletion of LINC00473 significantly reduced the proliferation and survival of human MEC cells in vitro and blocked the in vivo tumor growth in a human MEC xenograft model. RNA in situ hybridization analysis demonstrated a predominantly nuclear localization pattern for LINC00473 in human MEC cells. Furthermore, gene expression profiling revealed that LINC00473 depletion resulted in differential expression of genes important in cancer cell growth and survival. LINC00473 likely regulates gene expression in part through its ability to bind to a cAMP signaling pathway component NONO, enhancing the ability of CRTC1-MAML2 to activate CREB-mediated transcription. Our overall results demonstrate that LINC00473 is a downstream target and an important mediator of the CRTC1-MAML2 oncoprotein. Therefore, LINC00473 acts as a promising biomarker and therapeutic target for human CRTC1-MAML2-positive MECs.
Relevant articles
Open Access articles citing this article.
Yuxin Xie

,

Jiaqi Han

…

Qiheng Gou

Scientific Reports Open Access 02 November 2022

Simran Mashiana

&

Ernesto Martinez Duarte

Journal of Medical Case Reports Open Access 16 February 2022

Junjun Li

,

Yuan Qian

…

Xingli Deng

Cell Death & Disease Open Access 05 June 2021
Access options
Subscribe to this journal
Receive 50 print issues and online access
$259.00 per year
only $5.18 per issue
Rent or buy this article
Prices vary by article type
from$1.95
to$39.95
Prices may be subject to local taxes which are calculated during checkout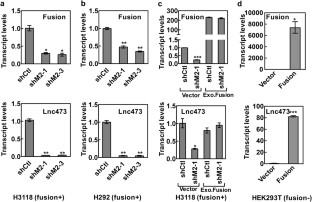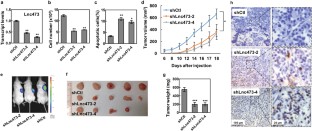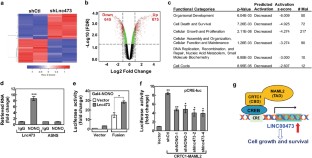 References
Bell D, Hanna EY. Salivary gland cancers: biology and molecular targets for therapy. Curr Oncol Rep. 2012;14:166–74.

Eveson JW. Salivary tumours. Periodontol 2000. 2011;57:150–9.

Behboudi A, Enlund F, Winnes M, Andren Y, Nordkvist A, Leivo I, et al. Molecular classification of mucoepidermoid carcinomas—prognostic significance of the MECT1-MAML2 fusion oncogene. Genes Chromosomes Cancer. 2006;45:470–81.

Birkeland AC, Foltin SK, Michmerhuizen NL, Hoesli RC, Rosko AJ, Byrd S, et al. Correlation of Crtc1/3-Maml2 fusion status, grade and survival in mucoepidermoid carcinoma. Oral Oncol. 2017;68:5–8.

Fehr A, Roser K, Heidorn K, Hallas C, Loning T, Bullerdiek J. A new type of MAML2 fusion in mucoepidermoid carcinoma. Genes Chromosomes Cancer. 2008;47:203–6.

Nordkvist A, Gustafsson H, Juberg-Ode M, Stenman G. Recurrent rearrangements of 11q14-22 in mucoepidermoid carcinoma. Cancer Genet Cytogenet. 1994;74:77–83.

Seethala RR, Dacic S, Cieply K, Kelly LM, Nikiforova MN. A reappraisal of the MECT1/MAML2 translocation in salivary mucoepidermoid carcinomas. Am J Surg Pathol. 2010;34:1106–21.

Saade RE, Bell D, Garcia J, Roberts D, Weber R. Role of CRTC1/MAML2 translocation in the prognosis and clinical outcomes of mucoepidermoid carcinoma. JAMA Otolaryngol. 2016;142:234–40.

Tonon G, Modi S, Wu L, Kubo A, Coxon AB, Komiya T, et al. t(11;19)(q21; p13) translocation in mucoepidermoid carcinoma creates a novel fusion product that disrupts a Notch signaling pathway. Nat Genet. 2003;33:208–13.

Komiya T, Park Y, Modi S, Coxon AB, Oh H, Kaye FJ. Sustained expression of Mect1-Maml2 is essential for tumor cell growth in salivary gland cancers carrying the t(11;19) translocation. Oncogene. 2006;25:6128–32.

Coxon A, Rozenblum E, Park YS, Joshi N, Tsurutani J, Dennis PA, et al. Mect1-Maml2 fusion oncogene linked to the aberrant activation of cyclic AMP/CREB regulated genes. Cancer Res. 2005;65:7137–44.

Wu L, Liu J, Gao P, Nakamura M, Cao Y, Shen H, et al. Transforming activity of MECT1-MAML2 fusion oncoprotein is mediated by constitutive CREB activation. EMBO J. 2005;24:2391–402.

Chen Z, Chen J, Gu Y, Hu C, Li JL, Lin S, et al. Aberrantly activated AREG-EGFR signaling is required for the growth and survival of CRTC1-MAML2 fusion-positive mucoepidermoid carcinoma cells. Oncogene. 2014;33:3869–77.

Wu L, Liu J, Gao P, Nakamura M, Cao Y, Shen H, et al. Transforming activity of MECT1-MAML2 fusion oncoprotein is mediated by constitutive CREB activation. EMBO J. 2005;24:2391–402.

Amelio AL, Fallahi M, Schaub FX, Zhang M, Lawani MB, Alperstein AS, et al. CRTC1/MAML2 gain-of-function interactions with MYC create a gene signature predictive of cancers with CREB-MYC involvement. Proc Natl Acad Sci USA. 2014;111:E3260–3268.

Canettieri G, Coni S, Della Guardia M, Nocerino V, Antonucci L, Di Magno L, et al. The coactivator CRTC1 promotes cell proliferation and transformation via AP-1. Proc Natl Acad Sci USA. 2009;106:1445–50.

Chen J, Li JL, Chen Z, Griffin JD, Wu L. Gene expression profiling analysis of CRTC1-MAML2 fusion oncogene-induced transcriptional program in human mucoepidermoid carcinoma cells. BMC Cancer. 2015;15:803.

Ulitsky I, Bartel DP. lincRNAs: genomics, evolution, and mechanisms. Cell. 2013;154:26–46.

Iyer MK, Niknafs YS, Malik R, Singhal U, Sahu A, Hosono Y, et al. The landscape of long noncoding RNAs in the human transcriptome. Nat Genet. 2015;47:199–208.

Djebali S, Davis CA, Merkel A, Dobin A, Lassmann T, Mortazavi A, et al. Landscape of transcription in human cells. Nature. 2012;489:101–8.

Gutschner T, Diederichs S. The hallmarks of cancer: a long non-coding RNA point of view. RNA Biol. 2012;9:703–19.

Moran VA, Perera RJ, Khalil AM. Emerging functional and mechanistic paradigms of mammalian long non-coding RNAs. Nucleic Acids Res. 2012;40:6391–6400.

Rinn JL, Chang HY. Genome regulation by long noncoding RNAs. Annu Rev Biochem. 2012;81:145–66.

White NM, Cabanski CR, Silva-Fisher JM, Dang HX, Govindan R, Maher CA. Transcriptome sequencing reveals altered long intergenic non-coding RNAs in lung cancer. Genome Biol. 2014;15:429.

Cabanski CR, White NM, Dang HX, Silva-Fisher JM, Rauck CE, Cicka D, et al. Pan-cancer transcriptome analysis reveals long noncoding RNAs with conserved function. RNA Biol. 2015;12:628–42.

Du Z, Fei T, Verhaak RG, Su Z, Zhang Y, Brown M, et al. Integrative genomic analyses reveal clinically relevant long noncoding RNAs in human cancer. Nat Struct Mol Biol. 2013;20:908–13.

Reitmair A, Sachs G, Im WB, Wheeler L. C6orf176: a novel possible regulator of cAMP-mediated gene expression. Physiol Genom. 2012;44:152–61.

Chen Z, Li JL, Lin S, Cao C, Gimbrone NT, Yang R, et al. cAMP/CREB-regulated LINC00473 marks LKB1-inactivated lung cancer and mediates tumor growth. J Clin Invest. 2016;126:2267–79.

Amelio AL, Miraglia LJ, Conkright JJ, Mercer BA, Batalov S, Cavett V, et al. A coactivator trap identifies NONO (p54nrb) as a component of the cAMP-signaling pathway. Proc Natl Acad Sci USA. 2007;104:20314–9.

Liang XH, Deng WB, Liu YF, Liang YX, Fan ZM, Gu XW, et al. Non-coding RNA LINC00473 mediates decidualization of human endometrial stromal cells in response to cAMP signaling. Sci Rep. 2016;6:22744.

Dinh TA, Vitucci EC, Wauthier E, Graham RP, Pitman WA, Oikawa T, et al. Comprehensive analysis of The Cancer Genome Atlas reveals a unique gene and non-coding RNA signature of fibrolamellar carcinoma. Sci Rep. 2017;7:44653.

Tirado Y, Williams MD, Hanna EY, Kaye FJ, Batsakis JG, El-Naggar AK. CRTC1/MAML2 fusion transcript in high grade mucoepidermoid carcinomas of salivary and thyroid glands and Warthin's tumors: implications for histogenesis and biologic behavior. Genes Chromosomes Cancer. 2007;46:708–15.

Achcar Rde O, Nikiforova MN, Dacic S, Nicholson AG, Yousem SA. Mammalian mastermind like 2 11q21 gene rearrangement in bronchopulmonary mucoepidermoid carcinoma. Hum Pathol. 2009;40:854–60.

Noda H, Okumura Y, Nakayama T, Miyabe S, Fujiyoshi Y, Hattori H, et al. Clinicopathological significance of MAML2 gene split in mucoepidermoid carcinoma. Cancer Sci. 2013;104:85–92.

Wu Y, Liu J, Zheng Y, You L, Kuang D, Liu T. Suppressed expression of long non-coding RNA HOTAIR inhibits proliferation and tumourigenicity of renal carcinoma cells. Tumour Biol. 2014;35:11887–94.

Leucci E, Vendramin R, Spinazzi M, Laurette P, Fiers M, Wouters J, et al. Melanoma addiction to the long non-coding RNA SAMMSON. Nature. 2016;531:518–22.

Zhen S, Hua L, Liu YH, Sun XM, Jiang MM, Chen W, et al. Inhibition of long non-coding RNA UCA1 by CRISPR/Cas9 attenuated malignant phenotypes of bladder cancer. Oncotarget. 2017;8:9634–46.

Warner KA, Adams A, Bernardi L, Nor C, Finkel KA, Zhang Z, et al. Characterization of tumorigenic cell lines from the recurrence and lymph node metastasis of a human salivary mucoepidermoid carcinoma. Oral Oncol. 2013;49:1059–66.

Wang LN, Wang Y, Lu Y, Yin ZF, Zhang YH, Aslanidi GV, et al. Pristimerin enhances recombinant adeno-associated virus vector-mediated transgene expression in human cell lines in vitro and murine hepatocytes in vivo. J Integr Med. 2014;12:20–34.

Gu Y, Lin S, Li JL, Nakagawa H, Chen Z, Jin B, et al. Altered LKB1/CREB-regulated transcription co-activator (CRTC) signaling axis promotes esophageal cancer cell migration and invasion. Oncogene. 2012;31:469–79.

Kubo T, Yamamoto H, Lockwood WW, Valencia I, Soh J, Peyton M, et al. MET gene amplification or EGFR mutation activate MET in lung cancers untreated with EGFR tyrosine kinase inhibitors. Int J Cancer. 2009;124:1778–84.

Dickson I. Hepatocellular carcinoma: a role for lncRNA in liver cancer. Nat Rev Gastroenterol Hepatol. 2016;13:122–3.
Acknowledgements
This work is supported by the NIH National Institute of Dental and Craniofacial Research (R01DE023641) and the NIH National Cancer Institute (R21CA187730).
Ethics declarations
Conflict of interest
The authors declare that they have no competing interests.
Electronic supplementary material
About this article
Cite this article
Chen, Z., Lin, S., Li, JL. et al. CRTC1-MAML2 fusion-induced lncRNA LINC00473 expression maintains the growth and survival of human mucoepidermoid carcinoma cells. Oncogene 37, 1885–1895 (2018). https://doi.org/10.1038/s41388-017-0104-0
Received:

Revised:

Accepted:

Published:

Issue Date:

DOI: https://doi.org/10.1038/s41388-017-0104-0