Abstract
There is a well-known lack of diversity in many Science, Technology, Engineering, and Mathematics (STEM) fields. The gap in awarded National Institutes of Health (NIH) grants for scientists from underrepresented populations at the early stages of their careers contributes significantly to this lack of diversity. The National Institute on Drug Abuse (NIDA) Diversity Scholars Network (NDSN) program implemented a new model in 2016 to provide support to underrepresented early-career investigators (ECIs) by equipping them to navigate the competitive NIH grant process. NDSN has a demonstrable track record of providing equity through educational opportunities by enhancing the grant funding success of participants. Of 59 participants from 2016 through 2021, 53% received funding within the first two years after completing the program and 69% by four years. NDSN scholars surmount systemic funding barriers by building relationships with scientific coaches, mentors, NIDA Program Officials and intentionally engaging in network building, which all contribute to the funding success of ECIs. NIDA's NDSN program provides a model for retaining underrepresented ECIs that not only benefits individual scholars, but also the institutions they serve and society as a whole.
Access options
Subscribe to this journal
Receive 13 print issues and online access
$259.00 per year
only $19.92 per issue
Rent or buy this article
Prices vary by article type
from$1.95
to$39.95
Prices may be subject to local taxes which are calculated during checkout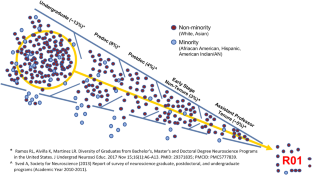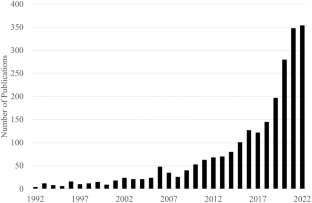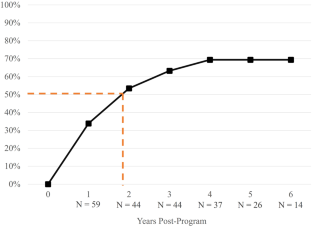 References
Sargent JF Jr. The U.S. science and engineering workforce: Recent, current, and projected employment, wages, and unemployment (CRS Report R43061). Washington, DC: Congressional Research Service; 2017. https://fas.org/sgp/crs/misc/R43061.pdf.

Avila A, Compton W, Weixelbaum J. The national institute on drug abuse summer research internship program: building a diverse national scientific workforce. Neuropsychopharmacology. 2022;47:2184–8. https://doi.org/10.1038/s41386-022-01377-3.

National Institutes of Health. Notice of NIH's Interest in Diversity. 2019. Available at: https://grants.nih.gov/grants/guide/notice-files/NOT-OD-20-031.html. Accessed July 15, 2023.

Van den Hurk A, Meelissen M, van Langen A. Interventions in education to prevent STEM pipeline leakage. Int J Sci Educ. 2019;41:150–64. https://doi.org/10.1080/09500693.2018.1540897.

Hrabowski FA. Diversity will fuel excellence in pharmacy education…if we let it flourish. Am J Pharmaceut Educ. 2020; 84. https://doi.org/10.5688/ajpe847817.

Ginther DK, Schaffer WT, Schnell J, Masimore B, Liu F, Haak LL, et al. Race, ethnicity, and NIH research awards. Science. 2011;333:1015–9. https://doi.org/10.1126/science.1196783.

Sopher CJ, Adamson BJS, Andrasik MP, Flood DM, Wakefield SF, Stoff DM, et al. Enhancing diversity in the public health research workforce: the research and mentorship program for future HIV vaccine scientists. Am J Public Health. 2015;105:823–30. https://doi.org/10.2105/AJPH.2014.302076.

Vermund SH, Hamilton EL, Griffith SB, Jennings L, Dyer TV, Mayer K, et al. Recruitment of Underrepresented Minority Researchers into HIV Prevention Research: The HIV Prevention Trials Network Scholars Program. AIDS Res Hum Retroviruses. 2018;34:171–7. https://doi.org/10.1089/AID.2017.0093.

Margherio C, Horner-Devine MC, Mizumori SJY, Yen JW. Learning to thrive: building diverse scientists' access to community and resources through the BRAINS program. CBE Life Sci Educ. 2016;15:ar49. https://doi.org/10.1187/cbe.16-01-0058.

Flores G, Mendoza F, Brimacombe MB, Frazier W. Program evaluation of the research in academic pediatrics initiative on diversity (RAPID): impact on career development and professional society diversity. Acad Med. 2021;96:549–56. https://doi.org/10.1097/ACM.0000000000003531.

Yin HL, Gabrilove J, Jackson R, Sweeney C, Fair AM, Toto R, et al. Sustaining the clinical and translational research workforce: training and empowering the next generation of investigators. Acad Med. 2015;90:861–5. https://doi.org/10.1097/ACM.0000000000000758.

Flores G, Mendoza FS, DeBaun MR, Fuentes-Afflick E, Jones VF, Mendoza JA, et al. Keys to academic success for under-represented minority young investigators: recommendations from the Research in Academic Pediatrics Initiative on Diversity (RAPID) National Advisory Committee. Int J Equity Health. 2019;18:93. https://doi.org/10.1186/s12939-019-0995-1.

Gordon J, Davies C, Yamaner MI; National Center for Science and Engineering Statistics (NCSES). 2021 Graduate Enrollment in Science, Engineering, and Health Fields at All-Time High as Postdocs Continue to Decline. NSF 23-311. Alexandria, VA: National Science Foundation. 2023. Available at https://ncses.nsf.gov/pubs/nsf23311.

Patt C, Eppig A, Richards MA. Postdocs as key to faculty diversity: a structured and collaborative approach for research universities. Front Psychol. 2022; 12. https://www.frontiersin.org/articles/10.3389/fpsyg.2021.759263.

Weber-Main AM, McGee R, Eide Boman K, Hemming J, Hall M, Unold T, et al. Grant application outcomes for biomedical researchers who participated in the National Research Mentoring Network's Grant Writing Coaching Programs. PloS One. 2020;15:e0241851. https://doi.org/10.1371/journal.pone.0241851.

Freel SA, Smith PC, Burns EN, Downer JB, Brown AJ, Dewhirst MW. Multidisciplinary mentoring programs to enhance junior faculty research grant success. Acad Med J Assoc Am Med Coll. 2017;92:1410–5. https://doi.org/10.1097/ACM.0000000000001620.

Graves JL, Kearney M, Barabino G, Malcom S. Inequality in science and the case for a new agenda. Proc Natl Acad Sci. 2022;119:e2117831119. https://doi.org/10.1073/pnas.2117831119.

Hurtado S. Linking diversity with the educational and civic missions of higher education. Rev High Educ. 2006;30:185–96. https://doi.org/10.1353/rhe.2006.0070.

Wild S. Wellcome says it has perpetuated 'systemic racism' in science. Nature. 2022;609:233. https://doi.org/10.1038/d41586-022-02299-2.

Davis FM. DEI conversations: more than a box-ticking exercise. Nat Rev Mol Cell Biol. 2023;24:238. https://doi.org/10.1038/s41580-022-00565-9.

Mathies C, Ferland C Institutional Strategic Planning: Aligning Strategy with Mission and Goals. In Organization and Administration in Higher Education. 3rd ed. Routledge; 2022.

Drew JC, Oli MW, Rice KC, Ardissone AN, Galindo-Gonzalez S, Sacasa PR, et al. Development of a distance education program by a land-grant university augments the 2-year to 4-year stem pipeline and increases diversity in STEM. Plos One. 2015;10:e0119548. https://doi.org/10.1371/journal.pone.0119548.

Compton WM, Jones CM. Epidemiology of the U.S. opioid crisis: the importance of the vector. Ann NY Acad Sci. 2019;1451:130–43. https://doi.org/10.1111/nyas.14209.
Acknowledgements
We thank all contributors of quotes to this article. The authors also thank Isabela Ellenwood of the National Institute on Drug Abuse for her help in compiling data on grant outcomes for program participants, Adam Siggers of Rose Li & Associates for his administrative support, and all other partners who support this program.
Ethics declarations
Competing interests
WMC reports long-term stock holdings in General Electric Company, 3 M Companies, and Pfizer Incorporated, unrelated to the manuscript. Other authors report no competing interests.
Additional information
Publisher's note Springer Nature remains neutral with regard to jurisdictional claims in published maps and institutional affiliations.
About this article
Cite this article
Avila, A.H., Weixelbaum, J.H., Goggans, K.R. et al. The national institute on drug abuse diversity scholars network: success for a diverse addiction science workforce. Neuropsychopharmacol. 48, 1963–1967 (2023). https://doi.org/10.1038/s41386-023-01733-x
Received:

Revised:

Accepted:

Published:

Issue Date:

DOI: https://doi.org/10.1038/s41386-023-01733-x