Abstract
Several cognitive processes, including instrumental behavior and working memory, are controlled by endocannabinoids acting on cannabinoid receptor 1 (CB1R) in the brain through retrograde and presynaptic inhibition of GABA or glutamate release. However, the temporal mechanisms underlying the control of these cognitive processes by CB1Rs remain largely unknown. Here, we have developed a light-sensitive CB1R chimera (optoCB1R) by replacing the intracellular domains of bovine rhodopsin with those of human CB1R. We demonstrated that light stimulation of optoCB1R triggered canonical CB1R signaling by inhibiting cAMP (but not cGMP or IP1) signaling and activating the MAPK pathway in vitro or in vivo. Moreover, light stimulation of optoCB1R in corticostriatal glutamatergic neurons could temporally inhibit excitatory postsynaptic currents (EPSCs) at the level of seconds. Importantly, transient (3 s) and "time-locked", but not random, activation of optoCB1R signaling in corticostriatal neurons at the time of reward affected animal sensitivity to outcome devaluation and inhibited goal-directed behavior. However, prolonged (~30 min) but not transient (10 or 30 s) activation of astrocytic CB1R signaling in the hippocampus impaired working memory. Consequently, neuronal and astrocytic CB1R signaling differentially regulate working memory and goal-directed behavior through distinct temporal and cellular mechanisms. Ultimately, the pharmacological blockade of adenosine A2AR improved the neuronal and astrocytic CB1R-induced impairments in goal-directed behavior and working memory, possibly through modulation of EPSCs and c-Fos, respectively. Therefore, A2AR may represent a promising target for managing cognitive dysfunction resulting from the use of CB1R drugs.
Access options
Subscribe to this journal
Receive 13 print issues and online access
$259.00 per year
only $19.92 per issue
Rent or buy this article
Get just this article for as long as you need it
$39.95
Prices may be subject to local taxes which are calculated during checkout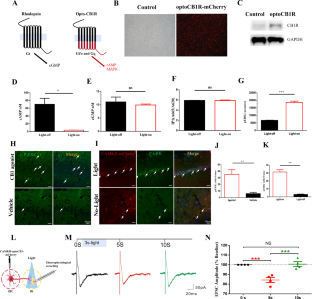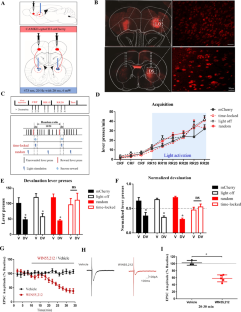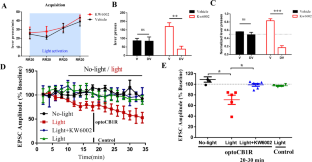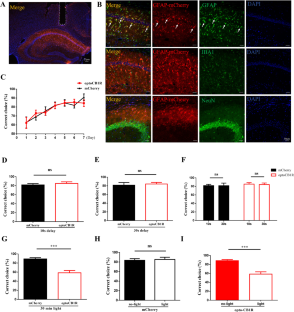 References
Di Marzo V. The endocannabinoid system: its general strategy of action, tools for its pharmacological manipulation and potential therapeutic exploitation. Pharm Res. 2009;60:77–84.

Hu SS, Mackie K. Distribution of the endocannabinoid system in the central nervous system. Handb Exp Pharm. 2015;231:59–93.

Wilson RI, Nicoll RA. Endogenous cannabinoids mediate retrograde signalling at hippocampal synapses. Nature. 2001;410:588–92.

Matyas F, Urban GM, Watanabe M, Mackie K, Zimmer A, Freund TF, et al. Identification of the sites of 2-arachidonoylglycerol synthesis and action imply retrograde endocannabinoid signaling at both GABAergic and glutamatergic synapses in the ventral tegmental area. Neuropharmacology. 2008;54:95–107.

Chiarlone A, Bellocchio L, Blazquez C, Resel E, Soria-Gomez E, Cannich A, et al. A restricted population of CB1 cannabinoid receptors with neuroprotective activity. Proc Natl Acad Sci USA. 2014;111:8257–62.

Albayram O, Alferink J, Pitsch J, Piyanova A, Neitzert K, Poppensieker K, et al. Role of CB1 cannabinoid receptors on GABAergic neurons in brain aging. Proc Natl Acad Sci USA. 2011;108:11256–61.

Robin LM, Oliveira da Cruz JF, Langlais VC, Martin-Fernandez M, Metna-Laurent M, Busquets-Garcia A, et al. Astroglial CB1 receptors determine synaptic D-serine availability to enable recognition memory. Neuron. 2018;98:935–44 e5.

Han J, Kesner P, Metna-Laurent M, Duan T, Xu L, Georges F, et al. Acute cannabinoids impair working memory through astroglial CB1 receptor modulation of hippocampal LTD. Cell. 2012;148:1039–50.

Lu HC, Mackie K. Review of the endocannabinoid system. Biol Psychiatry Cogn Neurosci Neuroimaging. 2021;6:607–15.

Moreno E, Chiarlone A, Medrano M, Puigdellivol M, Bibic L, Howell LA, et al. Singular location and signaling profile of adenosine A2A-Cannabinoid CB1 receptor heteromers in the dorsal striatum. Neuropsychopharmacology. 2018;43:964–77.

Aso E, Fernandez-Duenas V, Lopez-Cano M, Taura J, Watanabe M, Ferrer I, et al. Adenosine A2A-Cannabinoid CB1 receptor heteromers in the hippocampus: cannabidiol blunts delta(9)-tetrahydrocannabinol-induced cognitive impairment. Mol Neurobiol. 2019;56:5382–91.

Dong A, He K, Dudok B, Farrell JS, Guan W, Liput DJ, et al. A fluorescent sensor for spatiotemporally resolved imaging of endocannabinoid dynamics in vivo. Nat Biotechnol. 2022;40:787–98.

Airan RD, Thompson KR, Fenno LE, Bernstein H, Deisseroth K. Temporally precise in vivo control of intracellular signalling. Nature. 2009;458:1025–9.

Zheng W, Zhou J, Luan Y, Yang J, Ge Y, Wang M, et al. Spatiotemporal control of GPR37 signaling and its behavioral effects by optogenetics. Front Mol Neurosci. 2018;11:95.

Li P, Rial D, Canas PM, Yoo JH, Li W, Zhou X, et al. Optogenetic activation of intracellular adenosine A2A receptor signaling in the hippocampus is sufficient to trigger CREB phosphorylation and impair memory. Mol Psychiatry. 2015;20:1339–49.

Morri M, Sanchez-Romero I, Tichy AM, Kainrath S, Gerrard EJ, Hirschfeld PP, et al. Optical functionalization of human Class A orphan G-protein-coupled receptors. Nat Commun. 2018;9:1950.

Siuda ER, Copits BA, Schmidt MJ, Baird MA, Al-Hasani R, Planer WJ, et al. Spatiotemporal control of opioid signaling and behavior. Neuron. 2015;86:923–35.

Li Z, Chen X, Wang T, Gao Y, Li F, Chen L, et al. The corticostriatal adenosine A2A receptor controls maintenance and retrieval of spatial working memory. Biol Psychiatry. 2018;83:530–41.

Gremel CM, Chancey JH, Atwood BK, Luo G, Neve R, Ramakrishnan C, et al. Endocannabinoid modulation of orbitostriatal circuits gates habit formation. Neuron. 2016;90:1312–24.

Li Y, Ruan Y, He Y, Cai Q, Pan X, Zhang Y, et al. Striatopallidal adenosine A2A receptors in the nucleus accumbens confer motivational control of goal-directed behavior. Neuropharmacology. 2020;168:108010.

Li Y, He Y, Chen M, Pu Z, Chen L, Li P, et al. Optogenetic activation of adenosine A2A receptor signaling in the dorsomedial striatopallidal neurons suppresses goal-directed behavior. Neuropsychopharmacology 2016;41:1003–13.

He Y, Li Y, Pu Z, Chen M, Gao Y, Chen L, et al. Striatopallidal pathway distinctly modulates goal-directed valuation and acquisition of instrumental behavior via striatopallidal output projections. Cereb Cortex. 2020;30:1366–81.

He Y, Huang L, Wang K, Pan X, Cai Q, Zhang F, et al. Alpha-synuclein selectively impairs motor sequence learning and value sensitivity: reversal by the adenosine A2A receptor antagonists. Cereb Cortex. 2022;32:808–23.

Li Y, Pan X, He Y, Ruan Y, Huang L, Zhou Y, et al. Pharmacological blockade of adenosine A2A but not A1 receptors enhances goal-directed valuation in satiety-based instrumental behavior. Front Pharm. 2018;9:393.

Tanaka SC, Balleine BW, O'Doherty JP. Calculating consequences: Brain systems that encode the causal effects of actions. J Neurosci. 2008;28:6750–55.

Wei CJ, Singer P, Coelho J, Boison D, Feldon J, Yee BK, et al. Selective inactivation of adenosine A(2A) receptors in striatal neurons enhances working memory and reversal learning. Learn Mem. 2011;18:459–74.

Renteria R, Cazares C, Baltz ET, Schreiner DC, Yalcinbas EA, Steinkellner T, et al. Mechanism for differential recruitment of orbitostriatal transmission during actions and outcomes following chronic alcohol exposure. Elife. 2021;10:e67065.

Ahn KH, Mahmoud MM, Kendall DA. Allosteric modulator ORG27569 induces CB1 cannabinoid receptor high affinity agonist binding state, receptor internalization, and Gi protein-independent ERK1/2 kinase activation. J Biol Chem. 2012;287:12070–82.

Siuda ER, McCall JG, Al-Hasani R, Shin G, Il Park S, Schmidt MJ, et al. Optodynamic simulation of beta-adrenergic receptor signalling. Nat Commun. 2015;6:8480.

Han H, Liang X, Wang J, Zhao Q, Yang M, Rong W, et al. Cannabinoid receptor 1 contributes to sprouted innervation in endometrial ectopic growth through mitogen-activated protein kinase activation. Brain Res. 2017;1663:132–40.

Kofalvi A, Moreno E, Cordomi A, Cai NS, Fernandez-Duenas V, Ferreira SG, et al. Control of glutamate release by complexes of adenosine and cannabinoid receptors. BMC Biol. 2020;18:9.

Luscher C, Robbins TW, Everitt BJ. The transition to compulsion in addiction. Nat Rev Neurosci. 2020;21:247–63.

Gremel CM, Costa RM. Orbitofrontal and striatal circuits dynamically encode the shift between goal-directed and habitual actions. Nat Commun. 2013;4:2264.

Hilario MR, Clouse E, Yin HH, Costa RM. Endocannabinoid signaling is critical for habit formation. Front Integr Neurosci. 2007;1:6.

Nazzaro C, Greco B, Cerovic M, Baxter P, Rubino T, Trusel M, et al. SK channel modulation rescues striatal plasticity and control over habit in cannabinoid tolerance. Nat Neurosci. 2012;15:284–93.

Reynolds JN, Hyland BI, Wickens JR. A cellular mechanism of reward-related learning. Nature. 2001;413:67–70.

Schultz W, Dayan P, Montague PR. A neural substrate of prediction and reward. Science. 1997;275:1593–9.

Yagishita S, Hayashi-Takagi A, Ellis-Davies GC, Urakubo H, Ishii S, Kasai H. A critical time window for dopamine actions on the structural plasticity of dendritic spines. Science. 2014;345:1616–20.

Kotter R. Postsynaptic integration of glutamatergic and dopaminergic signals in the striatum. Prog Neurobiol. 1994;44:163–96.

Bamford NS, Wightman RM, Sulzer D. Dopamine's effects on corticostriatal synapses during reward-based behaviors. Neuron. 2018;97:494–510.

Tai LH, Lee AM, Benavidez N, Bonci A, Wilbrecht L. Transient stimulation of distinct subpopulations of striatal neurons mimics changes in action value. Nat Neurosci. 2012;15:1281–9.

Aquili L, Liu AW, Shindou M, Shindou T, Wickens JR. Behavioral flexibility is increased by optogenetic inhibition of neurons in the nucleus accumbens shell during specific time segments. Learn Mem. 2014;21:223–31.

Wang H, Han J. The endocannabinoid system regulates the moderate exercise-induced enhancement of learning and memory in mice. J Sports Med Phys Fit. 2020;60:320–28.

Ruiz-Calvo A, Maroto IB, Bajo-Graneras R, Chiarlone A, Gaudioso A, Ferrero JJ, et al. Pathway-specific control of striatal neuron vulnerability by corticostriatal cannabinoid CB1 receptors. Cereb Cortex. 2018;28:307–22.

Yang C, Liu J, Wang J, Yin A, Jiang Z, Ye S, et al. Activation of astroglial CB1R mediates cerebral ischemic tolerance induced by electroacupuncture. J Cereb Blood Flow Metab. 2021;41:2295–310.

Cong J, Lu K, Zou W, Li Z, Guo Z, Tong X, et al. Astroglial CB1 cannabinoid receptors mediate CP 55,940-induced conditioned place aversion through cyclooxygenase-2 signaling in mice. Front Cell Neurosci. 2021;15:772549.

Covelo A, Eraso-Pichot A, Fernandez-Moncada I, Serrat R, Marsicano G. CB1R-dependent regulation of astrocyte physiology and astrocyte-neuron interactions. Neuropharmacology. 2021;195:108678.

Howlett AC, Blume LC, Dalton GD. CB(1) cannabinoid receptors and their associated proteins. Curr Med Chem. 2010;17:1382–93.

Navarrete M, Araque A. Endocannabinoids mediate neuron-astrocyte communication. Neuron 2008;57:883–93.

Ramon-Duaso C, Conde-Moro AR, Busquets-Garcia A. Astroglial cannabinoid signaling and behavior. Glia. 2023;71:60–70.

Alberini CM, Cruz E, Descalzi G, Bessieres B, Gao V. Astrocyte glycogen and lactate: New insights into learning and memory mechanisms. Glia. 2018;66:1244–62.

Santello M, Toni N, Volterra A. Astrocyte function from information processing to cognition and cognitive impairment. Nat Neurosci. 2019;22:154–66.

Mouro FM, Batalha VL, Ferreira DG, Coelho JE, Baqi Y, Muller CE, et al. Chronic and acute adenosine A2A receptor blockade prevents long-term episodic memory disruption caused by acute cannabinoid CB1 receptor activation. Neuropharmacology. 2017;117:316–27.

Mouro FM, Kofalvi A, Andre LA, Baqi Y, Muller CE, Ribeiro JA, et al. Memory deficits induced by chronic cannabinoid exposure are prevented by adenosine A2AR receptor antagonism. Neuropharmacology. 2019;155:10–21.

Tebano MT, Martire A, Chiodi V, Pepponi R, Ferrante A, Domenici MR, et al. Adenosine A2A receptors enable the synaptic effects of cannabinoid CB1 receptors in the rodent striatum. J Neurochem. 2009;110:1921–30.

Carriba P, Ortiz O, Patkar K, Justinova Z, Stroik J, Themann A, et al. Striatal adenosine A2A and cannabinoid CB1 receptors form functional heteromeric complexes that mediate the motor effects of cannabinoids. Neuropsychopharmacology. 2007;32:2249–59.

Andersson M, Usiello A, Borgkvist A, Pozzi L, Dominguez C, Fienberg AA, et al. Cannabinoid action depends on phosphorylation of dopamine- and cAMP-regulated phosphoprotein of 32 kDa at the protein kinase A site in striatal projection neurons. J Neurosci. 2005;25:8432–8.

Ferreira SG, Goncalves FQ, Marques JM, Tome AR, Rodrigues RJ, Nunes-Correia I, et al. Presynaptic adenosine A2A receptors dampen cannabinoid CB1 receptor-mediated inhibition of corticostriatal glutamatergic transmission. Br J Pharm. 2015;172:1074–86.

Martire A, Tebano MT, Chiodi V, Ferreira SG, Cunha RA, Kofalvi A, et al. Pre-synaptic adenosine A2A receptors control cannabinoid CB1 receptor-mediated inhibition of striatal glutamatergic neurotransmission. J Neurochem. 2011;116:273–80.

Ferre S, Lluis C, Justinova Z, Quiroz C, Orru M, Navarro G, et al. Adenosine-cannabinoid receptor interactions. Implications for striatal function. Br J Pharm. 2010;160:443–53.
Funding
This research was supported by a National Natural Science Foundation of China grant (No. 81901082, No. 81871035, and No.82071378) and the Zhejiang Provincial Natural Science Foundation (LZ19H090001).
Ethics declarations
Competing interests
The authors declare no competing interests.
Additional information
Publisher's note Springer Nature remains neutral with regard to jurisdictional claims in published maps and institutional affiliations.
Supplementary information
Rights and permissions
Springer Nature or its licensor (e.g. a society or other partner) holds exclusive rights to this article under a publishing agreement with the author(s) or other rightsholder(s); author self-archiving of the accepted manuscript version of this article is solely governed by the terms of such publishing agreement and applicable law.
About this article
Cite this article
Shang, H., Li, P., Lin, X. et al. Neuronal and astrocytic CB1R signaling differentially modulates goal-directed behavior and working memory by distinct temporal mechanisms. Neuropsychopharmacol. (2023). https://doi.org/10.1038/s41386-023-01533-3
Received:

Revised:

Accepted:

Published:

DOI: https://doi.org/10.1038/s41386-023-01533-3