Abstract
Post-traumatic stress disorder (PTSD) leads to enhanced alcohol drinking and development of alcohol use disorder (AUD). Identifying shared neural mechanisms might help discover new therapies for PTSD/AUD. Here, we employed a rat model of comorbid PTSD/AUD to evaluate compounds that inhibit FK506-binding protein 51 (FKBP5), a co-chaperone modulator of glucocorticoid receptors implicated in stress-related disorders. Male and female rats received a familiar avoidance-based shock stress followed by voluntary alcohol drinking. We then assessed trauma-related behaviors through sleep bout cycles, hyperarousal, fear overgeneralization, and irritability. To evaluate the role of stress and alcohol history on the sensitivity to FKBP5 inhibitors, in two separate studies, we administered two FKBP5 inhibitors, benztropine (Study 1) or SAFit2 (Study 2). FKBP5 inhibitors were administered on the last alcohol drinking session and prior to each trauma-related behavioral assessment. We also measured plasma corticosterone to assess the actions of FKBP5 inhibitors after familiar shock stress and alcohol drinking. Benztropine reduced alcohol preference in stressed males and females, while aggressive bouts were reduced in benztropine-treated stressed females. During hyperarousal, benztropine reduced several startle response outcomes across stressed males and females. Corticosterone was reduced in benztropine-treated stressed males. The selective FKBP5 inhibitor, SAFit2, reduced alcohol drinking in stressed males but not females, with no differences in irritability. Importantly, SAFit2 decreased fear overgeneralization in stressed males and females. SAFit2 also reduced corticosterone across stressed males and females. Neither FKBP5 inhibitor changed sleep bout structure. These findings indicate that FKBP5 inhibitors modulate stress-related alcohol drinking and partially modulate trauma-related behaviors. This work supports the hypothesis that targeting FKBP5 may alleviate PTSD/AUD comorbidity.
Access options
Subscribe to Journal
Get full journal access for 1 year
$119.00
only $9.15 per issue
All prices are NET prices.
VAT will be added later in the checkout.
Tax calculation will be finalised during checkout.
Buy article
Get time limited or full article access on ReadCube.
$32.00
All prices are NET prices.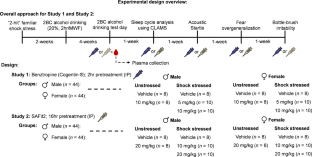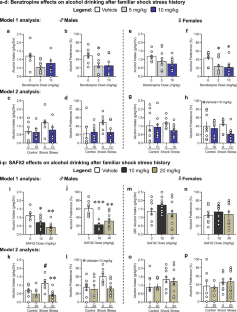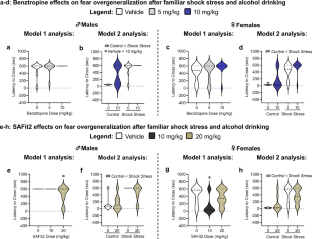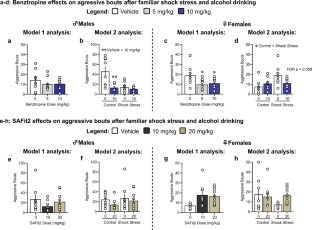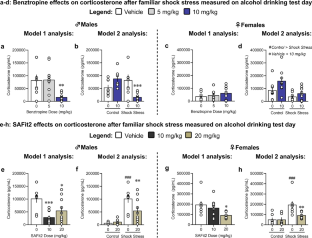 References
Blanco C, Xu Y, Brady K, Perez-Fuentes G, Okuda M, Wang S. Comorbidity of posttraumatic stress disorder with alcohol dependence among US adults: results from National Epidemiological Survey on Alcohol and Related Conditions. Drug Alcohol Depend. 2013;132:630–8.

Debell F, Fear NT, Head M, Batt-Rawden S, Greenberg N, Wessely S, et al. A systematic review of the comorbidity between PTSD and alcohol misuse. Soc Psychiatry Psychiatr Epidemiol. 2014;49:1401–25.

Shorter D, Hsieh J, Kosten TR. Pharmacologic management of comorbid post-traumatic stress disorder and addictions. Am J Addict. 2015;24:705–12.

Evren C, Dalbudak E, Evren B, Cetin R, Durkaya M. Self-mutilative behaviours in male alcohol-dependent inpatients and relationship with posttraumatic stress disorder. Psychiatry Res. 2011;186:91–6.

Rojas SM, Bujarski S, Babson KA, Dutton CE, Feldner MT. Understanding PTSD comorbidity and suicidal behavior: associations among histories of alcohol dependence, major depressive disorder, and suicidal ideation and attempts. J Anxiety Disord. 2014;28:318–25.

Hoerster KD, Malte CA, Imel ZE, Ahmad Z, Hunt SC, Jakupcak M. Association of perceived barriers with prospective use of VA mental health care among Iraq and Afghanistan veterans. Psychiatr Serv. 2012;63:380–2.

Norman SB, Haller M, Hamblen JL, Southwick SM, Pietrzak RH. The burden of co-occurring alcohol use disorder and PTSD in U.S. Military veterans: comorbidities, functioning, and suicidality. Psychol Addict Behav. 2018;32:224–29.

Zoricic Z, Karlovic D, Buljan D, Marusic S. Comorbid alcohol addiction increases aggression level in soldiers with combat-related post-traumatic stress disorder. Nord J Psychiatry. 2003;57:199–202.

Kang JI, Kim, TY, Chung, HG, Choi, JH, Hwang, EH, Kim, SJ. Genetic and epigenetic involvement of the FKBP5 gene in posttraumatic stress disorder after combat trauma. Eur Neuropsychopharmacol. 2019;29:S853–54.

Xie P, Kranzler HR, Poling J, Stein MB, Anton RF, Farrer LA, et al. Interaction of FKBP5 with childhood adversity on risk for post-traumatic stress disorder. Neuropsychopharmacology. 2010;35:1684–92.

Dragan WL, Domozych W, Czerski PM, Dragan M. Positive metacognitions about alcohol mediate the relationship between FKBP5 variability and problematic drinking in a sample of young women. Neuropsychiatr Dis Treat. 2018;14:2681–88.

Huang MC, Schwandt ML, Chester JA, Kirchhoff AM, Kao CF, Liang T, et al. FKBP5 moderates alcohol withdrawal severity: human genetic association and functional validation in knockout mice. Neuropsychopharmacology. 2014;39:2029–38.

Nylander I, Todkar A, Granholm L, Vrettou M, Bendre M, Boon W, et al. Evidence for a link between Fkbp5/FKBP5, early life social relations and alcohol drinking in young adult rats and humans. Mol Neurobiol. 2017;54:6225–34.

Zannas AS, Wiechmann T, Gassen NC, Binder EB. Gene-stress-epigenetic regulation of FKBP5: clinical and translational implications. Neuropsychopharmacology. 2016;41:261–74.

Wochnik GM, Ruegg J, Abel GA, Schmidt U, Holsboer F, Rein T. FK506-binding proteins 51 and 52 differentially regulate dynein interaction and nuclear translocation of the glucocorticoid receptor in mammalian cells. J Biol Chem. 2005;280:4609–16.

Binder EB. The role of FKBP5, a co-chaperone of the glucocorticoid receptor in the pathogenesis and therapy of affective and anxiety disorders. Psychoneuroendocrinology. 2009;34:S186–95.

Scharf SH, Liebl C, Binder EB, Schmidt MV, Muller MB. Expression and regulation of the Fkbp5 gene in the adult mouse brain. PLoS One. 2011;6:e16883.

Steinman MQ, Kirson D, Wolfe SA, Khom S, D'Ambrosio SR, Spierling Bagsic SR, et al. Importance of sex and trauma context on circulating cytokines and amygdalar GABAergic signaling in a comorbid model of posttraumatic stress and alcohol use disorders. Mol Psychiatry. 2021;26:3093–107.

Becker HC, Lopez MF, Doremus-Fitzwater TL. Effects of stress on alcohol drinking: a review of animal studies. Psychopharmacology (Berl). 2011;218:131–56.

Daskalakis NP, Yehuda R, Diamond DM. Animal models in translational studies of PTSD. Psychoneuroendocrinology. 2013;38:1895–911.

Natividad LA, Steinman MQ, McGinn MA, Sureshchandra S, Kerr TM, Ciccocioppo R, et al. Impaired hypothalamic feedback dysregulates brain glucocorticoid signaling in genetically-selected Marchigian Sardinian alcohol-preferring rats. Addict Biol. 2021;26:e12978.

Natividad LA, Buczynski MW, Herman MA, Kirson D, Oleata CS, Irimia C, et al. Constitutive increases in amygdalar corticotropin-releasing factor and fatty acid amide hydrolase drive an anxious phenotype. Biol Psychiatry. 2017;82:500–10.

Kirson D, Steinman MQ, Wolfe SA, Spierling Bagsic SR, Bajo M, Sureshchandra S, et al. Sex and context differences in the effects of trauma on comorbid alcohol use and post-traumatic stress phenotypes in actively drinking rats. J Neurosci Res. 2021;99:3354–72.

Bouton ME, Mineka S, Barlow DH. A modern learning theory perspective on the etiology of panic disorder. Psychol Rev. 2001;108:4–32.

Sabbagh JJ, Cordova RA, Zheng D, Criado-Marrero M, Lemus A, Li P, et al. Targeting the FKBP51/GR/Hsp90 complex to identify functionally relevant treatments for depression and PTSD. ACS Chem Biol. 2018;13:2288–99.

Gaali S, Kirschner A, Cuboni S, Hartmann J, Kozany C, Balsevich G, et al. Selective inhibitors of the FK506-binding protein 51 by induced fit. Nat Chem Biol. 2015;11:33–7.

Jones CK, Shannon HE. Muscarinic cholinergic modulation of prepulse inhibition of the acoustic startle reflex. J Pharm Exp Ther. 2000;294:1017–23.

Hartmann J, Wagner KV, Gaali S, Kirschner A, Kozany C, Ruhter G, et al. Pharmacological inhibition of the psychiatric risk factor FKBP51 has anxiolytic properties. J Neurosci. 2015;35:9007–16.

Pohlmann ML, Hausl AS, Harbich D, Balsevich G, Engelhardt C, Feng X, et al. Pharmacological modulation of the psychiatric risk factor FKBP51 alters efficiency of common antidepressant drugs. Front Behav Neurosci. 2018;12:262.

Müller CKL, Kalinichenko L, Huber S, Voll A, Bauder M, Kornhuber J, et al. Pharmacological inhibition of FK506-binding protein 51 reduces alcohol consumption and conditioned place preference in mice. Pharmacopsychiatry. 2019;52:95.

Konig L, Kalinichenko LS, Huber SE, Voll AM, Bauder M, Kornhuber J, et al. The selective FKBP51 inhibitor SAFit2 reduces alcohol consumption and reinstatement of conditioned alcohol effects in mice. Addict Biol. 2020;25:e12758.

Maiaru M, Morgan OB, Mao T, Breitsamer M, Bamber H, Pohlmann M, et al. The stress regulator FKBP51: a novel and promising druggable target for the treatment of persistent pain states across sexes. Pain. 2018;159:1224–34.

Carey RJ. A comparison of atropine, benztropine and diphenhydramine on the reversal of haloperidol induced suppression of self-stimulation. Pharm Biochem Behav. 1982;17:851–4.

Vozella V, Cruz B, Natividad LA, Benvenuti F, Cannella N, Edwards S, et al. Glucocorticoid receptor antagonist mifepristone does not alter innate anxiety-like behavior in genetically-selected marchigian sardinian (msP) rats. Int J Mol Sci. 2021;22:3095.

Qiu B, Luczak SE, Wall TL, Kirchhoff AM, Xu Y, Eng MY, et al. The FKBP5 gene affects alcohol drinking in knockout mice and is implicated in alcohol drinking in humans. Int J Mol Sci. 2016;17:1271.

Savarese AM, Ozburn AR, Metten P, Schlumbohm JP, Hack WR, LeMoine K, et al. Targeting the glucocorticoid receptor reduces binge-like drinking in high drinking in the dark (HDID-1) mice. Alcohol Clin Exp Res. 2020;44:1025–36.

Binder EB, Bradley RG, Liu W, Epstein MP, Deveau TC, Mercer KB, et al. Association of FKBP5 polymorphisms and childhood abuse with risk of posttraumatic stress disorder symptoms in adults. JAMA. 2008;299:1291–305.

Watkins LE, Han S, Harpaz-Rotem I, Mota NP, Southwick SM, Krystal JH, et al. FKBP5 polymorphisms, childhood abuse, and PTSD symptoms: results from the National Health and Resilience in Veterans Study. Psychoneuroendocrinology. 2016;69:98–105.

Sinclair D, Fillman SG, Webster MJ, Weickert CS. Dysregulation of glucocorticoid receptor co-factors FKBP5, BAG1 and PTGES3 in prefrontal cortex in psychotic illness. Sci Rep. 2013;3:3539.

Kivisto AJ, Moore TM, Elkins SR, Rhatigan DL. The effects of PTSD symptomatology on laboratory-based aggression. J Trauma Stress. 2009;22:344–7.

Babcock JC, Roseman A, Green CE, Ross JM. Intimate partner abuse and PTSD symptomatology: examining mediators and moderators of the abuse-trauma link. J Fam Psychol. 2008;22:809–18.

Williamson JB, Jaffee MS, Jorge RE. Posttraumatic stress disorder and anxiety-related conditions. Continuum (Minneap Minn). 2021;27:1738–63.

Hartmann J, Wagner KV, Liebl C, Scharf SH, Wang XD, Wolf M, et al. The involvement of FK506-binding protein 51 (FKBP5) in the behavioral and neuroendocrine effects of chronic social defeat stress. Neuropharmacology. 2012;62:332–9.

Barent RL, Nair SC, Carr DC, Ruan Y, Rimerman RA, Fulton J, et al. Analysis of FKBP51/FKBP52 chimeras and mutants for Hsp90 binding and association with progesterone receptor complexes. Mol Endocrinol. 1998;12:342–54.

Shrestha S, Sun Y, Lufkin T, Kraus P, Or Y, Garcia YA, et al. Tetratricopeptide repeat domain 9A negatively regulates estrogen receptor alpha activity. Int J Biol Sci. 2015;11:434–47.

Stechschulte LA, Sanchez ER. FKBP51-a selective modulator of glucocorticoid and androgen sensitivity. Curr Opin Pharm. 2011;11:332–7.

Connelly KL, Wolsh CC, Barr JL, Bauder M, Hausch F, Unterwald EM. Sex differences in the effect of the FKBP5 inhibitor SAFit2 on anxiety and stress-induced reinstatement following cocaine self-administration. Neurobiol Stress. 2020;13:100232.

Peltier MR, Verplaetse TL, Mineur YS, Petrakis IL, Cosgrove KP, Picciotto MR, et al. Sex differences in stress-related alcohol use. Neurobiol Stress. 2019;10:100149.

Fox HC, Sinha R. Sex differences in drug-related stress-system changes: implications for treatment in substance-abusing women. Harv Rev Psychiatry. 2009;17:103–19.

Garbutt JC, Kranzler HR, O'Malley SS, Gastfriend DR, Pettinati HM, Silverman BL, et al. Efficacy and tolerability of long-acting injectable naltrexone for alcohol dependence: a randomized controlled trial. JAMA. 2005;293:1617–25.

Herbeck DM, Jeter KE, Cousins SJ, Abdelmaksoud R, Crevecoeur-MacPhail D. Gender differences in treatment and clinical characteristics among patients receiving extended release naltrexone. J Addict Dis. 2016;35:305–14.

Huang ZD, Zhao YF, Li S, Gu HY, Lin LL, Yang ZY, et al. Comparative efficacy and acceptability of pharmaceutical management for adults with post-traumatic stress disorder: a systematic review and meta-analysis. Front Pharm. 2020;11:559.

Sramek JJ, Murphy MF, Cutler NR. Sex differences in the psychopharmacological treatment of depression. Dialogues Clin Neurosci. 2016;18:447–57.

Rothman RB, Baumann MH, Prisinzano TE, Newman AH. Dopamine transport inhibitors based on GBR12909 and benztropine as potential medications to treat cocaine addiction. Biochem Pharm. 2008;75:2–16.

Sabban EL, Serova LI, Newman E, Aisenberg N, Akirav I. Changes in gene expression in the locus coeruleus-amygdala circuitry in inhibitory avoidance PTSD model. Cell Mol Neurobiol. 2018;38:273–80.

Feng X, Pomplun S, Hausch F. Recent progress in FKBP ligand development. Curr Mol Pharm. 2015;9:27–36.

Balsevich G, Hausl AS, Meyer CW, Karamihalev S, Feng X, Pohlmann ML, et al. Stress-responsive FKBP51 regulates AKT2-AS160 signaling and metabolic function. Nat Commun. 2017;8:1725.

Zanettini C, Wilkinson DS, Katz JL. Behavioral economic analysis of the effects of N-substituted benztropine analogs on cocaine self-administration in rats. Psychopharmacology (Berl). 2018;235:47–58.

Connelly KL, Unterwald EM. Chronic cocaine administration upregulates FKBP5 in the extended amygdala of male and female rats. Drug Alcohol Depend. 2019;199:101–05.

Vendruscolo LF, Barbier E, Schlosburg JE, Misra KK, Whitfield TW Jr, Logrip ML, et al. Corticosteroid-dependent plasticity mediates compulsive alcohol drinking in rats. J Neurosci. 2012;32:7563–71.

Vendruscolo LF, Estey D, Goodell V, Macshane LG, Logrip ML, Schlosburg JE, et al. Glucocorticoid receptor antagonism decreases alcohol seeking in alcohol-dependent individuals. J Clin Invest. 2015;125:3193–7.

Benvenuti F, Cannella N, Stopponi S, Soverchia L, Ubaldi M, Lunerti V, et al. Effect of glucocorticoid receptor antagonism on alcohol self-administration in genetically-selected marchigian sardinian alcohol-preferring and non-preferring wistar rats. Int J Mol Sci. 2021;22:4184.

Somkuwar SS, Vendruscolo LF, Fannon MJ, Schmeichel BE, Nguyen TB, Guevara J, et al. Abstinence from prolonged ethanol exposure affects plasma corticosterone, glucocorticoid receptor signaling and stress-related behaviors. Psychoneuroendocrinology. 2017;84:17–31.

McGinn MA, Tunstall BJ, Schlosburg JE, Gregory-Flores A, George O, de Guglielmo G, et al. Glucocorticoid receptor modulators decrease alcohol self-administration in male rats. Neuropharmacology. 2021;188:108510.

Khom S, Rodriguez L, Gandhi P, Kirson D, Bajo M, Oleata CS, et al. Alcohol dependence and withdrawal increase sensitivity of central amygdalar GABAergic synapses to the glucocorticoid receptor antagonist mifepristone in male rats. Neurobiol Dis. 2022;164:105610.

Bali U, Phillips T, Hunt H, Unitt J. FKBP5 mRNA expression is a biomarker for GR antagonism. J Clin Endocrinol Metab. 2016;101:4305–12.

Ralevski E, Olivera-Figueroa LA, Petrakis I. PTSD and comorbid AUD: a review of pharmacological and alternative treatment options. Subst Abus Rehabil. 2014;5:25–36.
Acknowledgements
The authors thank Dr. Luisa B. Bertotto for her technical support with experiments and Shannon R. D'Ambrosio for assisting during shock stress procedures.
Funding
Support for this study was provided by The National Institute on Alcohol Abuse and Alcoholism grants, AA027700, AA028879, AA013498, P60 AA006420, AA017447, AA021491, AA029841, AA015566, K99 AA026638, T32 AA007456, and the Schimmel Family Endowed Chair. The Department of Defense (DoD) provided support for the Pharmacotherapies for Alcohol and Substance use disorders Alliance (PASA). The Alcohol and Substance Use Disorders Research Program (ASUDRP) Programmatic Panel is a Department of Defense (DoD) appointed and chaired steering committee that provides oversight to the PASA Consortium. The ASUDRP Programmatic Panel is chaired by DoD and comprises government representatives and non-DoD subject matter experts. The panel approves all studies to be conducted, recommends new studies, and identifies existing and new requirements as they arise. The ASUDRP Programmatic Panel is the overall main governing and management committee and the committee through which the DoD interacts and collaborates with the PASA Consortium. The ASUDRP Programmatic Panel determines all major scientific decisions; clinical studies proposed by the Consortium Committee proceed into the implementation stage only with the approval of the ASUDRP Programmatic Panel. While the DoD/ASADRP had input into the study design, conduct, analysis, and manuscript drafting, the comments and views of the authors do not necessarily represent the views of DoD, ASUDRP, or the U.S. Government. The U.S. Army Medical Research Acquisition Activity, 820 Chandler Street, Fort Detrick MD 21702-5014 is the awarding and administering acquisition office. This work was supported by the Office of the Assistant Secretary of Defense for Health Affairs through the Alcohol and Substance Use Research Program under Award No. W81XWH1820044. Opinions, interpretations, conclusions, and recommendations are those of the author and are not necessarily endorsed by the Department of Defense. In conducting research using animals, the investigator(s) adhered to the laws of the United States and regulations of the Department of Agriculture. Data were collected at participating sites of the PASA consortium and were transmitted to RTI International for this study. RTI International has full access to all the data in the study and takes responsibility for the integrity of the data and accuracy of the data analysis. This is manuscript number 30175 from The Scripps Research Institute.
Ethics declarations
Competing interests
The authors declare no competing interests.
Additional information
Publisher's note Springer Nature remains neutral with regard to jurisdictional claims in published maps and institutional affiliations.
Supplementary information
About this article
Cite this article
Cruz, B., Vozella, V., Carper, B.A. et al. FKBP5 inhibitors modulate alcohol drinking and trauma-related behaviors in a model of comorbid post-traumatic stress and alcohol use disorder. Neuropsychopharmacol. (2022). https://doi.org/10.1038/s41386-022-01497-w
Received:

Revised:

Accepted:

Published:

DOI: https://doi.org/10.1038/s41386-022-01497-w