Abstract
The nucleus accumbens (nAc) is a critical region in the brain reward system since it integrates abundant synaptic inputs contributing to the control of neuronal excitability in the circuit. The presence of inhibitory α1 glycine receptor (GlyRs) subunits, sensitive to ethanol, has been recently reported in accumbal neurons suggesting that they are protective against excessive binge consumption. In the present study, we used viral vectors (AAV) to overexpress mutant and WT α1 subunits in accumbal neurons in D1 Cre and α1 KI mice. Injection of a Cre-inducible AAV carrying an ethanol insensitive α1 subunit in D1 Cre neurons was unable to affect sensitivity to ethanol in GlyRs or affect ethanol drinking. On the other hand, using an AAV that transduced WT α1 GlyRs in GABAergic neurons in the nAc of high-ethanol consuming mice caused a reduction in ethanol intake as reflected by lowered drinking in the dark and reduced blood ethanol concentration. As expected, the AAV increased the glycine current density by 5-fold without changing the expression of GABAA receptors. Examination of the ethanol sensitivity in isolated accumbal neurons indicated that the GlyRs phenotype changed from an ethanol resistant to an ethanol sensitive type. These results support the conclusion that increased inhibition in the nAc can control excessive ethanol consumption and that selective targeting of GlyRs by pharmacotherapy might provide a mechanistic procedure to reduce ethanol binge.
Access options
Subscribe to Journal
Get full journal access for 1 year
$119.00
only $9.15 per issue
All prices are NET prices.
VAT will be added later in the checkout.
Tax calculation will be finalised during checkout.
Buy article
Get time limited or full article access on ReadCube.
$32.00
All prices are NET prices.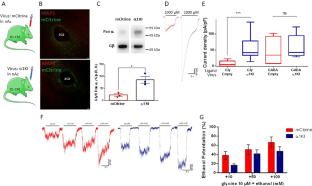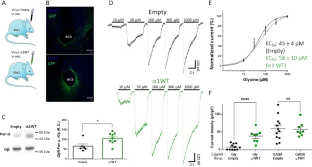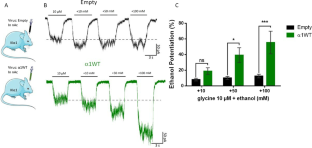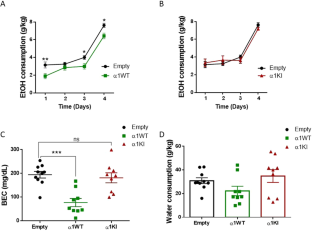 References
Alasmari F, Goodwani S, McCullumsmith RE, Sari Y. Role of glutamatergic system and mesocorticolimbic circuits in alcohol dependence. Prog Neurobiol. 2018;171:32–49.

Koob GF. Drug addiction: Hyperkatifeia/negative reinforcement as a framework for medications development. Pharmacol Rev. 2021;73:163–201.

McCracken LM, Lowes, DC, Salling, MC, Carreau-Vollmer, C, Odean, NN, Yuri AB, et al. Glycine receptor α3 and α2 subunits mediate tonic and exogenous agonist-induced currents in forebrain. Proc Natl Acad Sci. 2017;114:E7179–E7186.

Söderpalm B, Lidö HH, Ericson M. The Glycine Receptor—A Functionally Important Primary Brain Target of Ethanol. Alcohol Clin Exp Res. 2017;41:1816–30.

Russo SJ, Nestler EJ. The brain reward circuitry in mood disorders. Nat Rev Neurosci. 2013;14:609–25.

Volkow ND, Morales M. Review The Brain on Drugs: From Reward to Addiction. Cell. 2015;162:712–25.

Muñoz B, Yevenes GE, Förstera B, Lovinger DM, Aguayo LG. Presence of Inhibitory Glycinergic Transmission in Medium Spiny Neurons in the Nucleus Accumbens. Front Mol Neurosci. 2018;11:1–15.

Stephens DN, King SL, Lambert JJ, Belelli D, Duka T. GABAA receptor subtype involvement in addictive behaviour. Genes, Brain Behav. 2017;16:149–84.

Han S, Gelernter J, Kranzler HR, Yang BZ. Ordered subset linkage analysis based on admixture proportion identifies new linkage evidence for alcohol dependence in African-Americans. Hum Genet. 2013;132:397–403.

Hikida T, Kimura K, Wada N, Funabiki K, Nakanishi Shigetada S. Distinct Roles of Synaptic Transmission in Direct and Indirect Striatal Pathways to Reward and Aversive Behavior. Neuron. 2010;66:896–907.

Nakanishi S, Hikida T, Yawata S. Distinct dopaminergic control of the direct and indirect pathways in reward-based and avoidance learning behaviors. Neuroscience. 2014;282:49–59.

Koob GF, Volkow ND. Neurobiology of addiction: a neurocircuitry analysis. Lancet Psychiatry. 2016;3:760–73.

Di Chiara G, Imperato A. Drugs abused by humans preferentially increase synaptic dopamine concentrations in the mesolimbic system of freely moving rats. Proc Natl Acad Sci. 1988;85:5274–8.

Di Chiara G. Role of dopamine in the behavioural actions of nicotine related to addiction. Eur J Pharmacol. 2000;393:295–314.

Burgos CF, Muñoz B, Guzman L, Aguayo LG. Ethanol effects on glycinergic transmission: From molecular pharmacology to behavior responses. Pharmacol Res. 2015;101:18–29.

Jonsson S, Morud J, Pickering C, Adermark L, Ericson M, Söderpalm, B. Changes in glycine receptor subunit expression in forebrain regions of the Wistar rat over development. Brain Res. 2012;1446:12–21.

Delaney AJ, Esmaeili A, Sedlak PL, Lynch JW, Sah P. Differential expression of glycine receptor subunits in the rat basolateral and central amygdala. Neurosci Lett. 2010;469:237–42.

Yevenes GE, Moraga-cid G, Peoples RW. A selective Gβγ -linked intracellular mechanism for modulation of a ligand-gated ion channel by ethanol. Proc Natl Acad Sci. 2008;105:20523–8.

Molander A, Söderpalm B. Glycine receptors regulate dopamine release in the rat nucleus accumbens. Alcohol Clin Exp Res. 2005;29:17–26.

Molander A, Löf E, Stomberg R, Ericson M, Söderpalm B. Involvement of accumbal glycine receptors in the regulation of voluntary ethanol intake in the rat. Alcohol Clin Exp Res. 2005;29:38–45.

Lidö HH, Ericson M, Marston H, Söderpalm B. A role for accumbal glycine receptors in modulation of dopamine release by the glycine transporter-1 inhibitor Org25935. Front Psychiatry. 2011;2:1–9.

Aguayo LG, Castro P, Mariqueo T, Muñoz B, Xiong W, Zhang L, et al. Altered sedative effects of ethanol in mice with α1 glycine receptor subunits that are insensitive to Gβγ modulation. Neuropsychopharmacology. 2014;39:2538–48.

Muñoz B, Gallegos S, Peters C, Murath P, Lovinger DM, Homanics GE, et al. Influence of nonsynaptic α1 glycine receptors on ethanol consumption and place preference. Addict Biol. 2019;25:1–14.

Thiele TE, Crabbe JC, Boehm SL II. 'Drinking in the dark' (DID): A simple mouse model of binge-like alcohol intake. Curr Protoc Neurosci. 2014;9.49:1–12.

Jun SB, Carlson VC, Ikeda S, Lovinger D. Vibrodissociation of Neurons from Rodent Brain Slices to Study Synaptic Transmission and Image Presynaptic Terminals. J Vis Exp. 1–9 (2011) https://doi.org/10.3791/2752.

Mariqueo TA, Agurto A, Muñoz B, San Martin L, Coronado C, Fernández-Pérez EJ, et al. Effects of ethanol on glycinergic synaptic currents in mouse spinal cord neurons. J Neurophysiol. 2014;111:1940–8.

Förstera B, Muñoz B, Lobo MK, Chandra R, Lovinger DM, Aguayo LG. Presence of ethanol-sensitive glycine receptors in medium spiny neurons in the mouse nucleus accumbens. J Physiol. 2017;595:5285–5300.

Curtis MJ, Alexander S, Cirino G, Docherty JR, George CH, Giembycz MA, et al. Experimental design and analysis and their reporting II: updated and simplified guidance for authors and peer reviewers. Br J Pharmacol. 2018;175:987–93.

Pardo-Garcia TR, Garcia-Keller C, Penaloza T, Richie CT, Pickel J, Hope BT, et al. Ventral pallidum is the primary target for accumbens D1 projections driving cocaine seeking. J Neurosci 2019;39:2041–51.

Soares-Cunha C, de Vasconcelos NAP, Coimbra B, Domingues AV, Silva JM, Loureiro-Campos E, et al. Nucleus accumbens medium spiny neurons subtypes signal both reward and aversion. Mol Psychiatry. 2020;25:3241–55.

Hoshino C, Konno A, Hosoi N, Kaneko R, Mukai R, Nakai J, et al. GABAergic neuron-specific whole-brain transduction by AAV-PHP.B incorporated with a new GAD65 promoter. Mol Brain. 2021;14:1–18.

Gallo EF, Salling MC, Feng B, Morón JA, Harrison NL, Javitch JA, et al. Upregulation of dopamine D2 receptors in the nucleus accumbens indirect pathway increases locomotion but does not reduce alcohol consumption. Neuropsychopharmacology. 2015;40:1609–18.

Gioia DA, McCool B. Strain-Dependent Effects of Acute Alcohol on Synaptic Vesicle Recycling and Post-Tetanic Potentiation in Medial Glutamate Inputs to the Mouse Basolateral Amygdala. Alcohol Clin Exp Res. 2017;41:735–46.

Rhodes JS, Ford MM, Yu CH, Brown LL, Finn DA, Garland T, et al. Mouse inbred strain differences in ethanol drinking to intoxication. Genes, Brain Behav. 2007;6:1–18.

Novier A, Van Skike CE, Diaz-Granados JL, Mittleman G, Matthews DB. Acute alcohol produces ataxia and cognitive impairments in aged animals: A comparison between young adult and aged rats. Alcohol Clin Exp Res. 2013;37:1317–24.

Gallegos S, San Martin L, Araya A, Lovinger DM, Homanics GE, Aguayo LG. Reduced sedation and increased ethanol consumption in knock-in mice expressing an ethanol insensitive alpha 2 subunit of the glycine receptor. Neuropsychopharmacology. 1–9 (2020) https://doi.org/10.1038/s41386-020-0689-9.

Soares-cunha C, Coimbra B, Domingues AV, Vasconcelos N, Sousa N, Rodrigues AJ. Nucleus Accumbens Microcircuit Underlying D2-MSN-Driven Increase in Motivation. eNeuro. 2018;5:1–16.

Potter GB, Petryniak MA, Shevchenko E, McKinsey GL, Ekker M, Rubenstein JLR. Generation of Cre-transgenic mice using Dlx1/Dlx2 enhancers and their characterization in GABAergic interneurons. Mol Cell Neurosci. 2009;40:167–86.

Lee AT, Vogt D, Rubenstein JL, Sohal VS. A class of GABAergic neurons in the prefrontal cortex sends long-range projections to the nucleus accumbens and elicits acute avoidance behavior. J Neurosci. 2014;34:11519–25.

Wilson DE, Smith GB, Jacob AL, Walker T, Dimidschstein J, Fishell G, et al. GABAergic Neurons in Ferret Visual Cortex Participate in Functionally Specific Networks Report GABAergic Neurons in Ferret Visual Cortex Participate in Functionally Specific Networks. Neuron. 2017;93:1058–.e4.

Marin MT, Morais-Silva G. Ethanol's Action Mechanisms in the Brain: From Lipid General Alterations to Specific Protein Receptor Binding. Addictive Substances and Neurological Disease: Alcohol, Tobacco, Caffeine, and Drugs of Abuse in Everyday Lifestyles (Elsevier Inc., 2017). https://doi.org/10.1016/B978-0-12-805373-7.00016-5.

Thanos PK, Volkow ND, Freimuth P, Umegaki H, Ikari H, Roth G, et al. Overexpression of dopamine D2 receptors reduces alcohol self-administration. J Neurochem. 2001;78:1094–103.

Szumlinski KK, Ary AW, Lominac KD, Klugmann M, Kippin TE. Accumbens Homer2 Overexpression Facilitates Alcohol-Induced Neuroplasticity in C57BL / 6J Mice. 1365–78 (2008) https://doi.org/10.1038/sj.npp.1301473.

Smothers CT, Szumlinski KK, Worley PF, Woodward JJ. Altered NMDA receptor function in primary cultures of hippocampal neurons from mice lacking the Homer2 gene. Synapse. 2016;70:33–39.

Strong CE, Hagarty DP, Guerrero AB, Schoepfer KJ, Cajuste SM, Kabbaj M. Chemogenetic selective manipulation of nucleus accumbens medium spiny neurons bidirectionally controls alcohol intake in male and female rats. Sci. Rep. 1–15 (2020) https://doi.org/10.1038/s41598-020-76183-2.

Gallegos S, Muñoz B, Araya A, Aguayo LG. High ethanol sensitive glycine receptors regulate firing in D1 medium spiny neurons in the nucleus accumbens. Neuropharmacology. 2019;160:1–8.

Molander A, Söderpalm B. Accumbal Strychnine-Sensitive Glycine Receptors: An Access Point for Ethanol to the Brain Reward System. Alcohol Clin Exp Res. 2005;29:27–37.

Molander A, Höifödt Lidö H, Löf E, Ericson M, Soderpalm B. The glycine reuptake inhibitor ORG 25935 decreases ethanol intake and preference in male wistar rats. Alcohol Alcohol. 2007;42:11–18.
Acknowledgements
We thank Lauren Aguayo and Carolina Benitez for technical assistance. To https://smart.servier.com for templates for illustrations.
Funding
This work was supported by the National Institutes of Health (NIH) grant R01AA025718, FONDECYT 1211082, FONDECYT 1201577, Beca Doctorado Nacional ANID 21190807.
Ethics declarations
Competing interests
The authors declare no competing interests.
Additional information
Publisher's note Springer Nature remains neutral with regard to jurisdictional claims in published maps and institutional affiliations.
Supplementary information
Rights and permissions
Springer Nature or its licensor holds exclusive rights to this article under a publishing agreement with the author(s) or other rightsholder(s); author self-archiving of the accepted manuscript version of this article is solely governed by the terms of such publishing agreement and applicable law.
About this article
Cite this article
Araya, A., Gallegos, S., Maldonado, A. et al. Overexpression of wild type glycine alpha 1 subunit rescues ethanol sensitivity in accumbal receptors and reduces binge drinking in mice. Neuropsychopharmacol. (2022). https://doi.org/10.1038/s41386-022-01459-2
Received:

Revised:

Accepted:

Published:

DOI: https://doi.org/10.1038/s41386-022-01459-2