Abstract
The high efficacy mu-opioid receptor (MOR) agonist methadone is an effective opioid use disorder (OUD) medication used exclusively in opioid-dependent patients. However, methadone has undesirable effects that limit its clinical efficacy. Intermediate efficacy MOR agonists may treat OUD with fewer undesirable effects. We compared the effects of methadone with the intermediate efficacy MOR agonist TRV130 (oliceridine) on fentanyl-vs.-food choice and somatic withdrawal signs in opioid-dependent and post-opioid-dependent rats. Male rats (n = 20) were trained under a fentanyl-vs.-food choice procedure. Rats were then provided extended fentanyl (3.2 µg/kg/infusion) access (6 p.m.–6 a.m.) for 10 days to produce opioid dependence/withdrawal. Rats were treated with vehicle (n = 7), TRV130 (3.2 mg/kg; n = 8), or methadone (3.2 mg/kg; n = 5) three times per day after each extended-access session (8:30 a.m., 11 a.m., 1:30 p.m.). Withdrawal sign scoring (1:55 p.m.) and choice tests (2–4 p.m.) were conducted daily. Vehicle, TRV130, and methadone effects on fentanyl choice were redetermined in post-opioid-dependent rats. Vehicle-, TRV130-, and methadone-treated rats had similar fentanyl intakes during extended access. Vehicle-treated rats exhibited increased withdrawal signs and decreased bodyweights. Both methadone and TRV130 decreased these withdrawal signs. TRV130 was less effective than methadone to decrease fentanyl choice and increase food choice in opioid-dependent rats. Neither methadone nor TRV130 decreased fentanyl choice in post-opioid-dependent rats. Results suggest that higher MOR activation is required to reduce fentanyl choice than withdrawal signs in fentanyl-dependent rats. Additionally, given that TRV130 did not precipitate withdrawal in opioid-dependent rats, intermediate efficacy MOR agonists like TRV130 may facilitate the transition of patients with OUD from methadone to lower efficacy treatments like buprenorphine.
Access options
Subscribe to Journal
Get full journal access for 1 year
$119.00
only $9.15 per issue
All prices are NET prices.
VAT will be added later in the checkout.
Tax calculation will be finalised during checkout.
Buy article
Get time limited or full article access on ReadCube.
$32.00
All prices are NET prices.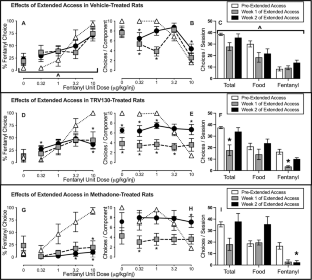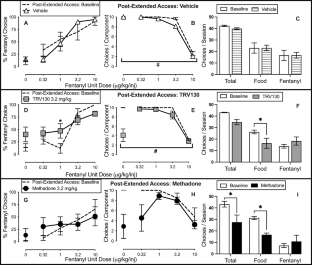 References
Ahmad FB, Rossen LM, Sutton P. Provisional drug overdose death counts. Center for Disease Control and Prevention: National Center for Health Statistics; 2022.

Kreek MJ, Borg L, Ducat E, Ray B. Pharmacotherapy in the treatment of addiction: methadone. J Addict Dis. 2010;29:200–16.

Mattick RP, Breen C, Kimber J, Davoli M. Methadone maintenance therapy versus no opioid replacement therapy for opioid dependence. Cochrane Database Syst Rev. 2009:CD002209.

Buprenorphine/Naloxone Versus Methadone for the Treatment of Opioid Dependence: A Review of Comparative Clinical Effectiveness, Cost-Effectiveness and Guidelines [Internet]. Ottawa (ON): Canadian Agency for Drugs and Technologies in Health; 2016 Sep 2.

Wakeman SE, Larochelle MR, Ameli O, Chaisson CE, McPheeters JT, Crown WH, et al. Comparative effectiveness of different treatment pathways for opioid use disorder. JAMA Netw Open. 2020;3:e1920622.

Jones CM, Campopiano M, Baldwin G, McCance-Katz E. National and state treatment need and capacity for opioid agonist medication-assisted treatment. Am J Public Health. 2015;105:e55–63.

Modesto-Lowe V, Brooks D, Petry N. Methadone deaths: risk factors in pain and addicted populations. J Gen Intern Med. 2010;25:305–9.

Selley DE, Liu Q, Childers SR. Signal transduction correlates of Mu opioid agonist intrinsic efficacy: receptor-stimulated [35S]GTP gamma S binding in mMOR-CHO cells and rat thalamus. J Pharm Exp Ther. 1998;285:496–505.

Caplehorn JR. Deaths in the first two weeks of maintenance treatment in NSW in 1994: identifying cases of iatrogenic methadone toxicity. Drug Alcohol Rev. 1998;17:9–17.

Zador D, Sunjic S. Deaths in methadone maintenance treatment in New South Wales, Australia 1990-5. Addiction. 2000;95:77–84.

Zador DA, Sunjic SD. Methadone-related deaths and mortality rate during induction into methadone maintenance, New South Wales, 1996. Drug Alcohol Rev. 2002;21:131–6.

Cruciani RA. Methadone: to ECG or not to ECG…That is still the question. J Pain Symptom Manag. 2008;36:545–52.

Dahan A, Yassen A, Bijl H, Romberg R, Sarton E, Teppema L, et al. Comparison of the respiratory effects of intravenous buprenorphine and fentanyl in humans and rats. Br J Anaesth. 2005;94:825–34.

Dahan A, Yassen A, Romberg R, Sarton E, Teppema L, Olofsen E, et al. Buprenorphine induces ceiling in respiratory depression but not in analgesia. Br J Anaesth. 2006;96:627–32.

Moss LM, Algera MH, Dobbins R, Gray F, Strafford S, Heath A, et al. Effect of sustained high buprenorphine plasma concentrations on fentanyl-induced respiratory depression: a placebo-controlled crossover study in healthy volunteers and opioid-tolerant patients. PLoS ONE. 2022;17:e0256752.

Sessler NE, Walker E, Chickballapur H, Kacholakalayil J, Coplan PM. Disproportionality analysis of buprenorphine transdermal system and cardiac arrhythmia using FDA and WHO postmarketing reporting system data. Postgrad Med. 2017;129:62–8.

Spadaro A, Sarker A, Hogg-Bremer W, Love JS, O'Donnell N, Nelson LS, et al. Reddit discussions about buprenorphine associated precipitated withdrawal in the era of fentanyl. Clin Toxicol (Phila). 2022;60:694–701. Epub 2022 Feb 4.

Soyka M. Transition from full Mu opioid agonists to buprenorphine in opioid dependent patients—a critical review. Front Pharm. 2021;12:718811.

Burgueno J, Pujol M, Monroy X, Roche D, Varela MJ, Merlos M, et al. A complementary scale of biased agonism for agonists with differing maximal responses. Sci Rep. 2017;7:15389.

Yudin Y, Rohacs T. The G-protein-biased agents PZM21 and TRV130 are partial agonists of mu-opioid receptor-mediated signalling to ion channels. Br J Pharm. 2019;176:3110–25.

Gillis A, Gondin AB, Kliewer A, Sanchez J, Lim HD, Alamein C, et al. Low intrinsic efficacy for G protein activation can explain the improved side effect profiles of new opioid agonists. Sci Signal. 2020;13.

Manglik A, Lin H, Aryal DK, McCorvy JD, Dengler D, Corder G, et al. Structure-based discovery of opioid analgesics with reduced side effects. Nature. 2016;537:185–90.

Soergel DG, Subach RA, Burnham N, Lark MW, James IE, Sadler BM, et al. Biased agonism of the mu-opioid receptor by TRV130 increases analgesia and reduces on-target adverse effects versus morphine: a randomized, double-blind, placebo-controlled, crossover study in healthy volunteers. Pain. 2014;155:1829–35.

Ayad S, Demitrack MA, Burt DA, Michalsky C, Wase L, Fossler MJ, et al. Evaluating the incidence of opioid-induced respiratory depression associated with oliceridine and morphine as measured by the frequency and average cumulative Duration of dosing interruption in patients treated for acute postoperative pain. Clin Drug Investig. 2020;40:755–64.

Dahan A, van Dam CJ, Niesters M, van Velzen M, Fossler MJ, Demitrack MA, et al. Benefit and risk evaluation of biased mu-receptor agonist oliceridine versus morphine. Anesthesiology. 2020;133:559–68.

Bergese S, Berkowitz R, Rider P, Ladouceur M, Griffith S, Segura Vasi A, et al. Low incidence of postoperative respiratory depression with oliceridine compared to morphine: a retrospective chart analysis. Pain Res Manag. 2020;2020:7492865.

Food and Drug Administration. Oliceridine briefing document: FDA advisory committee meeting. 2018.

Ramos KA, James IE, Skobieranda F, Soergel DG, Ruff D, Fossler MJ. Two-part phase 1 multiple-ascending-dose study to evaluate the safety, tolerability, pharmacodynamics, and pharmacokinetics of TRV734 in healthy adults. Clin Pharm Drug Dev. 2022;11:51–62.

Banks ML, Townsend EA, Negus SS. Testing the 10 most wanted: a preclinical algorithm to screen candidate opioid use disorder medications. Neuropsychopharmacology. 2019;44:1011–2.

Townsend EA, Negus SS, Banks ML. Medications Development for Treatment of Opioid Use Disorder. Cold Spring Harb Perspect Med. 2021;11:a039263.

Banks ML, Negus SS. Preclinical determinants of drug choice under concurrent schedules of drug self-administration. Adv Pharm Sci. 2012;2012:281768.

Banks ML, Negus SS. Insights from preclinical choice models on treating drug addiction. Trends Pharm Sci. 2017;38:181–94.

Spragg SDS. Morphine addiction in chimpanzees. Baltimore: Johns Hopkins Press; 1940. p. 132.

Griffiths RR, Wurster RM, Brady JV. Choice between food and heroin: effects of morphine, naloxone, and secobarbital. J Exp Anal Behav. 1981;35:335–51.

Negus SS. Choice between heroin and food in nondependent and heroin-dependent rhesus monkeys: effects of naloxone, buprenorphine, and methadone. J Pharm Exp Ther. 2006;317:711–23.

Negus SS, Rice KC. Mechanisms of withdrawal-associated increases in heroin self-administration: pharmacologic modulation of heroin vs food choice in heroin-dependent rhesus monkeys. Neuropsychopharmacology. 2009;34:899–911.

Mattick RP, Breen C, Kimber J, Davoli M. Buprenorphine maintenance versus placebo or methadone maintenance for opioid dependence. Cochrane Database Syst Rev. 2014:CD002207.

Klimas J, Gorfinkel L, Giacomuzzi SM, Ruckes C, Socias ME, Fairbairn N, et al. Slow release oral morphine versus methadone for the treatment of opioid use disorder. BMJ Open. 2019;9:e025799.

Noble F, Marie N. Management of opioid addiction with opioid substitution treatments: beyond methadone and buprenorphine. Front Psychiatry. 2018;9:742.

Townsend EA, Schwienteck KL, Robinson HL, Lawson ST, Banks ML. A drug-vs-food "choice" self-administration procedure in rats to investigate pharmacological and environmental mechanisms of substance use disorders. J Neurosci Methods. 2021;354:109110.

Townsend EA, Kim RK, Robinson HL, Marsh SA, Banks ML, Hamilton PJ. Opioid withdrawal produces sex-specific effects on fentanyl-versus-food choice and mesolimbic transcription. Biol Psychiatry Glob Open Sci. 2021. https://doi.org/10.1016/j.bpsgos.2021.04.009.

DeWire SM, Yamashita DS, Rominger DH, Liu G, Cowan CL, Graczyk TM, et al. G protein-biased ligand at the mu-opioid receptor is potently analgesic with reduced gastrointestinal and respiratory dysfunction compared with morphine. J Pharm Exp Ther. 2013;344:708–17.

Austin Zamarripa C, Edwards SR, Qureshi HN, Yi JN, Blough BE, Freeman KB. The G-protein biased mu-opioid agonist, TRV130, produces reinforcing and antinociceptive effects that are comparable to oxycodone in rats. Drug Alcohol Depend. 2018;192:158–62.

Schwienteck KL, Faunce KE, Rice KC, Obeng S, Zhang Y, Blough BE, et al. Effectiveness comparisons of G-protein biased and unbiased mu opioid receptor ligands in warm water tail-withdrawal and drug discrimination in male and female rats. Neuropharmacology. 2019;150:200–9.

Altarifi AA, David B, Muchhala KH, Blough BE, Akbarali H, Negus SS. Effects of acute and repeated treatment with the biased mu opioid receptor agonist TRV130 (oliceridine) on measures of antinociception, gastrointestinal function, and abuse liability in rodents. J Psychopharmacol. 2017;31:730–9.

Yang Y, Wang Y, Zuo A, Li C, Wang W, Jiang W, et al. Synthesis, biological, and structural explorations of a series of mu-opioid receptor (MOR) agonists with high G protein signaling bias. Eur J Med Chem. 2022;228:113986.

Ling GS, Umans JG, Inturrisi CE. Methadone: radioimmunoassay and pharmacokinetics in the rat. J Pharm Exp Ther. 1981;217:147–51.

Liu SX, Gades MS, Swain Y, Ramakrishnan A, Harris AC, Tran PV, et al. Repeated morphine exposure activates synaptogenesis and other neuroplasticity-related gene networks in the dorsomedial prefrontal cortex of male and female rats. Drug Alcohol Depend. 2021;221:108598.

Townsend EA, Bremer PT, Jacob NT, Negus SS, Janda KD, Banks ML. A synthetic opioid vaccine attenuates fentanyl-vs-food choice in male and female rhesus monkeys. Drug Alcohol Depend. 2021;218:108348.

Townsend EA, Negus SS, Poklis JL, Banks ML. Lorcaserin maintenance fails to attenuate heroin vs. food choice in rhesus monkeys. Drug Alcohol Depend. 2020;208:107848.

Townsend EA, Blake S, Faunce KE, Hwang CS, Natori Y, Zhou B, et al. Conjugate vaccine produces long-lasting attenuation of fentanyl vs. food choice and blocks expression of opioid withdrawal-induced increases in fentanyl choice in rats. Neuropsychopharmacology. 2019;44:1681–9.

Hammerslag LR, Hofford RS, Kang Q, Kryscio RJ, Beckmann JS, Bardo MT. Changes in fentanyl demand following naltrexone, morphine, and buprenorphine in male rats. Drug Alcohol Depend. 2020;207:107804.

Negus SS, Rice KC. Mechanisms of withdrawal-associated increases in heroin self-administration: pharmacologic modulation of heroin vs food choice in heroin-dependent rhesus monkeys. Neuropsychopharmacology. 2008;34:899–911.

Dean RL, Bilsky EJ, Negus SS. Opiate receptors and antagonists: from bench to clinic. New York, NY: Humana Press; 2009. xxiii, 757 p. 6.

Jones BE, Prada JA. Effects of methadone and morphine maintenance on drug-seeking behavior in the dog. Psychopharmacology. 1977;54:109–12.

Ling W, Amass L, Shoptaw S, Annon JJ, Hillhouse M, Babcock D, et al. Buprenorphine Study Protocol G. A multi-center randomized trial of buprenorphine-naloxone versus clonidine for opioid detoxification: findings from the National Institute on Drug Abuse Clinical Trials Network. Addiction. 2005;100:1090–100.

Schulteis G, Markou A, Gold LH, Stinus L, Koob GF. Relative sensitivity to naloxone of multiple indices of opiate withdrawal: a quantitative dose-response analysis. J Pharm Exp Ther. 1994;271:1391–8.

Valentino RJ, Katz JL, Medzihradsky F, Woods JH. Receptor binding, antagonist, and withdrawal precipitating properties of opiate antagonists. Life Sci. 1983;32:2887–96.

Becker GL, Gerak LR, Koek W, France CP. Antagonist-precipitated and discontinuation-induced withdrawal in morphine-dependent rhesus monkeys. Psychopharmacology. 2008;201:373–82.
Funding
Research was supported by the National Institute on Drug Abuse of the National Institutes of Health under R01DA026946 (PI, SSN), P30DA033934 (PI, William L. Dewey), and NIH Bench-to-Bedside Grant (PI, DHE). The research was supported [in part] by the Intramural Research Program of the NIH, NIDA. The National Institute on Drug Abuse had no role in study design, collection, analysis or interpretation of the data, in the writing or decision to submit the manuscript for publication. The manuscript content is solely the responsibility of the authors and does not necessarily reflect the official views of the National Institutes of Health. YS is an associate editor for Neuropsychopharmacology.
Ethics declarations
Competing interests
The authors declare no competing interests.
Additional information
Publisher's note Springer Nature remains neutral with regard to jurisdictional claims in published maps and institutional affiliations.
Supplementary information
About this article
Cite this article
Townsend, E.A., Blough, B.E., Epstein, D.H. et al. Effect of TRV130 and methadone on fentanyl-vs.-food choice and somatic withdrawal signs in opioid-dependent and post-opioid-dependent rats. Neuropsychopharmacol. (2022). https://doi.org/10.1038/s41386-022-01393-3
Received:

Revised:

Accepted:

Published:

DOI: https://doi.org/10.1038/s41386-022-01393-3