Abstract
The lateral habenula (LHb) is an epithalamic nuclei that has been shown to signal the aversive properties of ethanol. The present study tested the hypothesis that activity of the LHb is required for the acquisition and/or expression of dependence-induced escalation of ethanol drinking and somatic withdrawal symptoms. Male Sprague–Dawley rats completed 4 weeks of baseline drinking under a standard intermittent access two-bottle choice (2BC) paradigm before undergoing 2 weeks of daily chronic intermittent ethanol (CIE) via vapor inhalation. Following this CIE exposure period, rats resumed 2BC drinking to assess dependence-induced changes in voluntary ethanol consumption. CIE exposed rats exhibited a significant increase in ethanol drinking that was associated with high levels of blood alcohol and a reduction in somatic symptoms of ethanol withdrawal. However, despite robust cFos activation in the LHb during ethanol withdrawal, chemogenetic inhibition of the LHb did not alter either ethanol consumption or somatic signs of ethanol withdrawal. Consistent with this observation, ablating LHb outputs via electrolytic lesions of the fasciculus retroflexus (FR) did not alter the acquisition of somatic withdrawal symptoms or escalation of ethanol drinking in CIE-exposed rats. The LHb controls activity of the rostromedial tegmental nucleus (RMTg), a midbrain nucleus activated by aversive experiences including ethanol withdrawal. During ethanol withdrawal, both FR lesioned and sham control rats exhibited similar cFos activation in the RMTg, suggesting that RMTg activation during ethanol withdrawal does not require LHb input. These data suggest that, at least in male rats, the LHb is not necessary for the acquisition or expression of escalation of ethanol consumption or expression of somatic symptoms of ethanol withdrawal. Overall, our findings provide evidence that the LHb is dispensable for some of the negative consequences of ethanol withdrawal.
Your institute does not have access to this article
Access options
Subscribe to Journal
Get full journal access for 1 year
$119.00
only $9.15 per issue
All prices are NET prices.
VAT will be added later in the checkout.
Tax calculation will be finalised during checkout.
Buy article
Get time limited or full article access on ReadCube.
$32.00
All prices are NET prices.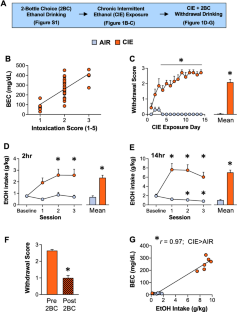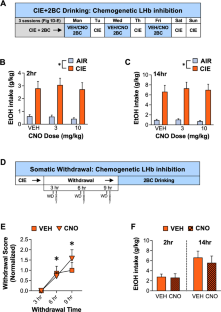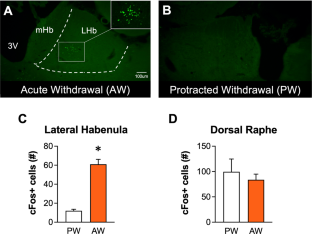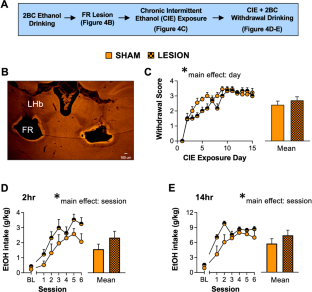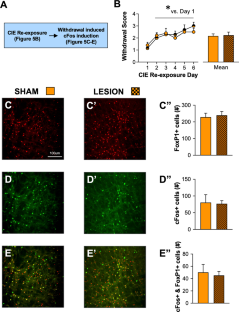 References
Koob GF, Volkow ND. Neurocircuitry of addiction. Neuropsychopharmacology. 2010;35:217–38.

Gilpin NW, et al. Operant behavior and alcohol levels in blood and brain of alcohol-dependent rats. Alcohol Clin Exp Res. 2009;33:2113–23.

Vendruscolo LF, Roberts AJ. Operant alcohol self-administration in dependent rats: Focus on the vapor model. Alcohol. 2014;48:277–86.

O'Dell LE, Roberts AJ, Smith RT, Koob GF. Enhanced alcohol self-administration after intermittent versus continuous alcohol vapor exposure. Alcohol Clin Exp Res. 2004;28:1676–82.

Rassnick S, Heinrichs SC, Britton KT, Koob GF. Microinjection of a corticotropin-releasing factor antagonist into the central nucleus of the amygdala reverses anxiogenic-like effects of ethanol withdrawal. Brain Res. 1993;605:25–32.

Roberts AJ, Cole M, Koob GF. Intra-amygdala muscimol decreases operant ethanol self-administration in dependent rats. Alcohol Clin Exp Res. 1996;20:1289–98.

de Guglielmo G, et al. Inactivation of a CRF-dependent amygdalofugal pathway reverses addiction-like behaviors in alcohol-dependent rats. Nat Commun. 2019;10:1238.

Cunningham CL, Fidler TL, Murphy KV, Mulgrew JA, Smitasin PJ. Time-dependent negative reinforcement of ethanol intake by alleviation of acute withdrawal. Biol Psychiatry. 2013;73:249–55.

Aizawa H, Kobayashi M, Tanaka S, Fukai T, Okamoto H. Molecular characterization of the subnuclei in rat habenula. J Comp Neurol. 2012;520:4051–66.

Namboodiri VMK, Rodriguez-Romaguera J, Stuber GD. The habenula. Curr Biol. 2016;26:R873–77.

Zahm DS, Root DH. Review of the cytology and connections of the lateral habenula, an avatar of adaptive behaving. Pharmacol Biochem Behav. 2017;162:3–21.

Brinschwitz K, et al. Glutamatergic axons from the lateral habenula mainly terminate on GABAergic neurons of the ventral midbrain. Neuroscience. 2010;168:463–76.

Hu H, Cui Y, Yang Y. Circuits and functions of the lateral habenula in health and in disease. Nat Rev Neurosci. 2020;21:277–95.

Quina LA, et al. Efferent pathways of the mouse lateral habenula: efferent pathways of the mouse lateral habenula. J Comp Neurol. 2015;523:32–60.

Zhou L, et al. Organization of functional long-range circuits controlling the activity of serotonergic neurons in the dorsal raphe nucleus. Cell Rep. 2017;18:3018–32.

Matsumoto M, Hikosaka O. Lateral habenula as a source of negative reward signals in dopamine neurons. Nature. 2007;447:1111–5.

Matsumoto M, Hikosaka O. Representation of negative motivational value in the primate lateral habenula. Nat Neurosci. 2009;12:77–84.

Hong S, Jhou TC, Smith M, Saleem KS, Hikosaka O. Negative reward signals from the lateral habenula to dopamine neurons are mediated by rostromedial tegmental nucleus in primates. J Neurosci. 2011;31:11457–71.

Laurent V, Wong FL, Balleine BW. The lateral habenula and its input to the rostromedial tegmental nucleus mediates outcome-specific conditioned inhibition. J Neurosci. 2017;37:10932–42.

Li H, et al. Three rostromedial tegmental afferents drive triply dissociable aspects of punishment learning and aversive valence encoding. Neuron. 2019;104:987–99.e4

Proulx CD, et al. A neural pathway controlling motivation to exert effort. Proc Natl Acad Sci. 2018;115:5792–7.

Stamatakis AM, Stuber GD. Activation of lateral habenula inputs to the ventral midbrain promotes behavioral avoidance. Nat Neurosci. 2012;15:1105–7.

Coffey KR, Marx RG, Vo EK, Nair SG, Neumaier JF. Chemogenetic inhibition of lateral habenula projections to the dorsal raphe nucleus reduces passive coping and perseverative reward-seeking in rats. Neuropsychopharmacology. 2020;45:1115–24.

Lammel S, et al. Input-specific control of reward and aversion in the ventral tegmental area. Nature. 2012;491:212–7.

Li B, et al. Synaptic potentiation onto habenula neurons in the learned helplessness model of depression. Nature. 2011;470:535–9.

Szőnyi A, et al. Median raphe controls acquisition of negative experience in the mouse. Science. 2019;366:eaay8746.

Clerke JA, Congiu M, Mameli M. Neuronal adaptations in the lateral habenula during drug withdrawal: Preclinical evidence for addiction therapy. Neuropharmacology. 2021;192:108617.

Mathis V, Kenny PJ. From controlled to compulsive drug-taking: The role of the habenula in addiction. Neurosci Biobehav Rev. 2019;106:102–11.

Shah A, et al. The lateral habenula and alcohol: Role of glutamate and M-type potassium channels. Pharmacol Biochem Behav. 2017;162:94–102.

Valentinova K, et al. Morphine withdrawal recruits lateral habenula cytokine signaling to reduce synaptic excitation and sociability. Nat Neurosci. 2019;22:1053–6.

Haack AK, et al. Lesions of the lateral habenula increase voluntary ethanol consumption and operant self-administration, block yohimbine-induced reinstatement of ethanol seeking, and attenuate ethanol-induced conditioned taste aversion. PLoS ONE. 2014;9:e92701.

Glover EJ, McDougle MJ, Siegel GS, Jhou TC, Chandler LJ. Role for the rostromedial tegmental nucleus in signaling the aversive properties of alcohol. Alcohol Clin Exp Res. 2016;40:1651–61.

Tandon S, Keefe KA, Taha SA. Excitation of lateral habenula neurons as a neural mechanism underlying ethanol-induced conditioned taste aversion: LHb activity mediates ethanol-induced aversion. J Physiol. 2017;595:1393–412.

Zuo W, et al. Ethanol drives aversive conditioning through dopamine 1 receptor and glutamate receptor-mediated activation of lateral habenula neurons: LHb and alcohol addiction. Addict Biol. 2017;22:103–16.

Sheth C, Furlong TM, Keefe KA, Taha SA. The lateral hypothalamus to lateral habenula projection, but not the ventral pallidum to lateral habenula projection, regulates voluntary ethanol consumption. Behav Brain Res. 2017;328:195–208.

Kang S, et al. Ethanol withdrawal drives anxiety-related behaviors by reducing m-type potassium channel activity in the lateral habenula. Neuropsychopharmacology. 2017;42:1813–24.

Kang S, Li J, Bekker A, Ye J-H. Rescue of glutamate transport in the lateral habenula alleviates depression- and anxiety-like behaviors in ethanol-withdrawn rats. Neuropharmacology. 2018;129:47–56.

Li J, et al. Inhibition of AMPA receptor and CaMKII activity in the lateral habenula reduces depressive-like behavior and alcohol intake in rats. Neuropharmacology. 2017;126:108–20.

Zuo W, et al. Ethanol potentiates both GABAergic and glutamatergic signaling in the lateral habenula. Neuropharmacology. 2017;113:178–87.

Shiwalkar, N, Zuo, W, Bekker A, Ye J-H, The role of the lateral habenula circuitries in alcohol use disorders. In Neuroscience of Alcohol 153-61 (Elsevier, 2019). https://doi.org/10.1016/B978-0-12-813125-1.00016-7.

Glover EJ, Starr EM, Chao Y, Jhou TC, Chandler LJ. Inhibition of the rostromedial tegmental nucleus reverses alcohol withdrawal-induced anxiety-like behavior. Neuropsychopharmacology (2019). https://doi.org/10.1038/s41386-019-0406-8.

Smith RJ, Anderson RI, Haun HL, Mulholland PJ, Griffin WC 3rd, Lopez MF, et al. Dynamic c-Fos changes in mouse brain during acute and protracted withdrawal from chronic intermittent ethanol exposure and relapse drinking. Addict. Biol. 2020;25:e12804. https://doi.org/10.1111/adb.12804.

Brown PL, Shepard PD. Lesions of the fasciculus retroflexus alter footshock-induced cfos expression in the mesopontine rostromedial tegmental area of rats. PLoS ONE. 2013;8:e60678.

Jhou TC, et al. Cocaine drives aversive conditioning via delayed activation of dopamine-responsive habenular and midbrain pathways. J Neurosci. 2013;33:7501–12.

Meye FJ, et al. Shifted pallidal co-release of GABA and glutamate in habenula drives cocaine withdrawal and relapse. Nat Neurosci. 2016;19:1019–24.

Lahti L, et al. Differentiation and molecular heterogeneity of inhibitory and excitatory neurons associated with midbrain dopaminergic nuclei. Development. 129957 (2015). https://doi.org/10.1242/dev.129957.

Smith RJ, Vento PJ, Chao YS, Good CH, Jhou TC. Gene expression and neurochemical characterization of the rostromedial tegmental nucleus (RMTg) in rats and mice. Brain Struct Funct. 2019;224:219–38.

Jhou TC, Fields HL, Baxter MG, Saper CB, Holland PC. The Rostromedial Tegmental Nucleus (RMTg), a GABAergic afferent to midbrain dopamine neurons, encodes aversive stimuli and inhibits motor responses. Neuron. 2009;61:786–800.
Funding
This work was supported by funding from the National Institutes on Alcohol Abuse and Alcoholism grants AA019967 and AA027706 (LJC), T32 AA007474 (TBN), and F31 AA029622 (TBN), P50 AA010761 (JJW), and from the National Institute of Drug Abuse grant F31 DA045485 (KMB). The authors have nothing to disclose.
Ethics declarations
Competing interests
The authors declare no competing interests.
Additional information
Publisher's note Springer Nature remains neutral with regard to jurisdictional claims in published maps and institutional affiliations.
Supplementary information
About this article
Cite this article
Nentwig, T.B., Vaughan, D.T., Braunscheidel, K.M. et al. The lateral habenula is not required for ethanol dependence-induced escalation of drinking. Neuropsychopharmacol. (2022). https://doi.org/10.1038/s41386-022-01357-7
Received:

Revised:

Accepted:

Published:

DOI: https://doi.org/10.1038/s41386-022-01357-7