Abstract
Models of addiction are based on neurobiological, behavioral, and pharmacological studies in animals, but translational support from human studies is limited. Studies are lacking in examining acute responses to alcohol in drinkers with alcohol use disorder (AUD), particularly in terms of relevant intoxicating doses and measurement of stimulating and rewarding effects throughout the breath alcohol concentration (BrAC) time curve. Participants were N = 60 AUD drinkers enrolled in the Chicago Social Drinking Project and examined in three random-order and blinded sessions for subjective and physiological responses to a beverage containing 0.0 g/kg, 0.8 g/kg, and 1.2 g/kg alcohol. BrAC in the alcohol sessions at 60 min was 0.09 g/dL and 0.13 g/dL, respectively. Both doses of alcohol produced significant biphasic effects on subjective measures of stimulation, euphoria, reward (liking and wanting), sedation, and neuroendocrine and cardiovascular factors. Increased pleasurable effects of alcohol were pronounced during the rising limb-to-peak BrAC and sedating effects emerged during the declining limb. Alcohol dose-dependently increased feel drug ratings and rewarding effects at peak BrAC or early declining limb, and physiological responses at the rising limb. Thus, rather than the notion of an overall tolerance, results show an alcohol response phenotype characterized by sensitivity to alcohol's stimulating, rewarding and physiological effects. The results of this study may aid in the conceptualization of alcohol addiction as a disorder characterized by the persistence of enhanced hedonic alcohol responses rather than chronic tolerance and reward deficiency.
Your institute does not have access to this article
Access options
Subscribe to Journal
Get full journal access for 1 year
$119.00
only $9.15 per issue
All prices are NET prices.
VAT will be added later in the checkout.
Tax calculation will be finalised during checkout.
Buy article
Get time limited or full article access on ReadCube.
$32.00
All prices are NET prices.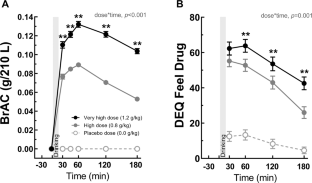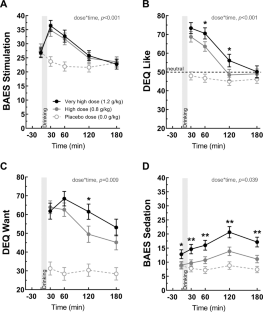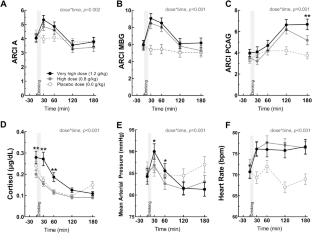 References
King AC, de Wit H, McNamara PJ, Cao D. Rewarding, stimulant, and sedative alcohol responses and relationship to future binge drinking. Arch Gen Psychiatry. 2011;68:389.

King AC, Hasin D, O'Connor SJ, McNamara PJ, Cao D. A prospective 5-year re-examination of alcohol response in heavy drinkers progressing in alcohol use disorder. Biol Psychiatry. 2016;79:489–98.

King A, Vena A, Hasin DS, DeWit H, O'Connor SJ, Cao D. Subjective responses to alcohol in the development and maintenance of alcohol use disorder. Am J Psychiatry. 2021;178:560–71.

King AC, McNamara PJ, Hasin DS, Cao D. Alcohol challenge responses predict future alcohol use disorder symptoms: a 6-year prospective study. Biol Psychiatry. 2014;75:798–806.

Koob GF, Le Moal M. Drug abuse: Hedonic homeostatic dysregulation. Science (80-). 1997;278:52–8.

Koob GF. Addiction is a reward deficit and stress surfeit disorder. Front Psychiatry. 2013;4:1–18.

Tabakoff B, Cornell N, Hoffman PL. Alcohol tolerance. Ann Emerg Med. 1986;15:1005–12.

Kalant H. Current state of knowledge about the mechanisms of alcohol tolerance. Addict Biol. 1996;1:133–41.

Robinson TE, Berridge KC. The neural basis of drug craving: An incentive-sensitization theory of addiction. Brain Res Rev. 1993;18:247–91.

Mendelson JH, Mello NK. Experimental Analysis of Drinking Behavior of Chronic Alcoholics. Ann N. Y Acad Sci. 1966;133:828–45.

Nathan PE, O'Brien JS. An experimental analysis of the behavior of alcoholics and nonalcoholics during prolonged experimental drinking: a necessary precursor of behavior therapy? Behav Ther. 1971;2:455–76.

Goodwin DW, Hill SY, Powell B, Viamontes J. Effect of alcohol on short term memory in alcoholics. Br J Psychiatry. 1973;122:93–4.

Mendelson JH, La Dou J, Solomon P. Experimentally induced chronic intoxication and withdrawal in alcoholics: part 3.Psychiatric findings. J Stud Alcohol Drugs. 1964;25:40–52.

Mendelson JH, Stein S. Serum Cortisol Levels in Alcoholic and Nonalcoholic Subjects During Experimentally Induced Ethanol Intoxication. Psychosom Med. 1966;28:616–26.

National Advisory Council on Alcohol Abuse and Alcoholism. Recommended Council Guidelines on Ethyl Alcohol Administration in Human Experimentation. 1989.

National Advisory Council on Alcohol Abuse and Alcoholism. Recommended Council Guidelines on Ethyl Alcohol Administration in Human Experimentation. 2005.

Bujarski S, Ray LA. Subjective response to alcohol and associated craving in heavy drinkers vs. alcohol dependents: an examination of Koob's allostatic model in humans. Drug Alcohol Depend. 2014;140:161–7.

Thomas SE, Drobes DJ, Voronin K, Anton RF. Following alcohol consumption, nontreatment-seeking alcoholics report greater stimulation but similar sedation compared with social drinkers. J Stud Alcohol. 2004;65:330–5.

Bujarski S, Hutchison KE, Prause N, Ray LA. Functional significance of subjective response to alcohol across levels of alcohol exposure. Addict Biol. 2017;22:235–45.

Vena A, Howe M, Fridberg D, Cao D, King AC. The feasibility, tolerability, and safety of administering a very high alcohol dose to drinkers with alcohol use disorder. Alcohol Clin Exp Res. 2020;44:2588–97.

Conrod PJ, Peterson JB, Pihl RO. Reliability and validity of alcohol-induced heart rate increase as a measure of sensitivity to the stimulant properties of alcohol. Psychopharmacol (Berl). 2001;157:20–30.

Ireland MA, Vandongen R, Davidson L, Beilin LJ, Rouse IL. Acute effects of moderate alcohol consumption on blood pressure and plasma catecholamines. Clin Sci (Lond). 1984;66:643–8.

Holdstock L, De Wit H. Individual differences in responses to ethanol and d-amphetamine:a within-subject study. Alcohol Clin Exp Res. 2001;25:540–8.

Schuckit MA, Gold E, Risch C. Plasma cortisol levels following ethanol in sons of alcoholics and controls. Arch Gen Psychiatry. 1987;44:942–5.

Kahler CW, Metrik J, Spillane NS, Day A, Leventhal AM, McKee SA, et al. Acute effects of low and high dose alcohol on smoking lapse behavior in a laboratory analogue task. Psychopharmacol (Berl). 2014;231:4649–57.

King AC, Houle T, de Wit H, Holdstock L, Schuster A. Biphasic alcohol response differs in heavy versus light drinkers. Alcohol Clin Exp Res. 2002;26:827–35.

Wardell JD, Ramchandani VA, Hendershot CS. Drinking motives predict subjective effects of alcohol and alcohol wanting and liking during laboratory alcohol administration: a mediated pathway analysis. Alcohol Clin Exp Res. 2016;40:2190–8.

Sobell LC, Sobell MB. Measuring Alcohol Consumption. Timeline Follow-Back. In: Litten RZ, Allen JP, editors. Meas. Alcohol Consum., Totowa, NJ: Humana Press; 1992. p. 41–72.

First M, Spitzer R, Gibbon M, Williams J. Structured Clinical Interview for DSM-IV Axis 1 Disorders, Research Version, Patient Edition (SCID-I/P). New York, NY: Biometrics Research, New York State Psychiatric Institute; 1995.

Sullivan JT, Sykora K, Schneiderman J, Naranjo CA, Sellers EM. Assessment of alcohol withdrawal: the revised clinical institute withdrawal assessment for alcohol scale (CIWA-Ar). Br J Addict. 1989;84:1353–7.

Babor TF, De La Fuente JR, Saunders JB, Grant M. Substance Abuse Disorders Identification Test: Guidelines for use in Primary Health Care. World Health Organization. Geneva, Switzerland; 2001.

Miller WR, Tonigan JS, Longabaugh R. The Drinker Inventory of Consequences (DrInC): An instrument for assessing adverse consequences of alcohol abuse. Project MATCH Monograph Series, Vol. 4. DHHS Publication No. 95-3911. Rockville MD: NIAAA, 1995.

Beck AT, Ward CH, Mendelson M, Mock J, Erbaugh J. An Inventory for Measuring Depression. Arch Gen Psychiatry. 1961;4:561.

Spielberger CD, Gorsuch R, Lushene RE, Vagg PR, Jacobs GA. Manual for the State-Trait Anxiety Inventory. Palo Alto, CA:Consulting Psychologists Press, Inc.; 1983.

Schofield WN. Predicting basal metabolic rate, new standards and review of previous work. Hum Nutr Clin Nutr. 1985;39:5–41.

Conrad M, McNamara P, King A. Alternative substance paradigm: Effectiveness of beverage blinding and effects on acute alcohol responses. Exp Clin Psychopharmacol. 2012;20:382–9.

Watson PE, Watson ID, Batt RD. Total body water volumes for adult males and females estimated from simple anthropometric measurements. Am J Clin Nutr. 1980;33:27–39.

Martin CS, Earleywine M, Musty RE, Perrine MW, Swift RM. Development and validation of the Biphasic Alcohol Effects Scale. Alcohol Clin Exp Res. 1993;17:140–6.

Rueger SY, McNamara PJ, King AC. Expanding the utility of the biphasic alcohol effects scale (BAES) and initial psychometric support for the brief-BAES (B-BAES). Alcohol Clin Exp Res. 2009;33:916–24.

Morean ME, de Wit H, King AC, Sofuoglu M, Rueger SY, O'Malley SS. The drug effects questionnaire: psychometric support across three drug types. Psychopharmacol (Berl). 2013;227:177–92.

Haertzen CA, Hickey JE. Addiction Research Center Inventory (ARCI): Measurement of Euphoria and Other Drug Effects. In: Bozarth MA. (editors) Methods of Assessing the Reinforcing Properties of Abused Drugs. Springer, New York, NY. https://doi.org/10.1007/978-1-4612-4812-5_24 (1987).

Liang K-Y, Zeger SL. Longitudinal data analysis using generalized linear models. Biometrika 1986;73:13–22.

Patrick ME. A call for research on high-intensity alcohol use. Alcohol Clin Exp Res. 2016;40:256–9.

Ray LA, Bujarski S, Yardley MM, Roche DJO, Hartwell EE. Differences between treatment-seeking and non-treatment-seeking participants in medication studies for alcoholism: do they matter? Am J Drug Alcohol Abus. 2017;43:703–10.

Koob GF, Powell P, White A. Addiction as a coping response: hyperkatifeia, deaths of despair, and COVID-19. Am J Psychiatry. 2020;177:1031–7.

Pohorecky LA, Brick J, Carpenter JA. Assessment of the development of tolerance to ethanol using multiple measures. Alcohol Clin Exp Res. 1986;10:616–22.

Lê AD, Kiianmaa K. Characteristics of ethanol tolerance in alcohol drinking (AA) and alcohol avoiding (ANA) rats. Psychopharmacol (Berl). 1988;94:479–83.

Miller MA, Hays LR, Fillmore MT. Lack of tolerance to the disinhibiting effects of alcohol in heavy drinkers. Psychopharmacol (Berl). 2012;224:511–8.

Schuckit MA. Reactions to alcohol in sons of alcoholics and controls. Alcohol Clin Exp Res. 1988;12:465–70.

Vena AA, King AC. Testing the allostasis theory in light, heavy, and AUD drinkers. Res Soc Alcohol. Minneapolis, MN; 2019.

Brunelle C, Barrett SP, Pihl RO. Relationship between the cardiac response to acute intoxication and alcohol-induced subjective effects throughout the blood alcohol concentration curve. Hum Psychopharmacol. 2007;22:437–43.

Vatsalya V, Momenan R, Hommer DW, Ramchandani VA. Cardiac reactivity during the ascending phase of acute intravenous alcohol exposure and association with subjective perceptions of intoxication in social drinkers. Alcohol Clin Exp Res. 2014;38:1247–54.

Vatsalya V, Stangl BL, Ramchandani VA. Assessment of skin blood flow following acute intravenous alcohol, and association with subjective perceptions, in social drinkers. Alcohol Clin Exp Res. 2019;43:405–10.

Brkic S, Söderpalm B, Gordh AS. High cortisol responders to stress show increased sedation to alcohol compared to low cortisol responders: An alcohol dose–response study. Pharm Biochem Behav. 2016;143:65–72.

Weafer J, Ross TJ, O'Connor S, Stein EA, de Wit H, Childs E. Striatal activity correlates with stimulant-like effects of alcohol in healthy volunteers. Neuropsychopharmacology. 2018;43:2532–8.

Cyders MA, Plawecki MH, Corbin W, King A, McCarthy DM, Ramchandani VA, et al. To infuse or ingest in human laboratory alcohol research. Alcohol Clin Exp Res. 2020;44:764–76.

Fridberg DJ, Cao D, King AC. Alcohol subjective responses in heavy drinkers: Measuring acute effects in the natural environment versus the controlled laboratory setting. Alcohol Clin Exp Res. 2021;45:1287–97.

Ray LA, Green RJ, Roche DJO, Magill M, Bujarski S. Naltrexone effects on subjective responses to alcohol in the human laboratory: a systematic review and meta-analysis. Addict Biol. 2019;24:1138–52.
Acknowledgements
The authors would like to extended appreciation to Patrick McNamara for project coordination, Nandini Kaluvakolanu for running the salivary cortisol assays, Jon Grant, M.D. for medical supervision and oversight, and Patrick Smith, Eric Giger, and James Faria for their role in data collection and database management. This research was supported by grant R01-AA013746 (AK) from the National Institute on Alcohol Abuse and Alcoholism and T32-DA043469 (AV) from the National Institute on Drug Abuse.
Ethics declarations
Competing interests
The authors declare no competing interests.
Additional information
Publisher's note Springer Nature remains neutral with regard to jurisdictional claims in published maps and institutional affiliations.
Supplementary information
About this article
Cite this article
King, A.C., Vena, A., Howe, M.M. et al. Haven't lost the positive feeling: a dose-response, oral alcohol challenge study in drinkers with alcohol use disorder. Neuropsychopharmacol. (2022). https://doi.org/10.1038/s41386-022-01340-2
Received:

Revised:

Accepted:

Published:

DOI: https://doi.org/10.1038/s41386-022-01340-2