Abstract
The nucleus accumbens shell (NAcSh) and its afferent and efferent neuronal projections control key aspects of motivation for cocaine. A recently described regulator of γ-aminobutyric acid (GABA) projections from the dorsal raphe nucleus (DRN) to the NAcSh (DRN → NAcSh) is the neuropeptide neuromedin U (NMU). Here, we find that systemic administration of NMU decreases breakpoint for cocaine on a progressive ratio schedule of reinforcement in male rats. Employing a retrograde adeno-associated virus (AAV), we found that RNAi-mediated knockdown of the NMU receptor 2 (NMUR2) in afferent DRN projections to the NAcSh increases the breakpoint for cocaine. Our previous studies demonstrated that NMU regulates GABA release in the NAcSh, and our current investigation found that systemic NMU administration suppresses cocaine-evoked GABA release in the NAcSh and increases phosphorylated c-Fos expression in neurons projecting from the NAcSh to the ventral pallidum (VP). To further probe the impact of NMU/NMUR2 on neuroanatomical pathways regulating motivation for cocaine, we employed multi-viral transsynaptic studies. Using a combination of rabies virus and retrograde AAV helper virus, we mapped the impact of NMU across three distinct brain regions simultaneously and found a direct connection of GABAergic DRN neurons to the NAcSh → VP pathway. Together, these data reveal that NMU/NMUR2 modulates a direct connection within the GABAergic DRN → NAcSh → VP circuit that diminishes breakpoints for cocaine. These findings importantly advance our understanding of the neurochemical underpinnings of pathway-specific regulation of neurocircuitry that may regulate cocaine self-administration, providing a unique therapeutic perspective.
Access options
Subscribe to Journal
Get full journal access for 1 year
$119.00
only $9.15 per issue
All prices are NET prices.
VAT will be added later in the checkout.
Tax calculation will be finalised during checkout.
Buy article
Get time limited or full article access on ReadCube.
$32.00
All prices are NET prices.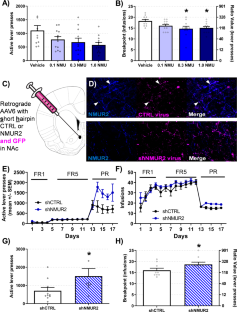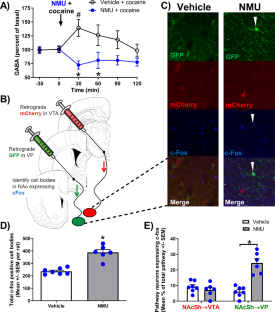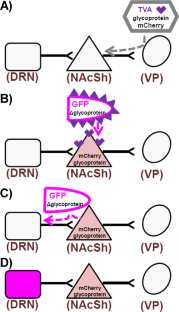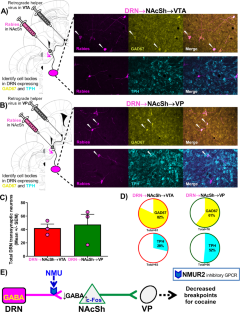 References
Lobo MK, Nestler EJ. The striatal balancing act in drug addiction: distinct roles of direct and indirect pathway medium spiny neurons. Front Neuroanat. 2011;5:41.

Lobo MK, Covington HE, Chaudhury D, Friedman AK, Sun H, Damez-Werno D, et al. Cell type-specific loss of BDNF signaling mimics optogenetic control of cocaine reward. Science.2010;330:385–90.

Durieux PF, Bearzatto B, Guiducci S, Buch T, Waisman A, Zoli M, et al. D2R striatopallidal neurons inhibit both locomotor and drug reward processes. Nat Neurosci. 2009;12:393–5.

Roberts DC, Morgan D, Liu Y. How to make a rat addicted to cocaine. Prog Neuropsychopharmacol Biol Psychiatry. 2007;31:1614–24.

Richardson NR, Roberts DC. Progressive ratio schedules in drug self-administration studies in rats: a method to evaluate reinforcing efficacy. J Neurosci Methods. 1996;66:1–11.

Bock R, Shin JH, Kaplan AR, Dobi A, Markey E, Kramer PF, et al. Strengthening the accumbal indirect pathway promotes resilience to compulsive cocaine use. Nat Neurosci. 2013;16:632–8.

Kupchik YM, Brown RM, Heinsbroek JA, Lobo MK, Schwartz DJ, Kalivas PW. Coding the direct/indirect pathways by D1 and D2 receptors is not valid for accumbens projections. Nat Neurosci. 2015;18:1230–2.

Kupchik YM, Kalivas PW. The direct and indirect pathways of the nucleus accumbens are not what you think. Neuropsychopharmacology.2017;42:369–70.

Lu XY, Ghasemzadeh MB, Kalivas PW. Expression of D1 receptor, D2 receptor, substance P and enkephalin messenger RNAs in the neurons projecting from the nucleus accumbens. Neuroscience.1998;82:767–80.

Sesack SR, Grace AA. Cortico-Basal ganglia reward network: microcircuitry. Neuropsychopharmacology. 2010;35:27–47.

Li Z, Chen Z, Fan G, Li A, Yuan J, Xu T. Cell-type-specific afferent innervation of the nucleus accumbens core and shell. Front Neuroanat. 2018;12:84.

Wang L, Shen M, Yu Y, Tao Y, Zheng P, Wang F, et al. Optogenetic activation of GABAergic neurons in the nucleus accumbens decreases the activity of the ventral pallidum and the expression of cocaine-context-associated memory. Int J Neuropsychopharmacol. 2014;17:753–63.

Brighton PJ, Szekeres PG, Wise A, Willars GB. Signaling and ligand binding by recombinant neuromedin U receptors: evidence for dual coupling to Galphaq/11 and Galphai and an irreversible ligand-receptor interaction. Mol Pharm. 2004;66:1544–56.

Howard AD, Wang R, Pong SS, Mellin TN, Strack A, Guan XM, et al. Identification of receptors for neuromedin U and its role in feeding. Nature. 2000;406:70–4.

Kasper JM, McCue DL, Milton AJ, Szwed A, Sampson CM, Huang M, et al. Gamma-aminobutyric acidergic projections from the dorsal raphe to the nucleus accumbens are regulated by neuromedin U. Biol Psychiatry. 2016;80:878–87.

Steketee JD, Kalivas PW. Drug wanting: behavioral sensitization and relapse to drug-seeking behavior. Pharm Rev. 2011;63:348–65.

Vallöf D, Ulenius L, Egecioglu E, Engel JA, Jerlhag E. Central administration of the anorexigenic peptide neuromedin U decreases alcohol intake and attenuates alcohol-induced reward in rodents. Addict Biol. 2017;22:640–51.

Kasper JM, Smith AE, Hommel JD. In Press (Frontiers in Behavioral Neuroscience, 2018).

Sholler DJ, Stutz SJ, Fox RG, Boone EL, Wang Q, Rice KC, et al. The 5-HT2A receptor (5-HT2AR) regulates impulsive action and cocaine cue reactivity in male sprague-dawley rats. J Pharmacol Exp Ther. 2018;368:41–9.

Swinford-Jackson SE, Anastasio NC, Fox RG, Stutz SJ, Cunningham KA. Incubation of cocaine cue reactivity associates with neuroadaptations in the cortical serotonin (5-HT) 5-HT2C receptor (5-HT2CR) system. Neuroscience.2016;324:50–61.

Anastasio NC, Stutz SJ, Fox RG, Sears RM, Emeson RB, DiLeone RJ, et al. Functional status of the serotonin 5-HT2C receptor (5-HT2CR) drives interlocked phenotypes that precipitate relapse-like behaviors in cocaine dependence. Neuropsychopharmacology. 2014;39:370–82.

Anastasio NC, Liu S, Maili L, Swinford SE, Lane SD, Fox RG, et al. Variation within the serotonin (5-HT) 5-HT2C receptor system aligns with vulnerability to cocaine cue reactivity. Transl Psychiatry. 2014;4:e369.

Anastasio NC, Sholler DJ, Fox RG, Stutz SJ, Merritt CR, Bjork JM, et al. Suppression of cocaine relapse-like behaviors upon pimavanserin and lorcaserin co-administration. Neuropharmacology. 2020;168:108009.

Depoortere RY, Li DH, Lane JD, Emmett-Oglesby MW. Parameters of self-administration of cocaine in rats under a progressive-ratio schedule. Pharm Biochem Behav. 1993;45:539–48.

Hommel JD, Sears RM, Georgescu D, Simmons DL, DiLeone RJ. Local gene knockdown in the brain using viral-mediated RNA interference. Nat Med. 2003;9:1539–44.

Benzon CR, Johnson SB, McCue DL, Li D, Green TA, Hommel JD. Neuromedin U receptor 2 knockdown in the paraventricular nucleus modifies behavioral responses to obesogenic high-fat food and leads to increased body weight. Neuroscience. 2014;258:270–9.

Low K, Aebischer P, Schneider BL. Direct and retrograde transduction of nigral neurons with AAV6, 8, and 9 and intraneuronal persistence of viral particles. Hum Gene Ther. 2013;24:613–29.

Salegio EA, Samaranch L, Kells AP, Mittermeyer G, San Sebastian W, Zhou S, et al. Axonal transport of adeno-associated viral vectors is serotype-dependent. Gene Ther. 2013;20:348–52.

Root DH, Melendez RI, Zaborszky L, Napier TC. The ventral pallidum: Subregion-specific functional anatomy and roles in motivated behaviors. Prog Neurobiol. 2015;130:29–70.

Paxinos G, Watson C. The Rat Brain in Stereotaxic Coordinates. Sixth Edition. Academic Press; 2007.

Herin DV, Bubar MJ, Seitz PK, Thomas ML, Hillman GR, Tarasenko YI, et al. Elevated expression of serotonin 5-HT(2A) receptors in the rat ventral tegmental area enhances vulnerability to the behavioral effects of cocaine. Front Psychiatry. 2013;4:2.

Callaway EM, Luo L. Monosynaptic circuit tracing with glycoprotein-deleted rabies viruses. J Neurosci. 2015;35:8979–85.

Ciabatti E, González-Rueda A, Mariotti L, Morgese F, Tripodi M. Life-long genetic and functional access to neural circuits using self-inactivating rabies virus. Cell. 2017;170:382–92.e14.

Gevaert B, Wynendaele E, Stalmans S, Bracke N, D'Hondt M, Smolders I, et al. Blood-brain barrier transport kinetics of the neuromedin peptides NMU, NMN, NMB and NT. Neuropharmacology. 2016;107:460–70.

Xi ZX, Ramamoorthy S, Shen H, Lake R, Samuvel DJ, Kalivas PW. GABA transmission in the nucleus accumbens is altered after withdrawal from repeated cocaine. J Neurosci. 2003;23:3498–505.

Kohara K, Pignatelli M, Rivest AJ, Jung HY, Kitamura T, Suh J, et al. Cell type-specific genetic and optogenetic tools reveal hippocampal CA2 circuits. Nat Neurosci. 2014;17:269–79.

Vallöf D, Vestlund J, Engel JA, Jerlhag E. The anorexigenic peptide neuromedin U (NMU) attenuates amphetamine-induced locomotor stimulation, accumbal dopamine release and expression of conditioned place preference in mice. PLoS One. 2016;11:e0154477.

Liu S, Bubar MJ, Lanfranco MF, Hillman GR, Cunningham KA. Serotonin2C receptor localization in GABA neurons of the rat medial prefrontal cortex: implications for understanding the neurobiology of addiction. Neuroscience. 2007;146:1677–88.

Henry DJ, White FJ. The persistence of behavioral sensitization to cocaine parallels enhanced inhibition of nucleus accumbens neurons. J Neurosci. 1995;15:6287–99.

Addolorato G, Leggio L, Hopf FW, Diana M, Bonci A. Novel therapeutic strategies for alcohol and drug addiction: focus on GABA, ion channels and transcranial magnetic stimulation. Neuropsychopharmacology. 2012;37:163–77.

Noori HR, Spanagel R, Hansson AC. Neurocircuitry for modeling drug effects. Addict Biol. 2012;17:827–64.

Bang SJ, Commons KG. Forebrain GABAergic projections from the dorsal raphe nucleus identified by using GAD67-GFP knock-in mice. J Comp Neurol. 2012;520:4157–67.

McDevitt RA, Tiran-Cappello A, Shen H, Balderas I, Britt JP, Marino RA, et al. Serotonergic versus nonserotonergic dorsal raphe projection neurons: differential participation in reward circuitry. Cell Rep. 2014;8:1857–69.

Szucs RP, Frankel PS, McMahon LR, Cunningham KA. Relationship of cocaine-induced c-Fos expression to behaviors and the role of serotonin 5-HT2A receptors in cocaine-induced c-Fos expression. Behav Neurosci. 2005;119:1173–83.

White FJ, Hu XT, Henry DJ. Electrophysiological effects of cocaine in the rat nucleus accumbens: microiontophoretic studies. J Pharm Exp Ther. 1993;266:1075–84.

Wickersham IR, Lyon DC, Barnard RJ, Mori T, Finke S, Conzelmann KK, et al. Monosynaptic restriction of transsynaptic tracing from single, genetically targeted neurons. Neuron.2007;53:639–47.
Acknowledgements
This work was possible thanks to the facilities and expertize of the University of Texas Medical Branch (UTMB) Center for Addiction Research Rodent In Vivo Assessment Core and the UTMB Mass Spectrometry Facility. We thank Ms. Reyna Collura for her graphic design contributions.
Funding
This work was supported by the National Institute on Drug Abuse (R03DA033437, P30DA028821, and T32DA07287), Peter F. McManus Charitable Trust, and Clinical and Translational Science Award (UL1TR001439 and KL2TR001441) from the National Center for Advancing Translational Science. The UTMB Mass Spectrometry Facility is supported in part by CPRIT grant RP190682.
Ethics declarations
Competing interests
Dr. Cunningham has current research funding from VidaLibreBio, Inc., for research unrelated to this study. Additional authors declare no competing interests. 
Additional information
Publisher's note Springer Nature remains neutral with regard to jurisdictional claims in published maps and institutional affiliations.
Supplementary information
About this article
Cite this article
Kasper, J.M., Smith, A.E., Miller, S.N. et al. Role of neuropeptide neuromedin U in the nucleus accumbens shell in cocaine self-administration in male rats. Neuropsychopharmacol. 47, 1875–1882 (2022). https://doi.org/10.1038/s41386-021-01234-9
Received:

Revised:

Accepted:

Published:

Issue Date:

DOI: https://doi.org/10.1038/s41386-021-01234-9
Further reading
Neuropsychopharmacology (2021)