Abstract
Tianeptine is an atypical antidepressant used in Europe to treat patients who respond poorly to selective serotonin reuptake inhibitors (SSRIs). The recent discovery that tianeptine is a mu opioid receptor (MOR) agonist has provided a potential avenue for expanding our understanding of antidepressant treatment beyond the monoamine hypothesis. Thus, our studies aim to understand the neural circuits underlying tianeptine's antidepressant effects. We show that tianeptine induces rapid antidepressant-like effects in mice after as little as one week of treatment. Critically, we also demonstrate that tianeptine's mechanism of action is distinct from fluoxetine in two important aspects: (1) tianeptine requires MORs for its chronic antidepressant-like effect, while fluoxetine does not, and (2) unlike fluoxetine, tianeptine does not promote hippocampal neurogenesis. Using cell-type specific MOR knockouts we further show that MOR expression on GABAergic cells—specifically somatostatin-positive neurons—is necessary for the acute and chronic antidepressant-like responses to tianeptine. Using central infusion of tianeptine, we also implicate the ventral hippocampus as a potential site of antidepressant action. Moreover, we show a dissociation between the antidepressant-like phenotype and other opioid-like phenotypes resulting from acute tianeptine administration such as analgesia, conditioned place preference, and hyperlocomotion. Taken together, these results suggest a novel entry point for understanding what circuit dysregulations may occur in depression, as well as possible targets for the development of new classes of antidepressant drugs.
Your institute does not have access to this article
Relevant articles
Open Access articles citing this article.
Elizabeth A. Pekarskaya

,

Emma S. Holt

…

Sarah E. Canetta

Scientific Reports Open Access 24 November 2021
Access options
Subscribe to Journal
Get full journal access for 1 year
$119.00
only $9.15 per issue
All prices are NET prices.
VAT will be added later in the checkout.
Tax calculation will be finalised during checkout.
Buy article
Get time limited or full article access on ReadCube.
$32.00
All prices are NET prices.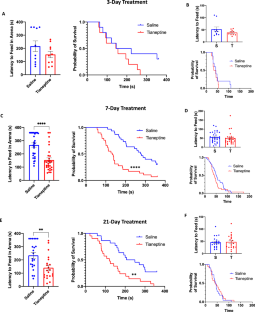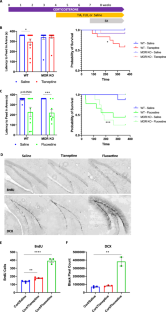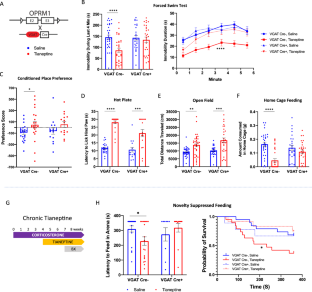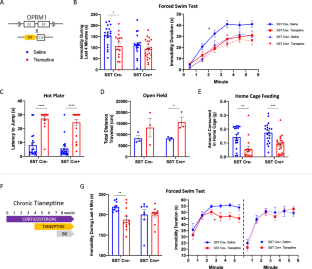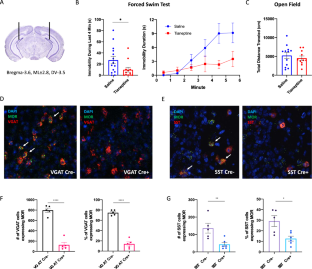 References
Castren E. Is mood chemistry? Nat Rev Neurosci. 2005;6:241–6.

Ruhe HG, Mason NS, Schene AH. Mood is indirectly related to serotonin, norepinephrine and dopamine levels in humans: a meta-analysis of monoamine depletion studies. Mol Psychiatry. 2007;12:331–59.

Nestler EJ. Antidepressant treatments in the 21st century. Biol Psychiatry. 1998;44:526–33.

Warden D, Rush AJ, Trivedi MH, Fava M, Wisniewski SR. The STAR*D Project results: a comprehensive review of findings. Curr Psychiatry Rep. 2007;9:449–59.

Atmaca M, Kuloglu M, Tezcan E, Buyukbayram A. Switching to tianeptine in patients with antidepressant-induced sexual dysfunction. Hum Psychopharmacol. 2003;18:277–80.

Krystal JH, Sanacora G, Duman RS. Rapid-acting glutamatergic antidepressants: the path to ketamine and beyond. Biol Psychiatry. 2013;73:1133–41.

Lutz PE, Kieffer BL. Opioid receptors: distinct roles in mood disorders. Trends Neurosci. 2013;36:195–206.

Machado-Vieira R, Zarate CA Jr. Proof of concept trials in bipolar disorder and major depressive disorder: a translational perspective in the search for improved treatments. Depress Anxiety. 2011;28:267–81.

Fava M, Thase ME, Trivedi MH, Ehrich E, Martin WF, Memisoglu A, et al. Opioid system modulation with buprenorphine/samidorphan combination for major depressive disorder: two randomized controlled studies. Mol Psychiatry. 2020;25:1580–91.

Stanciu CN, Glass OM, Penders TM. Use of Buprenorphine in treatment of refractory depression-A review of current literature. Asian J Psychiatr. 2017;26:94–98.

Gerra G, Leonardi C, D'Amore A, Strepparola G, Fagetti R, Assi C, et al. Buprenorphine treatment outcome in dually diagnosed heroin dependent patients: A retrospective study. Prog Neuropsychopharmacol Biol Psychiatry. 2006;30:265–72.

Shapira NA, Verduin ML, DeGraw JD. Treatment of refractory major depression with tramadol monotherapy. J Clin Psychiatry. 2001;62:205–6.

Spencer C. The efficacy of intramuscular tramadol as a rapid-onset antidepressant. Aust N. Z J Psychiatry. 2000;34:1032–3.

Wagstaff AJ, Ormrod D, Spencer CM. Tianeptine: a review of its use in depressive disorders. CNS Drugs. 2001;15:231–59.

Kasper S, McEwen BS. Neurobiological and clinical effects of the antidepressant tianeptine. CNS Drugs. 2008;22:15–26.

McEwen BS, Chattarji S, Diamond DM, Jay TM, Reagan LP, Svenningsson P, et al. The neurobiological properties of tianeptine (Stablon): from monoamine hypothesis to glutamatergic modulation. Mol Psychiatry. 2010;15:237–49.

Novotny V, Faltus F. First signs of improvement with tianeptine in the treatment of depression: an analysis of a double-blind study versus fluoxetine. Eur Neuropsychopharmacol. 2003;13:S230.

Karpukhin IB. Use of Coaxil (tianeptine) in elderly patients with combined mild cognitive and depressive-anxiety disorders. Neurosci Behav Physiol. 2009;39:53–6.

Woo YS, Bahk WM, Jeong JH, Lee SH, Sung HM, Pae CU, et al. Tianeptine combination for partial or non-response to selective serotonin re-uptake inhibitor monotherapy. Psychiatry Clin Neurosci. 2013;67:219–27.

Nobile B, Jaussent I, Gorwood P, Lopez Castroman J, Olie E, Guillaume S, et al. Tianeptine is associated with lower risk of suicidal ideation worsening during the first weeks of treatment onset compared with other antidepressants: a naturalistic study. J Psychiatr Res. 2018;96:167–70.

Levin OS. Coaxil (tianeptine) in the treatment of depression in Parkinson's disease. Zh Nevrol Psikhiatr Im S S Korsakova. 2006;106:20–5.

Onder E, Tural U, Aker T. A comparative study of fluoxetine, moclobemide, and tianeptine in the treatment of posttraumatic stress disorder following an earthquake. Eur Psychiatry. 2006;21:174–9.

Mennini T, Mocaer E. Garattini S. Tianeptine, a selective enhancer of serotonin uptake in rat brain. Naunyn Schmiedebergs Arch Pharm. 1987;336:478–82.

Fattaccini CM, Bolanos-Jimenez F, Gozlan H, Hamon M. Tianeptine stimulates uptake of 5-hydroxytryptamine in vivo in the rat brain. Neuropharmacology 1990;29:1–8.

Gassaway MM, Rives ML, Kruegel AC, Javitch JA, Sames D. The atypical antidepressant and neurorestorative agent tianeptine is a mu-opioid receptor agonist. Transl Psychiatry. 2014;4:e411.

Samuels BA, Nautiyal KM, Kruegel AC, Levinstein MR, Magalong VM, Gassaway MM, et al. The behavioral effects of the antidepressant tianeptine require the Mu-opioid receptor. Neuropsychopharmacology. 2017;42:2052–63.

Erbs E, Faget L, Scherrer G, Matifas A, Filliol D, Vonesch JL, et al. A mu-delta opioid receptor brain atlas reveals neuronal co-occurrence in subcortical networks. Brain Struct Funct. 2015;220:677–702.

Porsolt RD, Bertin A, Jalfre M. Behavioral despair in mice: a primary screening test for antidepressants. Arch Int Pharmacodyn Ther. 1977;229:327–36.

Mekiri M, Gardier AM, David DJ, Guilloux JP. Chronic corticosterone administration effects on behavioral emotionality in female c57bl6 mice. Exp Clin Psychopharmacol. 2017;25:94–104.

Grissom N, Iyer V, Vining C, Bhatnagar S. The physical context of previous stress exposure modifies hypothalamic-pituitary-adrenal responses to a subsequent homotypic stress. Horm Behav. 2007;51:95–103.

David DJ, Samuels BA, Rainer Q, Wang JW, Marsteller D, Mendez I, et al. Neurogenesis-dependent and -independent effects of fluoxetine in an animal model of anxiety/depression. Neuron. 2009;62:479–93.

Simmons ML, Chavkin C. Endogenous opioid regulation of hippocampal function. Int Rev Neurobiol. 1996;39:145–96.

Lau BK, Ambrose BP, Thomas CS, Qiao M, Borgland SL. Mu-Opioids Suppress GABAergic Synaptic Transmission onto Orbitofrontal Cortex Pyramidal Neurons with Subregional Selectivity. J Neurosci. 2020;40:5894–5907.

Caputi A, Melzer S, Michael M, Monyer H. The long and short of GABAergic neurons. Curr Opin Neurobiol. 2013;23:179–86.

Admon R, Pizzagalli DA. Dysfunctional reward processing in depression. Curr Opin Psychol. 2015;4:114–18.

Cui Y, Ostlund SB, James AS, Park CS, Ge W, Roberts KW, et al. Targeted expression of mu-opioid receptors in a subset of striatal direct-pathway neurons restores opiate reward. Nat Neurosci. 2014;17:254–61.

Tremblay R, Lee S, Rudy B. GABAergic interneurons in the neocortex: from cellular properties to circuits. Neuron. 2016;91:260–92.

Rudy B, Fishell G, Lee S, Hjerling-Leffler J. Three groups of interneurons account for nearly 100% of neocortical GABAergic neurons. Dev Neurobiol. 2011;71:45–61.

Drake CT, Milner TA. Mu opioid receptors are in discrete hippocampal interneuron subpopulations. Hippocampus. 2002;12:119–36.

Fuchs T, Jefferson SJ, Hooper A, Yee PH, Maguire J, Luscher B. Disinhibition of somatostatin-positive GABAergic interneurons results in an anxiolytic and antidepressant-like brain state. Mol Psychiatry. 2017;22:920–30.

Engin E, Stellbrink J, Treit D, Dickson CT. Anxiolytic and antidepressant effects of intracerebroventricularly administered somatostatin: behavioral and neurophysiological evidence. Neuroscience. 2008;157:666–76.

Prevot TD, Gastambide F, Viollet C, Henkous N, Martel G, Epelbaum J, et al. Roles of hippocampal somatostatin receptor subtypes in stress response and emotionality. Neuropsychopharmacology. 2017;42:1647–56.

Boulos LJ, Ben Hamida S, Bailly J, Maitra M, Ehrlich AT, Gaveriaux-Ruff C, et al. Mu opioid receptors in the medial habenula contribute to naloxone aversion. Neuropsychopharmacology. 2020;45:247–55.

Gardon O, Faget L, Chu Sin Chung P, Matifas A, Massotte D, Kieffer BL. Expression of mu opioid receptor in dorsal diencephalic conduction system: new insights for the medial habenula. Neuroscience. 2014;277:595–609.

Shih PY, Engle SE, Oh G, Deshpande P, Puskar NL, Lester HA, et al. Differential expression and function of nicotinic acetylcholine receptors in subdivisions of medial habenula. J Neurosci. 2014;34:9789–802.

Boulos LJ, Darcq E, Kieffer BL. Translating the Habenula-from rodents to humans. Biol Psychiatry. 2017;81:296–305.

Guilloux JP, Douillard-Guilloux G, Kota R, Wang X, Gardier AM, Martinowich K, et al. Molecular evidence for BDNF- and GABA-related dysfunctions in the amygdala of female subjects with major depression. Mol Psychiatry. 2012;17:1130–42.

Tripp A, Oh H, Guilloux JP, Martinowich K, Lewis DA, Sibille E. Brain-derived neurotrophic factor signaling and subgenual anterior cingulate cortex dysfunction in major depressive disorder. Am J Psychiatry. 2012;169:1194–202.

Douillard-Guilloux G, Lewis D, Seney ML, Sibille E. Decrease in somatostatin-positive cell density in the amygdala of females with major depression. Depress Anxiety. 2017;34:68–78.

Frodl T, Reinhold E, Koutsouleris N, Reiser M, Meisenzahl EM. Interaction of childhood stress with hippocampus and prefrontal cortex volume reduction in major depression. J Psychiatr Res. 2010;44:799–807.

Zakzanis KK, Leach L, Kaplan E. On the nature and pattern of neurocognitive function in major depressive disorder. Neuropsychiatry Neuropsychol Behav Neurol. 1998;11:111–9.

Watanabe Y, Gould E, Daniels DC, Cameron H, McEwen BS. Tianeptine attenuates stress-induced morphological changes in the hippocampus. Eur J Pharm. 1992;222:157–62.

McEwen BS. Stress and hippocampal plasticity. Annu Rev Neurosci. 1999;22:105–22.

Mansour A, Fox CA, Burke S, Meng F, Thompson RC, Akil H, et al. Mu, Delta, and Kappa Opioid Receptor mRNA expression in the Rat CNS: an in situ hybridization study. J Comp Neurol. 1994;350:412–38.

Puryear CB, Brooks J, Tan L, Smith K, Li Y, Cunningham J, et al. Opioid receptor modulation of neural circuits in depression: what can be learned from preclinical data? Neurosci Biobehav Rev. 2020;108:658–78.

Xie CW, Lewis DV. Opioid-mediated facilitation of long-term potentiation at the lateral perforant path-dentate granule cell synapse. J Pharm Exp Ther. 1991;256:289–96.

Liao D, Lin H, Law PY, Loh HH. Mu-opioid receptors modulate the stability of dendritic spines. Proc Natl Acad Sci USA. 2005;102:1725–30.

Robinson TE, Gorny G, Savage VR, Kolb B. Widespread but regionally specific effects of experimenter- versus self-administered morphine on dendritic spines in the nucleus accumbens, hippocampus, and neocortex of adult rats. Synapse. 2002;46:271–9.

Hauser KF, McLaughlin PJ, Zagon IS. Endogenous opioid systems and the regulation of dendritic growth and spine formation. J Comp Neurol. 1989;281:13–22.

Tenore PL. Psychotherapeutic benefits of opioid agonist therapy. J Addict Dis. 2008;27:49–65.

Ribeiro SC, Kennedy SE, Smith YR, Stohler CS, Zubieta JK. Interface of physical and emotional stress regulation through the endogenous opioid system and mu-opioid receptors. Prog Neuropsychopharmacol Biol Psychiatry. 2005;29:1264–80.

Goesling J, Clauw DJ, Hassett AL. Pain and depression: an integrative review of neurobiological and psychological factors. Curr Psychiatry Rep. 2013;15:421.

Mee S, Bunney BG, Reist C, Potkin SG, Bunney WE. Psychological pain: a review of evidence. J Psychiatr Res. 2006;40:680–90.

Davidson RJ, Pizzagalli D, Nitschke JB, Putnam K. Depression: perspectives from affective neuroscience. Annu Rev Psychol. 2002;53:545–74.

Hsu DT, Jarcho JM. "Next up for psychiatry: rejection sensitivity and the social brain". Neuropsychopharmacology. 2021;46:239–40.

Hsu DT, Sanford BJ, Meyers KK, Love TM, Hazlett KE, Walker SJ, et al. It still hurts: altered endogenous opioid activity in the brain during social rejection and acceptance in major depressive disorder. Mol Psychiatry. 2015;20:193–200.

Way BM, Taylor SE, Eisenberger NI. Variation in the mu-opioid receptor gene (OPRM1) is associated with dispositional and neural sensitivity to social rejection. Proc Natl Acad Sci USA. 2009;106:15079–84.

Lauhan R, Hsu A, Alam A, Beizai K. Tianeptine abuse and dependence: case report and literature review. Psychosomatics. 2018;59:547–53.
Funding
This work was supported by the Hope for Depression Research Foundation. (RH/JH), NIH Grant MH068542 (RH), NIMH K99/R00 106731 (KMN), NIH Grant MH116462 (JP/RH), NIH Grant DA05010 (BLK), NIMH K08 MH109735 (AZH), NARSAD Young Investigator Awards from the Brain Behavior Research Foundation (to AZH and KMN).
Ethics declarations
Competing interests
RH is a consultant for Psychogenics. RH and JAJ are co-founders of Kures Inc and co-inventors on patents on tianeptine analogs held by Columbia University and licensed to Kures. All other authors have no competing interests to declare.
Additional information
Publisher's note Springer Nature remains neutral with regard to jurisdictional claims in published maps and institutional affiliations.
Supplementary information
About this article
Cite this article
Han, J., Andreu, V., Langreck, C. et al. Mu opioid receptors on hippocampal GABAergic interneurons are critical for the antidepressant effects of tianeptine. Neuropsychopharmacol. 47, 1387–1397 (2022). https://doi.org/10.1038/s41386-021-01192-2
Received:

Revised:

Accepted:

Published:

Issue Date:

DOI: https://doi.org/10.1038/s41386-021-01192-2
Further reading
Fábio A. Morais
Isabela S. Lemos
Emilio L. Streck

Metabolic Brain Disease (2022)

Elizabeth A. Pekarskaya
Emma S. Holt
Sarah E. Canetta

Scientific Reports (2021)