Abstract
Maintaining appropriate levels of fear memory specificity is crucial for individual's survival and mental health, whereas overgeneralized fear commonly occurs in neuropsychiatric disorders, including posttraumatic stress disorder and generalized anxiety disorder. However, the molecular mechanisms regulating fear memory specificity remain poorly understood. The medial prefrontal cortex (mPFC) is considered as a key brain region in fear memory regulation. Previous transcriptomic studies have identified that plexin-A1, a transmembrane receptor critical for axon development, was downregulated in the mPFC after fear memory training. In this study, we identified that learning-induced downregulation of the mRNA and protein levels of plexin-A1 specifically occurred in the inhibitory but not excitatory neurons in the infralimbic cortex (IL) of mPFC. Further studies of plexin-A1 by virus-mediated over-expression of functional mutants selectively in the IL inhibitory neurons revealed the critical roles of plexin-A1 for regulating memory specificity and anxiety. Moreover, our findings revealed that plexin-A1 regulated the distribution of glutamic acid decarboxylase 67, a GABA synthetase, which in turn modulated the activity of IL and its downstream brain regions. Collectively, our findings elucidate the molecular modifier of IL inhibitory neurons in regulating memory specificity and anxiety, and provide candidates for developing therapeutic strategies for the prevention or treatment of a series of fear generalization-related neuropsychiatric disorders.
Access options
Subscribe to Journal
Get full journal access for 1 year
$119.00
only $9.15 per issue
All prices are NET prices.
VAT will be added later in the checkout.
Tax calculation will be finalised during checkout.
Rent or Buy article
Get time limited or full article access on ReadCube.
from$8.99
All prices are NET prices.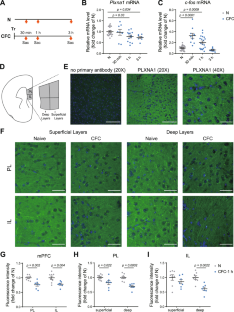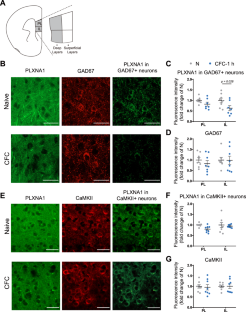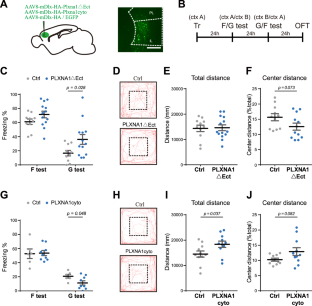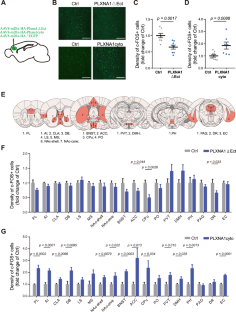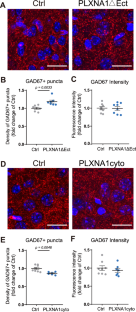 References
1.

Herry C, Johansen JP. Encoding of fear learning and memory in distributed neuronal circuits. Nat Neurosci. 2014;17:1644–54.

2.

Asok A, Leroy F, Rayman JB, Kandel ER. Molecular mechanisms of the memory trace. Trends Neurosci. 2019;42:14–22.

3.

Steiner M, Allgulander C, Ravindran A, Kosar H, Burt T, Austin C. Gender differences in clinical presentation and response to sertraline treatment of generalized anxiety disorder. Hum Psychopharmacol. 2005;20:3–13.

4.

Mahan AL, Ressler KJ. Fear conditioning, synaptic plasticity and the amygdala: implications for posttraumatic stress disorder. Trends Neurosci. 2012;35:24–35.

5.

Gotlib IH, Joormann J. Cognition and depression: current status and future directions. Annu Rev Clin Psychol. 2010;6:285–312.

6.

Yehuda R, Hoge CW, McFarlane AC, Vermetten E, Lanius RA, Nievergelt CM, et al. Post-traumatic stress disorder. Nat Rev Dis Prim. 2015;1:15057.

7.

Shin LM, Liberzon I. The neurocircuitry of fear, stress, and anxiety disorders. Neuropsychopharmacology. 2010;35:169–91.

8.

Dudai Y, Karni A, Born J. The consolidation and transformation of memory. Neuron. 2015;88:20–32.

9.

Goelet P, Castellucci VF, Schacher S, Kandel ER. The long and the short of long-term memory-a molecular framework. Nature. 1986;322:419–22.

10.

Costa-Mattioli M, Sossin WS, Klann E, Sonenberg N. Translational control of long-lasting synaptic plasticity and memory. Neuron. 2009;61:10–26.

11.

Alberini CM. Transcription factors in long-term memory and synaptic plasticity. Physiological Rev. 2009;89:121–45.

12.

Dudai Y. The neurobiology of consolidations, or, how stable is the engram? Annu Rev Psychol. 2004;55:51–86.

13.

Uylings HB, Groenewegen HJ, Kolb B. Do rats have a prefrontal cortex? Behav Brain Res. 2003;146:3–17.

14.

Szczepanski SM, Knight RT. Insights into human behavior from lesions to the prefrontal cortex. Neuron. 2014;83:1002–18.

15.

Euston DR, Gruber AJ, McNaughton BL. The role of medial prefrontal cortex in memory and decision making. Neuron. 2012;76:1057–70.

16.

Gilmartin MR, Balderston NL, Helmstetter FJ. Prefrontal cortical regulation of fear learning. Trends Neurosci. 2014;37:455–64.

17.

Giustino TF, Maren S. The role of the medial prefrontal cortex in the conditioning and extinction of fear. Front Behav Neurosci. 2015;9:298.

18.

Hoover WB, Vertes RP. Anatomical analysis of afferent projections to the medial prefrontal cortex in the rat. Brain Struct Funct. 2007;212:149–79.

19.

Ye X, Kapeller-Libermann D, Travaglia A, Inda MC, Alberini CM. Direct dorsal hippocampal-prelimbic cortex connections strengthen fear memories. Nat Neurosci. 2017;20:52–61.

20.

Barker GR, Banks PJ, Scott H, Ralph GS, Mitrophanous KA, Wong LF, et al. Separate elements of episodic memory subserved by distinct hippocampal-prefrontal connections. Nat Neurosci. 2017;20:242–50.

21.

Eichenbaum H. Prefrontal-hippocampal interactions in episodic memory. Nat Rev Neurosci. 2017;18:547–58.

22.

Heroux NA, Osborne BF, Miller LA, Kawan M, Buban KN, Rosen JB, et al. Differential expression of the immediate early genes c-Fos, Arc, Egr-1, and Npas4 during long-term memory formation in the context preexposure facilitation effect (CPFE). Neurobiol Learn Mem. 2018;147:128–38.

23.

Zhang Y, Fukushima H, Kida S. Induction and requirement of gene expression in the anterior cingulate cortex and medial prefrontal cortex for the consolidation of inhibitory avoidance memory. Mol Brain. 2011;4:4.

24.

Rizzo V, Touzani K, Raveendra BL, Swarnkar S, Lora J, Kadakkuzha BM, et al. Encoding of contextual fear memory requires de novo proteins in the prelimbic cortex. Biol Psychiatry Cogn Neurosci Neuroimaging. 2017;2:158–69.

25.

Spalding KN. The role of the medial prefrontal cortex in the generalization of conditioned fear. Neuropsychology. 2018;32:1–17.

26.

Xu W, Sudhof TC. A neural circuit for memory specificity and generalization. Science. 2013;339:1290–5.

27.

Bayer H, Bertoglio LJ. Infralimbic cortex controls fear memory generalization and susceptibility to extinction during consolidation. Sci Rep. 2020;10:15827.

28.

Bero AW, Meng J, Cho S, Shen AH, Canter RG, Ericsson M, et al. Early remodeling of the neocortex upon episodic memory encoding. Proc Natl Acad Sci USA. 2014;111:11852–7.

29.

Chen MB, Jiang X, Quake SR, Sudhof TC. Persistent transcriptional programmes are associated with remote memory. Nature. 2020;587:437–42.

30.

Katzman A, Khodadadi-Jamayran A, Kapeller-Libermann D, Ye X, Tsirigos A, Heguy A, et al. Distinct transcriptomic profiles in the dorsal hippocampus and prelimbic cortex are transiently regulated following episodic learning. J Neurosci. 2021;41:2601–14.

31.

Waimey KE, Cheng HJ. Axon pruning and synaptic development: how are they per-plexin? Neuroscientist. 2006;12:398–409.

32.

Takahashi T, Fournier A, Nakamura F, Wang L-H, Murakami Y, Kalb RG, et al. Plexin-neuropilin-1 complexes form functional semaphorin-3A receptors. Cell. 1999;99:59–69.

33.

Kuwajima T, Yoshida Y, Takegahara N, Petros TJ, Kumanogoh A, Jessell TM, et al. Optic chiasm presentation of Semaphorin6D in the context of Plexin-A1 and Nr-CAM promotes retinal axon midline crossing. Neuron. 2012;74:676–90.

34.

Peng Y, Song L, Li D, Kesterson R, Wang J, Wang L, et al. Sema6D acts downstream of bone morphogenetic protein signalling to promote atrioventricular cushion development in mice. Cardiovasc. Res. 2016;112:532–42.

35.

Toyofuku T, Zhang H, Kumanogoh A, Takegahara N, Suto F, Kamei J, et al. Dual roles of Sema6D in cardiac morphogenesis through region-specific association of its receptor, Plexin-A1, with off-track and vascular endothelial growth factor receptor type 2. Genes Dev. 2004;18:435–47.

36.

Takahashi T, Strittmatter SM. Plexina1 autoinhibition by the plexin sema domain. Neuron. 2001;29:429–39.

37.

Dimidschstein J, Chen Q, Tremblay R, Rogers SL, Saldi GA, Guo L, et al. A viral strategy for targeting and manipulating interneurons across vertebrate species. Nat Neurosci. 2016;19:1743–49.

38.

Lin WJ, Jiang C, Sadahiro M, Bozdagi O, Vulchanova L, Alberini CM, et al. VGF and Its C-Terminal Peptide TLQP-62 Regulate Memory Formation in Hippocampus via a BDNF-TrkB-Dependent Mechanism. J Neurosci. 2015;35:10343–56.

39.

Lin WJ, Zhao Y, Li Z, Zheng S, Zou JL, Warren NA, et al. An increase in VGF expression through a rapid, transcription-independent, autofeedback mechanism improves cognitive function. Transl. Psychiatry. 2021;11:383.

40.

Jiang C, Lin WJ, Labonte B, Tamminga CA, Turecki G, Nestler EJ, et al. VGF and its C-terminal peptide TLQP-62 in ventromedial prefrontal cortex regulate depression-related behaviors and the response to ketamine. Neuropsychopharmacology. 2019;44:971–81.

41.

Gallo FT, Katche C, Morici JF, Medina JH, Weisstaub NV. Immediate early genes, memory and psychiatric disorders: focus on c-Fos, Egr1 and Arc. Front Behav Neurosci. 2018;12:79.

42.

Sheng M, McFadden G, Greenberg ME. Membrane depolarization and calcium induce c-fos transcription via phosphorylation of transcription factor CREB. Neuron. 1990;4:571–82.

43.

Togashi H, Schmidt EF, Strittmatter SM. RanBPM contributes to Semaphorin3A signaling through plexin-A receptors. J Neurosci. 2006;26:4961–9.

44.

Dymond S, Dunsmoor JE, Vervliet B, Roche B, Hermans D. Fear generalization in humans: systematic review and implications for anxiety disorder research. Behav Ther. 2015;46:561–82.

45.

Jasnow AM, Lynch JF 3rd, Gilman TL, Riccio DC. Perspectives on fear generalization and its implications for emotional disorders. J Neurosci Res. 2017;95:821–35.

46.

Vertes RP. Differential projections of the infralimbic and prelimbic cortex in the rat. Synapse. 2004;51:32–58.

47.

Kanaani J, Kolibachuk J, Martinez H, Baekkeskov S. Two distinct mechanisms target GAD67 to vesicular pathways and presynaptic clusters. J Cell Biol. 2010;190:911–25.

48.

Alberini CM, Kandel ER. The regulation of transcription in memory consolidation. Cold Spring Harb Perspect Biol. 2014;7:a021741.

49.

Rozeske RR, Valerio S, Chaudun F, Herry C. Prefrontal neuronal circuits of contextual fear conditioning. Genes Brain Behav. 2015;14:22–36.

50.

Sharma V, Sood R, Khlaifia A, Eslamizade MJ, Hung TY, Lou D, et al. eIF2α controls memory consolidation via excitatory and somatostatin neurons. Nature. 2020;586:412–16.

51.

Shrestha P, Shan Z, Mamcarz M, Ruiz KSA, Zerihoun AT, Juan CY, et al. Amygdala inhibitory neurons as loci for translation in emotional memories. Nature. 2020;586:407–11.

52.

Lee YS, Lee JA, Kaang BK. Regulation of mRNA stability by ARE-binding proteins in synaptic plasticity and memory. Neurobiol Learn Mem. 2015;124:28–33.

53.

Jaffrey SR, Wilkinson MF. Nonsense-mediated RNA decay in the brain: emerging modulator of neural development and disease. Nat Rev Neurosci. 2018;19:715–28.

54.

Kiebler MA, Bassell GJ. Neuronal RNA granules: movers and makers. Neuron. 2006;51:685–90.

55.

Jarome TJ, Helmstetter FJ. The ubiquitin-proteasome system as a critical regulator of synaptic plasticity and long-term memory formation. Neurobiol Learn Mem. 2013;105:107–16.

56.

Fleming A, Rubinsztein DC. Autophagy in neuronal development and plasticity. Trends Neurosci. 2020;43:767–79.

57.

Stern SA, Alberini CM. Mechanisms of memory enhancement. Wiley Interdiscip Rev Syst Biol Med. 2013;5:37–53.

58.

Mansuy IM, Shenolikar S. Protein serine/threonine phosphatases in neuronal plasticity and disorders of learning and memory. Trends Neurosci. 2006;29:679–86.

59.

Antoniadis EA, McDonald RJ. Fornix, medial prefrontal cortex, nucleus accumbens, and mediodorsal thalamic nucleus: roles in a fear-based context discrimination task. Neurobiol Learn Mem. 2006;85:71–85.

60.

Cummings KA, Clem RL. Prefrontal somatostatin interneurons encode fear memory. Nat Neurosci. 2020;23:61–74.

61.

Yan R, Wang T, Zhou Q. Elevated dopamine signaling from ventral tegmental area to prefrontal cortical parvalbumin neurons drives conditioned inhibition. Proc Natl Acad Sci USA. 2019;116:13077–86.

62.

Carew TJ, Menzel R, Shatz CJ. Mechanistic relationships between development and learning: report of the Dahlem Workshop on Mechanistic Relationships between Development and Learning, Berlin, January 19-25, 1997. New York: John Wiley & Sons; 1998.

63.

Rohm B, Ottemeyer A, Lohrum M, Püschel AW. Plexin/neuropilin complexes mediate repulsion by the axonal guidance signal semaphorin 3A. Mechanisms Dev. 2000;93:95–104.

64.

Wu KY, He M, Hou QQ, Sheng AL, Yuan L, Liu F, et al. Semaphorin 3A activates the guanosine triphosphatase Rab5 to promote growth cone collapse and organize callosal axon projections. Sci Signal. 2014;7:ra81.

65.

Wang H, Hota PK, Tong Y, Li B, Shen L, Nedyalkova L, et al. Structural basis of Rnd1 binding to plexin Rho GTPase binding domains (RBDs). J Biol Chem. 2011;286:26093–106.

66.

Rohm B, Rahim B, Kleiber B, Hovatta I, Puschel AW. The semaphorin 3A receptor may directly regulate the activity of small GTPases. FEBS Lett. 2000;486:68–72.

67.

Turner LJ, Nicholls S, Hall A. The activity of the plexin-A1 receptor is regulated by Rac. J Biol Chem. 2004;279:33199–205.

68.

Nadel L, Hardt O. Update on memory systems and processes. Neuropsychopharmacology. 2011;36:251–73.

69.

Vetere G, Kenney JW, Tran LM, Xia F, Steadman PE, Parkinson J, et al. Chemogenetic Interrogation of a Brain-wide Fear Memory Network in Mice. Neuron 2017;94:363–74 e4.

70.

Anastasiades PG, Carter AG. Circuit organization of the rodent medial prefrontal cortex. Trends Neurosci. 2021;44:550–63.

71.

Cheriyan J, Kaushik MK, Ferreira AN, Sheets PL. Specific targeting of the basolateral amygdala to projectionally defined pyramidal neurons in prelimbic and infralimbic cortex. eNeuro. 2016;3:e0002–16.2016 1-13.

72.

Liu X, Carter AG. Ventral hippocampal inputs preferentially drive corticocortical neurons in the infralimbic prefrontal cortex. J Neurosci. 2018;38:7351–63.

73.

Peters J, Kalivas PW, Quirk GJ. Extinction circuits for fear and addiction overlap in prefrontal cortex. Learn Mem. 2009;16:279–88.

74.

Sotres-Bayon F, Quirk GJ. Prefrontal control of fear: more than just extinction. Curr Opin Neurobiol. 2010;20:231–5.

75.

Riga D, Matos MR, Glas A, Smit AB, Spijker S, Van den Oever MC. Optogenetic dissection of medial prefrontal cortex circuitry. Front Syst Neurosci. 2014;8:230.

76.

Courtin J, Bienvenu TC, Einarsson EO, Herry C. Medial prefrontal cortex neuronal circuits in fear behavior. Neuroscience. 2013;240:219–42.

77.

Greenberg T, Carlson JM, Cha J, Hajcak G, Mujica-Parodi LR. Ventromedial prefrontal cortex reactivity is altered in generalized anxiety disorder during fear generalization. Depress Anxiety. 2013;30:242–50.

78.

Lissek S. Toward an account of clinical anxiety predicated on basic, neurally mapped mechanisms of Pavlovian fear-learning: the case for conditioned overgeneralization. Depress Anxiety. 2012;29:257–63.

79.

Kim MJ, Loucks RA, Palmer AL, Brown AC, Solomon KM, Marchante AN, et al. The structural and functional connectivity of the amygdala: from normal emotion to pathological anxiety. Behav Brain Res. 2011;223:403–10.

80.

Pitman RK, Rasmusson AM, Koenen KC, Shin LM, Orr SP, Gilbertson MW, et al. Biological studies of post-traumatic stress disorder. Nat Rev Neurosci. 2012;13:769–87.

81.

Rougemont-Bucking A, Linnman C, Zeffiro TA, Zeidan MA, Lebron-Milad K, Rodriguez-Romaguera J, et al. Altered processing of contextual information during fear extinction in PTSD: an fMRI study. CNS Neurosci Ther. 2011;17:227–36.

82.

Lynch J 3rd, Cullen PK, Jasnow AM, Riccio DC. Sex differences in the generalization of fear as a function of retention intervals. Learn Mem. 2013;20:628–32.

83.

Lynch JF 3rd, Dejanovic D, Winiecki P, Mulvany J, Ortiz S, Riccio DC, et al. Activation of ERbeta modulates fear generalization through an effect on memory retrieval. Horm Behav. 2014;66:421–9.

84.

Lynch JF 3rd, Winiecki P, Vanderhoof T, Riccio DC, Jasnow AM. Hippocampal cytosolic estrogen receptors regulate fear generalization in females. Neurobiol Learn Mem. 2016;130:83–92.

85.

Tolin DF, Foa EB. Sex differences in trauma and posttraumatic stress disorder: a quantitative review of 25 years of research. Psychol Bull. 2006;132:959–92.

86.

McLean CP, Asnaani A, Litz BT, Hofmann SG. Gender differences in anxiety disorders: prevalence, course of illness, comorbidity and burden of illness. J Psychiatr Res. 2011;45:1027–35.

87.

Wade D, Varker T, Kartal D, Hetrick S, O'Donnell M, Forbes D. Gender difference in outcomes following trauma-focused interventions for posttraumatic stress disorder: Systematic review and meta-analysis. Psychol Trauma. 2016;8:356–64.
Acknowledgements
We thank the animal facility and the core facility of the Zhongshan School of Medicine, Sun Yat-sen University for technical assistance. We thank all members of the Ye lab and Lin lab for valuable discussions and technical assistance during the execution of this projection. Supported in part by grants from National Natural Science Foundation of China (No. 81873797 to XY, No. 81972967 to WJL), Natural Science Foundation of Guangdong Province (No. 2019A1515011483 to XY, No. 2019A1515011754 to WJL), the Fundamental Research Funds for the Central Universities (No. 19ykzd40 to XY), Guangdong Project (No. 2019QN01Y202 to XY), Science and Technology Program of Guangzhou (No. 202007030001 to XY and WJL). The authors report no biomedical financial interests or potential conflicts of interest.
Ethics declarations
Competing interests
The authors declare no competing interests.
Additional information
Publisher's note Springer Nature remains neutral with regard to jurisdictional claims in published maps and institutional affiliations.
Supplementary information
About this article
Cite this article
Cheng, X., Zhao, Y., Zheng, S. et al. Plexin-A1 expression in the inhibitory neurons of infralimbic cortex regulates the specificity of fear memory in male mice. Neuropsychopharmacol. (2021). https://doi.org/10.1038/s41386-021-01177-1
Received:

Revised:

Accepted:

Published: