Abstract
Memories of negative experiences exert important control of behavior in the face of actual or anticipated threat. Sometimes, however, this control extends to non-threatening situations, a phenomenon known as overgeneralization of negative memories. Overgeneralization is a reliable cognitive phenotype of major depressive disorder, generalized anxiety disorder, and post-traumatic stress disorder. We therefore sought to develop an animal model to study stress-induced generalization of negative memories (SIG) and determine its dependence on the episodic-like memory circuit. We found that male and female mice, which were trained to differentiate a threatening from neutral context, exhibited robust SIG in response to subsequent social stress. Using chemogenetic circuit manipulations during memory retrieval, we demonstrated that both excitatory afferents to the dorsal hippocampus (DH) from the ventral tegmental area (VTA), and excitatory efferents from the DH to the retrosplenial cortex (RSC) contribute to SIG. Based on the known roles of these projections, we suggest that (1) by targeting subcortical VTA circuits that provide valence signals to the DH, stress prioritizes the retrieval of negative over neutral memories, and (2) by forwarding such information to the RSC, stress engages cortical mechanisms that support the retrieval of general relative to specific memory features. Altogether, these results suggest that various components of the extended hippocampal circuit can serve as treatment targets for memory overgeneralization.
Access options
Subscribe to Journal
Get full journal access for 1 year
$119.00
only $9.15 per issue
All prices are NET prices.
VAT will be added later in the checkout.
Tax calculation will be finalised during checkout.
Rent or Buy article
Get time limited or full article access on ReadCube.
from$8.99
All prices are NET prices.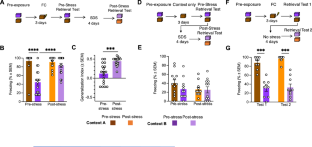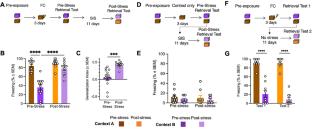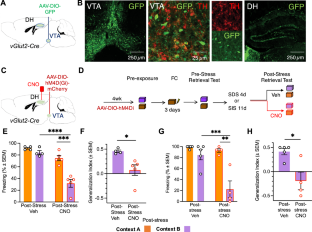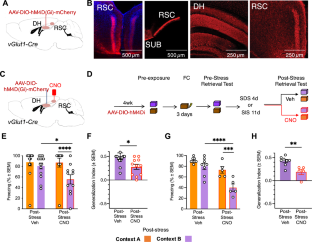 References
1.

McIntyre RS, Xiao HX, Syeda K, Vinberg M, Carvalho AF, Mansur RB, et al. The prevalence, measurement, and treatment of the cognitive dimension/domain in major depressive disorder. CNS Drugs. 2015;29:577–89.

2.

Hitchcock C, Werner-Seidler A, Blackwell SE, Dalgleish T. Autobiographical episodic memory-based training for the treatment of mood, anxiety and stress-related disorders: A systematic review and meta-analysis. Clin Psychol Rev. 2017;52:92–107.

3.

Sumner JA, Griffith JW, Mineka S. Overgeneral autobiographical memory as a predictor of the course of depression: a meta-analysis. Behav Res Ther. 2010;48:614–25.

4.

Brandes D, Ben-Schachar G, Gilboa A, Bonne O, Freedman S, Shalev AY. PTSD symptoms and cognitive performance in recent trauma survivors. Psychiatry Res. 2002;110:231–8.

5.

Reinecke A, Rinck M, Becker ES, Hoyer J. Cognitive-behavior therapy resolves implicit fear associations in generalized anxiety disorder. Behav Res Ther. 2013;51:15–23.

6.

Reinecke A, Hoyer J, Rinck M, Becker ES. Cognitive-behavioural therapy reduces unwanted thought intrusions in generalized anxiety disorder. J Behav Ther Exp Psychiatry. 2013;44:1–6.

7.

McWhirter L, Ritchie C, Stone J, Carson A. Functional cognitive disorders: a systematic review. Lancet Psychiatry. 2020;7:191–207.

8.

Reinecke A, Waldenmaier L, Cooper MJ, Harmer CJ. Changes in automatic threat processing precede and predict clinical changes with exposure-based cognitive-behavior therapy for panic disorder. Biol Psychiatry. 2013;73:1064–70.

9.

Jak AJ, Crocker LD, Aupperle RL, Clausen A, Bomyea J. Neurocognition in PTSD: Treatment Insights and Implications. In: Vermetten E, Baker DG, Risbrough VB, editors. Behavioral Neurobiology of PTSD. Cham: Springer International Publishing; 2018. p. 93–116.

10.

Reinecke A, Becker ES, Hoyer J, Rinck M. Generalized implicit fear associations in generalized anxiety disorder. Depress Anxiety. 2010;27:252–9.

11.

Levy-Gigi E, Szabo C, Richter-Levin G, Keri S. Reduced hippocampal volume is associated with overgeneralization of negative context in individuals with PTSD. Neuropsychology. 2015;29:151–61.

12.

Carver CS. Generalization, adverse events, and development of depressive symptoms. J Pers. 1998;66:607–19.

13.

Ganellen RJ. Specificity of attributions and overgeneralization in depression and anxiety. J Abnorm Psychol. 1988;97:83–6.

14.

Thome J, Hauschild S, Koppe G, Liebke L, Rausch S, Herzog JI, et al. Generalisation of fear in PTSD related to prolonged childhood maltreatment: an experimental study. Psychol Med. 2018;48:2223–34.

15.

Lenaert B, Boddez Y, Vervliet B, Schruers K, Hermans D. Reduced autobiographical memory specificity is associated with impaired discrimination learning in anxiety disorder patients. Front Psychol. 2015;6:889.

16.

Lissek S, Kaczkurkin AN, Rabin S, Geraci M, Pine DS, Grillon C. Generalized anxiety disorder is associated with overgeneralization of classically conditioned fear. Biol Psychiatry. 2014;75:909–15.

17.

Kaczkurkin AN, Burton PC, Chazin SM, Manbeck AB, Espensen-Sturges T, Cooper SE, et al. Neural substrates of overgeneralized conditioned fear in PTSD. Am J Psychiatry. 2017;174:125–34.

18.

Morey RA, Dunsmoor JE, Haswell CC, Brown VM, Vora A, Weiner J, et al. Fear learning circuitry is biased toward generalization of fear associations in posttraumatic stress disorder. Transl Psychiatry. 2015;5:e700.

19.

Beck ATRA, Shaw BF, Emery G. Cognitive therapy of depression. Guilford: New York; 1979.

20.

Fulford D, Rosen RK, Johnson SL, Carver CS. Negative generalization and symptoms of anxiety disorders. J Exp Psychopathol. 2012;3:62–8.

21.

Besnard A, Sahay A. Adult hippocampal neurogenesis, fear generalization, and stress. Neuropsychopharmacology. 2016;41:24–44.

22.

Dunsmoor JE, Otto AR, Phelps EA. Stress promotes generalization of older but not recent threat memories. Proc Natl Acad Sci USA. 2017;114:9218–23.

23.

Shohamy D, Turk-Browne NB. Mechanisms for widespread hippocampal involvement in cognition. J Exp Psychol Gen. 2013;142:1159–70.

24.

Sun X, Bernstein MJ, Meng M, Rao S, Sorensen AT, Yao L, et al. Functionally distinct neuronal ensembles within the memory engram. Cell. 2020;181:410–23 e17.

25.

Frankland PW, Cestari V, Filipkowski RK, McDonald RJ, Silva AJ. The dorsal hippocampus is essential for context discrimination but not for contextual conditioning. Behav Neurosci. 1998;112:863–74.

26.

Wiltgen BJ, Silva AJ. Memory for context becomes less specific with time. Learn Mem. 2007;14:313–7.

27.

Abdou K, Shehata M, Choko K, Nishizono H, Matsuo M, Muramatsu SI, et al. Synapse-specific representation of the identity of overlapping memory engrams. Science. 2018;360:1227–31.

28.

Kumaran D, McClelland JL. Generalization through the recurrent interaction of episodic memories: a model of the hippocampal system. Psychol Rev. 2012;119:573–616.

29.

Banino A, Koster R, Hassabis D, Kumaran D. Retrieval-based model accounts for striking profile of episodic memory and generalization. Sci Rep. 2016;6:31330.

30.

Leutgeb JK, Leutgeb S, Moser MB, Moser EI. Pattern separation in the dentate gyrus and CA3 of the hippocampus. Science. 2007;315:961–6.

31.

Treves A, Tashiro A, Witter MP, Moser EI. What is the mammalian dentate gyrus good for? Neuroscience. 2008;154:1155–72.

32.

Rolls ET, Kesner RP. Pattern separation and pattern completion in the hippocampal system. Introduction to the Special Issue. Neurobiol Learn Mem. 2016;129:1–3.

33.

Han Y, Zhang Y, Kim H, Grayson VS, Jovasevic V, Ren W, et al. Excitatory VTA to DH projections provide a valence signal to memory circuits. Nat Commun. 2020;11:1466.

34.

Roy DS, Kitamura T, Okuyama T, Ogawa SK, Sun C, Obata Y, et al. Distinct Neural circuits for the formation and retrieval of episodic memories. Cell. 2017;170:1000–12 e19.

35.

Stern CE, Corkin S, Gonzalez RG, Guimaraes AR, Baker JR, Jennings PJ, et al. The hippocampal formation participates in novel picture encoding: evidence from functional magnetic resonance imaging. Proc Natl Acad Sci USA. 1996;93:8660–5.

36.

Wild JM, Blampied NM. Hippocampal lesions and stimulus generalization in rats. Physiol Behav. 1972;9:505–11.

37.

Bucci DJ, Saddoris MP, Burwell RD. Contextual fear discrimination is impaired by damage to the postrhinal or perirhinal cortex. Behav Neurosci. 2002;116:479–88.

38.

Rudy JW, O'Reilly RC. Contextual fear conditioning, conjunctive representations, pattern completion, and the hippocampus. Behav Neurosci. 1999;113:867–80.

39.

Yamawaki N, Corcoran KA, Guedea AL, Shepherd GMG, Radulovic J. Differential contributions of glutamatergic hippocampal→retrosplenial cortical projections to the formation and persistence of context memories. Cereb Cortex. 2018; 29:2728–36.

40.

Jiang MY, DeAngeli NE, Bucci DJ, Todd TP. Retrosplenial cortex has a time-dependent role in memory for visual stimuli. Behav Neurosci. 2018;132:396–402.

41.

Todd TP, Mehlman ML, Keene CS, DeAngeli NE, Bucci DJ. Retrosplenial cortex is required for the retrieval of remote memory for auditory cues. Learn Mem. 2016;23:278–88.

42.

Corcoran KA, Frick BJ, Radulovic J, Kay LM. Analysis of coherent activity between retrosplenial cortex, hippocampus, thalamus, and anterior cingulate cortex during retrieval of recent and remote context fear memory. Neurobiol Learn Mem. 2016;127:93–101.

43.

Corcoran KA, Leaderbrand K, Radulovic J. Extinction of remotely acquired fear depends on an inhibitory NR2B/PKA pathway in the retrosplenial cortex. J Neurosci. 2013;33:19492–8.

44.

Leaderbrand K, Chen HJ, Corcoran KA, Guedea AL, Jovasevic V, Wess J, et al. Muscarinic acetylcholine receptors act in synergy to facilitate learning and memory. Learn Mem. 2016;23:631–38.

45.

Corcoran KA, Donnan MD, Tronson NC, Guzman YF, Gao C, Jovasevic V, et al. NMDA receptors in retrosplenial cortex are necessary for retrieval of recent and remote context fear memory. J Neurosci. 2011;31:11655–9.

46.

Kudryavtseva NN, Bakshtanovskaya IV, Koryakina LA. Social model of depression in mice of C57BL/6J strain. Pharm Biochem Behav. 1991;38:315–20.

47.

Rygula R, Abumaria N, Flugge G, Fuchs E, Ruther E, Havemann-Reinecke U. Anhedonia and motivational deficits in rats: impact of chronic social stress. Behav Brain Res. 2005;162:127–34.

48.

Rygula R, Abumaria N, Flugge G, Hiemke C, Fuchs E, Ruther E, et al. Citalopram counteracts depressive-like symptoms evoked by chronic social stress in rats. Behav Pharmacol. 2006;17:19–29.

49.

Rygula R, Abumaria N, Domenici E, Hiemke C, Fuchs E. Effects of fluoxetine on behavioral deficits evoked by chronic social stress in rats. Behav Brain Res. 2006;174:188–92.

50.

Berton O, McClung CA, Dileone RJ, Krishnan V, Renthal W, Russo SJ, et al. Essential role of BDNF in the mesolimbic dopamine pathway in social defeat stress. Science. 2006;311:864–8.

51.

Golden SA, Covington HE 3rd, Berton O, Russo SJ. A standardized protocol for repeated social defeat stress in mice. Nat Protoc. 2011;6:1183–91.

52.

Labaka A, Gomez-Lazaro E, Vegas O, Perez-Tejada J, Arregi A, Garmendia L. Reduced hippocampal IL-10 expression, altered monoaminergic activity and anxiety and depressive-like behavior in female mice subjected to chronic social instability stress. Behav Brain Res. 2017;335:8–18.

53.

Goni-Balentziaga O, Perez-Tejada J, Renteria-Dominguez A, Lebena A, Labaka A. Social instability in female rodents as a model of stress related disorders: A systematic review. Physiol Behav. 2018;196:190–99.

54.

Haller J, Fuchs E, Halasz J, Makara GB. Defeat is a major stressor in males while social instability is stressful mainly in females: towards the development of a social stress model in female rats. Brain Res Bull. 1999;50:33–9.

55.

Xu W, Sudhof TC. A neural circuit for memory specificity and generalization. Science. 2013;339:1290–5.

56.

Berens SC, Bird CM. The role of the hippocampus in generalizing configural relationships. Hippocampus. 2017;27:223–28.

57.

Jovasevic V, Corcoran KA, Leaderbrand K, Yamawaki N, Guedea AL, Chen HJ, et al. GABAergic mechanisms regulated by miR-33 encode state-dependent fear. Nat Neurosci. 2015;18:1265–71.

58.

Rolls ET. A theory of hippocampal function in memory. Hippocampus. 1996;6:601–20.

59.

Rolls ET. Pattern separation, completion, and categorisation in the hippocampus and neocortex. Neurobiol Learn Mem. 2016;129:4–28.

60.

Rolls ET, Kesner RP. A computational theory of hippocampal function, and empirical tests of the theory. Prog Neurobiol. 2006;79:1–48.

61.

Wiltgen BJ, Zhou M, Cai Y, Balaji J, Karlsson MG, Parivash SN, et al. The hippocampus plays a selective role in the retrieval of detailed contextual memories. Curr Biol. 2010;20:1336–44.

62.

de Sousa AF, Cowansage KK, Zutshi I, Cardozo LM, Yoo EJ, Leutgeb S, et al. Optogenetic reactivation of memory ensembles in the retrosplenial cortex induces systems consolidation. Proc Natl Acad Sci USA. 2019;116:8576–81.

63.

Wiltgen BJ, Sanders MJ, Anagnostaras SG, Sage JR, Fanselow MS. Context fear learning in the absence of the hippocampus. J Neurosci. 2006;26:5484–91.

64.

Villarroel MA, Terlizzi EP. Symptoms of depression among adults: United States, 2019. NCHS Data Brief. 2020;379:1–8.

65.

Kessler RC, Berglund P, Demler O, Jin R, Merikangas KR, Walters EE. Lifetime prevalence and age-of-onset distributions of DSM-IV disorders in the National Comorbidity Survey Replication. Arch Gen Psychiatry. 2005;62:593–602.

66.

Kessler RC, Chiu WT, Demler O, Merikangas KR, Walters EE. Prevalence, severity, and comorbidity of 12-month DSM-IV disorders in the National Comorbidity Survey Replication. Arch Gen Psychiatry. 2005;62:617–27.

67.

Whiteford HA, Ferrari AJ, Degenhardt L, Feigin V, Vos T. The global burden of mental, neurological and substance use disorders: an analysis from the Global Burden of Disease Study 2010. PLoS ONE. 2015;10:e0116820.
Acknowledgements
We would like to thank Dr. John Kessler, Dr. Ana Cicvaric, Dr. Hui Zhang, and Dr. Vladimir Jovasevic for helpful discussions regarding the work described here.
Additional information
Publisher's note Springer Nature remains neutral with regard to jurisdictional claims in published maps and institutional affiliations.
Supplementary information
About this article
Cite this article
Ren, L.Y., Meyer, M.A.A., Grayson, V.S. et al. Stress-induced generalization of negative memories is mediated by an extended hippocampal circuit. Neuropsychopharmacol. (2021). https://doi.org/10.1038/s41386-021-01174-4
Received:

Revised:

Accepted:

Published: