Abstract
Preclinical and clinical evidence suggests that exogenous administration of oxytocin (OT) may hold promise as a therapeutic strategy for reducing heavy alcohol drinking. However, it remains unknown whether these effects are mediated by stimulation of endogenous sources of OT and signaling at oxytocin receptors (OTR) in brain or in the periphery. To address this question, we employed a targeted chemogenetic approach to examine whether selective activation of OT-containing neurons in the paraventricular nucleus of the hypothalamus (PVN) alters alcohol consumption in a binge-like drinking ("Drinking-in-the-Dark"; DID) model. Adult male Oxt-IRES-Cre mice received bilateral infusion of a Cre-dependent virus containing an excitatory DREADD (AAV8-hSyn-DIO-hM3Dq-mCherry) or control virus (AAV8-hSyn-DIO-mCherry) into the PVN. Chemogenetic activation of PVNOT+ neurons following clozapine-N-oxide injection reduced binge-like alcohol drinking in a similar manner as systemic administration of the neuropeptide. Pretreatment with a brain-penetrant OTR antagonist (L-368,899) reversed this effect while systemic administration of a peripherally restricted OTR antagonist (Atosiban) did not alter reduced alcohol drinking following chemogenetic activation of PVNOT+ neurons. Altogether, these data are the first to demonstrate that targeted activation of hypothalamic (endogenous) OT reduces alcohol consumption, providing further evidence that this neuropeptide plays a role in regulation of alcohol self-administration behavior. Further, results indicate that the ability OT to reduce alcohol drinking is mediated by signaling at OTR in the brain.
Access options
Subscribe to Journal
Get full journal access for 1 year
$119.00
only $9.15 per issue
All prices are NET prices.
VAT will be added later in the checkout.
Tax calculation will be finalised during checkout.
Rent or Buy article
Get time limited or full article access on ReadCube.
from$8.99
All prices are NET prices.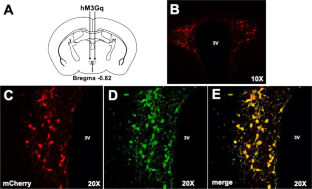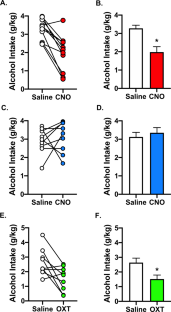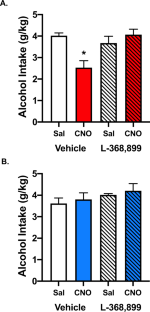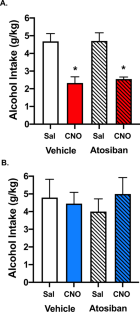 References
1.

Addolorato G, Vassallo GA, Antonelli G, Antonelli M, Tarli C, Mirijello A, et al. Binge drinking among adolescents is related to the development of alcohol use disorders: results from a cross-sectional study. Sci Rep. 2018;8:12624.

2.

Jennison KM. The short-term effects and unintended long-term consequences of binge drinking in college: a 10-year follow-up study. Am J Drug Alcohol Abus. 2004;30:659–84.

3.

McCarty CA, Ebel BE, Garrison MM, DiGiuseppe DL, Christakis DA, Rivara FP. Continuity of binge and harmful drinking from late adolescence to early adulthood. Pediatrics. 2004;114:714–9.

4.

Becker HC. Influence of stress associated with chronic alcohol exposure on drinking. Neuropharmacology. 2017;122:115–26.

5.

Koob GF, Volkow ND. Neurobiology of addiction: a neurocircuitry analysis. Lancet Psychiatry. 2016;3:760–73.

6.

Becker HC. Animal models of excessive alcohol consumption in rodents. Curr Top Behav Neurosci. 2013;13:355–77.

7.

Sprow GM, Thiele TE. The neurobiology of binge-like ethanol drinking: evidence from rodent models. Physiol Behav. 2012;106:325–31.

8.

Bowen MT, Neumann ID. The multidimensional therapeutic potential of targeting the brain oxytocin system for the treatment of substance use disorders. Curr Top Behav Neurosci. 2018;35:269–87.

9.

King CE, Gano A, Becker HC. The role of oxytocin in alcohol and drug abuse. Brain Res. 2020;1736:146761.

10.

Lee MR, Weerts EM. Oxytocin for the treatment of drug and alcohol use disorders. Behav Pharm. 2016;27:640–8.

11.

McGregor IS, Bowen MT. Breaking the loop: oxytocin as a potential treatment for drug addiction. Horm Behav. 2012;61:331–9.

12.

Pedersen CA, Smedley KL, Leserman J, Jarskog LF, Rau SW, Kampov-Polevoi A, et al. Intranasal oxytocin blocks alcohol withdrawal in human subjects. Alcohol Clin Exp Res. 2013;37:484–9.

13.

Mitchell JM, Arcuni PA, Weinstein D, Woolley JD. Intranasal oxytocin selectively modulates social perception, craving, and approach behavior in subjects with alcohol use disorder. J Addict Med. 2016;10:182–9.

14.

Hansson AC, Koopmann A, Uhrig S, Buhler S, Domi E, Kiessling E, et al. Oxytocin reduces alcohol cue-reactivity in alcohol-dependent rats and humans. Neuropsychopharmacology. 2018;43:1235–46.

15.

Caruso MA, Robins MT, Fulenwider HD, Ryabinin AE. Temporal analysis of individual ethanol consumption in socially housed mice and the effects of oxytocin. Psychopharmacology (Berl). 2021. https://doi.org/10.1007/s00213-020-05741-3

16.

King CE, Becker HC. Oxytocin attenuates stress-induced reinstatement of alcohol seeking behavior in male and female mice. Psychopharmacol (Berl). 2019;236:2613–22.

17.

MacFadyen K, Loveless R, DeLucca B, Wardley K, Deogan S, Thomas C, et al. Peripheral oxytocin administration reduces ethanol consumption in rats. Pharm Biochem Behav. 2016;140:27–32.

18.

Peters ST, Bowen MT, Bohrer K, McGregor IS, Neumann ID. Oxytocin inhibits ethanol consumption and ethanol-induced dopamine release in the nucleus accumbens. Addict Biol. 2017;22:702–11.

19.

Tunstall BJ, Kirson D, Zallar LJ, McConnell SA, Vendruscolo JCM, Ho CP, et al. Oxytocin blocks enhanced motivation for alcohol in alcohol dependence and blocks alcohol effects on GABAergic transmission in the central amygdala. PLoS Biol. 2019;17:e2006421.

20.

Stevenson JR, Wenner SM, Freestone DM, Romaine CC, Parian MC, Christian SM, et al. Oxytocin reduces alcohol consumption in prairie voles. Physiol Behav. 2017;179:411–21.

21.

Walcott AT, Ryabinin AE. Assessing effects of oxytocin on alcohol consumption in socially housed prairie voles using radio frequency tracking. Addict Biol. 2021;26:e12893.

22.

Bahi A, Al Mansouri S, Al Maamari E. Nucleus accumbens lentiviral-mediated gain of function of the oxytocin receptor regulates anxiety- and ethanol-related behaviors in adult mice. Physiol Behav. 2016;164:249–58.

23.

Opacka-Juffry J, Mohiyeddini C. Experience of stress in childhood negatively correlates with plasma oxytocin concentration in adult men. Stress. 2012;15:1–10.

24.

Carson DS, Hunt GE, Guastella AJ, Barber L, Cornish JL, Arnold JC, et al. Systemically administered oxytocin decreases methamphetamine activation of the subthalamic nucleus and accumbens core and stimulates oxytocinergic neurons in the hypothalamus. Addict Biol. 2010;15:448–63.

25.

Ermisch A, Barth T, Ruhle HJ, Skopkova J, Hrbas P, Landgraf R. On the blood-brain barrier to peptides: accumulation of labelled vasopressin, DesGlyNH2-vasopressin and oxytocin by brain regions. Endocrinol Exp. 1985;19:29–37.

26.

Ludwig M, Leng G. Dendritic peptide release and peptide-dependent behaviours. Nat Rev Neurosci. 2006;7:126–36.

27.

Neumann ID, Maloumby R, Beiderbeck DI, Lukas M, Landgraf R. Increased brain and plasma oxytocin after nasal and peripheral administration in rats and mice. Psychoneuroendocrinology. 2013;38:1985–93.

28.

Tanaka A, Furubayashi T, Arai M, Inoue D, Kimura S, Kiriyama A, et al. Delivery of oxytocin to the brain for the treatment of autism spectrum disorder by nasal application. Mol Pharm. 2018;15:1105–11.

29.

Dal Monte O, Noble PL, Turchi J, Cummins A, Averbeck BB. CSF and blood oxytocin concentration changes following intranasal delivery in macaque. PLoS ONE 2014;9:e103677.

30.

Freeman SM, Samineni S, Allen PC, Stockinger D, Bales KL, Hwa GG, et al. Plasma and CSF oxytocin levels after intranasal and intravenous oxytocin in awake macaques. Psychoneuroendocrinology 2016;66:185–94.

31.

Striepens N, Kendrick KM, Hanking V, Landgraf R, Wullner U, Maier W, et al. Elevated cerebrospinal fluid and blood concentrations of oxytocin following its intranasal administration in humans. Sci Rep. 2013;3:3440.

32.

Lee MR, Scheidweiler KB, Diao XX, Akhlaghi F, Cummins A, Huestis MA, et al. Oxytocin by intranasal and intravenous routes reaches the cerebrospinal fluid in rhesus macaques: determination using a novel oxytocin assay. Mol Psychiatry. 2018;23:115–22.

33.

Smith AS, Korgan AC, Young WS. Oxytocin delivered nasally or intraperitoneally reaches the brain and plasma of normal and oxytocin knockout mice. Pharm Res. 2019;146:104324.

34.

Lee MR, Shnitko TA, Blue SW, Kaucher AV, Winchell AJ, Erikson DW, et al. Labeled oxytocin administered via the intranasal route reaches the brain in rhesus macaques. Nat Commun. 2020;11:2783.

35.

Althammer F, Grinevich V. Diversity of oxytocin neurons: beyond magno- and parvocellular cell types? J Neuroendocrinol. 2017. https://doi.org/10.1111/jne.12549

36.

Grinevich V, Knobloch-Bollmann HS, Eliava M, Busnelli M, Chini B. Assembling the puzzle: pathways of oxytocin signaling in the brain. Biol Psychiatry. 2016;79:155–64.

37.

Gimpl G, Fahrenholz F. The oxytocin receptor system: structure, function, and regulation. Physiol Rev. 2001;81:629–83.

38.

Boccia ML, Petrusz P, Suzuki K, Marson L, Pedersen CA. Immunohistochemical localization of oxytocin receptors in human brain. Neuroscience. 2013;253:155–64.

39.

Duque-Wilckens N, Steinman MQ, Busnelli M, Chini B, Yokoyama S, Pham M, et al. Oxytocin receptors in the anteromedial bed nucleus of the stria terminalis promote stress-induced social avoidance in female california mice. Biol Psychiatry. 2018;83:203–13.

40.

Knobloch HS, Charlet A, Hoffmann LC, Eliava M, Khrulev S, Cetin AH, et al. Evoked axonal oxytocin release in the central amygdala attenuates fear response. Neuron. 2012;73:553–66.

41.

Li K, Nakajima M, Ibanez-Tallon I, Heintz N. A cortical circuit for sexually dimorphic oxytocin-dependent anxiety behaviors. Cell. 2016;167:60–72.

42.

Martinon D, Lis P, Roman AN, Tornesi P, Applebey SV, Buechner G, et al. Oxytocin receptors in the dorsolateral bed nucleus of the stria terminalis (BNST) bias fear learning toward temporally predictable cued fear. Transl Psychiatry. 2019;9:140.

43.

Tan Y, Singhal SM, Harden SW, Cahill KM, Nguyen DM, Colon-Perez LM, et al. Oxytocin receptors are expressed by glutamatergic prefrontal cortical neurons that selectively modulate social recognition. J Neurosci. 2019;39:3249–63.

44.

Iwasaki Y, Kumari P, Wang L, Hidema S, Nishimori K, Yada T. Relay of peripheral oxytocin to central oxytocin neurons via vagal afferents for regulating feeding. Biochem Biophys Res Commun. 2019;519:553–8.

45.

Everett NA, Turner AJ, Costa PA, Baracz SJ, Cornish JL. The vagus nerve mediates the suppressing effects of peripherally administered oxytocin on methamphetamine self-administration and seeking in rats. Neuropsychopharmacology. 2021;46:297–304.

46.

Anderson RI, Lopez MF, Griffin WC, Haun HL, Bloodgood DW, Pati D, et al. Dynorphin-kappa opioid receptor activity in the central amygdala modulates binge-like alcohol drinking in mice. Neuropsychopharmacology. 2019;44:1084–92.

47.

Rhodes JS, Best K, Belknap JK, Finn DA, Crabbe JC. Evaluation of a simple model of ethanol drinking to intoxication in C57BL/6J mice. Physiol Behav. 2005;84:53–63.

48.

Broadbear JH, Kabel D, Tracy L, Mak P. Oxytocinergic regulation of endogenous as well as drug-induced mood. Pharm Biochem Behav. 2014;119:61–71.

49.

Tan O, Musullulu H, Raymond JS, Wilson B, Langguth M, Bowen MT. Oxytocin and vasopressin inhibit hyper-aggressive behaviour in socially isolated mice. Neuropharmacology. 2019;156:107573.

50.

Franklin KBJ, Paxinos G. The mouse brain in stereotaxic coordinates, 3rd ed. San Diego: Academic Press; 2008.

51.

King CE, Griffin WC, Luderman LN, Kates MM, McGinty JF, Becker HC. Oxytocin reduces ethanol self-administration in mice. Alcohol Clin Exp Res. 2017;41:955–64.

52.

Wu Z, Xu Y, Zhu Y, Sutton AK, Zhao R, Lowell BB, et al. An obligate role of oxytocin neurons in diet induced energy expenditure. PLoS ONE. 2012;7:e45167.

53.

Penagarikano O, Lazaro MT, Lu XH, Gordon A, Dong H, Lam HA, et al. Exogenous and evoked oxytocin restores social behavior in the Cntnap2 mouse model of autism. Sci Transl Med. 2015;7:271ra8.

54.

Wei D, Lee D, Cox CD, Karsten CA, Penagarikano O, Geschwind DH, et al. Endocannabinoid signaling mediates oxytocin-driven social reward. Proc Natl Acad Sci USA. 2015;112:14084–9.

55.

Silva SM, Madeira MD, Ruela C, Paula-Barbosa MM. Prolonged alcohol intake leads to irreversible loss of vasopressin and oxytocin neurons in the paraventricular nucleus of the hypothalamus. Brain Res. 2002;925:76–88.

56.

Stevenson JR, Young KA, Bohidar AE, Francomacaro LM, Fasold TR, Buirkle JM, et al. Alcohol consumption decreases oxytocin neurons in the anterior paraventricular nucleus of the hypothalamus in prairie voles. Alcohol Clin Exp Res. 2017;41:1444–51.

57.

Zhou Y, Liang Y, Low MJ, Kreek MJ. Nuclear transcriptional changes in hypothalamus of Pomc enhancer knockout mice after excessive alcohol drinking. Genes Brain Behav. 2019;18:e12600.

58.

Peris J, MacFadyen K, Smith JA, de Kloet AD, Wang L, Krause EG. Oxytocin receptors are expressed on dopamine and glutamate neurons in the mouse ventral tegmental area that project to nucleus accumbens and other mesolimbic targets. J Comp Neurol. 2017;525:1094–108.

59.

Sabihi S, Dong SM, Maurer SD, Post C, Leuner B. Oxytocin in the medial prefrontal cortex attenuates anxiety: Anatomical and receptor specificity and mechanism of action. Neuropharmacology. 2017;125:1–12.

60.

Viviani D, Charlet A, van den Burg E, Robinet C, Hurni N, Abatis M, et al. Oxytocin selectively gates fear responses through distinct outputs from the central amygdala. Science. 2011;333:104–7.

61.

Yuan L, Liu S, Bai X, Gao Y, Liu G, Wang X, et al. Oxytocin inhibits lipopolysaccharide-induced inflammation in microglial cells and attenuates microglial activation in lipopolysaccharide-treated mice. J Neuroinflammation. 2016;13:77.

62.

Warden AS, Wolfe SA, Khom S, Varodayan FP, Patel RR, Steinman MQ, et al. Microglia control escalation of drinking in alcohol-dependent mice: genomic and synaptic drivers. Biol Psychiatry 2020;88:910–21.

63.

Caldwell HK, Stewart J, Wiedholz LM, Millstein RA, Iacangelo A, Holmes A, et al. The acute intoxicating effects of ethanol are not dependent on the vasopressin 1a or 1b receptors. Neuropeptides. 2006;40:325–37.

64.

Sanbe A, Takagi N, Fujiwara Y, Yamauchi J, Endo T, Mizutani R, et al. Alcohol preference in mice lacking the Avpr1a vasopressin receptor. Am J Physiol Regul Integr Comp Physiol. 2008;294:R1482–90.

65.

Zhou Y, Rubinstein M, Low MJ, Kreek MJ. V1b receptor antagonist SSR149415 and naltrexone synergistically decrease excessive alcohol drinking in male and female mice. Alcohol Clin Exp Res. 2018;42:195–205.

66.

Zhou Y, Colombo G, Carai MA, Ho A, Gessa GL, Kreek MJ. Involvement of arginine vasopressin and V1b receptor in alcohol drinking in Sardinian alcohol-preferring rats. Alcohol Clin Exp Res. 2011;35:1876–83.

67.

Edwards S, Guerrero M, Ghoneim OM, Roberts E, Koob GF. Evidence that vasopressin V1b receptors mediate the transition to excessive drinking in ethanol-dependent rats. Addict Biol. 2012;17:76–85.

68.

Ryan ML, Falk DE, Fertig JB, Rendenbach-Mueller B, Katz DA, Tracy KA, et al. A phase 2, double-blind, placebo-controlled randomized trial assessing the efficacy of ABT-436, a novel V1b receptor antagonist, for alcohol dependence. Neuropsychopharmacology. 2017;42:1012–23.

69.

Vrachnis N, Malamas FM, Sifakis S, Deligeoroglou E, Iliodromiti Z. The oxytocin-oxytocin receptor system and its antagonists as tocolytic agents. Int J Endocrinol. 2011;2011:350546.

70.

Rodriguez KM, Smith BL, Caldwell HK. Voluntary alcohol consumption is increased in female, but not male, oxytocin receptor knockout mice. Brain Behav. 2020;10:e01749.

71.

Dumais KM, Veenema AH. Vasopressin and oxytocin receptor systems in the brain: sex differences and sex-specific regulation of social behavior. Front Neuroendocrinol. 2016;40:1–23.

72.

Hansson AC, Spanagel R. No changes in the oxytocin system in alcohol-dependent female rodents and humans: Towards a sex-specific psychopharmacology in alcoholism. Addict Biol. 2021;26:e12945.

73.

Wald HS, Chandra A, Kalluri A, Ong ZY, Hayes MR, Grill HJ. NTS and VTA oxytocin reduces food motivation and food seeking. Am J Physiol Regul Integr Comp Physiol. 2020;319:R673–83.
Additional information
Publisher's note Springer Nature remains neutral with regard to jurisdictional claims in published maps and institutional affiliations.
Supplementary information
About this article
Cite this article
King, C.E., Griffin, W.C., Lopez, M.F. et al. Activation of hypothalamic oxytocin neurons reduces binge-like alcohol drinking through signaling at central oxytocin receptors. Neuropsychopharmacol. 46, 1950–1957 (2021). https://doi.org/10.1038/s41386-021-01046-x
Received:

Revised:

Accepted:

Published:

Issue Date: