Abstract
While non-suicidal self-injury (NSSI) occurs in the general population at a surprisingly high rate, with higher rates among certain clinical  populations, its etiology is not well-understood. Consequently, the DSM-5 lists NSSI as requiring further research. This study utilizes a translational model of naturally-occurring NSSI to assess the role of early parental neglect and variation in the serotonin transporter genotype (5-HTT) in the etiology of NSSI. Subjects (N = 161) were rhesus macaques (Macaca mulatta) reared in one of three conditions (mother-reared (MR), peer-reared (PR), or surrogate peer-reared (SPR)), and classified as NSSI (n = 18) or non-NSSI (n = 143). Subjects were genotyped for 5-HTT and their behaviors were recorded during an ecologically-meaningful, stress-evoking, intruder paradigm. Two weeks prior to testing, blood samples were obtained and assayed for plasma cortisol and adrenocorticotropic hormone (ACTH) concentrations. NSSI subjects were more likely to be SPR, paralleling human studies showing that individuals that exhibit NSSI tend to have experienced abuse or neglect early in life. Results also indicated that variation in the 5-HTT genotype differentiated the NSSI subjects. NSSI subjects that were homozygous for the L allele exhibited high plasma ACTH and high rates of stress-induced stereotypies; whereas NSSI subjects with the s allele exhibited impulsive behaviors, including frequently approaching the potentially dangerous intruder, high rates of aggressive vocal threats, and more activity. These results suggest that there may be different 5-HTT genotype-mediated NSSI typologies and that both early experiences and variation in the 5-HTT genotype may be important factors in understanding the etiology of NSSI.
Access options
Subscribe to Journal
Get full journal access for 1 year
$399.00
only $30.69 per issue
All prices are NET prices.
VAT will be added later in the checkout.
Tax calculation will be finalised during checkout.
Rent or Buy article
Get time limited or full article access on ReadCube.
from$8.99
All prices are NET prices.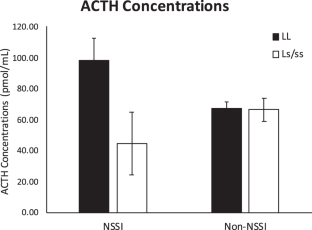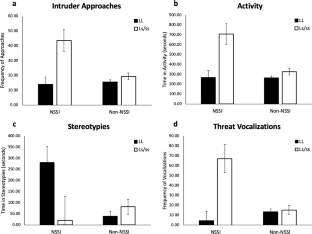 References
1.

Nock MK. Why do people hurt themselves? New insights into the nature and functions of self-injury. Curr Dir Psychol Sci. 2009;18:78–83.

2.

Sharp C, Green KL, Yaroslavsky I, Venta A, Zanarini MC, Pettit J. The incremental validity of borderline personality disorder relative to major depressive disorder for suicidal ideation and deliberate self-harm in adolescents. J Pers Disord. 2012;26:927–38.

3.

Weintraub MJ, Van de Loo MM, Gitlin MJ, Miklowitz DJ. Self-harm, affective traits, and psychosocial functioning in adults with depressive and bipolar disorders. J Nerv Ment Dis. 2017;205:896.

4.

Whitlock J, Muehlenkamp J, Eckenrode J, Purington A, Abrams GB, Barreira P, et al. Nonsuicidal self-injury as a gateway to suicide in young adults. J Adolesc Health. 2013;52:486–92.

5.

Hawton K, Bergen H, Cooper J, Turnbull P, Waters K, Ness J, et al. Suicide following self-harm: findings from the multicentre study of self-harm in England, 2000–2012. J Affect Disord. 2015;175:147–51.

6.

American Psychiatric Association. Diagnostic and statistical manual of mental disorders. Washington, DC: American Psychiatric Association; 2013.

7.

Auerbach RP, Kim JC, Chango JM, Spiro WJ, Cha C, Gold J, et al. Adolescent nonsuicidal self-injury: Examining the role of child abuse, comorbidity, and disinhibition. Psychiatry Res. 2014;220:579–84.

8.

Cipriano A, Cella S, Cotrufo P. Nonsuicidal self-injury: a systematic review. Front Psychol. 2017;8:1946.

9.

Santens T, Claes L, Diamond GS, Bosmans G. Depressive symptoms and self-harm among youngsters referred to child welfare: the role of trust in caregiver support and communication. Child Abus Negl. 2018;77:155–67.

10.

Nixon MK, Cloutier PF, Aggarwal S. Affect regulation and addictive aspects of repetitive self-injury in hospitalized adolescents. J Am Acad Child Adolesc Psychiatry. 2002;41:1333–41.

11.

Cassels M, Wilkinson P. Non-suicidal self-injury in adolescence. Paediatr Child Health. 2016;26:554–8.

12.

Ross S, Heath NL, Toste JR. Non‐suicidal self‐injury and eating pathology in high school students. Am J Orthopsychiatry. 2009;79:83–92.

13.

Novak MA. Self‐injurious behavior in rhesus monkeys: New insights into its etiology, physiology, and treatment. Am J Primatol. 2003;59:3–19.

14.

Lutz C, Tiefenbacher S, Meyer J, Novak M. Extinction deficits in male rhesus macaques with a history of self‐injurious behavior. Am J Primatol. 2004;63:41–48.

15.

Kaniuka AR, Kelliher-Rabon J, Chang EC, Sirois FM, Hirsch JK. Symptoms of anxiety and depression and suicidal behavior in college students: Conditional indirect effects of non-suicidal self-injury and self-compassion. J Coll Stud Psychother. 2020;34:316–38.

16.

McHugh CM, Lee RSC, Hermens DF, Corderoy A, Large M, Hickie IB. Impulsivity in the self-harm and suicidal behavior of young people: a systematic review and meta-analysis. J Psychiatr Res. 2019;116:51–60.

17.

Caspi A, Sugden K, Moffitt TE, Taylor A, Craig IW, Harrington H, et al. Influence of life stress on depression: moderation by a polymorphism in the 5-HTT gene. Science 2003;301:386–9.

18.

Mandelli L, Serretti A, Marino E, Pirovano A, Calati R, Colombo C. Interaction between serotonin transporter gene, catechol-O-methyltransferase gene and stressful life events in mood disorders. Int J Neuropsychopharmacol. 2007;10:437–47.

19.

Barr CS, Newman TK, Becker ML, Champoux M, Lesch KP, Suomi SJ, et al. Serotonin transporter gene variation is associated with alcohol sensitivity in rhesus macaques exposed to early-life stress. Alcohol. 2003;27:812–7.

20.

Kinnally EL, Karere GM, Lyons LA, Mendoza SP, Mason WA, Capitanio JP. Serotonin pathway gene-gene and gene-environment interactions influence behavioral stress response in infant rhesus macaques. Dev Psychopathol. 2010;22:35–44.

21.

Hankin BL, Barrocas AL, Young JF, Haberstick B, Smolen A. 5-HTTLPR× interpersonal stress interaction and nonsuicidal self-injury in general community sample of youth. Psychiatry Res. 2015;225:609–12.

22.

Bourgeois M. Serotonin, impulsivity and suicide. Hum Psychopharmacol. 1991;6:S31–S36.

23.

Petersen IT, Bates JE, Goodnight JA, Dodge KA, Lansford JE, Pettit GS, et al. Interaction between serotonin transporter polymorphism (5-HTTLPR) and stressful life events in adolescents' trajectories of anxious/depressed symptoms. Dev Psychol. 2012;48:1463.

24.

Goodyer I, Dubicka B, Wilkinson P, Kelvin R, Roberts C, Byford S, et al. Selective serotonin reuptake inhibitors (SSRIs) and routine specialist care with and without cognitive behaviour therapy in adolescents with major depression: randomised controlled trial. BMJ 2007;335:142.

25.

Lucchelli JP, Bertschy G. Low-dose fluoxetine in four children with autistic spectrum disorder improves self-injurious behavior, ADHD-like symptoms, and irritability. Case Rep Psychiatry. 2018;2018:6278501. https://doi.org/10.1155/2018/6278501.

26.

Fontenot MB, Padgett EE, Dupuy AM, Lynch CR, De Petrillo PB, Higley JD. The effects of fluoxetine and buspirone on self-injurious and stereotypic behavior in adult male rhesus macaques. Comp Med. 2005;55:67–74.

27.

Weld KP, Mench JA, Woodward RA, Bolesta MS, Suomi SJ, Higley JD. Effect of tryptophan treatment on self-biting and central nervous system serotonin metabolism in rhesus monkeys (Macaca mulatta). Neuropsychopharmacology 1999;19:314–21.

28.

Ricketts RW, Goza AB, Ellis CR, Singh YN, Chambers S, Singh NN, et al. Clinical effects of buspirone on intractable self-injury in adults with mental retardation. J Am Acad Child Adolesc Psychiatry. 1993;33:270–6.

29.

Tiefenbacher S, Fahey MA, Rowlett JK, Meyer JS, Pouliot AL, Jones BM, et al. The efficacy of diazepam treatment for the management of acute wounding episodes in captive rhesus macaques. Comp Med. 2005;55:387–92.

30.

Major CA, Kelly BJ, Novak MA, Davenport MD, Stonemetz KM, Meyer JS. The anxiogenic drug FG7142 increases self-injurious behavior in male rhesus monkeys (Macaca mulatta). Life Sci. 2009;85:753–8.

31.

Rohrer T, Von Richthofen V, Schulz C, Beyer J, Lehnert H. The stress-, but not corticotropin-releasing hormone-induced activation of the pituitary-adrenal axis in man is blocked by alprazolam. Horm Metab Res. 1994;26:200–6.

32.

Cawood CD, Huprich SK. Late adolescent nonsuicidal self-injury: the roles of coping style, self-esteem, and personality pathology. J Pers Disord. 2011;25:765–81.

33.

Haines J, Williams CL, Brain KL, Wilson GV. The psychophysiology of self-mutilation. J Abnorm Psychol. 1995;104:471.

34.

Brent DA, Emslie GJ, Clarke GN, Asarnow J, Spirito A, Ritz L, et al. Predictors of spontaneous and systematically assessed suicidal adverse events in the treatment of SSRI-resistant depression in adolescents (TORDIA) study. Am J Psychiatry. 2009;166:418–26.

35.

Wang SB, Pisetsky EM, Skutch JM, Fruzzetti AE, Haynos AF. Restrictive eating and nonsuicidal self-injury in a nonclinical sample: co-occurrence and associations with emotion dysregulation and interpersonal problems. Compr Psychiatry. 2018;82:128–32.

36.

Gibbs RA, Rogers J, Katze MG, Bumgarner R, Weinstock GM, Mardis ER, et al. Evolutionary and biomedical insights from the rhesus macaque genome. Science 2007;316:222–34.

37.

Bennett AJ, Lesch KP, Heils A, Long JC, Lorenz JG, Shoaf SE, et al. Early experience and serotonin transporter gene variation interact toi influence primate CNS function. Mol Psychiatry. 2002;7:118–22.

38.

Phillips KA, Bales KL, Capitanio JP, Conley A, Czoty PW, 't Hart BA, et al. Why primate models matter. Am J Primatol. 2014;76:801–27.

39.

Lutz C, Well A, Novak M. Stereotypic and self‐injurious behavior in rhesus macaques: a survey and retrospective analysis of environment and early experience. Am J Primatol. 2003;60:1–15.

40.

Muehlenkamp JJ, Claes L, Havertape L, Plener PL. International prevalence of adolescent non-suicidal self-injury and deliberate self-harm. Child Adolesc Psychiatry Ment Health. 2012;6:10.

41.

Rommeck I, Anderson K, Heagerty A, Cameron A, McCowan B. Risk factors and remediation of self-injurious and self-abuse behavior in rhesus macaques. J Appl Anim Welf Sci. 2009;12:61–72.

42.

Lutz CK, Davis EB, Ruggiero AM, Suomi SJ. Early predictors of self‐biting in socially‐housed rhesus macaques (Macaca mulatta). Am J Primatol. 2007;69:584–90.

43.

Huggins KN, Mathews TA, Locke JL, Szeliga KT, Friedman DP, Bennett AJ, et al. Effects of early life stress on drinking and serotonin system activity in rhesus macaques: 5-hydroxyindoleacetic acid in cerebrospinal fluid predicts brain tissue levels. Alcohol 2012;46:371–6.

44.

Feng X, Wang L, Yang S, Qin D, Wang J, Li C, et al. Maternal separation produces lasting changes in cortisol and behavior in rhesus monkeys. Proc Natl Acad Sci USA. 2011;108:14312–7.

45.

Shannon C, Champoux M, Suomi SJ. Rearing condition and plasma cortisol in rhesus monkey infants. Am J Primatol. 1998;46:311–21.

46.

Wood EK, Kruger R, Cash E, Lindell SG, Schwandt ML, Barr CS, et al. Early life temperamental anxiety is associated with excessive alcohol intake in adolescence: A rhesus monkey (Macaca mulatta) model. Addict Biol. 2020;25:e12825.

47.

Wood EK, Champoux M, Lindell SG, Barr CS, Suomi SJ, Higley JD. Neonatal temperament and neuromotor differences are predictive of adolescent alcohol intake in rhesus monkeys (Macaca mulatta). Am J Primatol. 2020;82:e23043.

48.

Fairbanks LA. Individual differences in response to a stranger: social impulsivity as a dimension of temperament in vervet monkeys (Cercopithecus aethiops sabaeus). J Comp Psychol. 2001;115:22–28.

49.

Schwandt ML, Lindell SG, Sjöberg RL, Chisholm KL, Higley JD, Suomi SJ, et al. Gene–environment interactions and response to social intrusion in male and female rhesus macaques. Biol Psychiatry. 2010;67:323–30.

50.

Lesch KP, Bengel D, Heils A, Sabol SZ, Greenberg BD, Petri S, et al. Association of anxiety-related traits with a polymorphism in the serotonin transporter gene regulatory region. Science 1996;274:1527–31.

51.

Kinnally EL, Lyons LA, Abel K, Mendoza S, Capitanio JP. Effects of early experience and genotype on serotonin transporter regulation in infant rhesus macaques. Genes Brain Behav. 2008;7:481–6.

52.

Brown RC, Heines S, Witt A, Braehler E, Fegert JM, Harsch D, et al. The impact of child maltreatment on non-suicidal self-injury: data from a representative sample of the general population. BMC Psychiatry. 2018;18:1–8.

53.

Bastian ML, Sponberg AC, Sponberg AC, Suomi SJ, Higley JD. Long-term effects of infant rearing condition on the acquisition of dominance rank in juvenile and adult rhesus macaques (Macaca mulatta). Dev Psychobiol. 2003;42:44–51.

54.

Gandhi A, Luyckx K, Goossens L, Maitra S, Claes L. Association between non-suicidal self-injury, parents and peers related loneliness, and attitude towards aloneness in Flemish adolescents: an empirical note. Psychol Belgica. 2018;58:3.

55.

Victor SE, Hipwell AE, Stepp SD, Scott LN. Parent and peer relationships as longitudinal predictors of adolescent non-suicidal self-injury onset. Child Adolesc Psychiatry Ment Health. 2019;13:1.

56.

Mason GJ. Stereotypies: a critical review. Anim Behav. 1991;41:1015–37.

57.

Zhang B, Nelson EE. Effects of adverse rearing experience on organization of brain and behavior in non-human primates. Int J Child Adolesc Health. 2011;4:309.

58.

Walderhaug E, Herman AI, Magnusson A, Morgan MJ, Landrø NI. The short (S) allele of the serotonin transporter polymorphism and acute tryptophan depletion both increase impulsivity in men. Neurosci Lett. 2010;473:208–11.

59.

Cha J, Guffanti G, Gingrich J, Talati A, Wickramaratne P, Weissman M, et al. Effects of serotonin transporter gene variation on impulsivity mediated by default mode network: a family study of depression. Cereb Cortex. 2018;28:1911–21.

60.

Fontenot MB, Musso MW, McFatter RM, Anderson GM. Dose-finding study of fluoxetine and venlafaxine for the treatment of self-injurious and stereotypic behavior in rhesus macaques (Macaca mulatta). J Am Assoc Lab Anim Sci. 2009;48:176–84.

61.

McCloskey MS, Ben-Zeev D, Lee R, Berman ME, Coccaro EF. Acute tryptophan depletion and self-injurious behavior in aggressive patients and healthy volunteers. Psychopharmacology. 2009;203:53.

62.

Bresin K, Gordon KH. Endogenous opioids and nonsuicidal self-injury: a mechanism of affect regulation. Neurosci Biobehav Rev. 2013;37:374–83.

63.

Roth AS, Ostroff RB, Hoffman RE. Naltrexone as a treatment for repetitive self-injurious behavior: an open-label trial. J Clin Psychiatry. 2016;57:233–7.
Acknowledgements
The authors would like to thank the many post-docs, graduate and undergraduate students, as well as the animal care staff, for their contributions to the data collection that made this project possible.
Additional information
Publisher's note Springer Nature remains neutral with regard to jurisdictional claims in published maps and institutional affiliations.
About this article
Cite this article
Wood, E.K., Kruger, R., Day, J.P. et al. A nonhuman primate model of human non-suicidal self-injury: serotonin-transporter genotype-mediated typologies. Neuropsychopharmacol. (2021). https://doi.org/10.1038/s41386-021-00994-8
Received:

Revised:

Accepted:

Published: