Abstract
Chronic pain affects a significant percentage of the United States population, and available pain medications like opioids have drawbacks that make long-term use untenable. Cannabinoids show promise in the management of pain, but long-term treatment of pain with cannabinoids has been challenging to implement in preclinical models. We developed a voluntary, gelatin oral self-administration paradigm that allowed male and female mice to consume ∆9-tetrahydrocannabinol, cannabidiol, or morphine ad libitum. Mice stably consumed these gelatins over 3 weeks, with detectable serum levels. Using a real-time gelatin measurement system, we observed that mice consumed gelatin throughout the light and dark cycles, with animals consuming less THC-gelatin than the other gelatin groups. Consumption of all three gelatins reduced measures of allodynia in a chronic, neuropathic sciatic nerve injury model, but tolerance to morphine developed after 1 week while THC or CBD reduced allodynia over three weeks. Hyperalgesia gradually developed after sciatic nerve injury, and by the last day of testing, THC significantly reduced hyperalgesia, with a trend effect of CBD, and no effect of morphine. Mouse vocalizations were recorded throughout the experiment, and mice showed a large increase in ultrasonic, broadband clicks after sciatic nerve injury, which was reversed by THC, CBD, and morphine. This study demonstrates that mice voluntarily consume both cannabinoids and opioids via gelatin, and that cannabinoids provide long-term relief of chronic pain states. In addition, ultrasonic clicks may objectively represent mouse pain status and could be integrated into future pain models.
Access options
Subscribe to Journal
Get full journal access for 1 year
$399.00
only $30.69 per issue
All prices are NET prices.
VAT will be added later in the checkout.
Tax calculation will be finalised during checkout.
Rent or Buy article
Get time limited or full article access on ReadCube.
from$8.99
All prices are NET prices.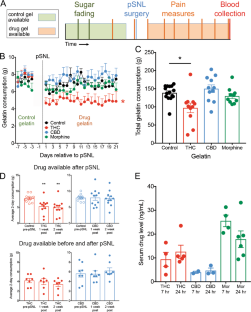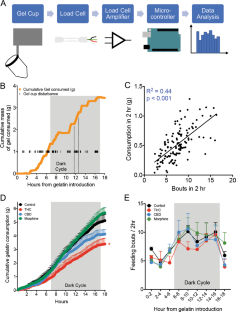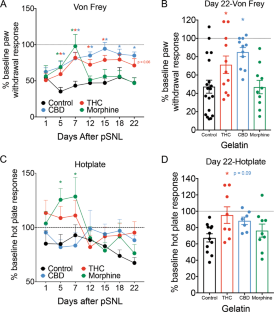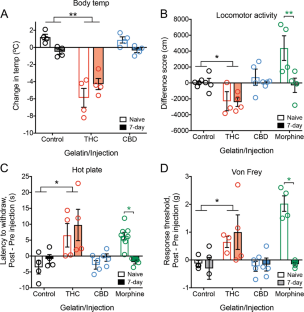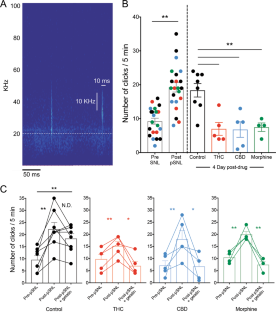 References
1.

Johannes CB, Le TK, Zhou X, Johnston JA, Dworkin RH. The prevalence of chronic pain in United States adults: results of an internet-based survey. J Pain. 2010;11:1230–9.

2.

Committee on Advancing Pain Research, Care, and Education, Institute of Medicine, Board on Health Sciences Policy. Relieving Pain in America: A Blueprint for Transforming Prevention, Care, Education, and Research. Washington, DC: The National Academies Press; 2011.

3.

Pitcher MH, Korff MV, Bushnell MC, Porter L. Prevalence and profile of high-impact chronic pain in the United States. J Pain. 2019;20:146–60.

4.

Gaskin DJ, Richard P. Institute of Medicine (US) Committee on Advancing Pain Research, Care, and Education. Relieving Pain in America: A Blueprint for Transforming Prevention, Care, Education, and Research. Appendix C: The Economic Costs of Pain in the United States. US: National Academies Press; 2017.

5.

Williams JT, Ingram SL, Henderson G, Chavkin C, von Zastrow M, Schulz S, et al. Regulation of µ-opioid receptors: desensitization, phosphorylation, internalization, and tolerance. Pharmacol Rev. 2013;65:223–54.

6.

Schattauer SS, Land BB, Reichard KL, Abraham AD, Burgeno LM, Kuhar JR, et al. Peroxiredoxin 6 mediates Gαi protein-coupled receptor inactivation by cJun kinase. Nat Commun. 2017;8:743.

7.

Fields HL, Margolis EB. Understanding opioid reward. Trends Neurosci. 2015;38:217–25.

8.

Phillips JK, Ford MA, Bonnie RJ, National Academies of Sciences, Engineering, and Medicine; Health and Medicine Division; Board on Health Sciences Policy; Committee on Pain Management and Regulatory Strategies to Address Prescription Opioid Abuse. Pain Management and the Opioid Epidemic: Balancing Societal and Individual Benefits and Risks of Prescription Opioid Use. US: National Academies Press; 2017.

9.

Manzanares J, Julian M, Carrascosa A. Role of the cannabinoid system in pain control and therapeutic implications for the management of acute and chronic pain episodes. Curr Neuropharmacol. 2006;4:239–57.

10.

Elikottil J, Gupta P, Gupta K. The analgesic potential of cannabinoids. J Opioid Manag. 2009;5:341–57.

11.

Vučković S, Srebro D, Vujović KS, Vučetić Č, Prostran M. Cannabinoids and pain: new insights from old molecules. Front Pharmacol. 2018;9:1259.

12.

Romero-Sandoval EA, Kolano AL, Alvarado-Vázquez PA. Cannabis and cannabinoids for chronic pain. Curr Rheumatol Rep. 2018;19:67.

13.

Lötsch J, Weyer-Menkhoff I, Tegeder I. Current evidence of cannabinoid-based analgesia obtained in preclinical and human experimental settings. Eur J Pain. 2018;22:471–84.

14.

Nguyen JD, Aarde SM, Vandewater SA, Grant Y, Stouffer DG, Parsons LH, et al. Inhaled delivery of Δ(9)-tetrahydrocannabinol (THC) to rats by e-cigarette vapor technology. Neuropharmacology. 2016;109:112–20.

15.

Javadi-Paydar M, Nguyen JD, Kerr TM, Grant Y, Vandewater SA, Cole M, et al. Effects of Δ9-THC and cannabidiol vapor inhalation in male and female rats. Psychopharmacology (Berl). 2018;235:2541–57.

16.

Barrus DG, Lefever TW, Wiley JL. Evaluation of reinforcing and aversive effects of voluntary delta-9 tetrahydrocannabinol ingestion in rats. Neuropharmacology. 2018;137:133–40.

17.

Schindler AG, Tsutsui KT, Clark JJ. Chronic alcohol intake during adolescence, but not adulthood, promotes persistent deficits in risk-based decision-making. Alcohol Clin Exp Res. 2014;38:1622–9.

18.

Nasrallah NA, Clark JJ, Collins AL, Akers CA, Phillips PE, Bernstein IL. Risk preference following adolescent alcohol use is associated with corrupted encoding of costs but not rewards by mesolimbic dopamine. Proc Natl Acad Sci USA. 2011;108:5466–71.

19.

Kruse LC, Cao JK, Viray K, Stella N, Clark JJ. Voluntary oral consumption of Δ9-tetrahydrocannabinol by adolescent rats impairs reward-predictive cue behaviors in adulthood. Neuropsychopharmacology. 2019;44:1406–14.

20.

Seltzer Z, Dubner R, Shir Y. A novel behavioral model of neuropathic pain disorders produced in rats by partial sciatic nerve injury. Pain. 1990;43:205–18.

21.

Xu M, Petraschka M, McLaughlin JP, Westenbroek R, Caron MG, Lefkowitz RJ, et al. Neuropathic pain activates the endogenous kappa opioid system in mouse spinal cord and induces opioid receptor tolerance. J Neurosci. 2004;24:4576–84.

22.

Koltzenburg M, Wall PD, McMahon SB. Does the right side know what the left is doing? Trends Neurosci. 1999;22:122–7.

23.

Arguis MJ, Perez J, Martinez G, Ubre M, Gomar C. Contralateral neuropathic pain following a surgical model of unilateral nerve injury in rats. Reg Anesth Pain Med. 2008;33:211–6.

24.

Sugimoto H, Okabe S, Kato M, Koshida N, Shiroishi T, Mogi K, et al. A role for strain differences in waveforms of ultrasonic vocalizations during male-female interaction. PLoS ONE. 2011;6:e22093.

25.

Kaplan JS, Stella N, Catterall WA, Westenbroek RE. Cannabidiol attenuates seizures and social deficits in a mouse model of Dravet syndrome. Proc Natl Acad Sci USA. 2017;114:11229–34.

26.

Li H, Kong W, Chambers CR, Yu D, Ganea D, Tuma RF, et al. The non-psychoactive phytocannabinoid cannabidiol (CBD) attenuates pro-inflammatory mediators, T cell infiltration, and thermal sensitivity following spinal cord injury in mice. Cell Immunol. 2018;329:1–9.

27.

Mukhopadhyay P, Rajesh M, Horváth B, Bátkai S, Park O, Tanchian G, et al. Cannabidiol protects against hepatic ischemia/reperfusion injury by attenuating inflammatory signaling and response, oxidative/nitrative stress, and cell death. Free Radic Biol Med. 2011;50:1368–81.

28.

Xiong W, Cui T, Cheng K, Yang F, Chen SR, Willenbring D, et al. Cannabinoids suppress inflammatory and neuropathic pain by targeting α3 glycine receptors. J Exp Med. 2012;209:1121–34.

29.

Ohlsson A, Lindgren JE, Wahlen A, Agurell S, Hollister LE, Gillespie HK. Plasma delta-9 tetrahydrocannabinol concentrations and clinical effects after oral and intravenous administration and smoking. Clin Pharmacol Ther. 1980;28:409–16.

30.

Ramaekers JG, Moeller MR, van Ruitenbeek P, Theunissen EL, Schneider E, Kauert G. Cognition and motor control as a function of Delta9-THC concentration in serum and oral fluid: limits of impairment. Drug Alcohol Depend. 2006;85:114–22.

31.

Berrendero F, Maldonado R. Involement of the opioid system in the anxiolytic-like effects induced by Delta9-tetrahydrocannabinol. Psychopharmacology (Berl). 2002;163:111–7.

32.

Kasten CR, Zhang Y, Boehm SL II. Acute cannaninoids produce robust anxiety-like and locomotor effects in mice, but long-term consequences are age- and sex- dependent. Front Behav Neurosci. 2019;13:32.

33.

Casey SL, Atwal N, Vaughan CW. Cannabis constituent synergy in a mouse neuropathic pain model. Pain. 2017;158:2452–60.

34.

Zernig G, Ahmed SH, Cardinal RN, Morgan D, Acquas E, Foltin RW, et al. Explaining the escalation of drug use in substance dependence: models and appropriate animal laboratory tests. Pharmacology. 2007;80:65–119.

35.

Wade CL, Vendruscolo LF, Schlosburg JE, Hernandez DO, Koob GF. Compulsive-like responding for opioid analgesics in rats with extended access. Neuropsychopharmacology. 2015;40:421–8.

36.

Mulpuri Y, Marty VN, Munier JJ, Mackie K, Schmidt BL, Seltzman HH, et al. Synthetic peripherally-restricted cannabinoid suppresses chemotherapy-induced peripheral neuropathy pain symptoms by CB1 receptor activation. Neuropharmacology. 2018;139:85–97.

37.

Hanus L, Breuer A, Tchilibon S, Shiloah S, Goldenberg D, Horowitz M, et al. HU-308: A specific agonist for CB(2), a peripheral cannabinoid receptor. Proc Natl Acad Sci USA. 1999;96:14228–33.

38.

Malan TP Jr, Ibrahim MM, Lai J, Vanderah TW, Makriyannis A, Porreca F. CB2 cannabinoid receptor agonists: pain relief without psychoactive effects? Curr Opin Pharmacol. 2003;3:62–7.

39.

Zimmer A, Zimmer AM, Hohmann AG, Herkenham M, Bonner TI. Increased mortality, hypoactivity, and hypoalgesia in cannabinoid CB1 receptor knockout mice. Proc Natl Acad Sci USA. 1999;96:5780–85.

40.

Muller C, Morales P, Reggio PH. Cannabinoid ligands targeting TRP channels. Front Mol Neurosci. 2019;11:487.

41.

Rodríguez-Muñoz M, Onetti Y, Cortés-Montero E, Garzón J, Sánchez-Blázquez P. Cannabidiol enhances morphine antinociception, diminishes NMDA-mediated seizures and reduces stroke damage via the sigma 1 receptor. Mol Brain. 2018;11:51.

42.

Guerrero-Alba R, Barragán-Iglesias P, González-Hernández A, Valdez-Moráles EE, Granados-Soto V, Condés-Lara M, et al. Some prospective alternatives for treating pain: the endocannabinoid system and its putative receptors GPR18 and GPR55. Front Pharmacol. 2019;9:1496.

43.

Xiong W, Cheng K, Cui T, Godlewski G, Rice KC, Xu Y, et al. Cannabinoid potentiation of glycine receptors contributes to cannabis-induced analgesia. Nat Chem Biol. 2011;7:296–303.
Acknowledgements
We thank Sanne Casello for assistance with surgery, Dr. Charles Chavkin for experimental support, Dr. Nephi Stella for critical review of the paper, and the Mass Spectrometry facility at the University of Washington for serum processing.
Additional information
Publisher's note Springer Nature remains neutral with regard to jurisdictional claims in published maps and institutional affiliations.
Supplementary information
About this article
Cite this article
Abraham, A.D., Leung, E.J.Y., Wong, B.A. et al. Orally consumed cannabinoids provide long-lasting relief of allodynia in a mouse model of chronic neuropathic pain. Neuropsychopharmacol. 45, 1105–1114 (2020). https://doi.org/10.1038/s41386-019-0585-3
Received:

Revised:

Accepted:

Published:

Issue Date: