Abstract
Herpes simplex virus (HSV) is widespread globally, with both HSV-1 and HSV-2 responsible for genital herpes. During sexual transmission, HSV targets epithelial cells, sensory peripheral pain neurons secreting the mucosal neuropeptide calcitonin gene-related peptide (CGRP), and mucosal immune cells including Langerhans cells (LCs). We previously described a neuro-immune crosstalk, whereby CGRP inhibits LCs-mediated human immunodeficiency virus type 1 (HIV-1) transmission. Herein, to further explore CGRP-mediated anti-viral function, we investigated whether CGRP affects LCs infection with HSV. We found that both HSV-1 and HSV-2 primary isolates productively infect monocyte-derived LCs (MDLCs) and inner foreskin LCs. Moreover, CGRP significantly inhibits infection with both HSV subtypes of MDLCs and langerinhigh, but not langerinlow, inner foreskin LCs. For HSV-1, infection is mediated via the HSV-1-specific entry receptor 3-O sulfated heparan sulfate (3-OS HS) in a pH-depended manner, and CGRP down-regulates 3-OS HS surface expression, as well as abrogates pH dependency. For HSV-2, infection involves langerin-mediated endocytosis in a pH-independent manner, and CGRP up-regulates surface expression of atypical langerin double-trimer oligomers. Our results show that CGRP inhibits mucosal HSV infection by differentially modulating subtype-specific entry receptors and mechanisms in human LCs. CGRP could turn out useful for prevention of LCs-mediated HSV infection and HSV/HIV-1 co-infection.
This is a preview of subscription content
Access options
Subscribe to Journal
Get full journal access for 1 year
We are sorry, but there is no personal subscription option available for your country.
Buy article
Get time limited or full article access on ReadCube.
$32.00
All prices are NET prices.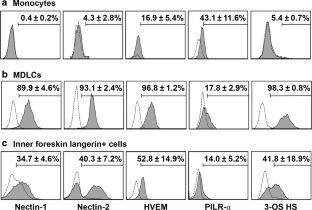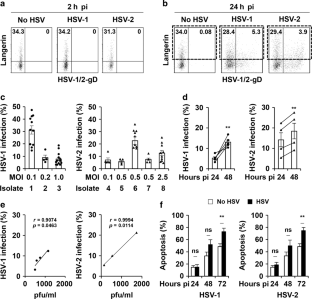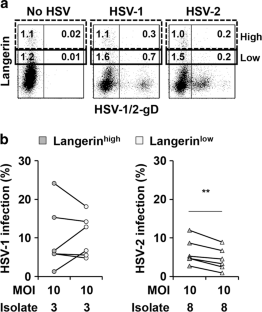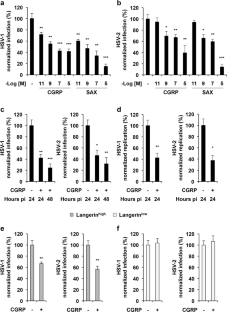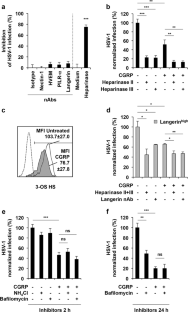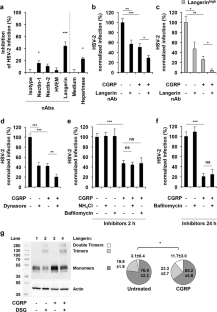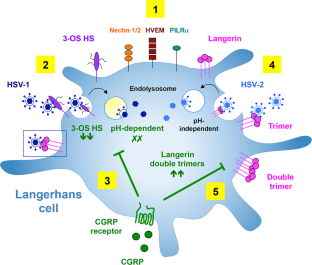 References
James, C. et al. Herpes simplex virus: global infection prevalence and incidence estimates, 2016. Bull. World Health Organ 98, 315–329 (2020).

Johnston, C., Gottlieb, S. L. & Wald, A. Status of vaccine research and development of vaccines for herpes simplex virus. Vaccine 34, 2948–2952 (2016).

Desai, D. V. & Kulkarni, S. S. Herpes simplex virus: The interplay between HSV, Host, and HIV-1. Viral Immunol. 28, 546–555 (2015).

Lafferty, W. E., Downey, L., Celum, C. & Wald, A. Herpes simplex virus type 1 as a cause of genital herpes: impact on surveillance and prevention. J. Infect. Dis. 181, 1454–1457 (2000).

Masese, L. et al. Changes in the contribution of genital tract infections to HIV acquisition among Kenyan high-risk women from 1993 to 2012. AIDS. 29, 1077–1085 (2015).

Roizman B., Knipe D. M., J. W. R. Herpes Simplex Virus. In: Knipe D. M., Howley P. M. (eds). Fields Virology. Wolters Kluwer Health/ Lippincott William & Wilkins: Philadelphia, 2013.

Russell, F. A., King, R., Smillie, S. J., Kodji, X. & Brain, S. D. Calcitonin gene-related peptide: physiology and pathophysiology. Physiol. Rev. 94, 1099–1142 (2014).

Flowerdew, S. E. et al. Characterization of neuronal populations in the human trigeminal ganglion and their association with latent herpes simplex virus-1 infection. PLoS One 8, e83603 (2013).

Cabrera J. R., Charron A. J., Leib D. A. Neuronal subtype determines herpes simplex virus 1 latency-associated-transcript promoter activity during latency. J. Virol. 92, e00430 (2018).

Hamza, M. A., Higgins, D. M. & Ruyechan, W. T. Two alphaherpesvirus latency-associated gene products influence calcitonin gene-related peptide levels in rat trigeminal neurons. Neurobiol. Dis. 25, 553–560 (2007).

Margolis, T. P., Imai, Y., Yang, L., Vallas, V. & Krause, P. R. Herpes simplex virus type 2 (HSV-2) establishes latent infection in a different population of ganglionic neurons than HSV-1: role of latency-associated transcripts. J. Virol. 81, 1872–1878 (2007).

Truong, N. R., Smith, J. B., Sandgren, K. J. & Cunningham, A. L. Mechanisms of immune control of mucosal HSV infection: A guide to rational vaccine design. Front. Immunol. 10, 373 (2019).

de Jong, M. A. et al. TNF-alpha and TLR agonists increase susceptibility to HIV-1 transmission by human Langerhans cells ex vivo. J. Clin. Invest. 118, 3440–3452 (2008).

de Witte, L. et al. Langerin is a natural barrier to HIV-1 transmission by Langerhans cells. Nat. Med. 13, 367–371 (2007).

Ganor, Y. et al. Within 1 h, HIV-1 uses viral synapses to enter efficiently the inner, but not outer, foreskin mucosa and engages Langerhans-T cell conjugates. Mucosal. Immunol. 3, 506–522 (2010).

Hladik, F. et al. Initial events in establishing vaginal entry and infection by human immunodeficiency virus type-1. Immunity 26, 257–270 (2007).

Kawamura, T. et al. Candidate microbicides block HIV-1 infection of human immature Langerhans cells within epithelial tissue explants. J. Exp. Med. 192, 1491–1500 (2000).

Zhou, Z. et al. HIV-1 efficient entry in inner foreskin is mediated by elevated CCL5/RANTES that recruits T cells and fuels conjugate formation with langerhans cells. PLoS Pathog. 7, e1002100 (2011).

Bomsel, M. & Ganor, Y. Calcitonin gene-related peptide induces HIV-1 proteasomal degradation in mucosal langerhans cells. J. Virol. 91, e01205–e01217 (2017).

Nasr, N. et al. Inhibition of two temporal phases of HIV-1 transfer from primary Langerhans cells to T cells: the role of langerin. J. Immunol. 193, 2554–2564 (2014).

de Jong, M. A., de Witte, L., Taylor, M. E. & Geijtenbeek, T. B. Herpes simplex virus type 2 enhances HIV-1 susceptibility by affecting Langerhans cell function. J. Immunol. 185, 1633–1641 (2010).

Marsden, V. et al. Herpes simplex virus type 2-infected dendritic cells produce TNF-alpha, which enhances CCR5 expression and stimulates HIV production from adjacent infected cells. J. Immunol. 194, 4438–4445 (2015).

Ogawa, Y. et al. Antimicrobial peptide LL-37 produced by HSV-2-infected keratinocytes enhances HIV infection of Langerhans cells. Cell Host Microbe. 13, 77–86 (2013).

Bertram, K. M. et al. Identification of HIV transmitting CD11c(+) human epidermal dendritic cells. Nat. Commun. 10, 2759 (2019).

Liu, X. et al. Distinct human Langerhans cell subsets orchestrate reciprocal functions and require different developmental regulation. Immunity 54, 2305–2320 e2311 (2021).

Baral, P., Udit, S. & Chiu, I. M. Pain and immunity: Implications for host defence. Nat. Rev. Immunol. 19, 433–447 (2019).

Granstein, R. D., Wagner, J. A., Stohl, L. L. & Ding, W. Calcitonin gene-related peptide: Key regulator of cutaneous immunity. Acta. Physiologica. 213, 586–594 (2015).

Ganor, Y., Drillet-Dangeard, A. S. & Bomsel, M. Calcitonin gene-related peptide inhibits human immunodeficiency type 1 transmission by Langerhans cells via an autocrine/paracrine feedback mechanism. Acta. Physiologica. 213, 432–441 (2015).

Ganor, Y. et al. Calcitonin gene-related peptide inhibits Langerhans cell-mediated HIV-1 transmission. J. Exp. Med. 210, 2161–2170 (2013).

Agelidis, A. M. & Shukla, D. Cell entry mechanisms of HSV: what we have learned in recent years. Future Virol. 10, 1145–1154 (2015).

Mariotton, J. et al. Native CGRP neuropeptide and its stable analogue SAX, but not CGRP peptide fragments, inhibit mucosal HIV-1 transmission. Front. Immunol. 12, 785072 (2021).

Bertram, K. M. et al. Herpes Simplex Virus type 1 infects Langerhans cells and the novel epidermal dendritic cell, Epi-cDC2s, via different entry pathways. PLoS Pathog. 17, e1009536 (2021).

Ten Dam, G. B. et al. 3-O-sulfated oligosaccharide structures are recognized by anti-heparan sulfate antibody HS4C3. J. Biol. Chem. 281, 4654–4662 (2006).

Madavaraju, K., Koganti, R., Volety, I., Yadavalli, T. & Shukla, D. Herpes simplex virus cell entry mechanisms: An update. Front. Cell Infect. Microbiol. 10, 617578 (2020).

Shukla, D. & Spear, P. G. Herpesviruses and heparan sulfate: An intimate relationship in aid of viral entry. J. Clin. Invest. 108, 503–510 (2001).

Mc Dermott, R. et al. Birbeck granules are subdomains of endosomal recycling compartment in human epidermal Langerhans cells, which form where Langerin accumulates. Mol. Biol. Cell 13, 317–335 (2002).

van den Berg, L. M. et al. Caveolin-1 mediated uptake via langerin restricts HIV-1 infection in human Langerhans cells. Retrovirology 11, 123 (2014).

Stambach, N. S. & Taylor, M. E. Characterization of carbohydrate recognition by langerin, a C-type lectin of Langerhans cells. Glycobiology 13, 401–410 (2003).

Nilsson, C. et al. Long acting analogue of the calcitonin gene-related peptide induces positive metabolic effects and secretion of the glucagon-like peptide-1. Eur. J. Pharm. 773, 24–31 (2016).

Sheykhzade, M. et al. Vascular and molecular pharmacology of the metabolically stable CGRP analogue, SAX. Eur. J. Pharm. 829, 85–92 (2018).

Aubdool, A. A. et al. A novel alpha-calcitonin gene-related peptide analogue protects against end-organ damage in experimental hypertension, cardiac hypertrophy, and heart failure. Circulation 136, 367–383 (2017).

Otsuka, Y. et al. Differentiation of langerhans cells from monocytes and their specific function in inducing IL-22-specific Th Cells. J. Immunol. 201, 3006–3016 (2018).

Picarda, G. et al. Functional langerinhigh-expressing langerhans-like cells can arise from CD14highCD16- human blood monocytes in serum-free condition. J. Immunol. 196, 3716–3728 (2016).

de Jong, M., de Witte, L., Bolmstedt, A., van Kooyk, Y. & Geijtenbeek, T. B. H. Dendritic cells mediate herpes simplex virus infection and transmission through the C-type lectin DC-SIGN. J. Gen. Virol. 89, 2398–2409 (2008).

Christianson, H. C. & Belting, M. Heparan sulfate proteoglycan as a cell-surface endocytosis receptor. Matrix Biol. 35, 51–55 (2014).

Shworak, N. W. et al. Multiple isoforms of heparan sulfate D-glucosaminyl 3-O-sulfotransferase. Isolation, characterization, and expression of human cdnas and identification of distinct genomic loci. J. Biol. Chem. 274, 5170–5184 (1999).

Looker, K. J. et al. Effect of HSV-2 infection on subsequent HIV acquisition: An updated systematic review and meta-analysis. Lancet. Infect. Dis. 17, 1303–1316 (2017).
Acknowledgements
This study was funded by a research grant (to Y.G.) and PhD fellowships (to E.C. and J.M.) from Agence Nationale de la Recherches sur le Sida et les Hépatites virales (ANRS) | Maladies Infectieuses Émergentes, and by a research grant (to M.B.) from Fondation pour la Recherche Medicale (Équipe FRM).
Ethics declarations
Competing interests
The authors declare no competing interests.
Additional information
Publisher's note Springer Nature remains neutral with regard to jurisdictional claims in published maps and institutional affiliations.
Supplementary information
About this article
Cite this article
Cohen, E., Mariotton, J., Rozenberg, F. et al. CGRP inhibits human Langerhans cells infection with HSV by differentially modulating specific HSV-1 and HSV-2 entry mechanisms. Mucosal Immunol 15, 762–771 (2022). https://doi.org/10.1038/s41385-022-00521-y
Received:

Revised:

Accepted:

Published:

Issue Date:

DOI: https://doi.org/10.1038/s41385-022-00521-y