Abstract
The nervous system and the immune system both rely on an extensive set of modalities to perceive and act on perturbations in the internal and external environments. During feeding, the intestine is exposed to nutrients that may contain noxious substances and pathogens. Here we show that Vasoactive Intestinal Peptide (VIP), produced by the nervous system in response to feeding, potentiates the production of effector cytokines by intestinal type 2 and type 3 innate lymphoid cells (ILC2s and ILC3s). Exposure to VIP alone leads to modest activation of ILCs, but strongly potentiates ILCs to concomitant or subsequent activation by the inducer cytokines IL-33 or IL-23, via mobilization of cAMP and energy by glycolysis. Consequently, VIP increases resistance to intestinal infection by the helminth Trichuris muris and the enterobacteria Citrobacter rodentium. These findings uncover a functional neuro-immune crosstalk unfolding during feeding that increases the reactivity of innate immunity necessary to face potential threats associated with food intake.
Relevant articles
Open Access articles citing this article.
Marcel Michla

&

Christoph Wilhelm

Mucosal Immunology Open Access 31 August 2022
Access options
Subscribe to Journal
Get full journal access for 1 year
We are sorry, but there is no personal subscription option available for your country.
Buy article
Get time limited or full article access on ReadCube.
$32.00
All prices are NET prices.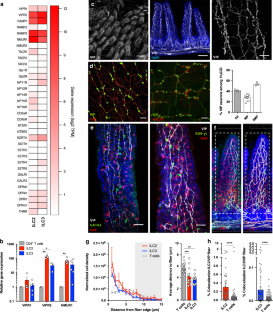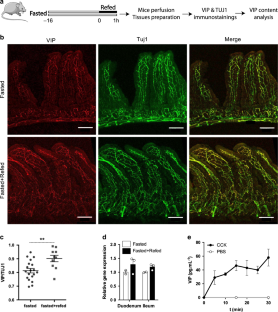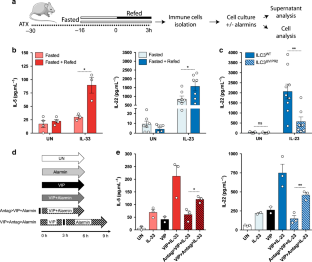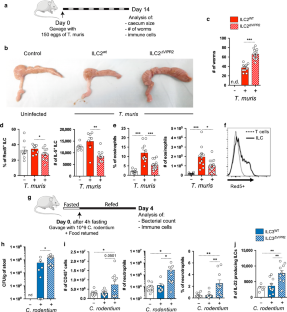 References
Vivier, E. et al. Innate lymphoid cells: 10 years on. Cell 174, 1054–1066 (2018).

Eberl, G., Colonna, M., Di Santo, J. P. & McKenzie, A. N. Innate lymphoid cells: a new paradigm in immunology. Science 348, aaa6566 (2015).

Cardoso, V. et al. Neuronal regulation of type 2 innate lymphoid cells via neuromedin U. Nature 549, 277–281 (2017).

Klose, C. S. N. et al. The neuropeptide neuromedin U stimulates innate lymphoid cells and type 2 inflammation. Nature 549, 282–286 (2017).

Wallrapp, A. et al. The neuropeptide NMU amplifies ILC2-driven allergic lung inflammation. Nature 549, 351–356 (2017).

Nussbaum, J. C. et al. Type 2 innate lymphoid cells control eosinophil homeostasis. Nature 502, 245–248 (2013).

Talbot, S. et al. Silencing nociceptor neurons reduces allergic airway inflammation. Neuron 87, 341–354 (2015).

Xu, H. et al. Transcriptional atlas of intestinal immune cells reveals that neuropeptide alpha-CGRP modulates group 2 innate lymphoid cell responses. Immunity 51, 696–708 (2019). e699.

Nagashima, H. et al. Neuropeptide CGRP limits group 2 innate lymphoid cell responses and constrains type 2 inflammation. Immunity 51, 682–695 (2019). e686.

Wallrapp, A. et al. Calcitonin gene-related peptide negatively regulates alarmin-driven type 2 innate lymphoid cell responses. Immunity 51, 709–723 (2019). e706.

Ibiza, S. et al. Glial-cell-derived neuroregulators control type 3 innate lymphoid cells and gut defence. Nature 535, 440–443 (2016).

Godinho-Silva, C. et al. Light-entrained and brain-tuned circadian circuits regulate ILC3s and gut homeostasis. Nature 574, 254–258 (2019).

Talbot, J. et al. Feeding-dependent VIP neuron-ILC3 circuit regulates the intestinal barrier. Nature 579, 575–580 (2020).

Seillet, C. et al. The neuropeptide VIP confers anticipatory mucosal immunity by regulating ILC3 activity. Nat. Immunol. 21, 168–177 (2020).

Reid, A. M., Shulkes, A. & Titchen, D. A. Gastric and intestinal release of vasoactive intestinal polypeptide in the milk-fed lamb. Regul. Pept. 12, 43–50 (1985).

Uvnas-Moberg, K. Release of gastrointestinal peptides in response to vagal activation induced by electrical stimulation, feeding and suckling. J. Auton. Nerv. Syst. 9, 141–155 (1983).

Bitar, K. N. & Makhlouf, G. M. Relaxation of isolated gastric smooth muscle cells by vasoactive intestinal peptide. Science 216, 531–533 (1982).

Schwartz, C. J., Kimberg, D. V., Sheerin, H. E., Field, M. & Said, S. I. Vasoactive intestinal peptide stimulation of adenylate cyclase and active electrolyte secretion in intestinal mucosa. J. Clin. Investig. 54, 536–544 (1974).

Yu, H. B. et al. Vasoactive intestinal peptide promotes host defense against enteric pathogens by modulating the recruitment of group 3 innate lymphoid cells. Proc. Natl. Acad. Sci. USA 118, e2106634118 (2021).

Xia, M., Sreedharan, S. P. & Goetzl, E. J. Predominant expression of type II vasoactive intestinal peptide receptors by human T lymphoblastoma cells: transduction of both Ca2+ and cyclic AMP signals. J. Clin. Immunol. 16, 21–30 (1996).

Karagiannis, F. et al. Lipid-droplet formation drives pathogenic group 2 innate lymphoid cells in airway inflammation. Immunity 52, 620–634 e626 (2020).

Wilhelm, C., Kharabi Masouleh, S. & Kazakov, A. Metabolic regulation of innate lymphoid cell-mediated tissue protection-linking the nutritional state to barrier immunity. Front Immunol. 8, 1742 (2017).

Monticelli, L. A. et al. Arginase 1 is an innate lymphoid-cell-intrinsic metabolic checkpoint controlling type 2 inflammation. Nat. Immunol. 17, 656–665 (2016).

Di Luccia, B., Gilfillan, S., Cella, M., Colonna, M. & Huang, S. C. ILC3s integrate glycolysis and mitochondrial production of reactive oxygen species to fulfill activation demands. J. Exp. Med. 216, 2231–2241 (2019).

Salmond, R. J. et al. IL-33 induces innate lymphoid cell-mediated airway inflammation by activating mammalian target of rapamycin. J. Allergy Clin. Immunol. 130, 1159–1166 (2012). e1156.

Zheng, C., Wu, H., Lu, Z., Bi, J. & Wan, X. IL-33-induced reactive oxygen species are required for optimal metabolic programming in group 2 innate lymphoid cells. Cell Mol. Immunol. 17, 1266–1268 (2020).

Maxwell, R. J., Prysor-Jones, R. A., Jenkins, J. S. & Griffiths, J. R. Vasoactive intestinal peptide stimulates glycolysis in pituitary tumours; 1H-NMR detection of lactate in vivo. Biochim Biophys Acta 968, 86–90 (1988).

Merech, F. et al. Vasoactive Intestinal Peptide induces glucose and neutral amino acid uptake through mTOR signalling in human cytotrophoblast cells. Sci. Rep. 9, 17152 (2019).

Arguello, R. J. et al. SCENITH: a flow cytometry-based method to functionally profile energy metabolism with single-cell resolution. Cell Metab. 32, 1063–1075 (2020). e1067.

Owyang, A. M. et al. Interleukin 25 regulates type 2 cytokine-dependent immunity and limits chronic inflammation in the gastrointestinal tract. J. Exp. Med. 203, 843–849 (2006).

Humphreys, N. E., Xu, D., Hepworth, M. R., Liew, F. Y. & Grencis, R. K. IL-33, a potent inducer of adaptive immunity to intestinal nematodes. J. Immunol. 180, 2443–2449 (2008).

Conlin, V. S. et al. Vasoactive intestinal peptide ameliorates intestinal barrier disruption associated with Citrobacter rodentium-induced colitis. Am. J. Physiol. Gastrointest. Liver Physiol. 297, G735–G750 (2009).

Ivanov, I. I. et al. Induction of intestinal Th17 cells by segmented filamentous bacteria. Cell 139, 485–498 (2009).

Gaboriau-Routhiau, V. et al. The key role of segmented filamentous bacteria in the coordinated maturation of gut helper T cell responses. Immunity 31, 677–689 (2009).

Ohnmacht, C. et al. The microbiota regulates type 2 immunity through RORgt+ T cells. Science 349, 989–993 (2015).

Eberl, G. Immunity by equilibrium. Nat. Rev. Immunol. 16, 524–532 (2016).

Malenka, R. C. & Bear, M. F. LTP and LTD: an embarrassment of riches. Neuron 44, 5–21 (2004).

Sanes, J. R. & Lichtman, J. W. Can molecules explain long-term potentiation? Nat. Neurosci. 2, 597–604 (1999).

Gureev, A. P., Popov, V. N. & Starkov, A. A. Crosstalk between the mTOR and Nrf2/ARE signaling pathways as a target in the improvement of long-term potentiation. Exp. Neurol. 328, 113285 (2020).

Potter, W. B. et al. Metabolic regulation of neuronal plasticity by the energy sensor AMPK. PLoS ONE 5, e8996 (2010).

Placais, P. Y. et al. Upregulated energy metabolism in the Drosophila mushroom body is the trigger for long-term memory. Nat. Commun. 8, 15510 (2017).

Magistretti, P. J. & Allaman, I. Lactate in the brain: from metabolic end-product to signalling molecule. Nat. Rev. Neurosci. 19, 235–249 (2018).

Schwartz, R. H. Costimulation of T lymphocytes: the role of CD28, CTLA-4, and B7/BB1 in interleukin-2 production and immunotherapy. Cell 71, 1065–1068 (1992).

Vely, F. et al. Evidence of innate lymphoid cell redundancy in humans. Nat. Immunol. 17, 1291–1299 (2016).

Cording, S., Medvedovic, J., Lecuyer, E., Aychek, T. & Eberl, G. Control of pathogens and microbiota by innate lymphoid cells. Microbes Infect. 20, 317–322 (2018).

Lochner, M. et al. In vivo equilibrium of proinflammatory IL-17+ and regulatory IL-10+ Foxp3+ RORγt+ T cells. J. Exp. Med. 205, 1381–1393 (2008).

Chan, K. Y. et al. Engineered AAVs for efficient noninvasive gene delivery to the central and peripheral nervous systems. Nat. Neurosci. 20, 1172–1179 (2017).

Sawa, S. et al. RORgt+ innate lymphoid cells regulate intestinal homeostasis by integrating negative signals from the symbiotic microbiota. Nat. Immunol. 12, 320–326 (2011).
Acknowledgements
We thank all members of the Microenvironment and Immunity unit, the Perception and Memory unit, and the Stroma, Inflammation and Tissue Repair unit, in particular Bernadette Polomack for mouse genotyping. We also thank Uwe Maskos, Fani Koukouli and David Digregorio for providing us VIPCre Mice, and Meinrad Busslinger for the Gata3GFP mice. We thank Pierre Bost for sharing its expertise on image analysis, Jacques Serizay for providing guidance in data visualization for Fig. 1, Christelle Ganneau and Sylvie Bay for sharing their expertise on peptides biochemistry as well as Martine Jacob and Catherine Fayolle for their precious technical support with mice. M.P. is a recipient of a fellowship from the French Ministère de l'Education Nationale et de la Recherche. This work was supported by Institut Pasteur, a seed grant from the Institut Pasteur Strategic Research Axis 3, INSERM, CNRS, the life insurance company "AG2R-La-Mondiale" and grant ANR-16-CE15-0021-01 from the Agence Nationale de la Recherche Scientifique. C.W. and A.K. were funded by the Deutsche Forschungsgemeinschaft (DFG, German Research Foundation) under Germany's Excellence Strategy – EXC2151 – 390873048 and program grants from the DFG (SPP1937, WI 4554/1-1 and WI 4554/1-2).
Ethics declarations
Competing interests
G.E. is a deputy editor at Mucosal Immunology.
Additional information
Publisher's note Springer Nature remains neutral with regard to jurisdictional claims in published maps and institutional affiliations.
Supplementary information
About this article
Cite this article
Pascal, M., Kazakov, A., Chevalier, G. et al. The neuropeptide VIP potentiates intestinal innate type 2 and type 3 immunity in response to feeding. Mucosal Immunol 15, 629–641 (2022). https://doi.org/10.1038/s41385-022-00516-9
Received:

Revised:

Accepted:

Published:

Issue Date:

DOI: https://doi.org/10.1038/s41385-022-00516-9
This article is cited by
Georgia Perona-Wright
Henry J. McSorley

Mucosal Immunology (2022)

Marcel Michla
Christoph Wilhelm

Mucosal Immunology (2022)