Abstract
Although SARS-CoV-2 infects the upper respiratory tract, we know little about the amount, type, and kinetics of antibodies (Ab) generated in the oral cavity in response to COVID-19 vaccination. We collected serum and saliva samples from participants receiving two doses of mRNA COVID-19 vaccines and measured the level of anti-SARS-CoV-2 Ab. We detected anti-Spike and anti-Receptor Binding Domain (RBD) IgG and IgA, as well as anti-Spike/RBD associated secretory component in the saliva of most participants after dose 1. Administration of a second dose of mRNA boosted the IgG but not the IgA response, with only 30% of participants remaining positive for IgA at this timepoint. At 6 months post-dose 2, these participants exhibited diminished anti-Spike/RBD IgG levels, although secretory component-associated anti-Spike Ab were more stable. Examining two prospective cohorts we found that participants who experienced breakthrough infections with SARS-CoV-2 variants had lower levels of vaccine-induced serum anti-Spike/RBD IgA at 2–4 weeks post-dose 2 compared to participants who did not experience an infection, whereas IgG levels were comparable between groups. These data suggest that COVID-19 vaccines that elicit a durable IgA response may have utility in preventing infection.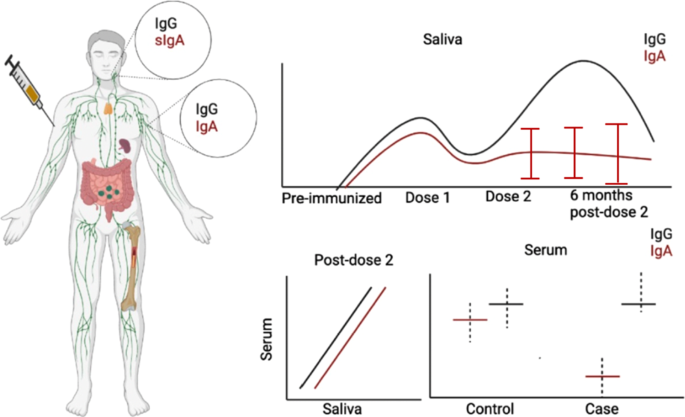 References
Walls, A. C. et al. Structure, function, and antigenicity of the SARS-CoV-2 spike glycoprotein. Cell 181, 281–292.e286 (2020).

Zou, L. et al. SARS-CoV-2 viral load in upper respiratory specimens of infected patients. N. Engl. J. Med. 382, 1177–1179 (2020).

Isho B. et al. Persistence of serum and saliva antibody responses to SARS-CoV-2 spike antigens in COVID-19 patients. Sci. Immunol. 5, eabe5511 (2020).

Huang, N. et al. SARS-CoV-2 infection of the oral cavity and saliva. Nat. Med. 27, 892–903 (2021).

Stadtmueller B. M. et al. The structure and dynamics of secretory component and its interactions with polymeric immunoglobulins. Elife 5, e10640 (2016).

Wang Z. et al. Enhanced SARS-CoV-2 neutralization by dimeric IgA. Sci. Transl. Med. 13, eabf1555 (2021).

Sterlin D. et al. IgA dominates the early neutralizing antibody response to SARS-CoV-2. MedRxiv https://www.medrxiv.org/content/10.1101/2020.06.10.20126532v1 (2020).

Fischinger, S., Boudreau, C. M., Butler, A. L., Streeck, H. & Alter, G. Sex differences in vaccine-induced humoral immunity. Semin. Immunopathol. 41, 239–249 (2019).

Demonbreun, A. R. et al. COVID-19 mRNA vaccination generates greater IgG levels in women compared to men. J. Infect. Dis. 224, 793–797 (2021).

Bergwerk, M. et al. Covid-19 breakthrough infections in vaccinated health care workers. N. Engl. J. Med. 385, 1474–1484 (2021).

Williams, C. et al. COVID-19 outbreak associated with a SARS-CoV-2 P.1 Lineage in a long-term care home after implementation of a vaccination program—Ontario, April-May 2021. Clin. Infect. Dis. 74, 1085–1088 (2021).

Ketas, T. J. et al. Antibody responses to SARS-CoV-2 mRNA vaccines are detectable in saliva. Pathog. Immun. 6, 116–134 (2021).

Sano, K. et al. Efficient mucosal antibody response to SARS-CoV-2 vaccination is induced in previously infected individuals. medRxiv https://doi.org/10.1101/2021.12.06.21267352 (2021).

Azzi, L. et al. Mucosal immune response in BNT162b2 COVID-19 vaccine recipients. EBioMedicine 75, 103788 (2022).

Meyer-Arndt, L. et al. Cutting edge: serum but not mucosal antibody responses are associated with pre-existing SARS-CoV-2 spike cross-reactive CD4(+) T cells following BNT162b2 vaccination in the elderly. J. Immunol. 208, 1001–1005 (2022).

Nahass, G. R. et al. Intramuscular SARS-CoV-2 vaccines elicit varying degrees of plasma and salivary antibody responses as compared to natural infection Medrxiv https://doi.org/10.1101/2021.08.22.21262168 (2021).

Ogata, A. F. et al. Circulating SARS-CoV-2 vaccine antigen detected in the plasma of mRNA-1273 vaccine recipients. Clin. Infect. Dis. 74, 715–718 (2022).

Zhang, C. Z. et al. Saliva in the diagnosis of diseases. Int J. Oral. Sci. 8, 133–137 (2016).

Rojas, O. L. et al. Recirculating Intestinal IgA-producing cells regulate neuroinflammation via IL-10. Cell 176, 610–624.e618 (2019).

Masopust, D. et al. Dynamic T cell migration program provides resident memory within intestinal epithelium. J. Exp. Med. 207, 553–564 (2010).

Quiding-Jarbrink, M. et al. Differential expression of tissue-specific adhesion molecules on human circulating antibody-forming cells after systemic, enteric, and nasal immunizations. A molecular basis for the compartmentalization of effector B cell responses. J. Clin. Investig. 99, 1281–1286 (1997).

Abe, K. T. et al. Neutralizing antibody responses to SARS-CoV-2 variants in vaccinated Ontario long-term care home residents and workers. medRxiv https://doi.org/10.1101/2021.08.06.21261721 (2021).

Langel, S. N. et al. Oral and intranasal Ad5 SARS-CoV-2 vaccines decrease disease and viral transmission in a golden hamster model. bioRxiv https://doi.org/10.1101/2021.10.03.462919 (2021).

Lapuente, D. et al. Protective mucosal immunity against SARS-CoV-2 after heterologous systemic prime-mucosal boost immunization. Nat. Commun. 12, 6871 (2021).

Guthrie, J. L. et al. Detection of the novel SARS-CoV-2 European lineage B.1.177 in Ontario, Canada. J. Clin. Virol. 1, 100010 (2021).

Wrapp, D. et al. Cryo-EM structure of the 2019-nCoV spike in the prefusion conformation. Science 367, 1260–1263 (2020).

Colwill, K. et al. A scalable serology solution for profiling humoral immune responses to SARS-CoV-2 infection and vaccination. Clin Transl Immunology 11, e1380 (2022).

Case, J. B. et al. Neutralizing antibody and soluble ACE2 inhibition of a replication-competent VSV-SARS-CoV-2 and a clinical isolate of SARS-CoV-2. Cell Host Microbe 28, 475–485.e475 (2020).

Zang, R. et al. Cholesterol 25-hydroxylase suppresses SARS-CoV-2 replication by blocking membrane fusion. Proc. Natl Acad. Sci. U.S.A. 117, 32105–32113 (2020).
Acknowledgements
Dr. Yves Durocher at the National Research Council of Canada (NRC) kindly donated reagents for the serum assays. We thank Elizabeth Yue, Antonio Estacio, Serena Loklam Chau, Ryan Law, and Eric Yixiao Cao for LTCH sample processing and sustaining the infrastructure of sample processing in the Ostrowski lab. We thank Jeff Browning for critical reading of this paper. We would like to thank Florian Krammer for advice on secretory component detection by ELISA.
Funding
Funding for this study was from a Foundation grant from the Canadian Institutes of Health Research (J.G., Fund #15992), a COVID-19 Immunity Task force grant (S.S., A.M., M.O., A.C.G., and J.G.), an "Ontario Together" province of Ontario grant (J.G. and A.C.G.), a CIHR team grant to CoVARR-Net (J.G., A.C.G.), a Donation from the Royal Bank of Canada (RBC) Donation from the Krembil Foundation to the Sinai Health System Foundation.
Ethics declarations
Competing interests
The authors declare no competing interests.
Additional information
Publisher's note Springer Nature remains neutral with regard to jurisdictional claims in published maps and institutional affiliations.
Supplementary information
About this article
Cite this article
Sheikh-Mohamed, S., Isho, B., Chao, G.Y.C. et al. Systemic and mucosal IgA responses are variably induced in response to SARS-CoV-2 mRNA vaccination and are associated with protection against subsequent infection. Mucosal Immunol 15, 799–808 (2022). https://doi.org/10.1038/s41385-022-00511-0
Received:

Revised:

Accepted:

Published:

Issue Date:

DOI: https://doi.org/10.1038/s41385-022-00511-0