Abstract
Inflammasomes are essential for inflammation and pathogen elimination in response to microbial infection and endogenous danger signals. However, the mechanism of inflammasome activation by endogenous danger signals mediated posttranslational modification and the connection between inflammasomes and inflammatory diseases remains elusive. In this study, we found that ADP was highly released from injured colonic tissue as a danger signal during inflammatory bowel disease. Consequently, extracellular ADP activated the NLRP3 inflammasome through P2Y1 receptor-mediated calcium signaling, which led to the maturation and secretion of IL-1β and further aggravation of experimental colitis. Genetic ablation or pharmacological blockade of the P2Y1 receptor significantly ameliorated DSS-induced colitis and endotoxic shock through reducing NLRP3 inflammasome activation. Moreover, ERK5-mediated tyrosine phosphorylation of ASC was essential for activation of the NLRP3 inflammasome. Thus, our study provides a novel theoretical basis for posttranslational modification of ASC in NLRP3 inflammasome activation and revealed that ADP/P2Y1 is a potential drug target for inflammatory bowel disease.
Access options
Subscribe to Journal
Get full journal access for 1 year
$554.00
only $92.33 per issue
All prices are NET prices.
VAT will be added later in the checkout.
Rent or Buy article
Get time limited or full article access on ReadCube.
from$8.99
All prices are NET prices.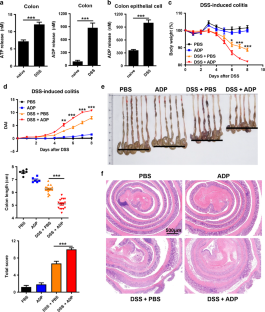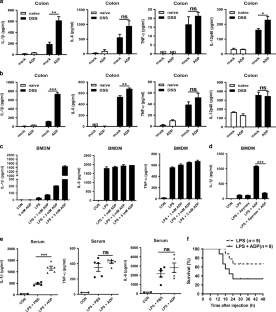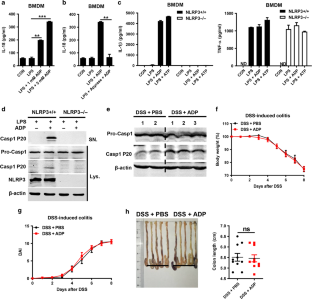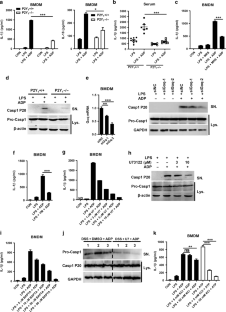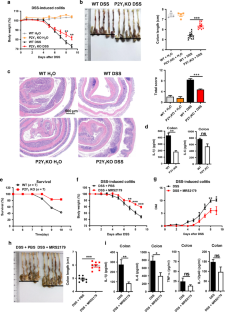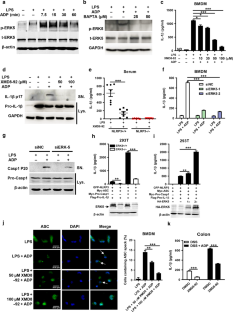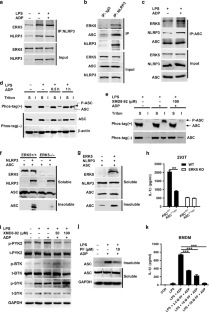 Data availability
All data that support the findings of this study are available from the corresponding authors upon request.
References
1.

Guo, H., Callaway, J. B. & Ting, J. P. Inflammasomes: mechanism of action, role in disease, and therapeutics. Nat. Med. 21, 677–687 (2015).

2.

Vanaja, S. K., Rathinam, V. A. & Fitzgerald, K. A. Mechanisms of inflammasome activation: recent advances and novel insights. Trends Cell Biol. 25, 308–315 (2015).

3.

de Almeida, L. et al. The PYRIN domain-only protein POP1 inhibits inflammasome assembly and ameliorates inflammatory disease. Immunity 43, 264–276 (2015).

4.

Ungaro, R., Mehandru, S., Allen, P. B., Peyrin-Biroulet, L. & Colombel, J. F. Ulcerative colitis. Lancet 389, 1756–1770 (2017).

5.

Neurath, M. F. Cytokines in inflammatory bowel disease. Nat. Rev. Immunol. 14, 329–342 (2014).

6.

Xu, J. et al. The REGgamma-proteasome forms a regulatory circuit with IkappaBvarepsilon and NFkappaB in experimental colitis. Nat. Commun. 7, 10761 (2016).

7.

Lynch, W. D. & Hsu, R. Ulcerative Colitis. (StatPearls, Treasure Island, FL, 2018).

8.

Dinarello, C. A. Biologic basis for interleukin-1 in disease. Blood 87, 2095–2147 (1996).

9.

Coccia, M. et al. IL-1beta mediates chronic intestinal inflammation by promoting the accumulation of IL-17A secreting innate lymphoid cells and CD4(+) Th17 cells. J. Exp. Med. 209, 1595–1609 (2012).

10.

Bauer, C. et al. Colitis induced in mice with dextran sulfate sodium (DSS) is mediated by the NLRP3 inflammasome. Gut 59, 1192–1199 (2010).

11.

Seo, S. U. et al. Distinct commensals induce interleukin-1beta via NLRP3 inflammasome in inflammatory monocytes to promote intestinal inflammation in response to injury. Immunity 42, 744–755 (2015).

12.

Perera, A. P. et al. MCC950, a specific small molecule inhibitor of NLRP3 inflammasome attenuates colonic inflammation in spontaneous colitis mice. Sci. Rep. 8, 8618 (2018).

13.

Cosin-Roger, J. et al. Hypoxia ameliorates intestinal inflammation through NLRP3/mTOR downregulation and autophagy activation. Nat. Commun. 8, 98 (2017).

14.

Russo, M. V. & McGavern, D. B. Immune surveillance of the CNS following infection and injury. Trends Immunol. 36, 637–650 (2015).

15.

Eltzschig, H. K., Sitkovsky, M. V. & Robson, S. C. Purinergic signaling during inflammation. N. Engl. J. Med. 367, 2322–2333 (2012).

16.

Cho, J. et al. Purinergic P2Y(1)(4) receptor modulates stress-induced hematopoietic stem/progenitor cell senescence. J. Clin. Investig. 124, 3159–3171 (2014).

17.

Elliott, M. R. et al. Nucleotides released by apoptotic cells act as a find-me signal to promote phagocytic clearance. Nature 461, 282–286 (2009).

18.

Chen, Y. et al. Purinergic signaling: a fundamental mechanism in neutrophil activation. Sci. Signal. 3, ra45 (2010).

19.

Ghiringhelli, F. et al. Activation of the NLRP3 inflammasome in dendritic cells induces IL-1beta-dependent adaptive immunity against tumors. Nat. Med. 15, 1170–1178 (2009).

20.

Li, R. et al. Extracellular UDP and P2Y6 function as a danger signal to protect mice from vesicular stomatitis virus infection through an increase in IFN-beta production. J. Immunol. 193, 4515–4526 (2014).

21.

Zhang, X. et al. Extracellular ADP facilitates monocyte recruitment in bacterial infection via ERK signaling. Cell Mol. Immunol. 15, 58–73 (2018).

22.

Zhang, C. et al. IFN-stimulated P2Y13 protects mice from viral infection by suppressing the cAMP/EPAC1 signaling pathway. J. Mol. Cell Biol. 11, 395–407 (2019).

23.

Jacobson, K. A. et al. Nucleotides acting at P2Y receptors: connecting structure and function. Mol. Pharmacol. 88, 220–230 (2015).

24.

Zhang, D. et al. Two disparate ligand-binding sites in the human P2Y1 receptor. Nature 520, 317–321 (2015).

25.

Wujak, M., Hetmann, A., Porowinska, D. & Roszek, K. Gene expression and activity profiling reveal a significant contribution of exo-phosphotransferases to the extracellular nucleotides metabolism in HUVEC endothelial cells. J. Cell Biochem. 118, 1341–1348 (2017).

26.

Lee, G. S. et al. The calcium-sensing receptor regulates the NLRP3 inflammasome through Ca2+ and cAMP. Nature 492, 123–127 (2012).

27.

Natrajan, R. et al. Amplification and overexpression of CACNA1E correlates with relapse in favorable histology Wilms' tumors. Clin. Cancer Res. 12, 7284–7293 (2006).

28.

Sacchetti, P., Carpentier, R., Segard, P., Olive-Cren, C. & Lefebvre, P. Multiple signaling pathways regulate the transcriptional activity of the orphan nuclear receptor NURR1. Nucleic Acids Res. 34, 5515–5527 (2006).

29.

Nicol, R. L. et al. Activated MEK5 induces serial assembly of sarcomeres and eccentric cardiac hypertrophy. EMBO J. 20, 2757–2767 (2001).

30.

Mao, K. et al. Nitric oxide suppresses NLRP3 inflammasome activation and protects against LPS-induced septic shock. Cell Res. 23, 201–212 (2013).

31.

Baroja-Mazo, A. et al. The NLRP3 inflammasome is released as a particulate danger signal that amplifies the inflammatory response. Nat. Immunol. 15, 738–748 (2014).

32.

Hara, H. et al. Phosphorylation of the adaptor ASC acts as a molecular switch that controls the formation of speck-like aggregates and inflammasome activity. Nat. Immunol. 14, 1247–1255 (2013).

33.

Ito, M. et al. Bruton's tyrosine kinase is essential for NLRP3 inflammasome activation and contributes to ischaemic brain injury. Nat. Commun. 6, 7360 (2015).

34.

Chung, I. C. et al. Pyk2 activates the NLRP3 inflammasome by directly phosphorylating ASC and contributes to inflammasome-dependent peritonitis. Sci. Rep. 6, 36214 (2016).

35.

Ranson, N., Kunde, D. & Eri, R. Regulation and sensing of inflammasomes and their impact on intestinal health. Int. J. Mol. Sci. 18, 2379 (2017).

36.

Kurashima, Y. et al. Extracellular ATP mediates mast cell-dependent intestinal inflammation through P2X7 purinoceptors. Nat. Commun. 3, 1034 (2012).

37.

Ali, S. R. et al. Anthrax toxin induces macrophage death by p38 MAPK inhibition but leads to inflammasome activation via ATP leakage. Immunity 35, 34–44 (2011).

38.

Tang, T., Gong, T., Jiang, W. & Zhou, R. GPCRs in NLRP3 inflammasome activation, regulation, and therapeutics. Trends Pharm. Sci. 39, 798–811 (2018).

39.

Heredia, D. J. & Feng, C. Y. Activity-induced Ca(2+) signaling in perisynaptic Schwann cells of the early postnatal mouse is mediated by P2Y1 receptors and regulates muscle fatigue. Elife. 7, e30839 (2018).

40.

Mega, J. L. & Simon, T. Pharmacology of antithrombotic drugs: an assessment of oral antiplatelet and anticoagulant treatments. Lancet 386, 281–291 (2015).

41.

Murakami, T. et al. Critical role for calcium mobilization in activation of the NLRP3 inflammasome. Proc. Natl Acad. Sci. USA 109, 11282–11287 (2012).

42.

Yan, Y. et al. Dopamine controls systemic inflammation through inhibition of NLRP3 inflammasome. Cell 160, 62–73 (2015).

43.

Levesque, S. A., Kukulski, F., Enjyoji, K., Robson, S. C. & Sevigny, J. NTPDase1 governs P2X7-dependent functions in murine macrophages. Eur. J. Immunol. 40, 1473–1485 (2010).

44.

Cohen, H. B. et al. TLR stimulation initiates a CD39-based autoregulatory mechanism that limits macrophage inflammatory responses. Blood 122, 1935–1945 (2013).

45.

Jorgensen, I. & Miao, E. A. Pyroptotic cell death defends against intracellular pathogens. Immunol. Rev. 265, 130–142 (2015).

46.

Rossol, M. et al. Extracellular Ca2+ is a danger signal activating the NLRP3 inflammasome through G protein-coupled calcium sensing receptors. Nat. Commun. 3, 1329 (2012).

47.

Latz, E., Xiao, T. S. & Stutz, A. Activation and regulation of the inflammasomes. Nat. Rev. Immunol. 13, 397–411 (2013).

48.

Zhou, G., Bao, Z. Q. & Dixon, J. E. Components of a new human protein kinase signal transduction pathway. J. Biol. Chem. 270, 12665–12669 (1995).

49.

Kipniss, N. H., Dingal, P. & Abbott T. R. Engineering cell sensing and responses using a GPCR-coupled CRISPR-Cas system. Nat. Commun. 8, 2212 (2017).

50.

Guo, C. et al. Bile acids control inflammation and metabolic disorder through inhibition of NLRP3 inflammasome. Immunity 45, 802–816 (2016).

51.

Zhang, C. et al. Virus-triggered ATP release limits viral replication through facilitating IFN-beta production in a P2X7-dependent manner. J. Immunol. 199, 1372–1381 (2017).

52.

Andre, P. et al. P2Y12 regulates platelet adhesion/activation, thrombus growth, and thrombus stability in injured arteries. J. Clin. Investig. 112, 398–406 (2003).
Acknowledgements
This work was supported by National Key R&D Program of China [2018YFA0507001 to B.D.]; National Natural Science Foundation of China [31770969 to B.D., 81672811 and 81871250 to M.Q., and 81830083 to M.L., 81902892 to J.Q.]; Innovation Program of Shanghai Municipal Education Commission [2017-01-07-00-05-E00011 to M.L.]; and Natural Science Foundation of Jiangsu Province [Grant no. BK20190657 to C.Z.].
Ethics declarations
Competing interests
The authors declare no competing interests.
Additional information
Publisher's note Springer Nature remains neutral with regard to jurisdictional claims in published maps and institutional affiliations.
Supplementary Information
About this article
Cite this article
Zhang, C., Qin, J., Zhang, S. et al. ADP/P2Y1 aggravates inflammatory bowel disease through ERK5-mediated NLRP3 inflammasome activation. Mucosal Immunol (2020). https://doi.org/10.1038/s41385-020-0307-5
Received:

Revised:

Accepted:

Published: